Did you know that you can actually use Groupon to get more customers and grow your small business? It's true! Even though Groupon might not be the first thing that comes to mind when you think about ways to get more customers, it really is a great technique… if you do it the right way.
Of course, you can (and should) also use social media to reach more people. You can increase your audience on Instagram, grow your Facebook following, or even go viral on TikTok. But those things take time (or are completely based on chance). So in the meantime, there are some things you can do in the short term like advertising on Groupon or creating a Google My Business account that might be more effective for you.
Content marketing is awesome for small businesses; it helps you to grow your audience consistently, and it's an organic way to get in front of new people. However, having a few other strategies in your back pocket is never a bad idea, whether you are a photographer, nail artist, or restaurant owner.
In this article, we will tell you everything you need to know about Groupon. We will tell you exactly what it is, how it works, why you should use it, and how you can make it work for your small business. Ready? Let's go!
What Is Groupon?
Groupon is an online marketplace that focuses on promoting local businesses in order to help them get more new customers and visibility through various deals. The website offers cashback on purchases, coupons, and group deals to those looking for services and products, activities, and goods in a specific area.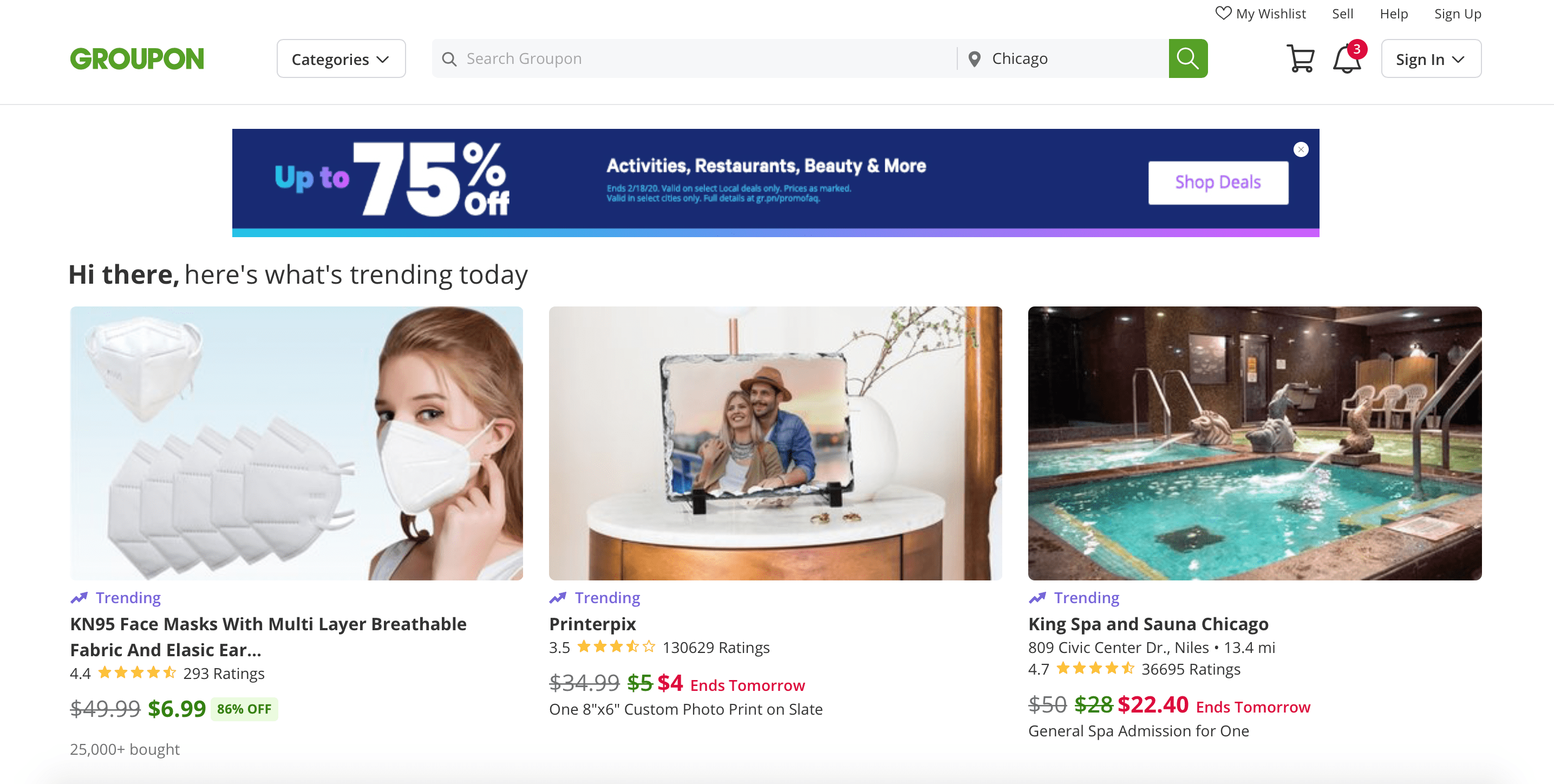 How Does Groupon Work?
Groupon advertises local businesses on their marketplace, helping them get more exposure. This way, businesses are seen by people who use and trust Groupon but don't necessarily know the companies advertised there.
To be advertised on the marketplace as a small business, you should register, create a promotion, and list it on the platform. Once your deal is live, it will show up for people who look for deals in your area.
How Much Does It Cost to Advertise on Groupon?
There are no upfront fees to create and list your deals on Groupon. However, Groupon does take 50% of each sale you make through their platform. In the end, you will receive the money you made (minus the 50% they take) once a month, every month, through electronic funds transfer or check.
Read more: How to Get More Yelp Reviews for Your Small Business
Why Should You Use Groupon to Get More Customers for Your Small Business?
Now you might be wondering if Groupon is even worth it; after all, 50% is a big cut. However, using Groupon for your small business might be a good idea.
Groupon listings allow you to be seen by different people; potential customers who either don't know you or haven't purchased from you before. Groupon deals attract new people by offering great prices, which makes it easier to get people hooked and become repeat customers.
Don't get frustrated if you can't convert all of your Groupon customers into regular customers. Some people are simply looking for a deal. If you give them a great experience, you've done all you can do.
Read more: TripAdvisor for Small Businesses: The Complete Guide
If you have products stuck in your inventory that your current audience doesn't seem to be interested in, Groupon might be worth a shot. Even if you can move it at 50% off, it might be worth it to get some of your money back. 
Oh, and don't forget that the money people pay for any unused voucher is still yours. So, don't worry about no-shows. 
How to Use Groupon to Get More Customers?
Before we dive into the practical tips to create your first deal in Groupon, let's talk about a plan of action. After all, there's no point in offering a deal just for the sake of offering one. You want to make sure you're offering something you can either make money on or turn into a recurring business opportunity.
So, think about what you're going to offer and map out the limits you need to set for that deal. A  good strategy is to create service packages instead of offering a discount on one single service. Set it up in a way that customers need to come to you at least twice to redeem their full offer.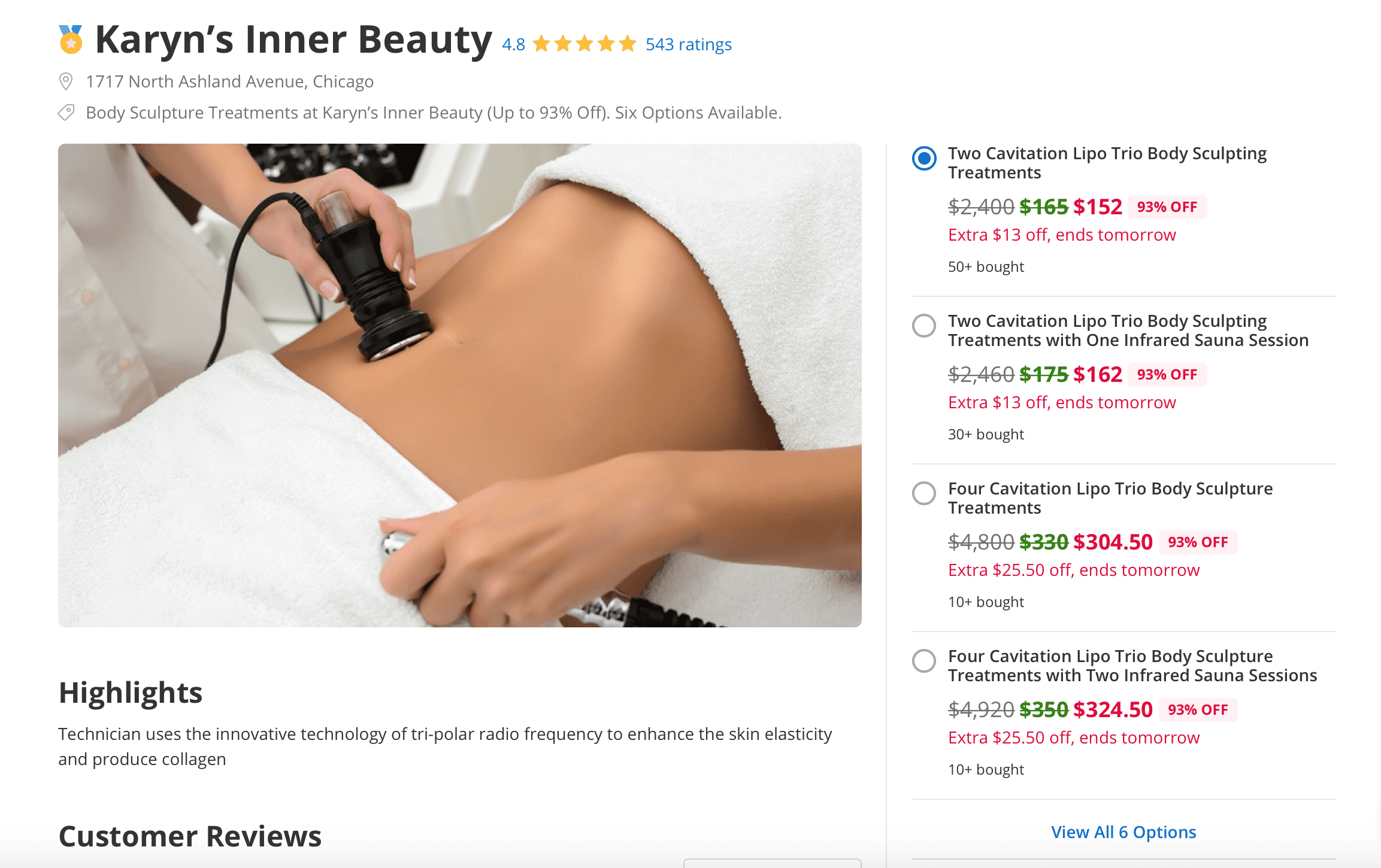 For example, if you're a hairdresser you could offer two hair cuts for half the price and make it valid for six months. This way, people will come to you twice, which will force them to develop a relationship with you so that it doesn't turn into a one-time thing.
Read more: Google My Business Posts: How to Use Them for Your Small Business
You might not want to, but you definitely have to set limits. After all, how many hours can you dedicate to people who are only paying 50% of your normal price? How many of these deals can you offer and still bring in a profit? How long is the deal going to be usable after the purchase? Is this only valid for new customers, or is it for everyone? Make sure you understand what are your limits and make them really clear.
Now that you understand that, let's go over how to create the perfect deal and list it on Groupon!
1. Choose Your Category
Before you can list your offer, you need to choose your category. Choose the best one according to what you offer and what your limits are.
Most deals are Local Deals, which are deals on products or services available in a specific geographic area. However, if you're offering goods that can be purchased online and shipped anywhere, you should choose the Goods and Retail category.
If you own a bed and breakfast or hotel, for instance, you can choose the Getaways category. Or, if you're hosting a concert or in-person workshop, you can choose the Live category and you can sell tickets for the event.
2. Run Some Tests
Do not overlook the testing phase. This is one of the best strategies you have at your disposal to see what works best on Groupon and adjust accordingly. 
So how do you run tests on Groupon? It's pretty easy. Just come up with two or three different deals that you want to try out, then offer a small and limited amount of vouchers for each deal. Once the deals are online, you will be able to see exactly what people want. If it goes well, you can create more deals like that one and offer a higher number of them. 
For example, let's say you own a restaurant and you offer two different deals: one that is called "Dinner for One" which offers a three-course meal; and the second is called "Dinner for Two" which offers two sets of a three-course meal. You can limit the amount to whatever suits you, then you can see which one sells more. You'll be able to see, for example, if your restaurant is more popular among couples, business partners, or single people.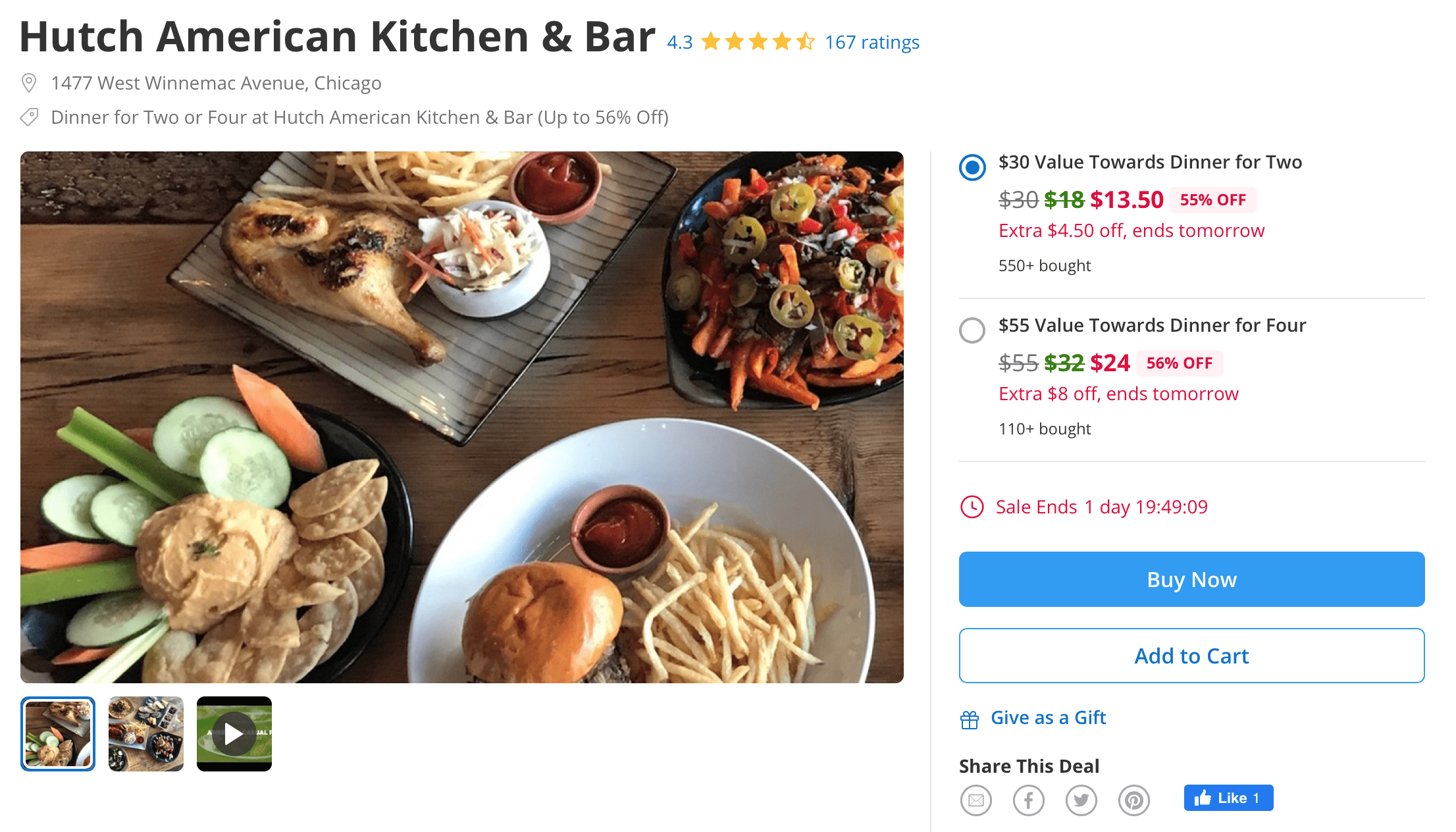 Once this offer is over, you can create more deals with more options based on what has been the most popular among Groupon users. Let's say the one that really stood out was the "Dinner for Two" deal. You can offer different options with a different amount of meal courses. Or if you see people are buying more vouchers (like 1 for 2 people + 1 for one person) you can offer some options like "Dinner for Three" or "Dinner for Four."
Read more: How to Stand Out in Food Delivery Apps
3. Prepare for Last Minute-Redeems
People tend to leave everything for the last minute. So, it's common to have a whole bunch of appointment bookings right when the vouchers are about to expire. So, make sure you're well-staffed and prepared to attend to everyone's needs. If you don't prepare, you might have some customer service issues and that's something that can really impact whether or not people come back, leave reviews, or tell their friends.
4. Don't Offer Your Cheapest Goods and Services
Offering your cheapest products and services might not be such a good option since Groupon takes a 50% cut. You might actually end up losing money!
Make sure you offer a product or service that you can still make a profit on so you don't end up paying to work. If you want to offer a cheap product, make sure you upsell it by creating a package that adds one or two additional goods or services.
5. Base the Deal on a Dollar Amount
Another great piece of advice to get more customers and make some profit is to offer deals based on the dollar amount other than giving a percentage discount.
Why? Well, if you offer 50% off your services and products, that means you'll always get a quarter of what you're used to charging because half of your sale price goes to Groupon. On the other hand, if you offer $30 dollars off a $70 hair treatment, you'll walk away with a little bit more and the discount still looks good to the customer.
With this kind of deal, you also have the freedom to raise your prices at any time and take home more money after the discount is applied rather than giving away a larger discount to the customer.
6. Convert Your One-Time Customers Into Loyal Customers
It's no secret that Groupon users are there for the discount. It's your job to turn them into loyal customers by offering them an amazing experience? But, there are other things you can do, too. For instance, what if you create a loyalty card that will give them a discount after a certain number of visits or purchases? Think of ways you can get people to keep coming back long after their Groupon deal is redeemed.
While it's true that most people who go to Groupon are looking for great prices and tend to be one-time customers, it's not impossible to turn them into loyal customers. Start by treating them with the same respect and care as those who pay full price.
Give these customers your best and make sure you try to actively bring them in a second or third time.
For example, let's say you're a massage therapist. When your Groupon customer comes in, talk to them, ask them why they are there, ask them if they have any specific concerns (like a weird pain or something that needs more attention). If you have some advice, share it with them. Talk about the advantage of regular massages and let them know about your package deals. Think about ways you can upsell – without being pushy or misleading, of course.
7. Ask Them to Share Their Thoughts
Ask customers if they have enjoyed the experience. If so, ask them to share their comments on your Google My Business page, TripAdvisor, or your social media profiles. This helps your business get out there more and be seen by even more people.
In exchange, you can offer these customers a discount on their next session with you – after all, Groupon customers tend to love a great deal!
---
We can't wait to see what you come up with! Don't forget to tag us using the hashtag #GrowingTheBiz so we can see and share your work, and don't forget to follow us on Pinterest for some more inspiration and ideas!