Setting up a TripAdvisor Business account is a really good idea for small business owners because it gives you a greater chance to be discovered by more people online. Lots of people use TripAdvisor to look for recommendations on restaurants, hotels, and things to do. So if your small business falls into these categories, don't miss out on this opportunity to get more exposure!
But, what do you have to do in order to be seen by TripAdvisor's 490 million monthly unique visitors? Well, for starters, you need to create an impactful business listing. This includes adding as much business information as you can, for instance, a menu, website link, hours of operation, email, phone number, location, photos, and hopefully, some really great customer reviews.
If all of this seems complex and tricky, don't worry. Even though it will take some time to set it all up, it's easy enough to do on your own. We'll walk you through all of the steps and give some best practice advice along the way. But, before we get started, there are some important questions to address first.
Is TripAdvisor for Business Free?
Yes, TripAdvisor is free for businesses! The platform is a great word of mouth marketing tool and the best part is that it doesn't cost you (or your customers) anything.
Why Should I List My Business on TripAdvisor?
Aside from its 490 million monthly unique visitors, TripAdvisor (just like Yelp) is a great way to spread the word about your business. The reviews from your customers work wonders as word of mouth advertising and social proof. Plus, it offers high-quality inbound links to your website, helping more people outside of the platform to find your business.
Plus, TripAdvisor is a very well known and respected platform, especially among travelers. So if you're well-rated there, chances are you'll get a lot of new customers!
Read more: How to Get More Yelp Reviews for Your Small Business
How to Create a TripAdvisor Account for Your Business?
Creating a TripAdvisor account for your business is easy. All you have to do is join the platform! To make it easy, you can sign up with your Facebook account so you don't have to remember another password.
Claim Your Business Listing
If you have owned your business for a while, there's a good chance your business is already listed on the platform. Why? Because other people can "add" your business when they create a review for your business. If this is the case, all you have to do is claim your business listing.
How do you know if your business is already listed? You can click on this link and do a quick search. If you find your business there, it means that you already have a basic page on TripAdvisor and you need to claim your page. To do that, just click on "Claim Your Business."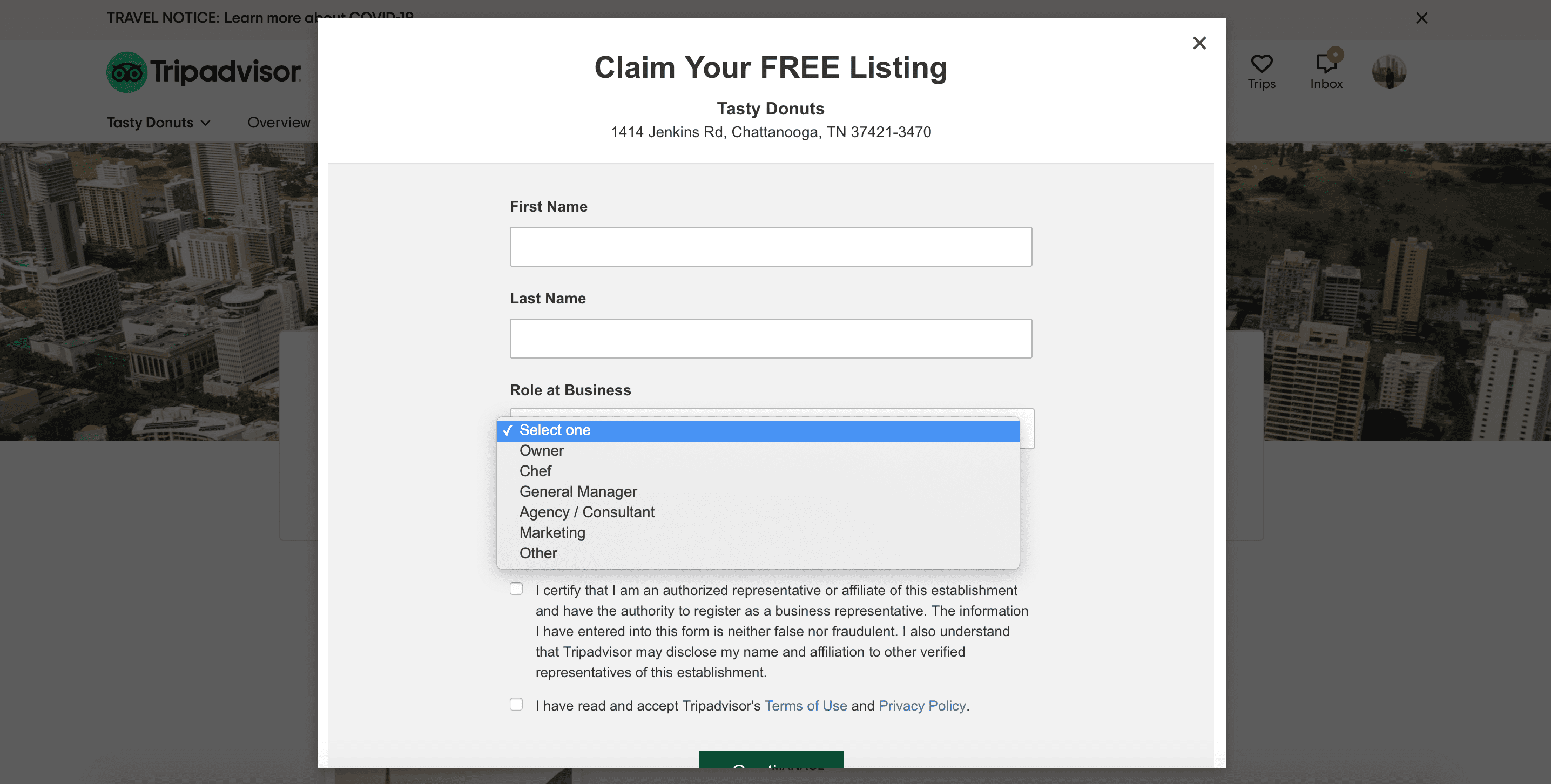 Create a New Business Listing
If your business is new or wasn't listed, you can add it to TripAdvisor yourself by clicking here and creating a new business listing.
Here, you need to select the type of business you have. You can choose between hotels, restaurants, attractions, or vacation rentals. You can list your products or services on the website, just make sure they follow the listing guidelines.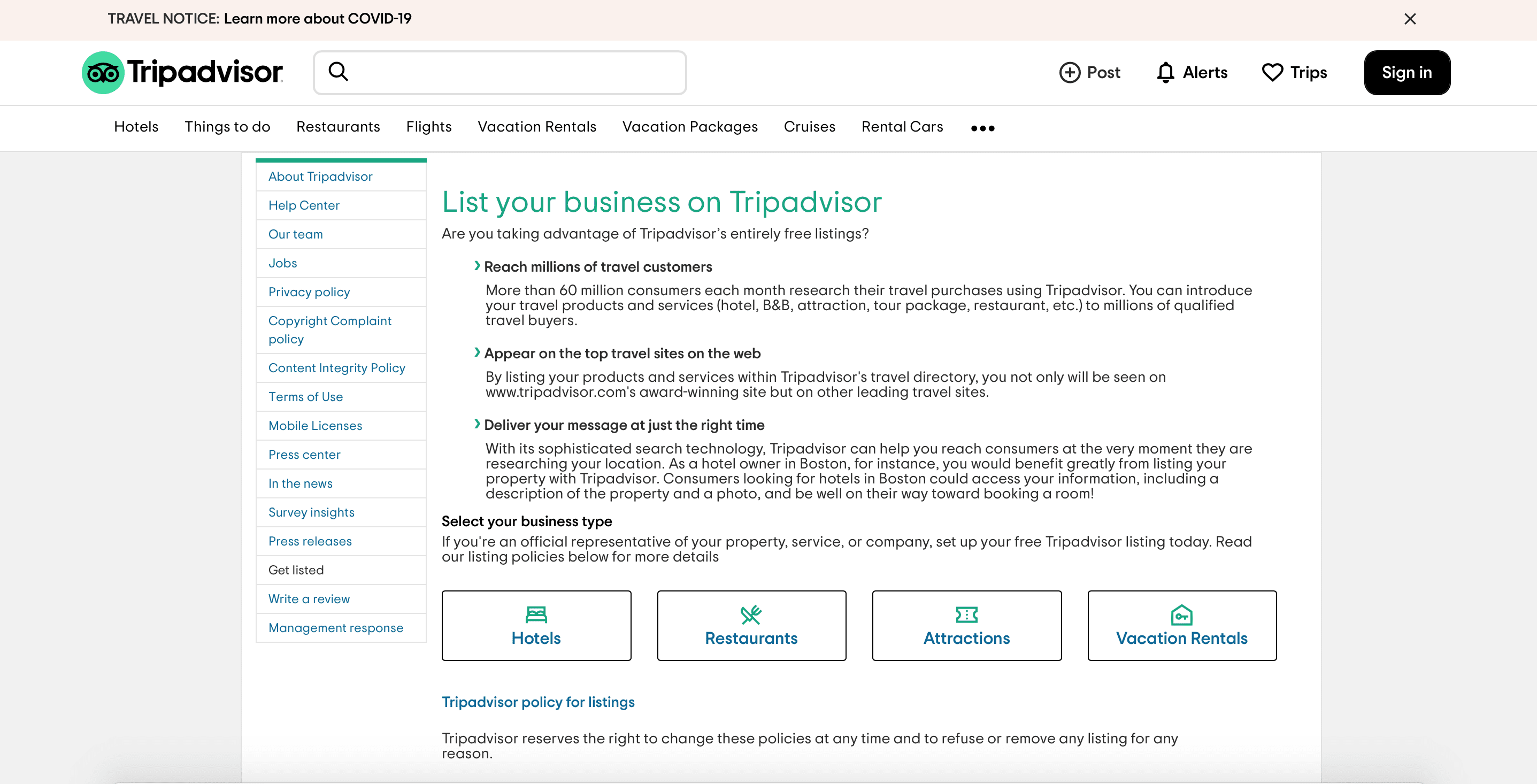 The process to create your business listing is easy, you just need to fill out the information requested in the form correctly. Keep in mind, TripAdvisor will contact you, so the data must be accurate.
You'll add personal information as well as information about your business. You will also be required to enter your map location, marking the pin as close as you can from your business' front entrance.

Set Up Your Listing Details
Besides the basic info for your business, you should also add more information about it, such as contact information like your phone number, email, website, etc.
Depending on your business, you might also be required to add some details like the price range, the number of rooms, cuisine type, and other special features. The requirements they have for your listing will vary according to the kind of business you're listing,
After adding all of these details, you should also take some time to describe your business. It should be short and written in the local language. You should use this opportunity to tell people what your business is about and make them feel eager to choose you over your competition.
You should also add a photo of your business. It can be your storefront or your logo. I recommend using the same image that you use on any other platform – social media, website, etc. This way, people will know that it is the same business. For the picture, TripAdvisor states that it should be a JPEG or GIF with a maximum size of 100KB.
After you're done, you just need to click on "Submit" and wait for TripAdvisor to analyze the information you've provided and determine whether it meets the platform's guidelines. This process takes about 5 business days. Once it's been completed, you will receive a confirmation email.
Manage Your Listing
Once this process is finished, you'll have access to TripAdvisor's Management Center. There, you can update information about your business, add photos, videos, and reply to customer reviews.
Upload Photos of Your Business
One thing you want to do is to add photos of your business. Make sure you are adding quality photos. You don't want your photos to look sloppy or unprofessional. You want your photos to showcase the best angles, and really entice people to visit in person. If possible, hire a professional photographer or ask a friend who has an eye for photos.
To upload the photos, all you have to do is click on "Manage Photos" at the Management Center. There you'll add pictures and upload them. Once they have been uploaded, they will show up on the photo carousel (in the top section of your listing), the media viewer (which appears when people click to see "All Photos"), and in the "Photos" section of your listing. 
Reply to Customers' Reviews
Another important thing you should do on TripAdvisor is to respond to customers' reviews – whether they are good or bad. You can monitor and reply to them using right inside of the Management Center. Click on "Reviews" on the top menu and then on "Respond to reviews." There, you will choose the reviews you want to reply to.
Remember to always write positive and helpful responses, even if the review is not favorable. You don't want to use this place to start a fight; that is extremely unprofessional and will scare away potential new customers. If you happen to get a bad review, thank the customer for his or her feedback and outline how you're going to make it right for them.
This will not only help that customers feel better but it will also show other people who read the review that you're willing to solve a problem. When you do this, people will feel more comfortable visiting your business despite the occasional bad review.
On the other hand, if you reply aggressively to a negative review, it will definitely discourage people from visiting your business – even if you think you're in the right.
PS: don't know how to reply to customer's reviews? Check out these TripAdvisor's instructions. They have created this post with 6 best practices when responding to reviews and this with real-life management responses to inspire you.
Get More Reviews
An important factor to help you get ranked well on TripAdvisor is the reviews your business receives. If you get a lot of good reviews, your business will show up among the best results. The problem is getting people to remember to leave a review, especially if they loved their experience.
Some people simply don't even know you're on TripAdvisor. You can solve this problem by placing stickers, flyers, business cards, and other visuals inside your actual business that mention that you're on TripAdvisor. You can also ask people if they wouldn't mind leaving you a review or follow up with an email that contains a link to your TripAdvisor profile. 
If you leave these clues and hints around that you're on TripAdvisor, it's much more likely that people will remember to log in and leave you a review. Of course, the first and most important step to get more reviews is to provide consistently amazing service to every single person you service. But, you already knew that, right?
---
Did you like these tips?! Then don't forget to save the image below in your  "Online Marketing Tips" board on Pinterest! Also, check out our Pinterest page and follow us to get daily updates + digital marketing and social media tips for small businesses!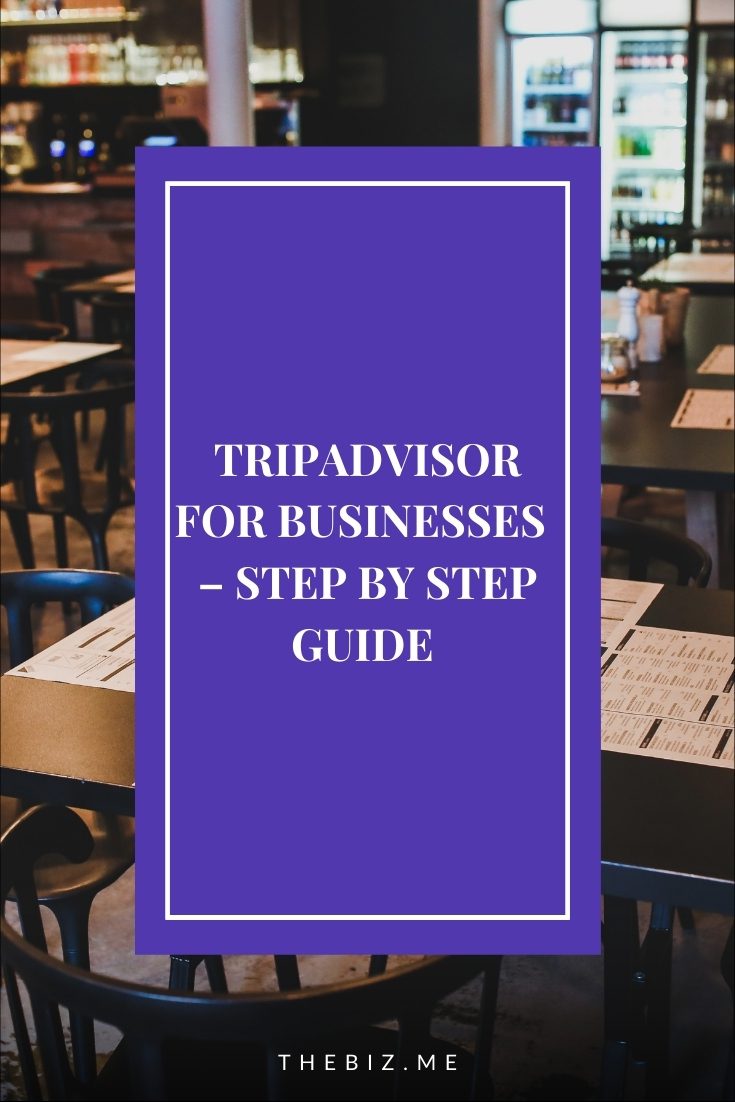 We can't wait to see what you do. Please tag us using the hashtag #GrowingMyBiz so we can see and share your work!