Did you know that you can create Google My Business Posts? That's right, in addition to creating your own Google My Business listing, you can also post on your GMB account. This is a great way to reach more people and stay in touch with your clients and audience outside of social media.
Google My Business is an essential tool for businesses – especially local businesses such as coffee shops, pizzerias, hair salons, etc. In fact, according to SEO experts, Google My Business is the most important ranking factor for local businesses. What this basically means is that if you don't have a GMB listing, you're less likely to show up in the search results.
Having a GMB account for your business also allows users to find your company on Google Maps – and that's where a lot of people search for businesses these days. But, having a Google My Business account is just the first step. You also want to be creating posts, and that's what we're going to be covering in this article. Are you ready?
Google My Business Posts: What Are They?
Google My Business posts are a way to share updates about your business with your customers and people who find you through Google. These posts show up on the GMB Knowledge Panel and can be viewed by all users. They show up right after the reviews.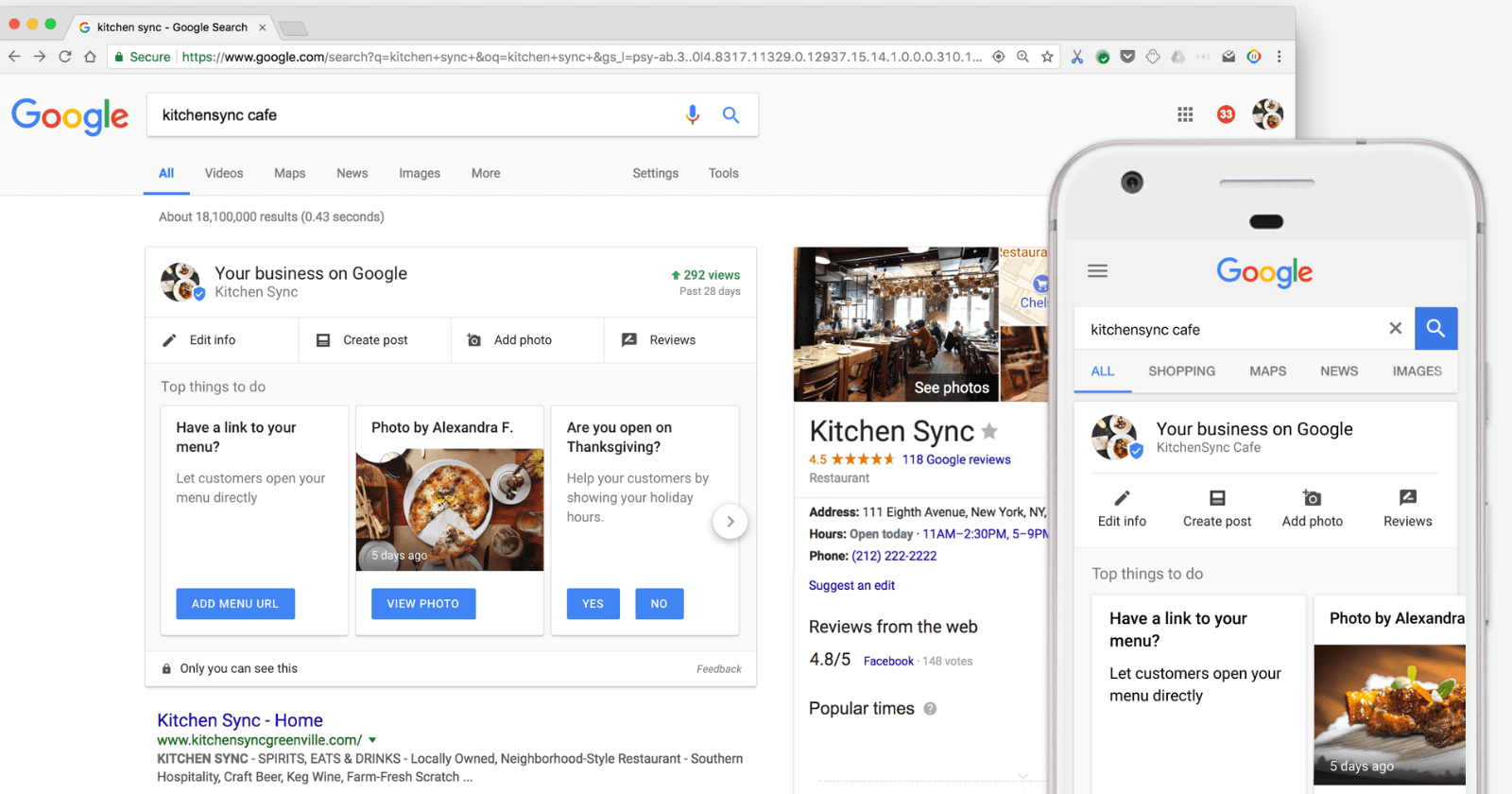 Who Should Use Google My Business Posts?
Google My Business posts are perfect for local businesses or online businesses that deliver services and products within a specific geographical area. It is a great tool to help your business show up and rank higher on Google search results and Google Maps. It can also help make sure your business is included in search results provided by voice assistants.
Sharing posts to your GMB account is another way to increase your account activity and make your listing even more complete. Doing this can increase your chances of ranking better in the search results and it's a great opportunity to share updates and announcements with people in your community who may be searching for your products or services.
Are Google My Business Posts Good for Online Businesses?
No, unfortunately, Google My Business posts are not really meant for online businesses. If you don't have a storefront or your services are only online, you actually can't even have a Google My Business account. Therefore, you can't post on Google My Business, either.
Are Google My Business Posts Free?
Google My Business Posts are free. All you need to do is create them within your Google My Business account – which is also free to set up! 
What Can You Post?
There's a lot you can post about on Google My Business. For example, you can create short posts that include images or videos with updates from your business. You can also announce any special deals or events that you have coming up, new products or services, and more!
What Can't You Post?
Google My Business doesn't allow you to include a phone number on your posts, so your posts will be rejected if you do that. Of course, you can't post any obscene or offensive images or videos, as well as links that lead to obscene material, phishing, malware, etc. 
Google My Business Posts Best Practices
Google has established some basic guidelines for creating effective and appropriate Google My Business posts. Like we just mentioned, you cannot add your phone number to your posts. 
Like any post you create for any platform, you want to make sure your posts are high-quality and free from spelling errors. You want these posts to represent your business well and show that you are professionals. 
You should also be respectful, which means you shouldn't post violent, obscene, or sexual content of any kind. This also goes for the links you include with your posts. Only post links that direct people to websites you trust – no broken links, no spam, no phishing, or anything else that would jeopardize your reputation or put your audience at risk.
According to Google, you are still able to use posts if you work with regulated products and services; however, you can't publish anything that is directly related to these goods and services. So for example, if your products or services are considered "adult" in nature, or if you sell alcohol, recreational drugs, pharmaceutical products, medical devices, or any other regulated service or product, you cannot post about them in your Google My Business posts. This means that you will have to get a little bit creative when you create posts for your business.
Why Use Google My Business Posts?
Google My Business posts are a great way to grab people's attention as they search the internet for local businesses like yours. Having a complete Google My Business profile with updated information and some nice photos, videos, and client reviews is definitely a plus. If you go the extra step and create some strong Google My Business posts, you're sure to stand out from the competition.
The best thing about Google My Business posts is that you can easily share time-sensitive information with people in a way you can't do in your GMB profile in general. You can post news about your business, events, offers, and updates about your products and services. You can include Calls to Action (CTAs) on these posts to direct people where you want them to go when they see the post. The CTAs show up as a button, which makes it easy for people to interact with them.
Here's a list of the CTAs you can add (these are the ones that are currently available):
Learn More

Call Now

Sign Up

Get Offer

Order Online

Book

Buy
What Do Google My Business Posts Look Like?
Now that you understand why you should use Google My Business posts, here are some best practices as you create some of your own: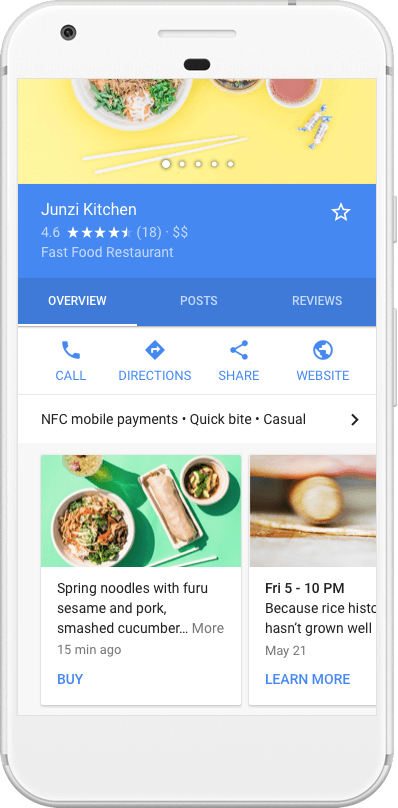 Image or Video
You should definitely add an image or video to your post. You can even add a short title to the image to make sure people understand what the post is about. You can also write a CTA on the image, like "Get 50% off earrings" or "Click to learn more." It's important that the image is clear and easy to understand since people are likely scanning these posts quickly.
Text
Your GMB post should also include text. It doesn't need to be long; in fact, it's best to keep it around 300-400 words. However, if you have something really important to announce, you do have up to 1,500 characters to use. No matter what, keep it simple and get straight to the point. Break up paragraphs or add bullet points so people can skim quickly. 
Call to Action
While adding a CTA button is not mandatory, you should definitely try to use this feature as much as possible. Why? CTAs can help increase traffic, sales, and bookings. So, make sure you use the button whenever it makes sense to do so.
How Do I Create a Google My Business Post?
Now that you know everything about Google My Business posts, you are ready to create your first one! Here's how you do it: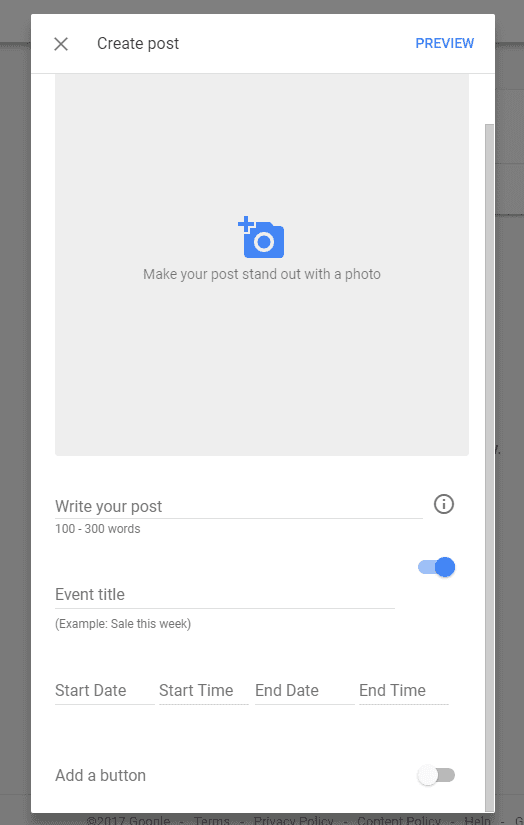 1. Set Up Your Google My Business account
If you still haven't set up your Google My Business account, check out this post to learn how to do it. Don't forget to add photos and videos to your listing and make it as complete as you can. Having a top-notch business listing on Google will positively impact your rankings on Google, Google Maps, and voice assistants.
2. Select Your Post Type
What do you want to post about? When you click on Posts, you will need to select the Post Type. Within Post Type, you'll find 4 categories, they are:
What's New:

General information and updates about your business;

Events:

An easy way to promote your online or live events;

Offers:

Coupons, sales, and discounts fall under this category;

Products:

Use this to highlight some of your newest products or your most popular ones. This is not meant to create a product catalog, it's just meant to be a place to promote products in a timely way. If you want to have a catalog, you can set up your products in the "product" tab on GMB.
3. Create Your Post
Once you select the Post Type, you are ready to create the actual post.
First, you need to add an image or video. Make sure your photos and videos look professional. You don't want them to be blurry, pixelated, or too dark. If you're not a skilled photographer, don't worry. In this post, we tell you exactly how to take amazing product photos using your smartphone!
You can also use apps like Poster Maker or Canva to create images with overlay text. The text you add should be a CTA or a short, impactful sentence that is easy for people to immediately understand. You don't want to add a paragraph of text on top of an image or video.
For the text portion of the post, keep it short. If you can't keep it short, be sure to break up long paragraphs so they're easier to read. A post on GMB that is around 500 words long is more than enough, but try to keep it even shorter (around 300 words is ideal). To make sure your text is easy to read, use small sentences, bullet points, or even add emojis.
You can also add a CTA button to the post, too. Tell your audience exactly what you want them to do. Let's say your goal with the post is to increase your online bookings. You will want to add a "Book" CTA button to your GMB post.
Lastly, you are able to set a date range for your post. If your post is time-sensitive, make sure to specify the dates you want your post to be active on your profile.
4. Publish It
Once you're done, you can click on the preview to check out how the post will look once it's published. Ensure the image or video looks good and there are no spelling mistakes. Read it out loud to make sure it makes sense. Once you've reviewed it and you're happy with your post, go ahead and hit publish!
5. Check the Numbers
It's not worth going through all of this without checking your analytics to make sure your posts are performing well. Checking your numbers is a great way to understand what works (and what doesn't) so you can make adjustments next time. The goal is always to increase engagement, and once you know what viewers like to see, you'll be able to easily do that. 
Google offers some pretty good insights about Google My Business posts, so be sure to check out your post views as well as engagement stats on a fairly regular basis.
Google My Business Posts: Examples
Wondering what the different types of posts look like? Here are a few examples of GMB posts for What's New, Events, Offers, and Products.
What's New
Here you can see a GMB post announcing a new blog post on BluShark Digital.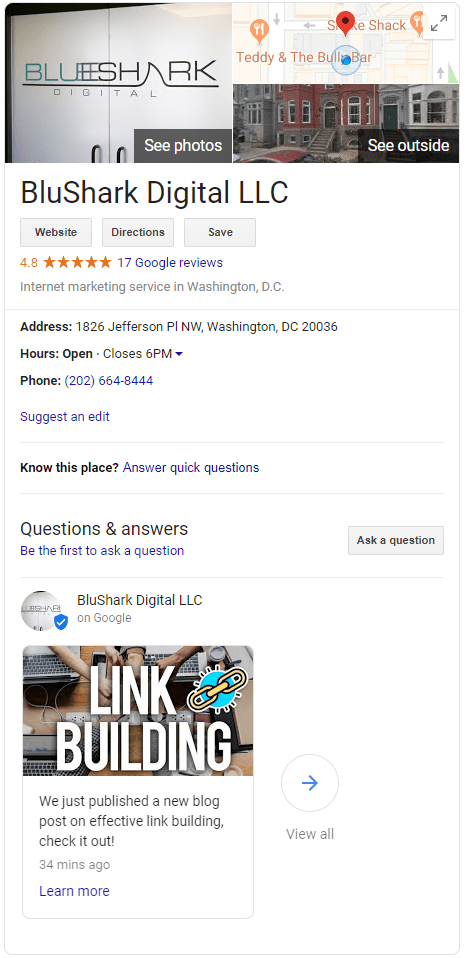 Events
Below you can find two Google My Business Posts from St. Thomas Aquinas College, promoting their events.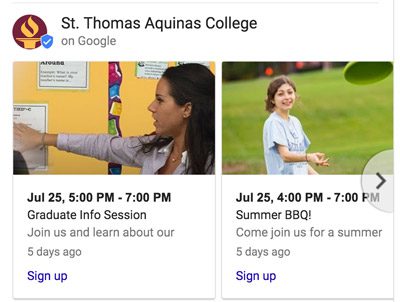 Offers
On this post, The Bakery uses the offer option to announce their 20% off Spring discount!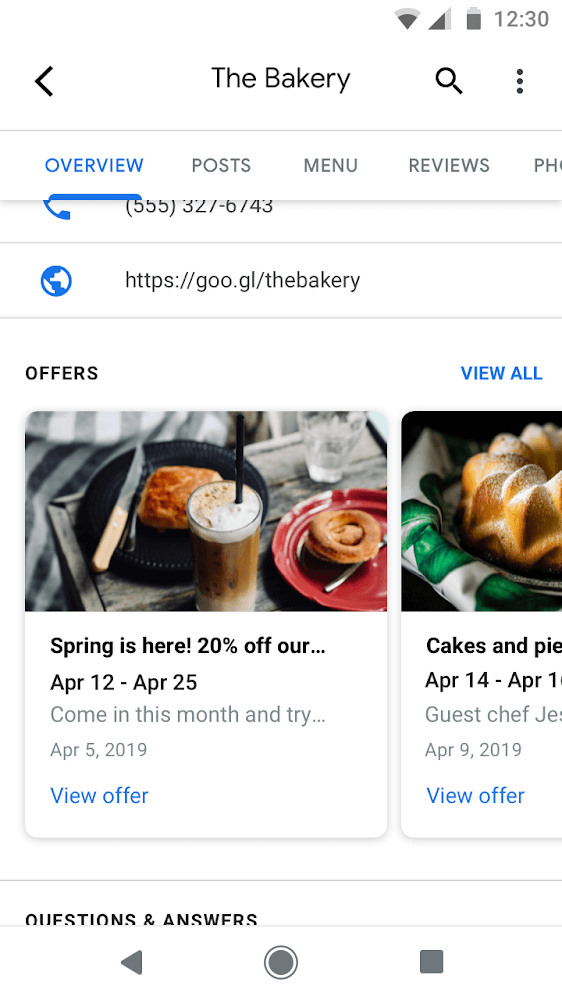 Products
Here's another Google My Business Post example, now of a product post from Home Depot.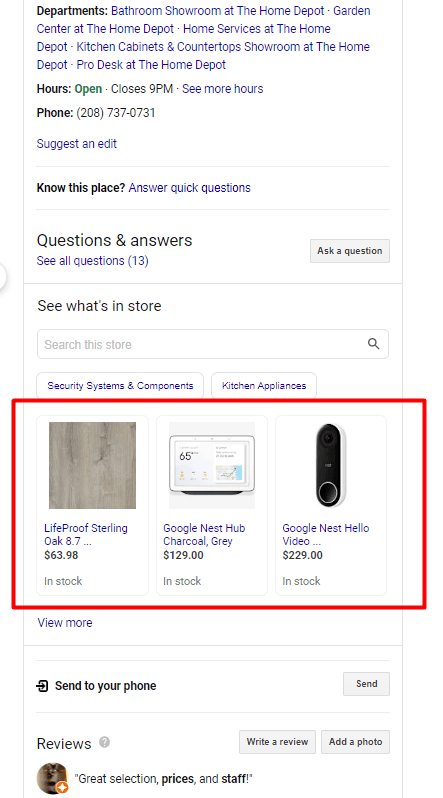 ---
We can't wait to see what you do! Don't forget to tag us using the hashtag #GrowingTheBiz so we can see and share your work. And don't forget to follow us on Pinterest for some more inspiration and ideas!