If you use Instagram Stories, you have probably already seen the food sticker that shows up along with the other fun stickers and gifs. But have you ever thought about how you can use Instagram food stickers for your small business? If not, you're in the right place!
This post is going to give you lots of great ideas to build your audience and increase your sales with one easy little technique. It's also a great way to start growing your Instagram account if you're struggling to do so.
Covid has really made it tough for small, local businesses to thrive or even survive the lockdown periods and the general fear and uncertainty around both safety and the economy. Instagram saw an opportunity to help support these small businesses, and in the middle of the pandemic, they launched the food order stickers.
What Are Instagram Food Stickers?
Instagram's food stickers are special Instagram Story stickers that allow users to easily order from their favorite restaurants directly from the app.
Since accounts with fewer than ten thousand followers are not allowed to use the "swipe up" link feature, it was hard to give people an easy way to place an order if you were just a smaller restaurant. You had to ask people to click the link in the bio, leave the app, and place the order on the website. All that can be cumbersome.
The food stickers make it easy for people to place an order in just a few clicks, without having to leave the app or even the story that they're watching! 
Read more: Instagram Stories for Businesses: The Complete Guide
How to Use the Instagram Food Sticker
Using the Instagram food sticker is easy, but you need to make sure you have an Instagram Business or Creator account before you start. If you have a personal account, the food sticker will not be available to you.
After you make sure you have the right kind of account set up, all you need to do is create an Instagram Story, just like you normally would, and then click the "Sticker" icon to add a sticker. Then, look for the one that says "food orders."
Once you add the sticker, select the food delivery partner you prefer like Uber Eats or Delivery.com. That's pretty much all there is to it. Now, everyone who sees your Instagram Stories can tap that sticker and go right to your food delivery partner page to order from you. Your audience can also re-share the stickers to help spread the word about your business with their own followers!
Read more: 27 Social Media Post Ideas for When You Run Out of Ideas
8 Tips to Get the Most Out of the Instagram Food Sticker
1. Create Awesome Photos
First of all, you need to have awesome photos of your food. Great food photography sells! You don't want to share pictures of your food where it's poorly presented or under bad artificial lighting. If you can't afford a photographer, we shared some great tips in this post to help you take amazing product photos with your smartphone.
However, unless you have a really good eye for photography and image composition, we strongly recommend hiring a professional photographer to take some photos of your dishes. It will pay off, trust us.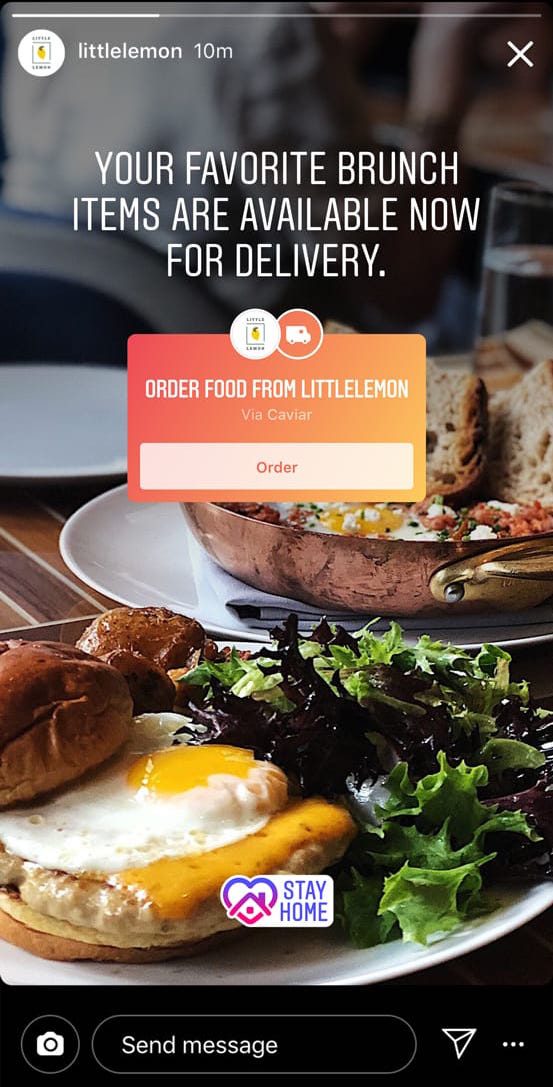 Posting a picture of a delicious dish and adding the food sticker on top will not only make people's mouths water but it will also drive some people to click to order your delicious-looking food right from the Instagram app.
Read more: How to Stand Out in Food Delivery Apps
2. Share Some "Behind the Scenes" Content
Sharing photos and videos of you and your crew working behind the scenes is another awesome way to entice people and make them curious about your food. You can share how busy your restaurant is, or maybe show your cook as they work on creating a special dish.
You could even create an Instagram Reels post that shows a dish being prepared in a fun stop-motion style. Then, you can share the Reels content in your Stories and add the food sticker on top of it, encouraging people to get that delicious dish delivered!
3. Share User-Generated Content
User-generated content is a great way to sell more food. It's also an effective way to show your followers that everyone is already placing orders with you! User-generated content is a type of "social proof" which is a powerful move because people are easily convinced to do something if they see someone else doing it and loving it.
So, whenever someone posts something about your food on their stories or in their feed, share the post on your stories and add that food sticker. Don't forget to also add a call to action telling people to be like your other customers and place an order!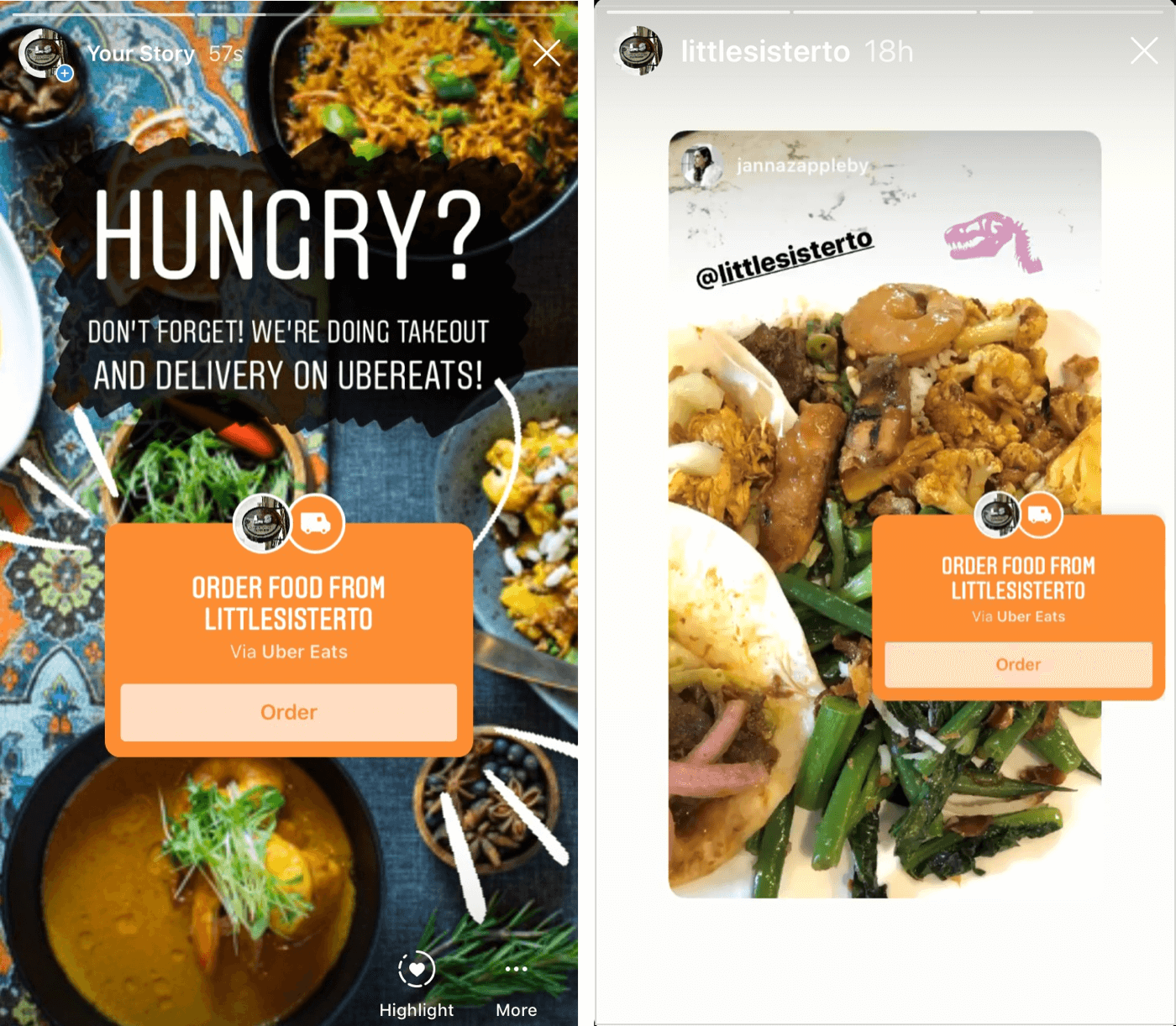 4. Use Location Stickers
Did you know you can use multiple stickers in an Instagram Story? It's true! So, when you add that food sticker, why don't you also add a location sticker? Geo-based tags like the location sticker are super important for local businesses, as anyone who is watching the Stories from that particular location will then see your Stories too – if your account is not private, of course. They don't even have to be following you! This is a great way to expand your reach. You might just reach someone in your town who didn't even know you existed and with the food order sticker, they might just order from you right there on the spot!
5. Use Hashtags
Just like the location sticker, you can also use the hashtag sticker along with the food order sticker to accomplish pretty much the same goal. You can even do all three: add the food order sticker + location sticker + a local hashtag for your geographic area. This combo will be sure to expand your reach on Instagram, as hashtags in stories are also a good way to show up for people who don't already follow you.
Just make sure you're not using hashtags that are too broad; most cities or even neighborhoods have popular hashtags that you can easily find by looking at other local businesses and seeing what hashtags they're using.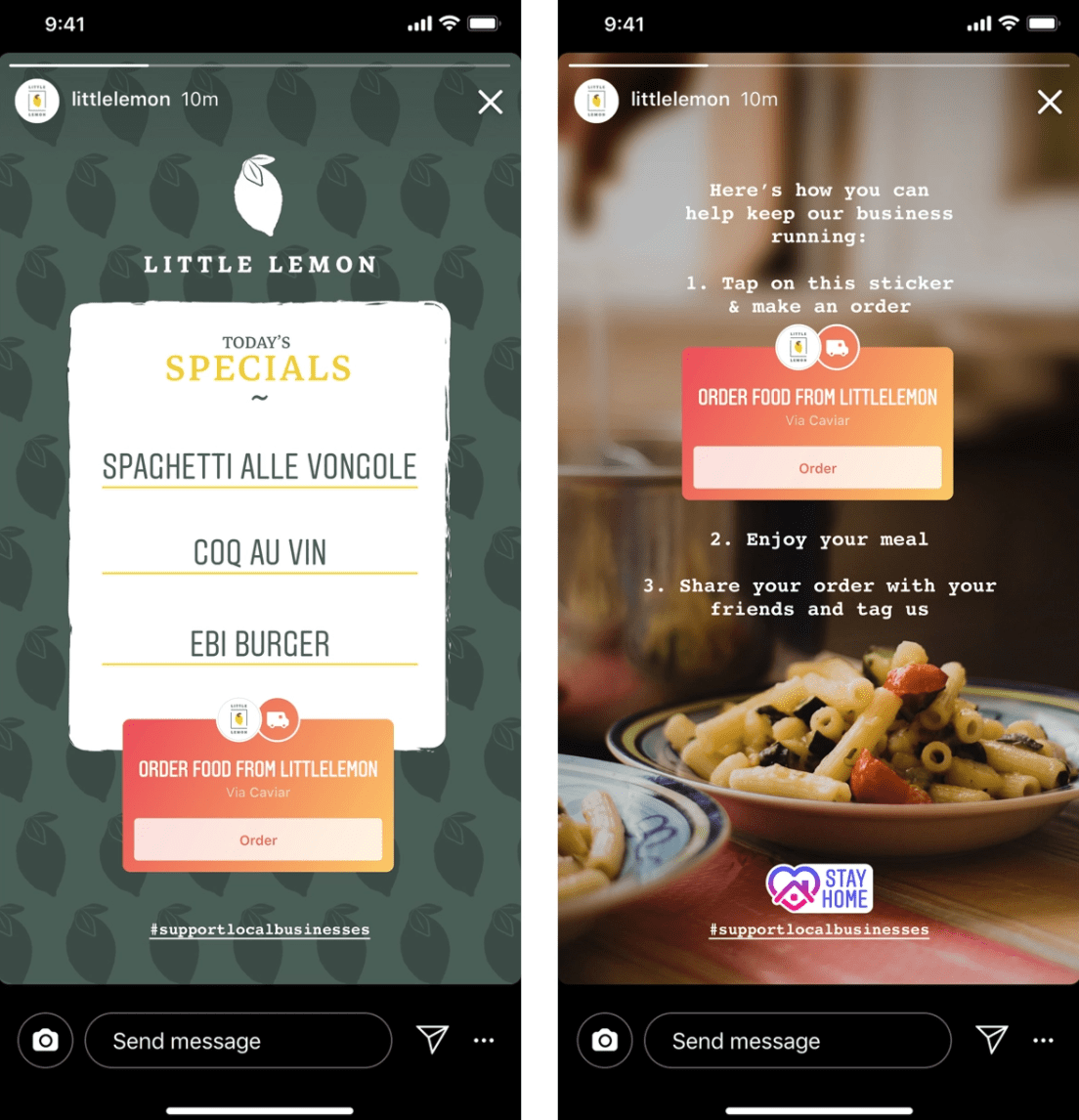 6. Share Poll Stickers
Poll stickers are a great way to increase your engagement on Instagram, and whatever increases your engagement helps your Stories to show up to more people! So, whenever you can, create a poll. It can be something simple like, which of these dishes would you rather have for dinner tonight? Then, right after the story with the poll on it, share a story with the food order sticker.
Because polls drive engagement and engagement expands your reach, more people will see the story with the food order sticker and that could mean more orders! 
7. Share Trending Stickers
Whenever there are trending stickers like the Stay Home or Year of the Ox stickers, use them! Instagram usually creates a specific story "collection" that shows up for everyone in the same place you see the Stories from the other people you follow. If you get included in that collection, you will get a lot more views, and if you've included the food order sticker, more orders, too!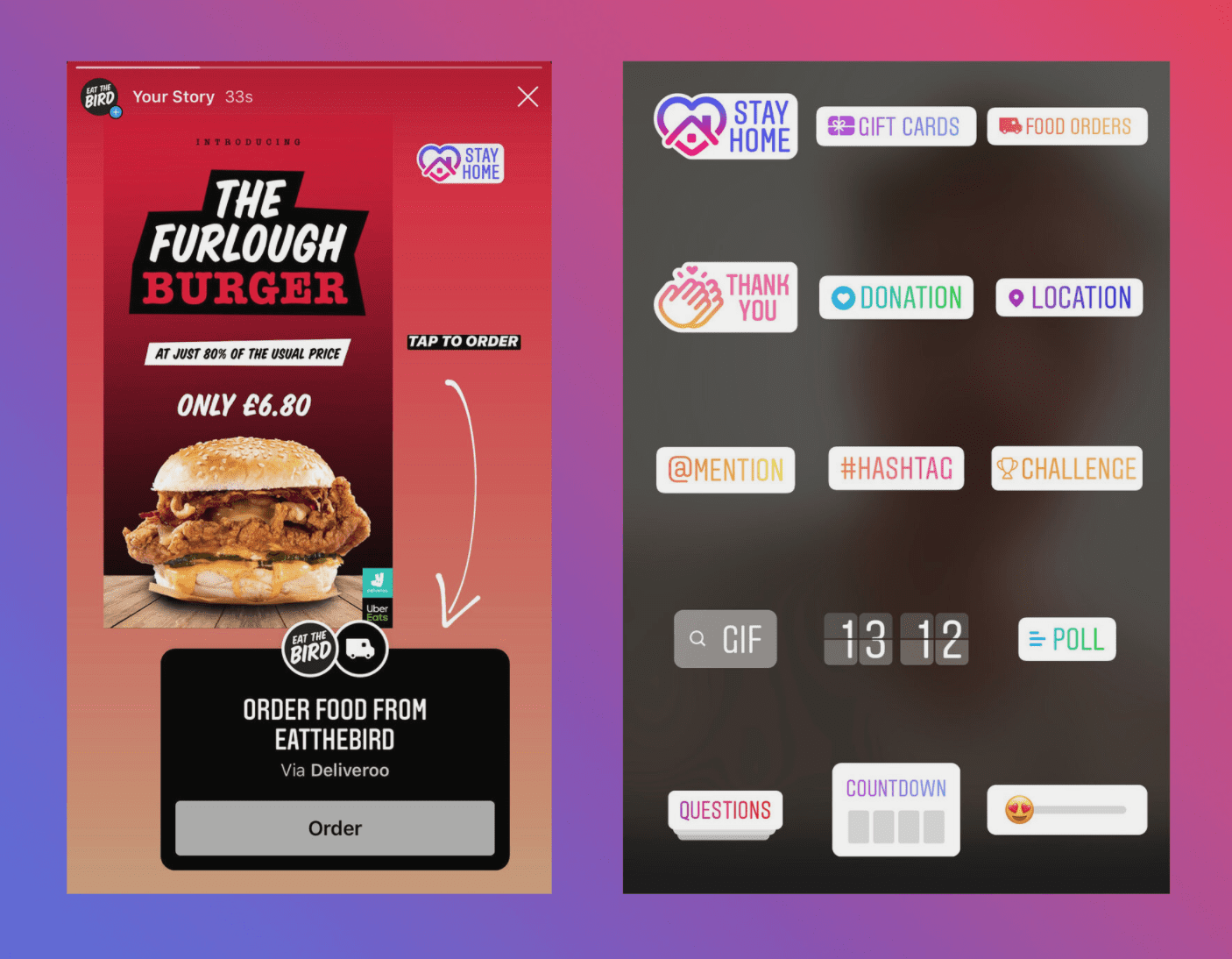 8. Share Your Great Deals
Do you have a great offer running in the food delivery app? Then don't forget to share that great deal on social media! Whether it's free delivery or a "buy one, get one" kind of deal, share it on your Instagram Stories. You can share a screenshot of the app or add a photo of the items on sale and add the food order sticker on top of it with a CTA. People might not see you on the food delivery app, but when they see your Stories, they will know you're there and might even order from you right away!
---
We can't wait to see what you come up with! Don't forget to tag us using the hashtag #GrowingTheBiz so we can see and share your work, and don't forget to follow us on Pinterest for some more inspiration and ideas!