Interior designers, how do you feel about your social media content? If you're not feeling super confident, don't worry. You've come to the right place! With people spending more time at home during the lockdown, interior designers and architects have become more important than ever. People are changing up their homes, adding little things here and there, or starting on that renovation that they were putting off. 
What does that mean for you? It's your time to shine, to get noticed, and sell your products and services to people who are interested in them right now! But, you have to put yourself out there. If you want to be seen, you absolutely need to post on social media. Not only that, but you need to post really helpful content so you can stand out and grow your following. It's not impossible, but it does require some good ideas and some planning, too.
Read more: How to Create a Social Media Plan
If you've run out of ideas or you're just wondering what is considered great content for social media, we can help you out. In this post, we will share some inspiring post ideas for interior designers with real-life examples so you can adapt them to fit your business!
Read more: 27 Social Media Post Ideas for When You Run Out of Ideas
14 Post Ideas for Interior Designers
1. Share Some Inspiration
What is interior design without some good old-fashioned inspiration? People love to look for inspiration whenever they're planning to decorate or renovate their homes. So, why not provide it to them? If you can, try to niche your content so that it's easy for people to find the posts that match their style.
For example, you could post a carousel of the best industrial-style kitchens, then the next week, you can share your favorite farmhouse-inspired laundry rooms. With this technique, you can create lots and lots of inspirational posts! Be sure to share some images of your own projects as well as some you find online, just be sure to give proper credit to the original creator.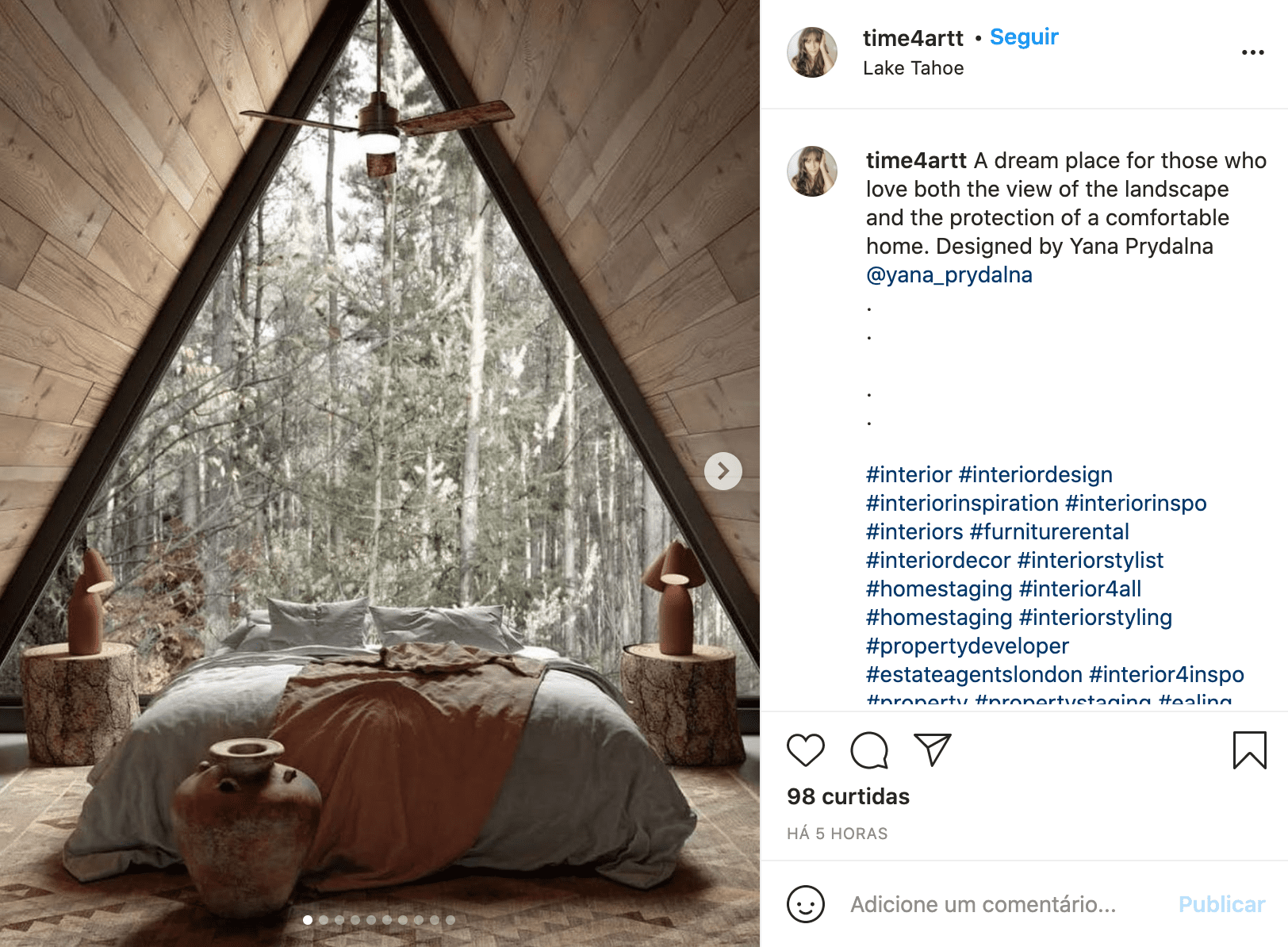 2. Post Your Own Projects
Whenever you're working on a project, go ahead and share it! Post photos of the finished project from different angles and be sure to mix in some detail shots. Don't forget to also share photos of the finished project. Ideally, your feed should feature lots of your own work because you want to entice people to hire you. For the captions, write up a few sentences outlining what the client wanted, your inspiration for the project, and what your creative process looked like. People will love to read about it and it will help people connect with you and trust you.
3. Publish Some Behind the Scenes
Are you currently working on some projects? Share about them on social media! Give your followers a sneak peek of your work. You could share a screenshot of the software you use to design rooms or even a behind the scenes shot of your virtual meeting with your clients. Share some fun facts, something inspirational, or just something that sparks curiosity. You can also share something that educates your audience (for example, how the process works when people want to work with you).
4. Share Before and After Images
There's nothing more impactful than great before and after photos. When you work on a project, don't forget to take some pictures of the place before changing it. Then, once you're done, make sure you take "after" photos from the same spot and angle so people can see exactly what changed – and how much! These kinds of social media posts are really powerful when it comes to finding new clients and admirers.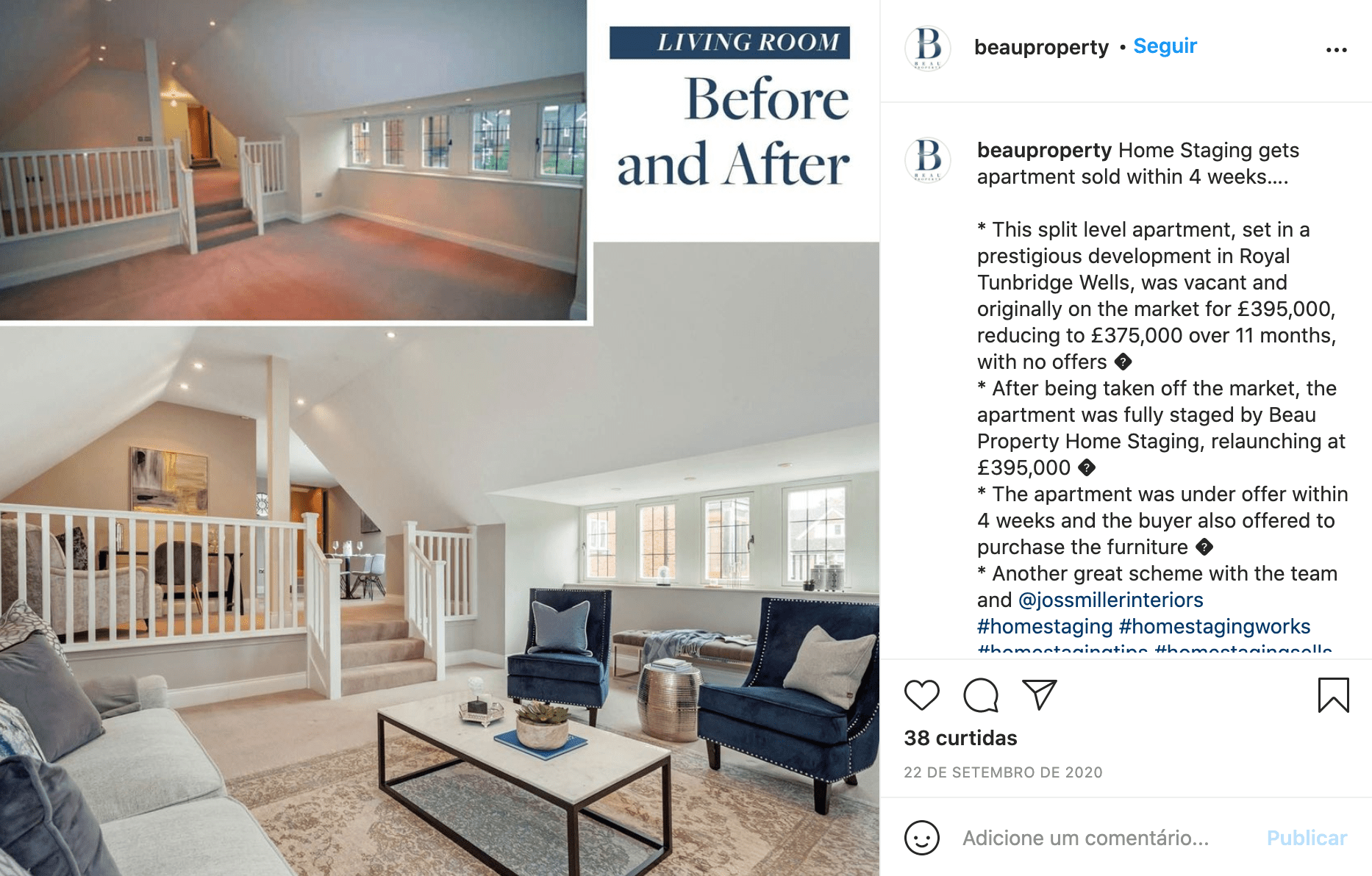 5. Share Some Tutorials
Tutorials are another great post idea for interior designers! You can help your audience and customers with some cool tips on arranging a corner of their house, painting a wall, or even doing a DIY project. A lot of people think that sharing tutorials will drive away business since you're showing people how to do something themselves, but we promise this isn't the case.
Instead, this kind of content will inspire them and encourage them to see you as the knowledgeable expert you are. The next time they need something that's outside of their skill level, they'll be sure to call you first. 
Oh, and these tutorials can be anything. It can be a video, a sequence of photos… whatever you feel comfortable doing!
6. Create a Shopping Guide
Creating a shopping guide is super easy and it has enormous value for your followers. You can even create several guides and save them on your page for people to refer back to in the future! The idea here is to curate some products according to your taste and the topic you select. You can, for example, recommend tiles that match a specific decor style, or some bathtubs that are modern or minimalist. Each and every one of these topics can be a new post. You just have to select the right items and make a list!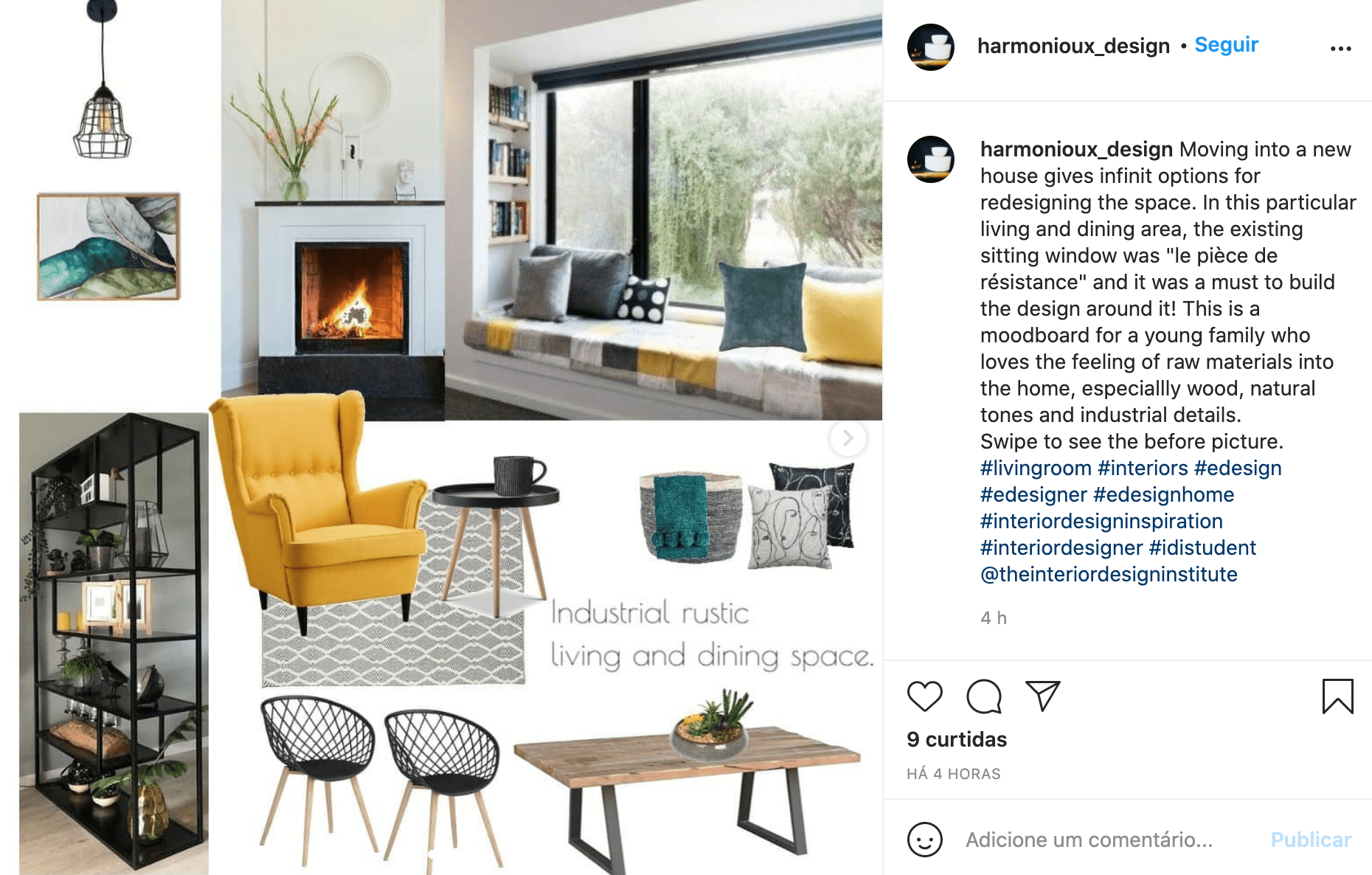 7. Create Comparisons
You are an expert, so share some of your wisdom in a comparison post. For example, you can share your perspective about whether it's better to buy a house or a condo. Or, you can compare chalk-painted furniture versus stained furniture. You could even compare some good versus bad techniques to make your living room look cozier.
Not only can you create these comparison posts, you can also create a poll to go with it where you ask people which option they prefer! This information is fun to have, but it is also valuable insight that you can use when you create future social media posts!
8. Run a Giveaway
Running giveaways are a good idea, especially if you can partner with another local business and offer a cool prize to both your audiences. When you partner with another business within your niche or local area, you're tapping into a bigger audience of potential fans and customers. For instance, maybe you can partner with a home decor shop, a paint fore, or a home appliance warehouse in your city. Decide on a great prize – maybe a package that you each contribute something to – and share the details with your audience!
Read more: 11 Instagram Giveaway Ideas for Small Businesses – and How to Run One
9. Share Color Schemes
Color schemes are great content and it's SO easy. You can just share some of your favorite colors for people to use in their homes and explain how and why these colors are so inviting or timeless (or trendy or modern). Share some great images of rooms that feature these colors for inspiration, and be sure to ask people what kinds of looks they'd like to see you put together next!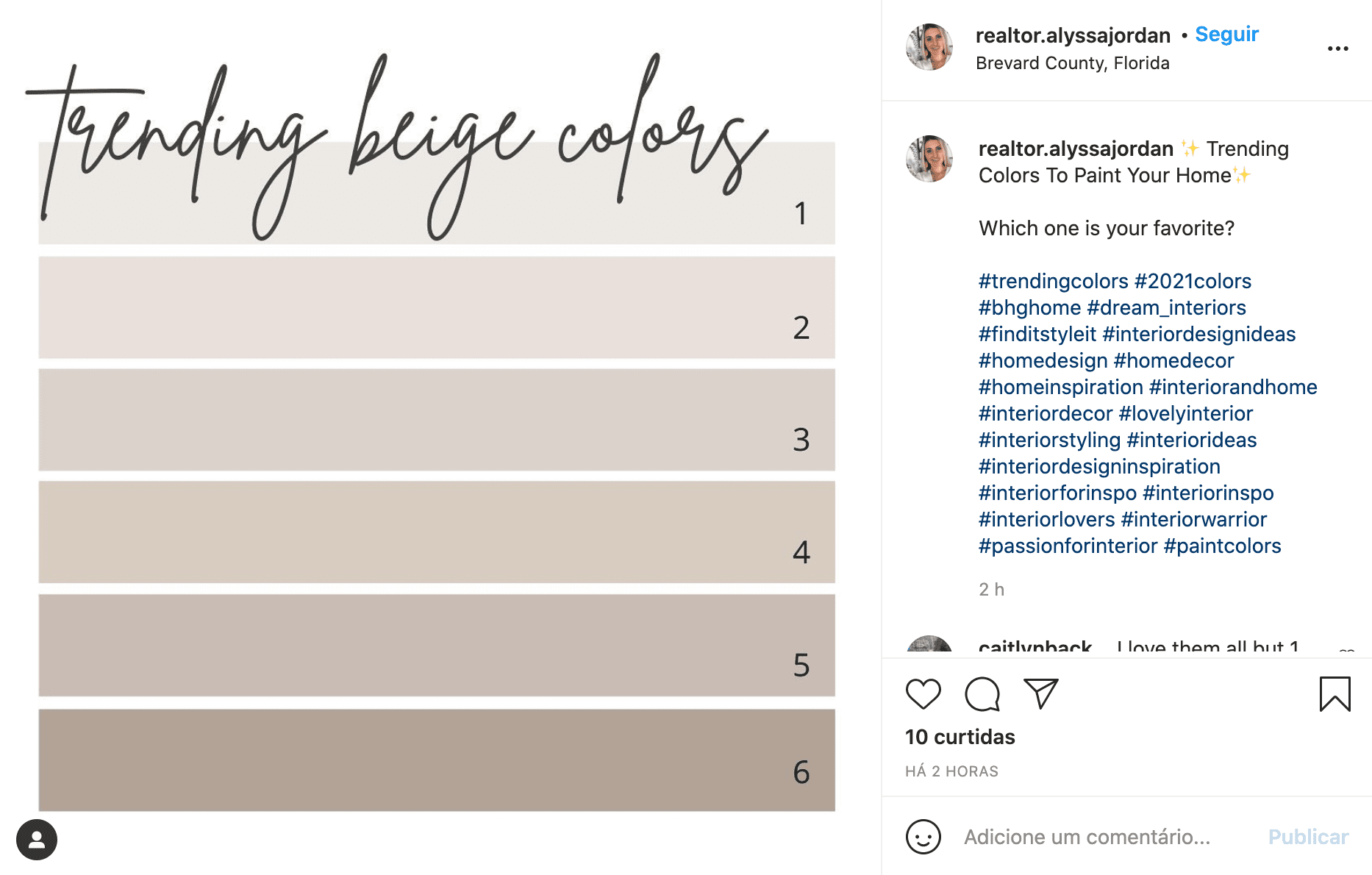 10. Post About Interior Design Trends
Another great way to demonstrate how much you know about interior design and show off your expertise is to post about some of the newest trends in the interior design space. Share a list of your favorite new trends for the year, share something that has just started popping up in big cities, or repost a new launch or a beautiful and innovative product from a company in your niche. Aside from being interesting, these posts are a great way to really highlight your sharp eye for design!
11. Create Seasonal Content
Whenever a holiday or new season is approaching, make a point to share some decorating ideas with your followers. You can share some inspiration, tutorials, or simply talk about your favorite places to shop for seasonal items. These kinds of posts are really helpful and better yet, shareable. If you can help people decorate their homes for Christmas or make their house more airy and fresh during the summertime, people will be so grateful and they'll be sure to share your content with their friends and family. It's a great way to grow your following!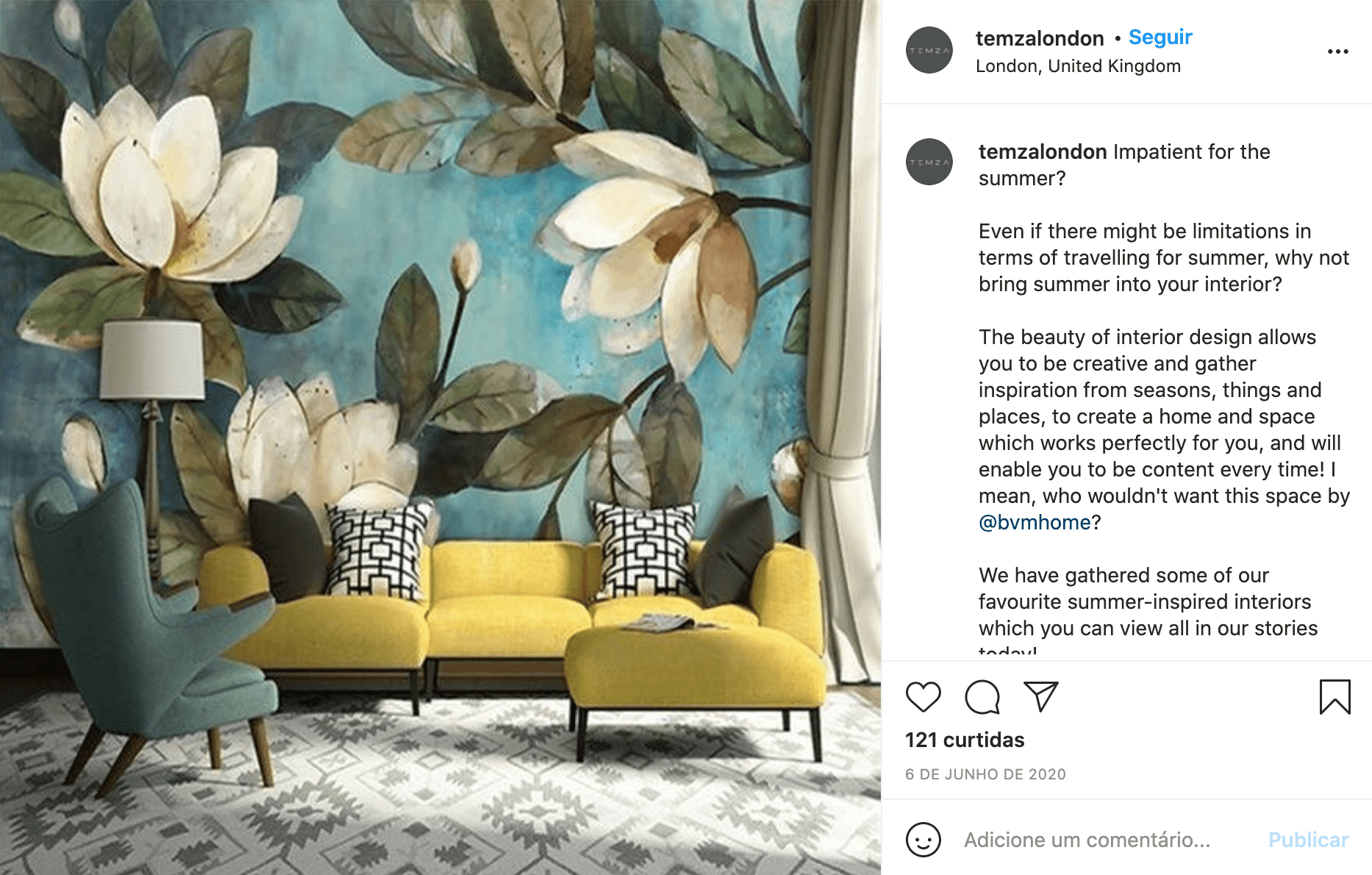 12. Share Your Clients' Testimonials
Finally, the last of the post ideas for interior designers we've gathered in this article is sharing your clients' testimonials! This strategy works wonders as social proof because it shows people that your work is great and that they can trust you if they need to hire an interior designer for themselves. A lot of people are nervous to do this because they feel like it's self-congratulatory, but if you do it sparingly and you make sure to include a heartfelt message along with it, no one will think you're bragging or self-centered. Promise.
---
Did you like these post ideas for interior designers? We can't wait to see what you come up with! Don't forget to tag us using the hashtag #GrowingTheBiz so we can see and share your work, and don't forget to follow us on Pinterest for some more inspiration and ideas!