Need some social media post ideas for when you run out of ideas?! Perhaps you've been running out of topics and not knowing what to post on social media – this is more common than you might think. And when you hit a creative block, you're either not going to create content that people want to see, or even worse, you're just not going to create any content at all.
That's why we decided to create this list for you, to help you get unstuck. We recommend pinning this post to your "Social Media Post Ideas" Pinterest board so you can come back to it whenever you feel like you need an extra creative push. We hope you enjoy this list of what we consider to be the best social media post ideas for when you run out of ideas. Are you ready to get started? Let's get right into it!
27 Social Media Post Ideas for When You Run Out of Ideas
Okay, one more thing before we jump into the post ideas. What you need to do before you do anything else is revisit your marketing strategy. If you don't have a marketing strategy, you can skip this step, but we strongly encourage you to develop one, at least a rough version of one, so you can have more clarity on your brand and audience.
Whenever you run out of ideas, go back to your target audience — the buyer personas you've built — and ask yourself if there's any problem or question you can answer. This simple move might help you come up with a few good ideas of content to create!
Alright, now let's get to the actual list of social media post ideas!
1. Copy Your Own Best Performing Posts
Go back in time and check your social media analytics to see which posts performed well. Try to identify why that post performed well. Is it because it tapped into a common problem among your audience? Or perhaps because you taught them something useful? Maybe because you were more personal? Try to find the reason – or reasons – why these posts performed well and create something similar to those!
2. Repost Your Own Content
Another way you can use your best performing posts is by reposting your own content. You can use the same image and a different caption, or the same image but a different caption. Chances are, if you've gained a few followers, they haven't seen this post and will like it just as much as your audience did the first time you posted it. Even if people have seen it before, it's been long enough since you published the post that your audience likely won't remember. Just try to look back at posts from about 6 months ago or earlier. 
3. Repurpose Your Content
Another idea is to use old content to create fresh content. What do I mean? Well, if you created a post a while back as a photo + caption, why not transform this post into an Instagram Reel, a Facebook Live, or a YouTube video? Or, maybe you can create a more detailed version of your caption and turn it into a blog post or a LinkedIn article. There are several ways you can use old content to create a new version in a different format. 
4. Create Content Based on Other Businesses
Sometimes, when we run out of ideas, we simply can't think of anything other than what we have already thought. We are so deep in our own thoughts and use our own content and creative process that we might need extra help. Looking at what others are doing might be helpful. We're not saying that you should copy what they did, just let their unique point of view inspire you!
Remember, the businesses you look at for inspiration don't have to even be in your same industry. In fact, it might be better if they're not. Let's say a local plumber created a fun video on TikTok that you think is really clever… create your own version of it, and you could even give them credit in the caption and thank them for the inspiration!
5. Share Content From Other Businesses
While you're looking around at other brands for inspiration, why not pass along what you find to your own followers? Let's say you're a hairdresser, for example. If you are looking at other hairdressers' posts and you find some you love, why not share their work and say what you like about it? There's nothing like building a healthy community with genuine kindness and an expression of adoration. Plus, I'm sure they will appreciate the extra exposure!
6. Share Your Story
Have you ever gotten personal on your social media page and shared your story? People really like it because it makes you seem even more human to them. Plus, this is usually a pretty easy one to put together. You just need a nice photo of yourself (or even just a selfie) and then in the caption, you could share a little bit more about yourself. You could answer questions like: 
How did you start your business?

Why did you start your business?

What did you struggle with the most when creating your business?

What are your biggest challenges as a small business owner?

What were your business's biggest achievements?

Who is on your team and why do you appreciate them?
If you feel more comfortable doing a video, you could always post it in your feed as a video post or as a series of Instagram Stories. Just remember to always keep a friendly tone; people will appreciate it.
7. A Year in Review
If the end of the year is approaching, you can create a post sharing facts, images, and videos about your year as a business. Go through some of your biggest memories and achievements and share them either as photos in your feed or create a slideshow video! Share some funny moments, interesting facts, and even the difficulties you faced. If you have permission from customers or clients, include their photos and stories in the post, too! What a nice way to wrap up the year, don't you think?
8. Throwback Thursday
If the day you run out of ideas happens to be a Thursday, then why not do a Throwback Thursday post? Revisit a good moment that happened in the last few months and share it using the hashtag #tbt. Try to keep it business-related, of course. Small business owners usually tend to mix their business and personal life a lot, like I just saw an account for a local restaurant share a post about their mother's birthday. It's nice to let people into your world, but that post probably won't resonate with people, unless they know your mom personally.
Of course, if you want to get personal and share special moments, that's fine to do once in a while. However, remember that the main goal of your business' social media channel is to attract people who are interested in what your business has to offer, not so much in you as an individual.
So, if you hosted a nice event at your restaurant last month, go ahead and share it on social media. If you went on a business trip and met a client, share a photo from your trip and talk about the experience! Just remember, this kind of post is really meant to be shared on a Thursday. 
9. Post Your Product Pictures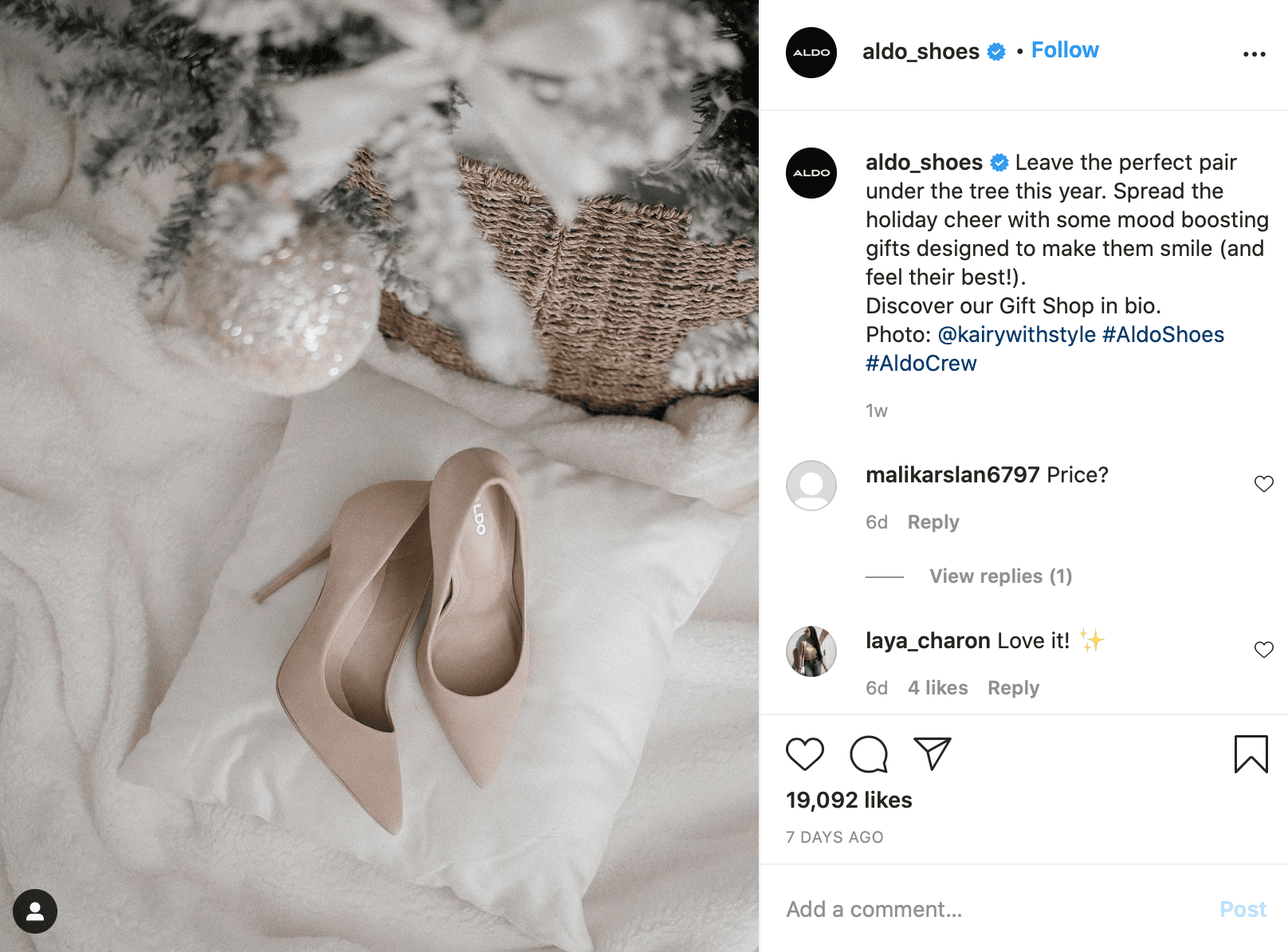 Do you sell products? If you run out of ideas, you can always post a photo of one of your products. If you don't know how to choose which product to post about, try these ideas:
Your all-time bestseller;

This month's bestseller;

Products on sale; 

A new launch; 

Your top pick (your personal favorite product that you carry).
Along with the product picture, add some of your products' features, talk about them, and give people simple and objective information about it. Don't do it too often, though. You want your social media content to be a mix of content marketing and your products in a proportion that is 80-20 (80% of informational content and 20% of sales content).
What you can do to diversify here is to switch it up between traditional product photos – ones with a plain white background – and lifestyle product photos, which is a photo where you're showing the product while it's being used.
10. Post Your Product Recommendations
Another interesting post idea is to create a list of products you recommend for your followers. For example, let's say you're a nail artist. You can tell people which brands of nail polish you love at the drugstore and why you love them. When you share your favorite products with your audience, they can benefit from your professional knowledge and no doubt they will appreciate it!
11. Create a Gift Guide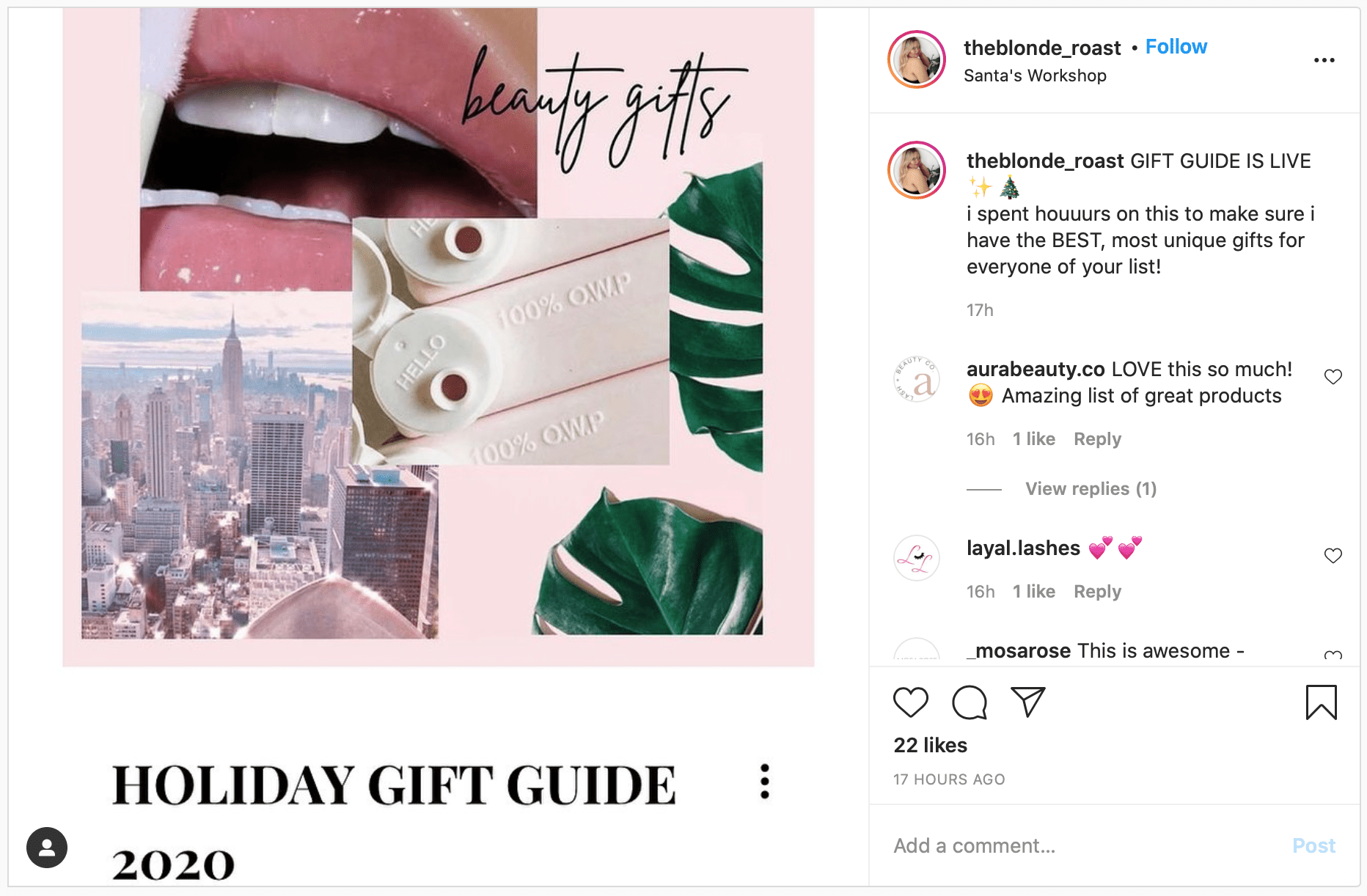 Creating a gift guide is a great way to post more photos of your products and recommend them to your audience during special holidays and marketing days like Black Friday, Christmas, or Valentine's Day. My favorite way to go about this is to intersperse your own products along with some of your favorite products from other businesses as well.
Of course, you probably don't want to list products from your direct competitors, but you can feature items from other small business owners you like. Besides being super helpful to your audience, it might also help these other businesses! They will certainly appreciate your kindness and will most likely pay it forward at some point.
Don't stress about how it looks. It can be just a simple carousel post or series of Instagram Stories that you save to a highlight reel. 
12. Create Polls (This-or-That Questions)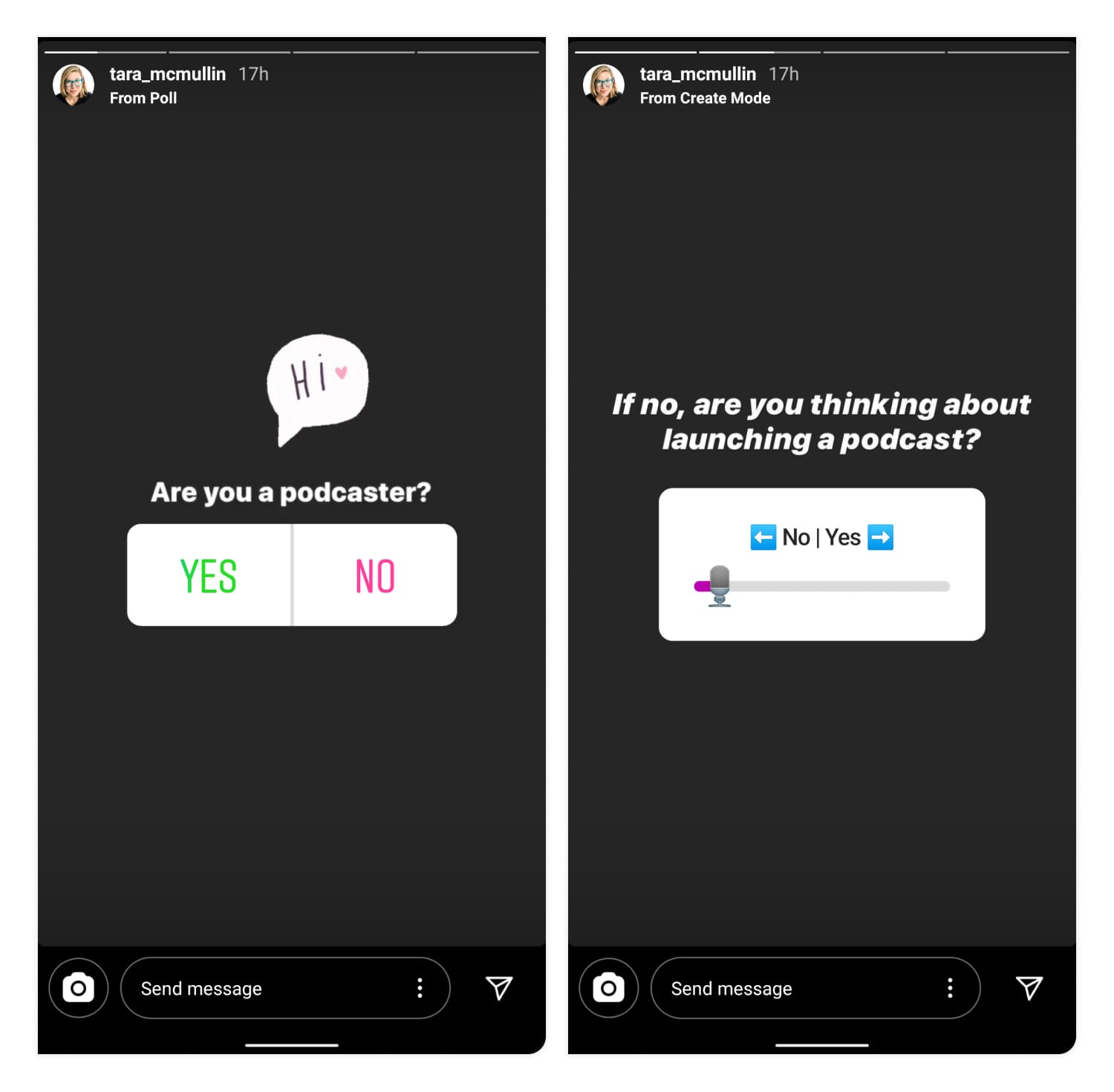 Creating polls is a great way to post something engaging, even if you've run out of ideas. Just remember that anything you ask should be related to your business in some way. You don't want to ask something just for the sake of asking. To show you what I mean, here are a few examples of questions you can tailor to your business and ask your audience on social media:
Do you like … (a dish, hairstyle, exercise technique)?

Do you know … (a new hairstyle, skincare line, diet method)?

Would you join … (my online event, event, workshop, class, walk, picnic)?

Do you want to learn … (how to cook, sew, exercise, eat better, meditate)?

Do you need help with … (cooking, taking care of your kids, training your dog, creating your marketing strategy)?

What's your favorite … (hairstyle, shoe, dish, destination, song)?

Should we add … (service or product) to our menu/catalog/service table?

Which (technique, service, product) do you want to know more about?

Which of these should be the topic for our next (video, post, Reels, IGTV, live stream, etc.)?

Have you ever been to … (Amazon jungle, our restaurant, my art gallery)?

Did you know that our products are … (vegan, recycled, handmade)?

Do you have a … (hair straightener, MacBook, aromatic candle)?

Should we do a … (huge sale, giveaway, contest, event)?

Do you have problems with … (gaining muscle, finances, getting organized)?

Are you … (male/female, dog/cat lover, over 35/under 35)

Can you (surf, ski, dive, speak Spanish, paint)?

Have you watched (a movie, TV show, interview)?

Would you like to see more about … (product launch, behind the scenes, tutorials)
13 Ask Open-Ended Questions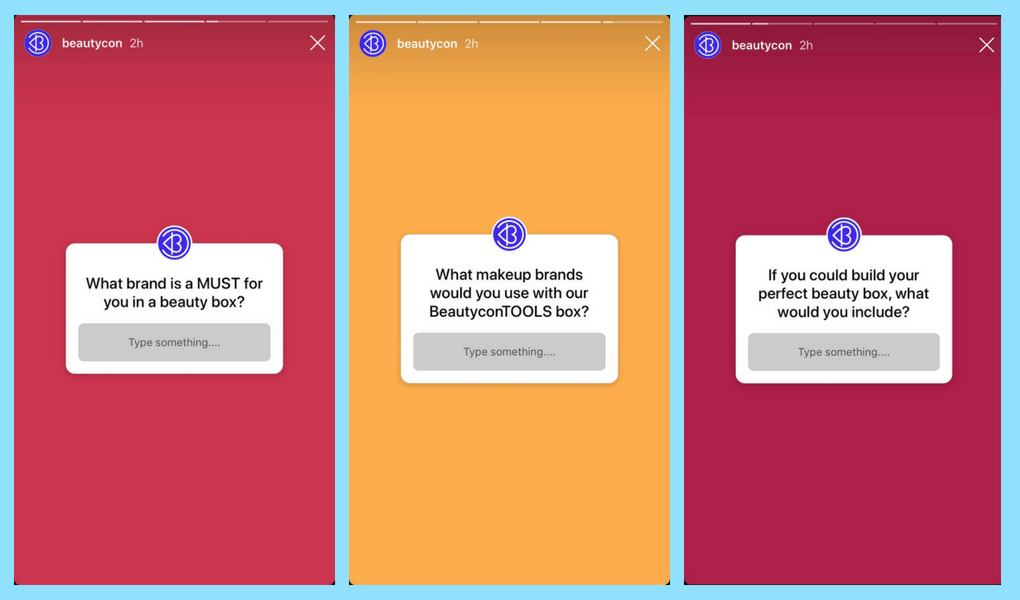 Another great way to get to know your audience better is to ask them open-ended questions, whether on Instagram Stories or in a feed post. Here are some good ones:
What do you think about …?

Which is your favorite item on our menu?

What are you working on?

How do you use our product?

What's your favorite way to use our product?

Who would you give this … (tag this person)?

How did you find us?

Why do you follow us?

What are your favorite …?

When was the last time you …?

What would you do if you …?

What's your favorite …?

How much time do you usually spend …?

What are your plans for …?

What kind of content would you like to see on our profile?

When was the last time you …?

What's your favorite memory with our business? 
14. Answer Questions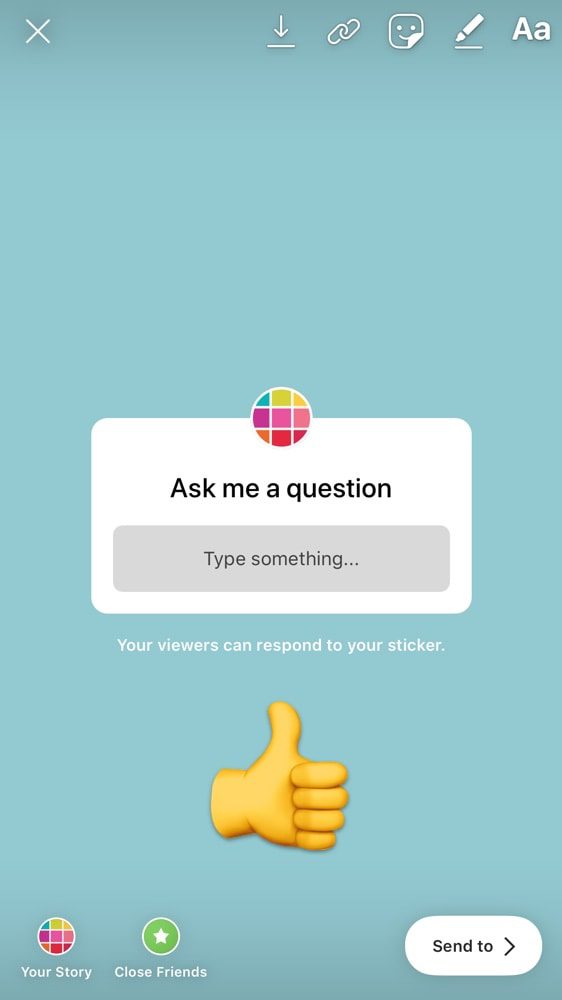 Apart from asking questions, answering questions might be an interesting way to come up with post ideas. Tell your audience that you'll be answering questions about a specific topic and tell them how they can submit questions to you. You could do this in your Stories, in a video, or in a series of posts. In addition to helping you create interesting content for your social media page, this and the previous ideas help you know your audience better and find out what they like or expect from you.
15. Answer Frequently Asked Questions
If you're not in the mood to get a bunch of questions from your followers, you can simply answer some of your most frequently asked questions. Try to remember the things that people often ask or go through your messages and comments and write down questions and answers. You can keep the post saved on your highlights so that you can easily direct people there if you're getting the same questions over and over. So, besides being a good post idea for when you run out of ideas, it's also great because it's helpful to your audience and it can live on your page forever.
16. Share Testimonials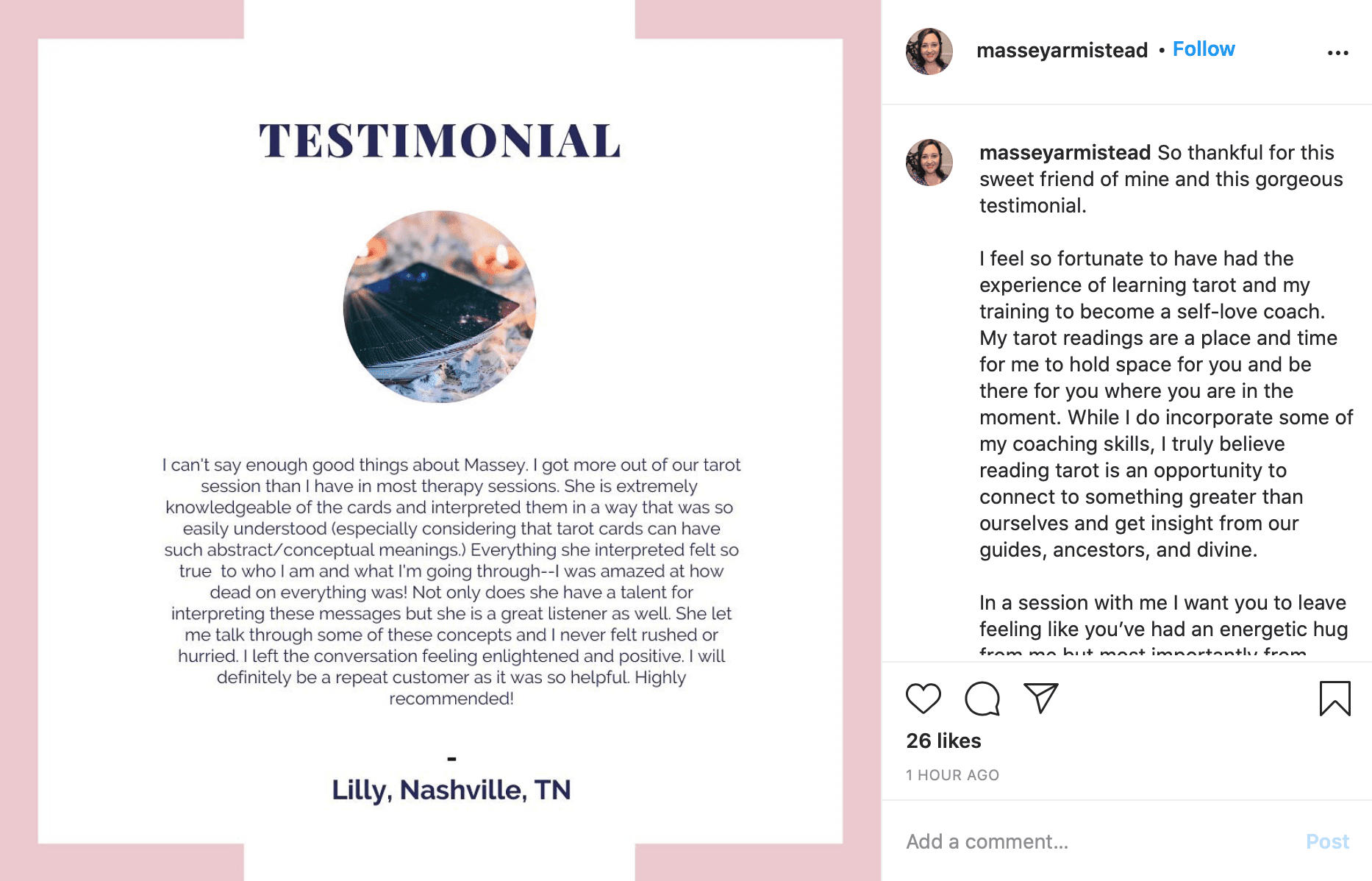 Sharing testimonials is a great social media post idea. Besides helping you create content without the need to give it too much thought, it's also a way to build that valuable social proof for your business. Sure, self-promotion can be great, but there's nothing like hearing it from one of your satisfied customers. This kind of digital word-of-mouth makes people feel more secure about making a purchase and can actually create a sense of FOMO among people who haven't become a customer yet. 
17. User-Generated Content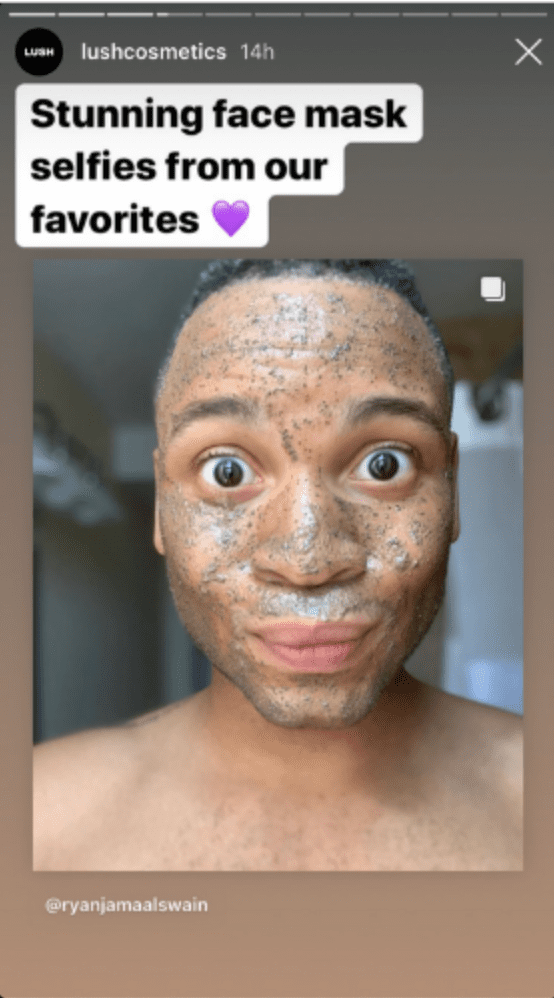 Did one of your customers tag you in a post? Well, if you run out of ideas, this might be the perfect opportunity to repost this content. Reposting your audience's content is like free advertising, and it really takes very little effort on your part. You just need to repost the content and perhaps add a few words thanking them for sharing, for their support, and then possibly invite people to come and visit your business or hire you for your services.
18. Be a Curator
Another way to create amazing content when you run out of ideas is to share useful, fun, or educational content from other people with your audience. So, select a few interesting posts and share them with your followers; they will love it. But again, keep it within your niche; you don't want to just start sharing random posts!
19. Record Short Videos
Videos are usually more popular than static posts on social media channels like Facebook, Instagram, and Twitter, so if you haven't been doing a lot of video content, it might be worth a try. You don't need to be a video pro; you can just share some tips or insights with your audience in a short 1-minute video. If you would rather not talk, you can just do a tutorial video using subtitles and post it to TikTok or Instagram Reels. Here are a few other fun video ideas:
Tutorials

Before & After

Behind the scenes

Evolution of a process

You, creating your work

Insights

Teaching

Challenge

Your workspace

Your work routine

How you pick your tools/ingredients/etc.

Your process to create something

Give advice

Tips and tricks

The latest news
20. Tutorials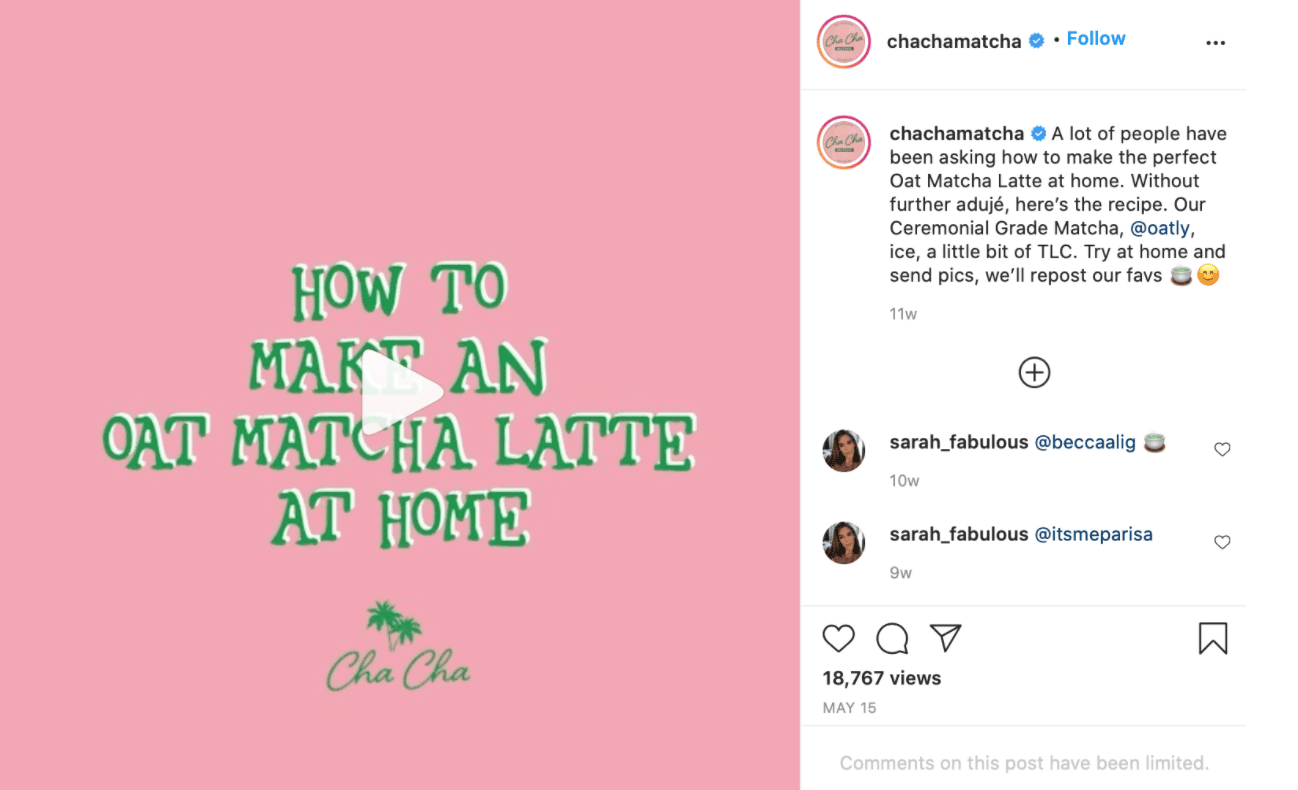 Tutorials are a great social media post idea for when you run out of ideas. They can be as simple as a hair-do or a drawing. The tutorial you choose will depend on your expertise, so think about what you do and what you could teach people in a short video or broken down as a step by step text or image sequence. Here are just a few ideas of things you can teach people:
Exercise

Recipe

Makeup

Meditation

Yoga

Self-awareness tips

Hair-do

DIY projects

Shopping

Organizing

Taking care of something

Studying at home

Replacing your shower

Mowing your lawn

Decorating

Photographing

Writing

Being more productive/organized/healthy/etc.
21. Bits and Pieces of Your Personal Life
As I said, small business owners usually tend to mix their professional and personal life a little too much. However, you are not forbidden from sharing something more personal with your business followers. Small business owners are usually known by their clients, so sharing something more personal might strengthen the bond you have with them. People who root for you will want to see you and your business succeed. 
While I don't think you should be posting your meals or gym selfies necessarily, if you have major personal news, you should definitely share it on your business page. For example, consider creating a post if you:
Got married

Had a child

Got pregnant

Bought a new house

Celebrated an anniversary

Graduated

Received an award.
22. Inspirational quotes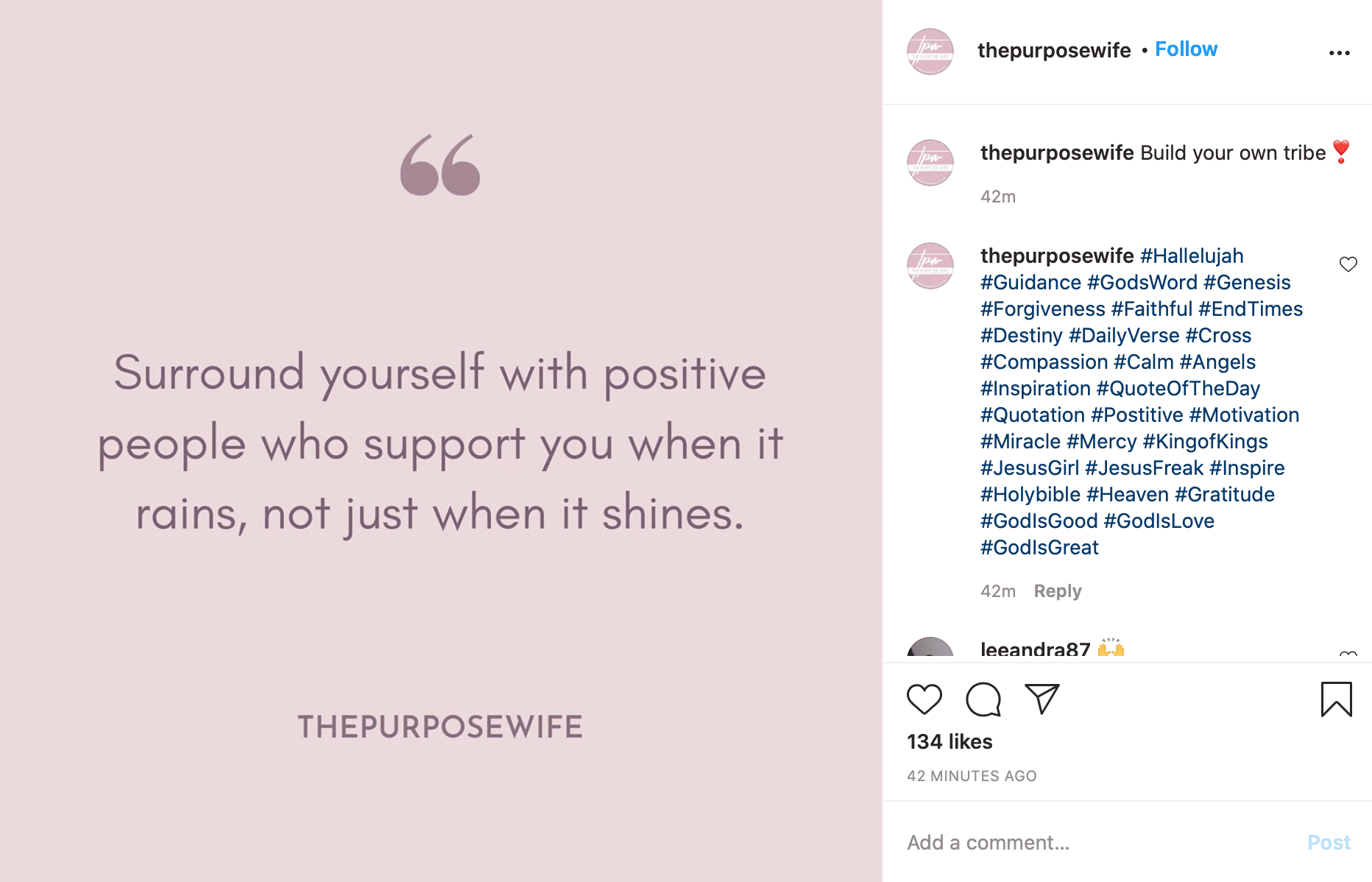 Inspirational quotes are nice, but only if you don't overdo it. These kinds of posts are fine every once in a while, but they should still make sense for your business. Don't just choose a random quote from the internet. Think of something you've recently read that struck a chord with you and share in a special way. Perhaps you can write it out by hand or create a nice branded design in Canva and share it with a caption that tells people what that quote means to you!
23. Show Your Workspace
People love to see what's happening behind the scenes. They want to see where the magic happens! So why not share a little glimpse of your space with them? You can show your materials all scattered on a table while you're working on a new project, the ingredients of a new recipe, the arrival of your new shipment of goods, or even the process of opening or moving your business into a new space.
24. Promote Your Free Resources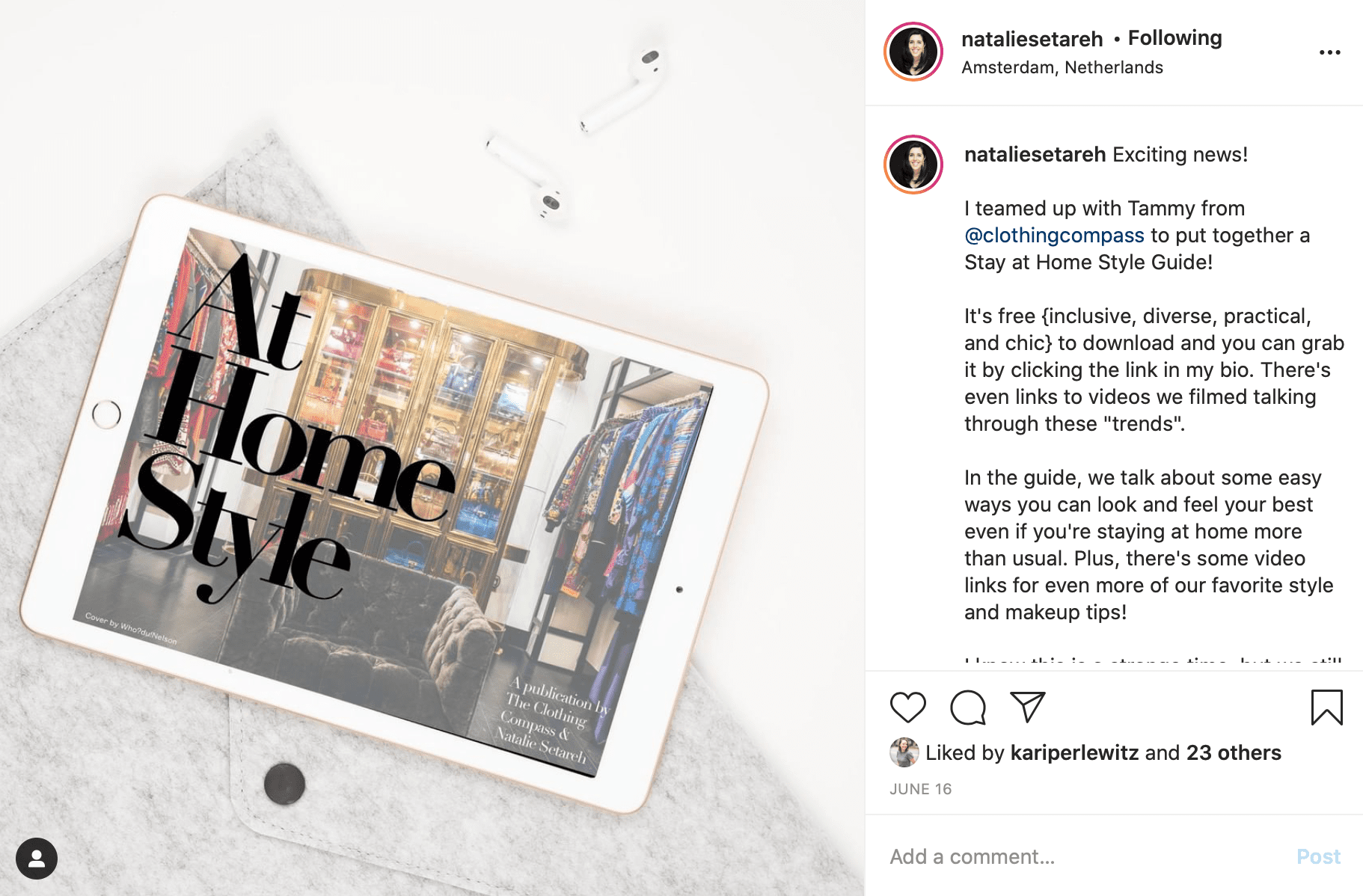 Do you have any free resources that you give away? When you run out of ideas, it might be a great opportunity to remind your audience that these free resources exist and let them know where they can find them. Ask people to let you know what they think about your resource(s) and encourage them to share them on their own social feed, which will then give you even more content to publish!
25. Sneak peeks
If you have any new products coming out, share a sneak peek. This is a great way to promote your products and build excitement. If you're not quite ready to reveal your new product yet, you could just create a teaser post that says, "something exciting is coming…" to build a buzz around the new product launch!
26. Host giveaways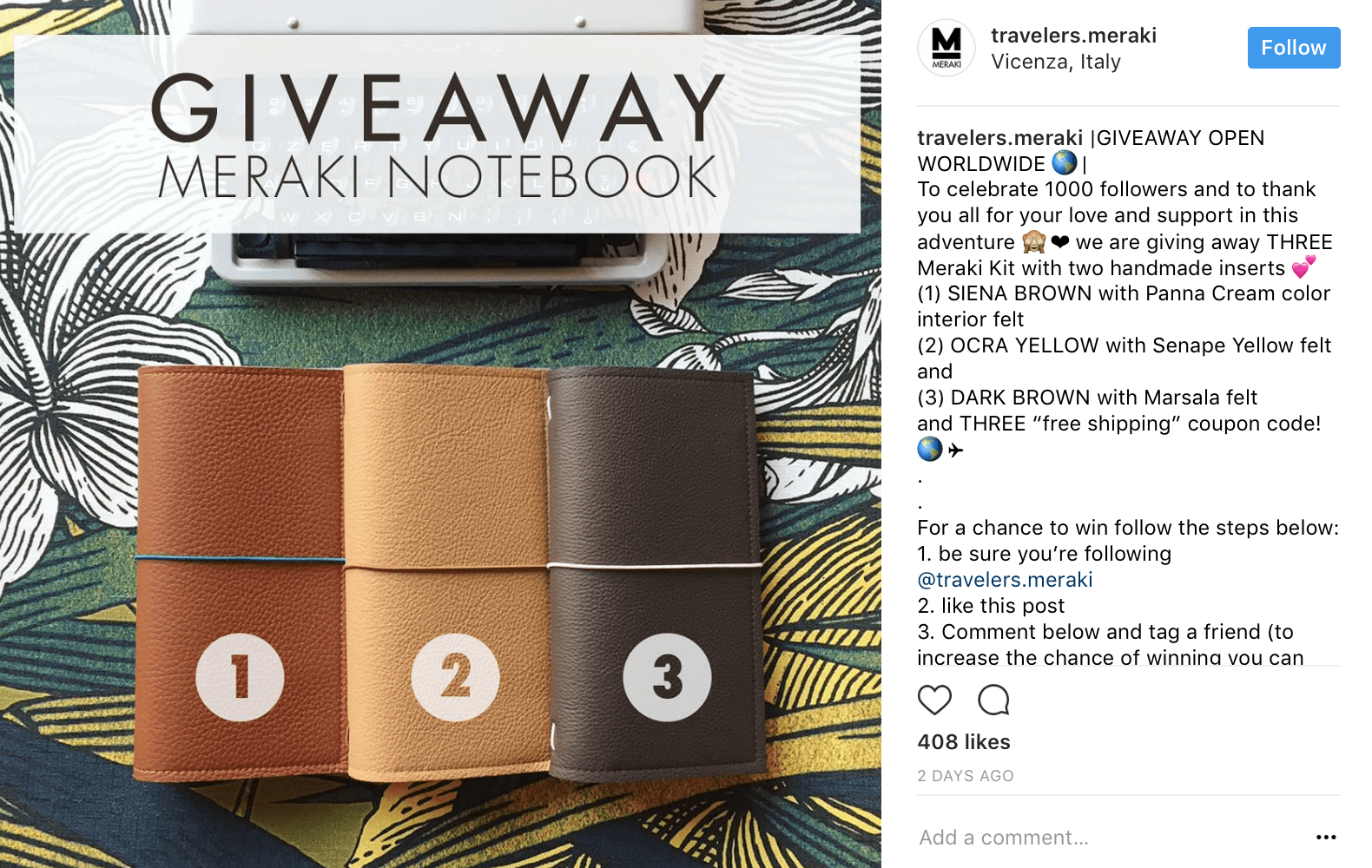 Another good way to liven up your social media feed is to create a giveaway. It doesn't need to be something huge. You can create a contest that will just last three or four days. Start by posting the giveaway post where you ask people to engage (like, comment, share, and/or tag someone) to enter. Then you can create posts on days two, three, and four reminding people to enter. In addition to generating content for your page, it's also a great way to gain some new followers!
Read more: Instagram Giveaway Ideas – and How to Run One
27. Go Live
Have you ever gone live on your Instagram or Facebook page? It might seem intimidating at first, but after you do it once, you'll see that it isn't so bad. The good thing about it is that you can decide to do it last minute with zero planning, or if you prefer, you can tease it for a few days to get more people interested in the virtual event. Make sure you define a topic for the live so you're not just on there rambling and also, so people can decide if they want to join. The best thing is that afterward, you can save the live stream and it can become another post!