Are you looking for some great social media post ideas for Easter? It's never too early to start planning your social content for major holidays. After all, you want to make sure it's thought-out and well-executed so your posts can get all the exposure they deserve. 
As a business owner, planning out your marketing campaigns in advance – even if you don't necessarily see them as marketing campaigns – allows you to create posts that will hopefully get more likes, comments, and shares.
You can create something beyond just a simple post wishing your audience a "Happy Easter." You can be creative, work on an Easter menu, a week of special deals, or even an egg hunt! But, for this to work, you need to start thinking about your content at least 2-3 weeks beforehand. So, are you ready to get started? Let's start planning!
10 Social Media Post Ideas for Easter
1. Create Polls
Polls are an awesome way to increase engagement and create a bond with your followers. It's also a great way to collect information about the people who follow you!  Ask them for suggestions or create some fun "this or that" style questions. Encourage them to help you create a new product, a new campaign, or a new offer.
You can really benefit from learning more about their opinions, taste, and what they expect from you. You can use this information to create products, services, and posts that are more aligned with your audience and customers.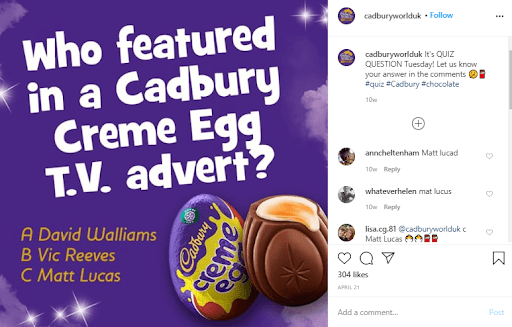 So, if you're a restaurant owner who is planning a special Easter menu, you could ask your audience about their favorite dishes, then create something based on their responses. They will love to see that you're taking their feedback into consideration, and they will also look forward to tasting your menu items! Once you start working on it, share some "behind the scenes" peeks to make your followers even more curious (more on that in a second).
2. Share Some Behind the Scenes Content
There's nothing more exciting to your social media followers than getting a chance to see what's happening behind-the-scenes! It makes people feel curious, especially if you give them enough context and share just enough for them to understand a little of what you're up to. 
For instance, let's say you're about to launch an Easter-themed collection. Show them some pieces of the process and maybe even one or two of the items. You can create some short videos and Instagram or Facebook Stories, it doesn't have to be complicated. This will make people feel like they are a part of your business and brand, and it will also get them excited for what's to come. Don't forget to add the countdown sticker on your Stories so people can get a notification when you launch!
3. Organize an Egg Hunt
This is your big chance to be creative! Egg hunts are fun and engaging, and they aren't necessarily just for kids. You can create an egg hunt in your business or in the general area around your business. Invite people to join in and make sure you have an awesome prize to motivate more people to play along!
You can also create an event right after the egg hunt to bring people together at your business. If security measures don't allow an egg hunt or an in-person event, you can create something online – check out some of these great ideas for a virtual egg hunt.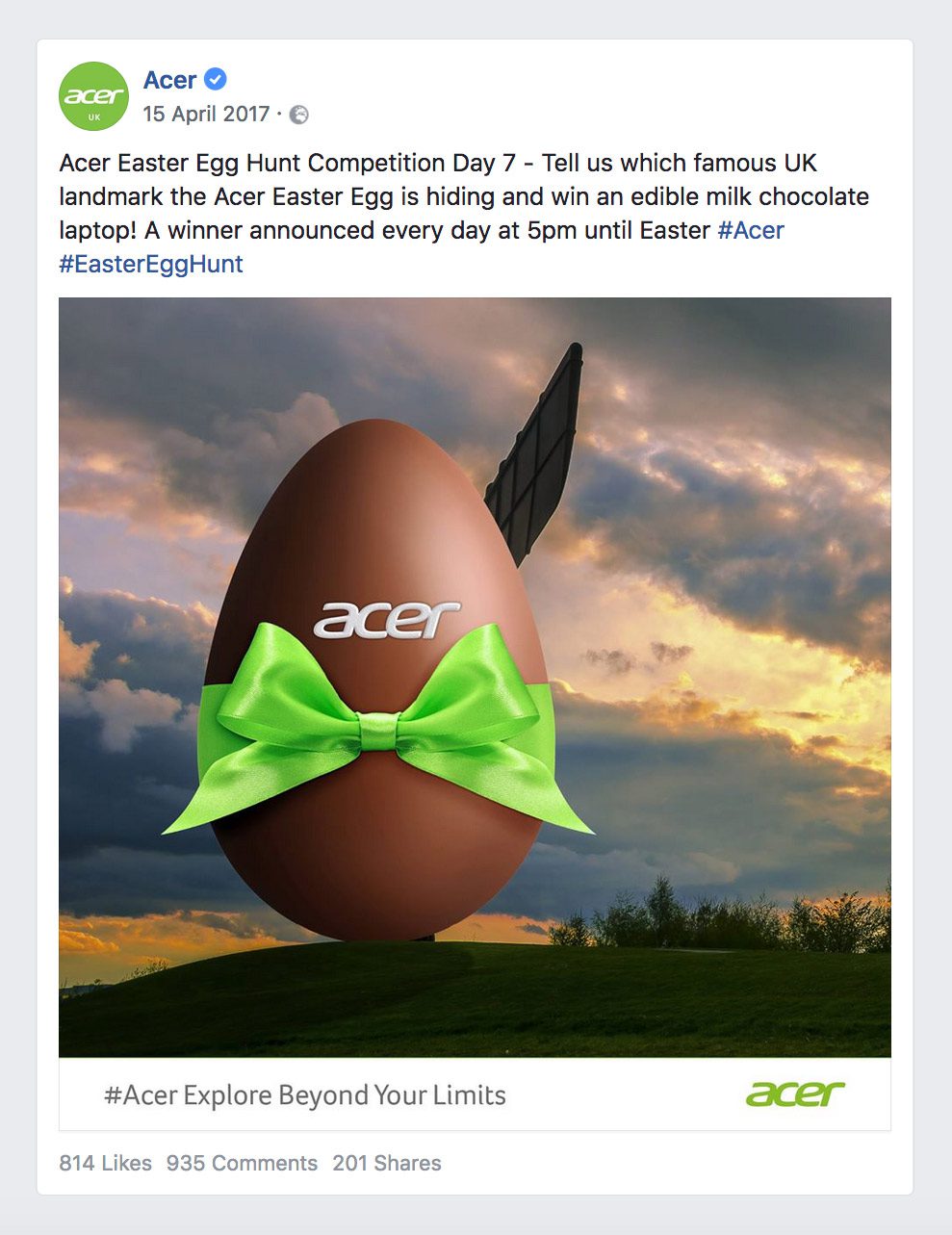 4. Host an Event
Another idea is to host an Easter-themed event, either online or offline! You can host a nice dinner, a trivia night, a lecture, or a fun workshop or class! Just make sure the event you create is related to your business… not something completely random that you created just for the sake of doing it. Also, don't forget to create lots of easter social media posts leading up to the event to give people enough time and opportunity so they can plan on attending!
5. Create a Contest
Contests are a fun way to engage your audience beyond their screens! For example, you can create an egg decorating contest and give away prizes to the followers who paint the most beautiful eggs. It's a great way to invite people to interact with your brand while at the same time, doing something fun and out of the ordinary.
If you don't want to do something that involved, you can just ask people to guess the number of jelly beans or peeps in a jar or create a caption for a funny Easter-themed photo. Whatever type of contest you choose, just be sure to offer a good prize and share lots of photos of the entries!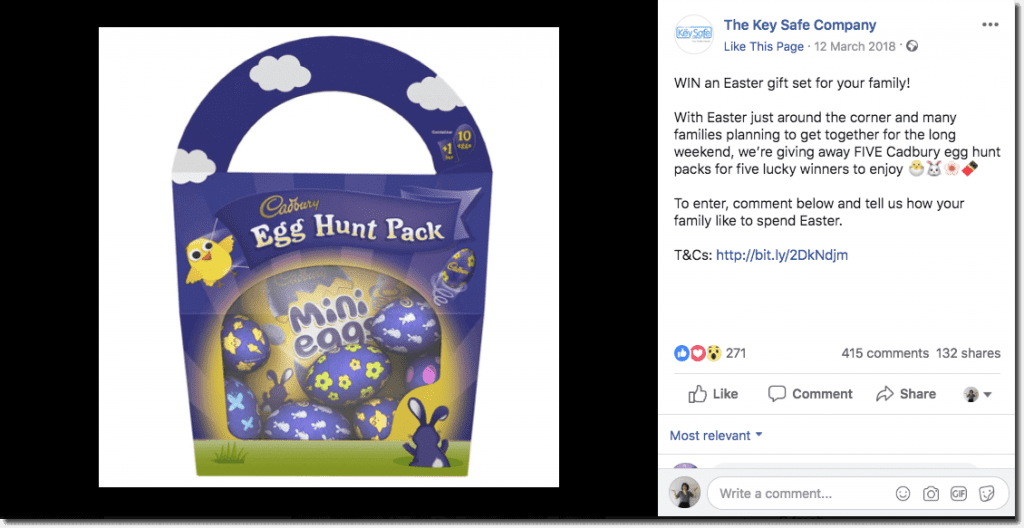 6. Run a Giveaway
Even though they might seem complicated, giveaways are actually one of the easiest post ideas for Easter. It's also a great way to grow your following and get people engaged with your business on easter social media. Giveaways are easy for people to join, especially if it's the "follow and tag your friends" type. 
The only thing you have to keep in mind when running a giveaway is that you need to offer a prize related to your business that only your ideal audience would like to win. This weeds out people who aren't in your target market who will just unfollow as soon as the giveaway is over.
Read more: 11 Instagram Giveaway Ideas for Small Businesses – and How to Run One
7. Partner Up with Other Small Businesses
Partnering up with other small businesses in the same niche as yours – not your direct competitors, though – is an awesome idea for both of you to get some new followers on social media. When you partner up with the right business in the same niche (or local area), you both win! You could partner to launch a product or service together, create a bundle of products, run a giveaway, or just support each other through some posts on social media!
8. Create a Gift Guide
Gift guides are the perfect way to share product recommendations with your audience. It's also a great way to advertise your own products alongside great products from other small local businesses. Of course, the gift guide you create for Easter should be themed to fit the holiday, so it might feature some gourmet chocolates, little toys, books, and other specialty items from local stores and of course, some of your own products.
Share the gift guide with your audience a few weeks ahead of the holiday so they have time to shop. People will love it!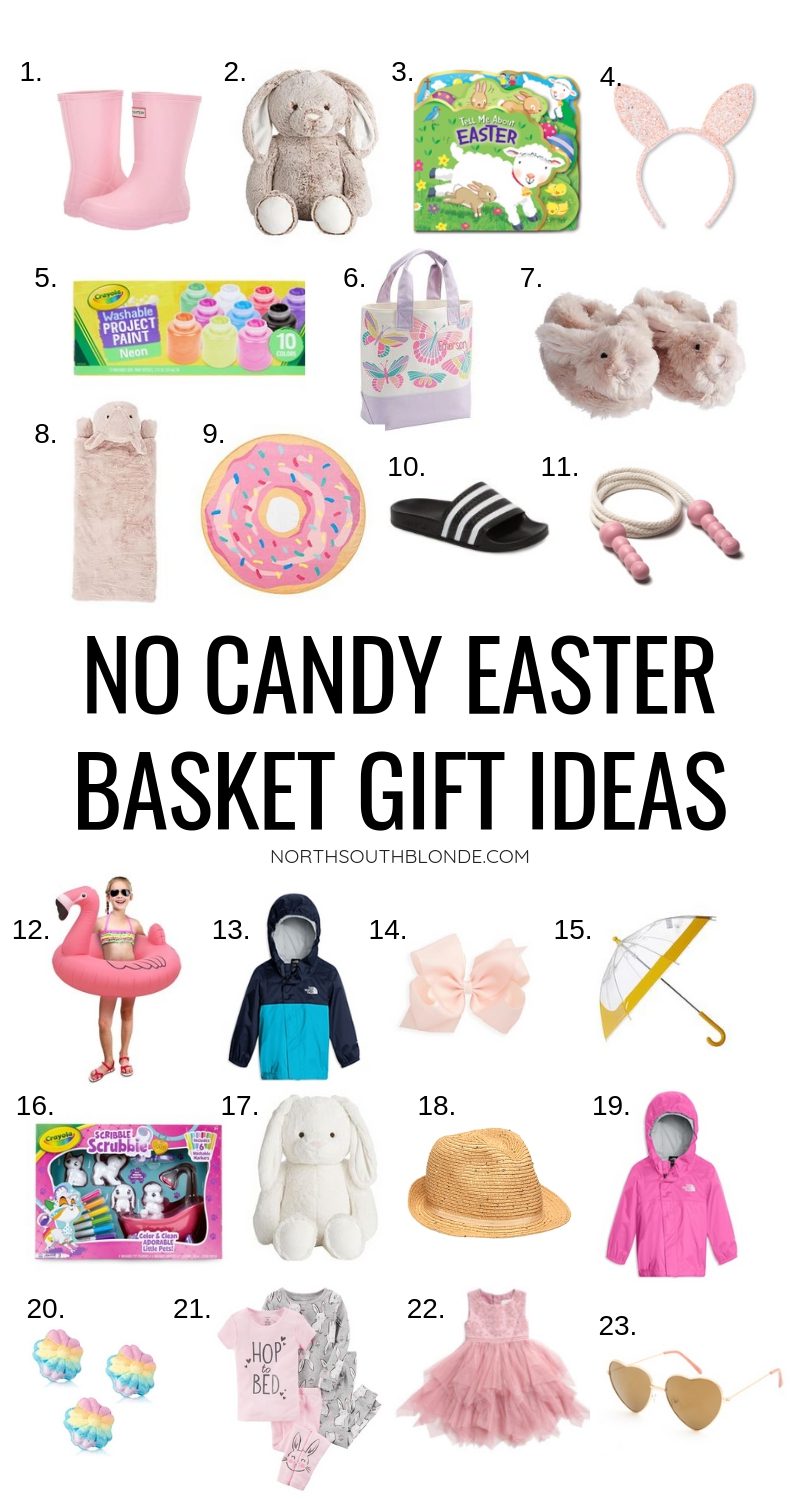 9. Create a Bundle
If you have a few products that are related to Easter, you can definitely create a bundle! It's easier for people who are busy or don't know what to buy. Bundles are practical, and you can create three or four options in different sizes and price ranges and advertise them on social media. We're sure your customers will love them!
10. Share Easter Templates
Another great social media post idea for Easter? Fun, interactive templates! If you search online, you'll find all sorts of cool customizable templates that you can share with your followers. All they have to do is take a screenshot, add their responses, and share it to their Stories.
You can even create your own branded template using free design tools like Canva. Ask people what their ideal Easter meal is or ask them if they prefer "this or that" in regards to a perfect Easter Sunday. When the template gets used and shared online, your brand and social media handle will get shared with it. It's a great way to grow your following!
---
Did you like these post ideas for Easter? We can't wait to see what you come up with! Don't forget to tag us using the hashtag #GrowingTheBiz so we can see and share your work, and don't forget to follow us on Pinterest for some more inspiration and ideas!