Have you ever considered having some kind of Instagram giveaway to generate some buzz for your business? Giveaways are really great when it comes to reaching more people and increasing your brand awareness. In this post, you'll learn how to actually create an Instagram giveaway and then we'll share some really cool contest ideas that we know will inspire you!
Let's start with a few basics:
What is an Instagram Giveaway?
An Instagram giveaway is a fun way to reward your followers and other people who choose to participate. Obviously, as the name implies, they take place on Instagram but the goal should be to get more people to click through to your website, sign up for your email list, use your hashtag, share your posts, talk about your products, etc. 
Are Giveaways Allowed on Instagram?
Giveaways are allowed on Instagram. Actually, this platform is pretty straightforward regarding giveaways – even more so than Facebook. They just have a few requirements that you must follow. The most important one is probably the disclaimer text. You need to make sure the following statement appears on all of your contest posts:
"Per Instagram rules, this promotion is in no way sponsored, administered, or associated with Instagram, Inc. By entering, entrants confirm that they are 13+ years of age, release Instagram of responsibility, and agree to Instagram's terms of use."
Read more: Instagram Marketing for Small Businesses 101
Some of the other rules you have to follow will vary depending on where your business is located. Some countries have different requirements regarding giveaways and raffles. Ultimately, they want to make sure you're not violating federal, state, or municipal laws that apply in your area.
Apart from that, all contest posts should include the contest's rules and eligibility. You also can't tag people who are not involved in the contest or shown in the post. People can comment tagging other users, but they can't tag themselves or other people in the post (the picture or caption).
Why Host Instagram Giveaways?
The most important advantage that an Instagram giveaway offers is the ability to help you build more awareness around your brand. In fact, research shows that Instagram accounts that run contests regularly grow 70 times faster than ones that don't.
Contests help you reach a new audience, which increases brand visibility and encourages more people to talk about your brand.
It also improves people's engagement with your posts. This means that more people will comment, tag, like, save, and share your posts which is great for engagement and it encourages the algorithm to show your posts to more people in the future.
Giveaways can also be a great way to collect more user-generated content. For example, if you require people to share a photo of themselves using your product in order to enter the giveaway, more people will see your product. You can share these posts in your stories, which means you get great content to share that you didn't even have to create! Also, this is great social proof, which is a huge driver of sales.
Last but not least, giveaways are a great way to generate more leads. Even if only a small amount of people win your product or service, you're still exposing new people to your brand and they might become repeat buyers and maybe even brand evangelists!
How Long Should a Giveaway Last?
Ideally, giveaways should last between 2 and 7 days. It all depends on how many people you want to reach. If you want to get the most bang for your buck, make it 5 or 7 days. This way, your posts will get more engagement and more people will enter the content and get to know your brand.
However, 48 to 72 hours is good if you want to keep things short and sweet. Most people tend to be more active in the first 12-24 hours, and then your posts might start to get buried and you'll see less traction anyway.
How to Create an Instagram Giveaway in 6 Steps
Okay, so now you know all the basics about Instagram giveaways and it's time to plan one of your own! Here's a step-by-step guide on how to create one:
1. Choose a Goal
The first thing you will need to do is to establish your goal with this giveaway. It might sound basic, but setting a goal is crucial for the success of your initiative. So, think about what you want to achieve with this giveaway. Is it brand awareness, audience growth, more email signups, or maybe even more conversions?
Once you know your goal, you can create the type of giveaway that will help you achieve your goal. So, let's say you want to increase sales for a specific item. You can create a giveaway that requires people to take a selfie that shows them using or wearing that item. When people see the photos, they'll want to buy the item. They'll head to your page and click your bio link and voila! More sales! 
Another example: say you want to collect more email addresses. Maybe you have a link in your bio to an opt-in page. To enter the giveaway, they have to click the link and leave their email address. Simple! Whatever you determine your goal should be, you will design your giveaway around that.
2. Plan Your Instagram Giveaway
This is another one that might seem obvious but you definitely don't want to "just wing it" when it comes to a giveaway like this. You want to know exactly what each step of the giveaway is going to look like before you start anything. 
Define the Prize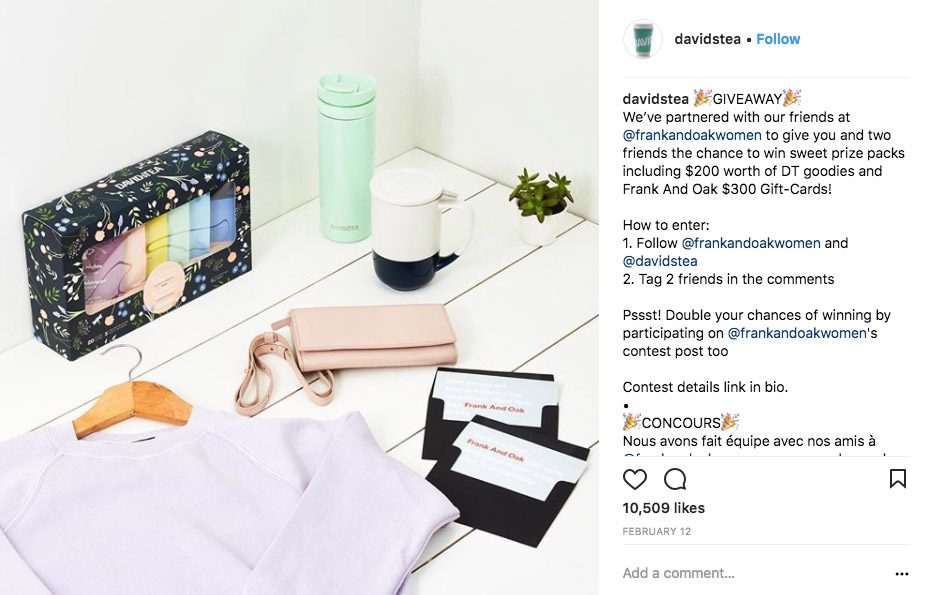 Of course, you need to choose a prize for your giveaway. The easiest thing to do is give people a service or a product from your business. However, that's not the only option. You can always get together with another business and give away some kind of bundle. This is great because each business that is included in the bundle will be promoting you to their audience, which means more potential new followers and leads!
But back to the prize. You need to pick something that aligns with your goal. Make sure it's something your target audience wants or you'll attract the wrong people to your giveaway.
Even if the prize is good, you only want to attract the kind of person who will potentially hire you or buy from you. For example, if you own a Japanese restaurant, don't give away a new iPhone. Instead, give a full course meal for two. This will bring in people who are excited to try what you offer… not just people who want a free phone.
Set the Duration
It's also important to define the duration of your giveaway before it starts. You want to be able to tell people when you'll be selecting the winner. So, set a time frame – ideally 2 to 7 days – and then decide how the giveaway will work.
Decide on the Dynamics and Rules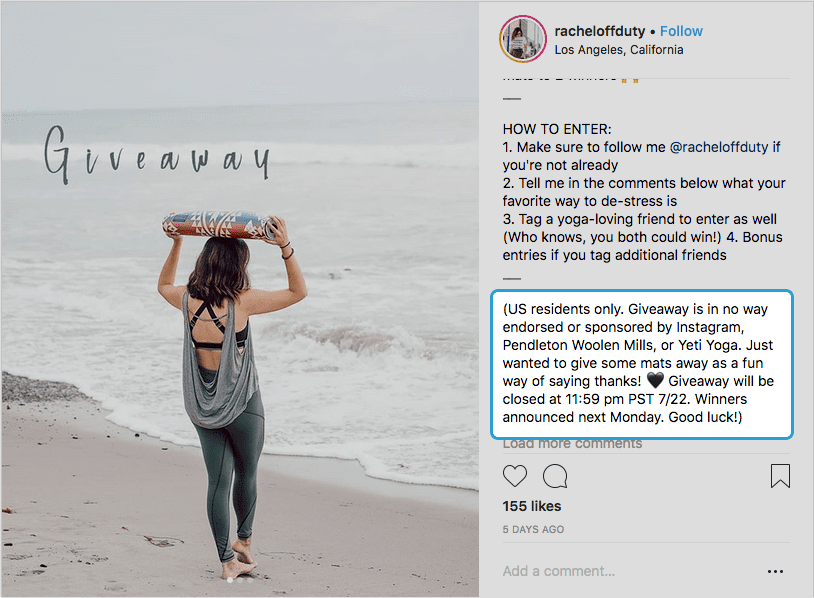 Most people make mistakes here. The best thing you can do is keep it simple! Don't ask people to do too much, because they won't. Tagging their friends and following you and your business partner is okay. But asking people to tag, share, follow 20 accounts and share a video of them doing a dance is way too much. People want to win but they don't want to win that bad.
Ask people to do the one thing that will help you reach your goal the fastest. If you want more brand awareness, ask people to share a post, tag someone, take a selfie, or something like that. Don't ask them to do more than three or four things, even if they're small things. 
Oh, and if you're asking them to share your content to enter, make sure to remind them to keep their profiles public so you can make sure they've followed the rules.
Create a Hashtag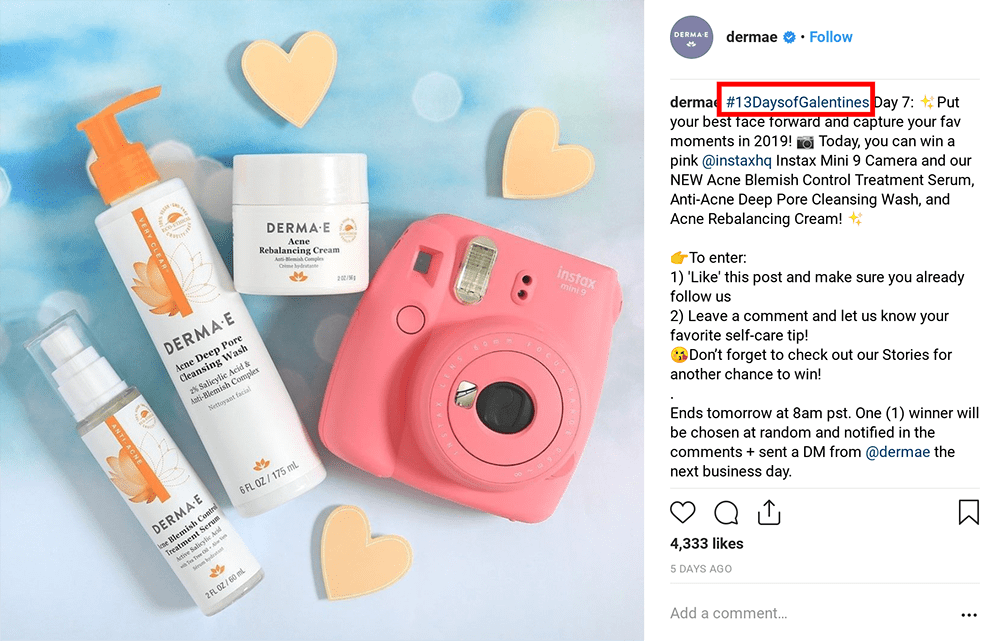 If you want, you can create a hashtag and tell the participants to use it. However, this is not mandatory. If you think this will make it more complicated for people, don't do it.
Creating a hashtag is not just about reaching more people, but it also gives you a very easy way to find all of the posts in one place. If you're working on building your brand, it might be a good way to get your hashtag out there and get more people to use it and remember it.
Decide How to Announce the Winner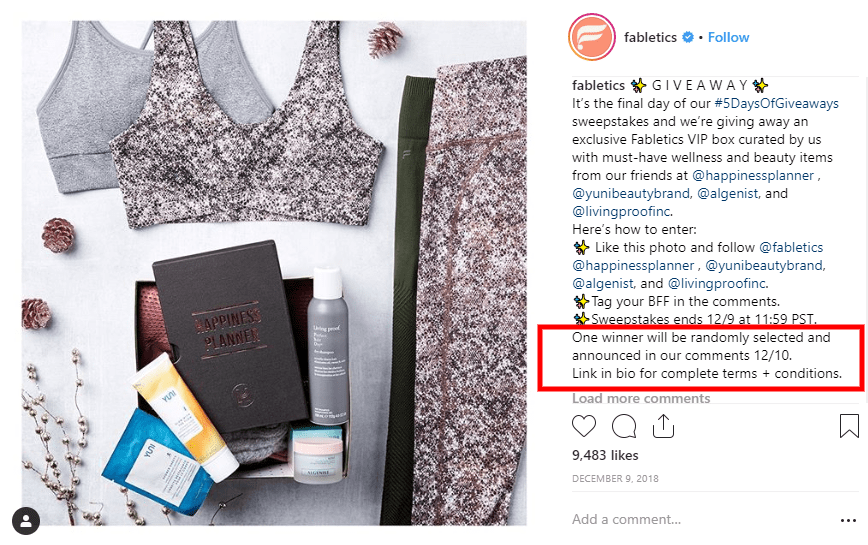 How are you going to share your giveaway results? Think about how you're going to choose the winner then how you're going to announce who the winner is to the rest of your followers and giveaway participants.
Maybe you're going to choose based on merit (like who has the most creative selfie) or maybe you want to just keep it simple and use a random generator tool. Once you pick someone, you might want to share a photo of them in your stories or in a post on your feed. You'll obviously need to DM them to arrange for them to get their prize. Make sure you map this all out beforehand so you're not scrambling to figure it out on the fly. 
3. Share and Promote Your Giveaway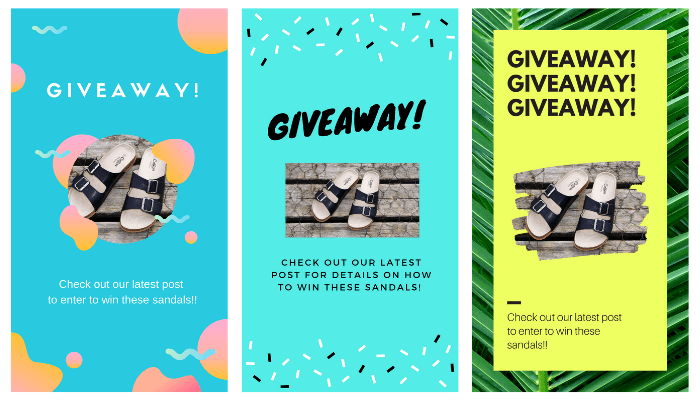 Once you have planned out all the details and decided how your giveaway is going to work, it's time to share it. The ideal way to do this is to create a post on your feed. This way, you can share all the information in the caption. Just don't make it overly complicated. Use bullet points or emojis to list out the rules in a straightforward and easy way. 
After you share it on your feed, make sure to share it in your stories, too. Most of the time, Instagram shows the in-feed posts to a very low number of people, so sharing a story helps increase your post's reach.
If you have a profile on some other social media channels, use them to drive more people to your Instagram account. Tell your followers and friends that you're running a giveaway on Instagram and invite them to participate and share a link to your feed.
If your giveaway lasts more than one or two days, you'll want to reshare the post a few times to remind people to participate. It's also worth it to share it again within the last few hours before you pick a winner.
4. Share the Winner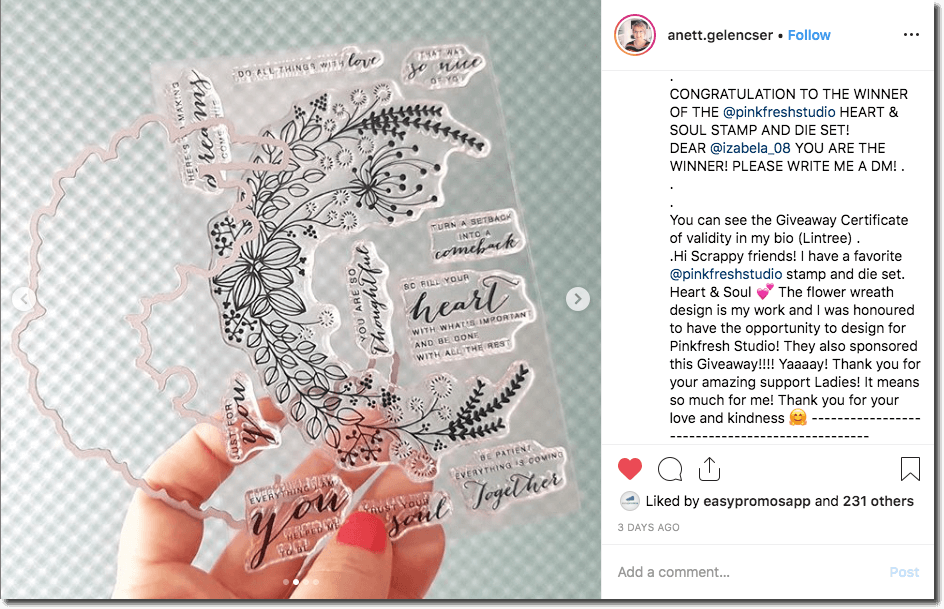 Use your Instagram account to share the winner of your giveaway. If it's a raffle, you can record yourself picking the winner and share it on your stories or on your feed. This shows transparency and can be fun to watch. If you're going to judge and choose who is the winner, tell people why you chose that person and encourage them to show the winner some love in the comments!
5. Close Your Giveaway
Remember to close your giveaway once it's over to prevent people from joining after you've already picked a winner. Post an announcement or update your original Instagram post to make sure people know that you closed that giveaway.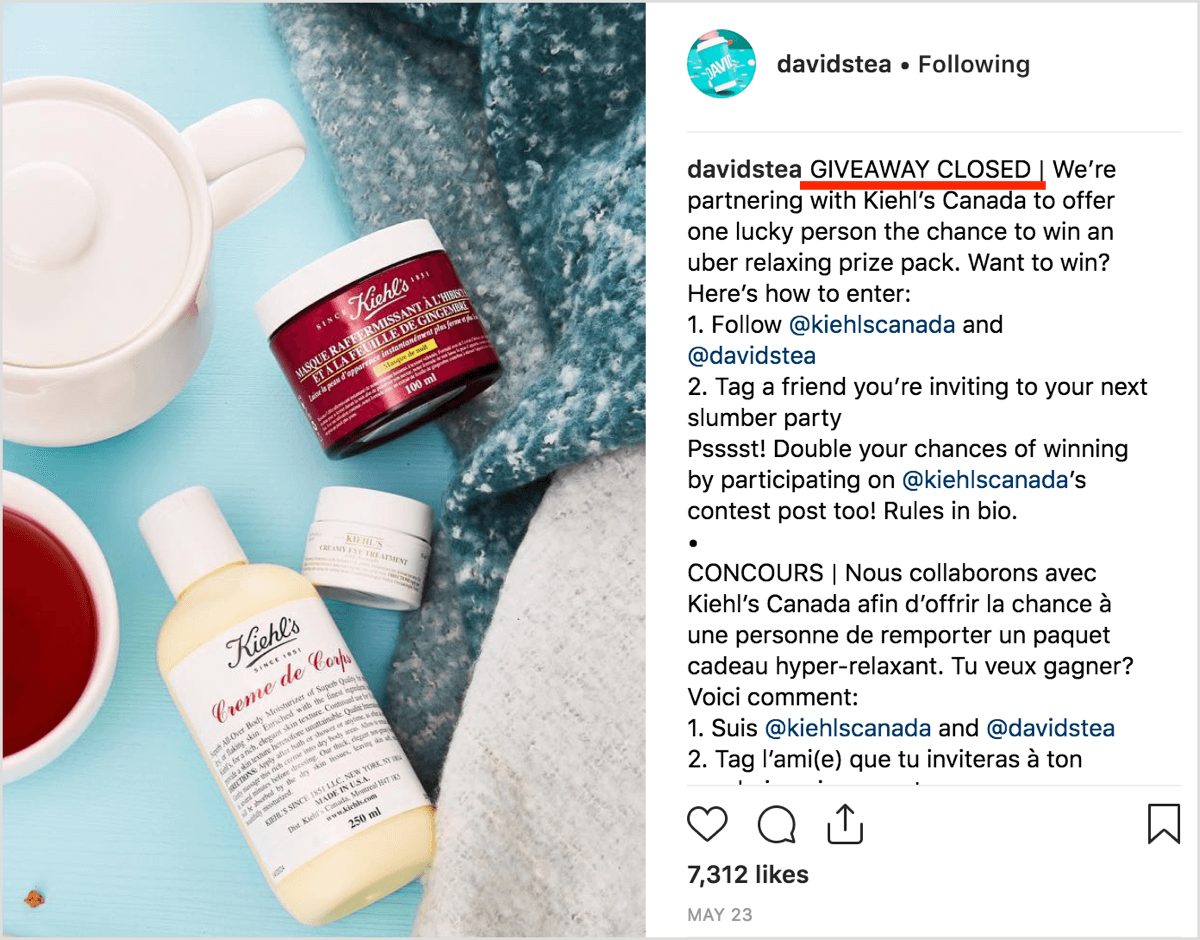 6. Evaluate The Results
Evaluating the results is an important part of the process. It helps you know what you did right or wrong and how you can improve things for your next giveaway. The first one will always be a little tricky, and you might still feel like you quite have the hang of it, but the second one will be ten times better and of course, easier.
11 Instagram Giveaway Ideas
So, now that you know exactly how to host a giveaway and the steps you need to take to make sure it's successful, it's time to come up with a great idea! No pressure, right?
To help you feel inspired, we put together a list of 11 Instagram giveaway ideas you can use to create your own giveaway. They range from more traditional to super creative, so even if you're already doing giveaways, maybe you'll find something new here to try.
Let's go!
1. Tag a Friend
This is the most traditional and probably the easiest giveaway format there is. You simply ask people to follow you, like the contest post, and tag a friend or two. You're forcing people to interact with your post and then the other people (who are tagged in the comments) also see it.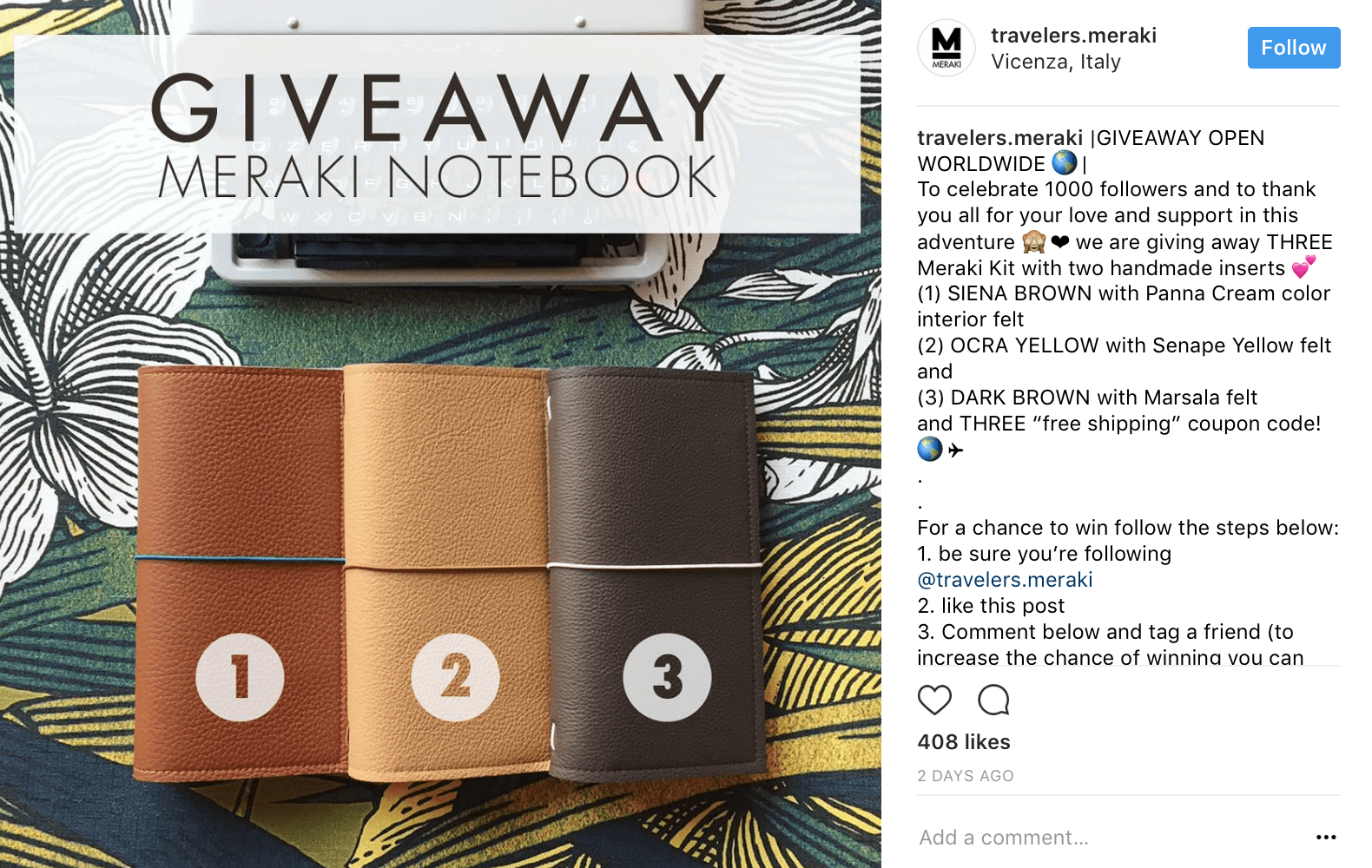 2. Share to Win
Similarly, when you ask people to share your post or tag you in their stories you're getting your content in front of all of their friends and followers. This is great for exposure but it can be a big request since people are sometimes more hesitant to share content. It's also a little more complicated for you to keep track of the entries so keep that in mind, too.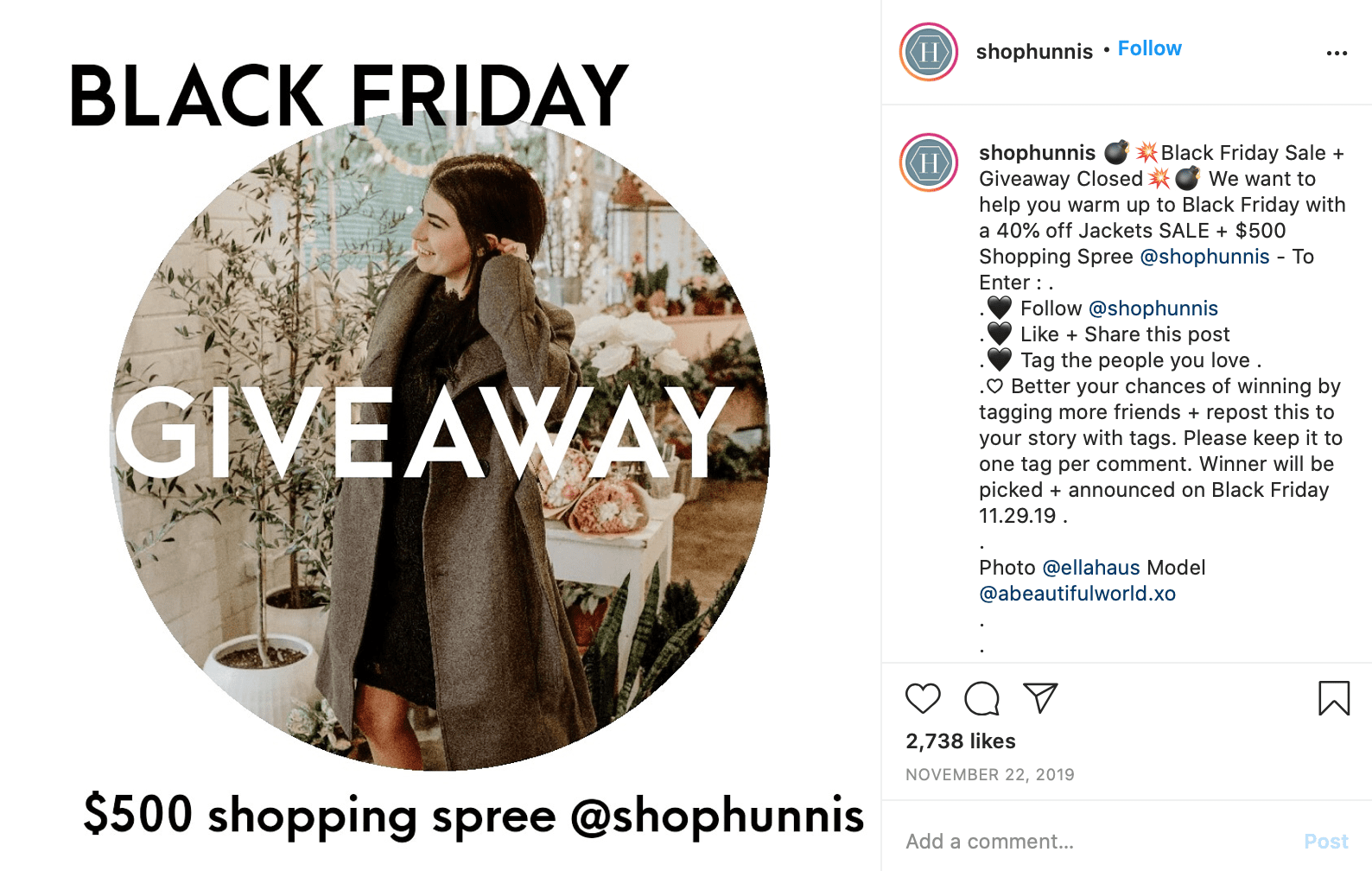 3. Selfie Contest
The selfie contest is a great way to increase brand awareness and get new customers! It basically works like this: people have to create a photo or selfie using your product or visiting your business. You can ask them to post it on their story and tag your business – this helps to increase brand awareness and your audience – or you can tell them to take a photo with your product and share it on their feed (tagging you, of course).
When you show people using your products or visiting your business, it acts as social proof. It tells non-customers that so many other people have already liked and used your products and it will make them curious to try them, too. It's also a great way to reward customers.
I once saw a watercolor artist who was hosting a free online workshop for everyone who purchased her book. They just had to send a photo of themselves with the book and send her their receipt to qualify. As soon as I saw this, I bought the book and attended the workshop. Talk about a great way to drive more sales!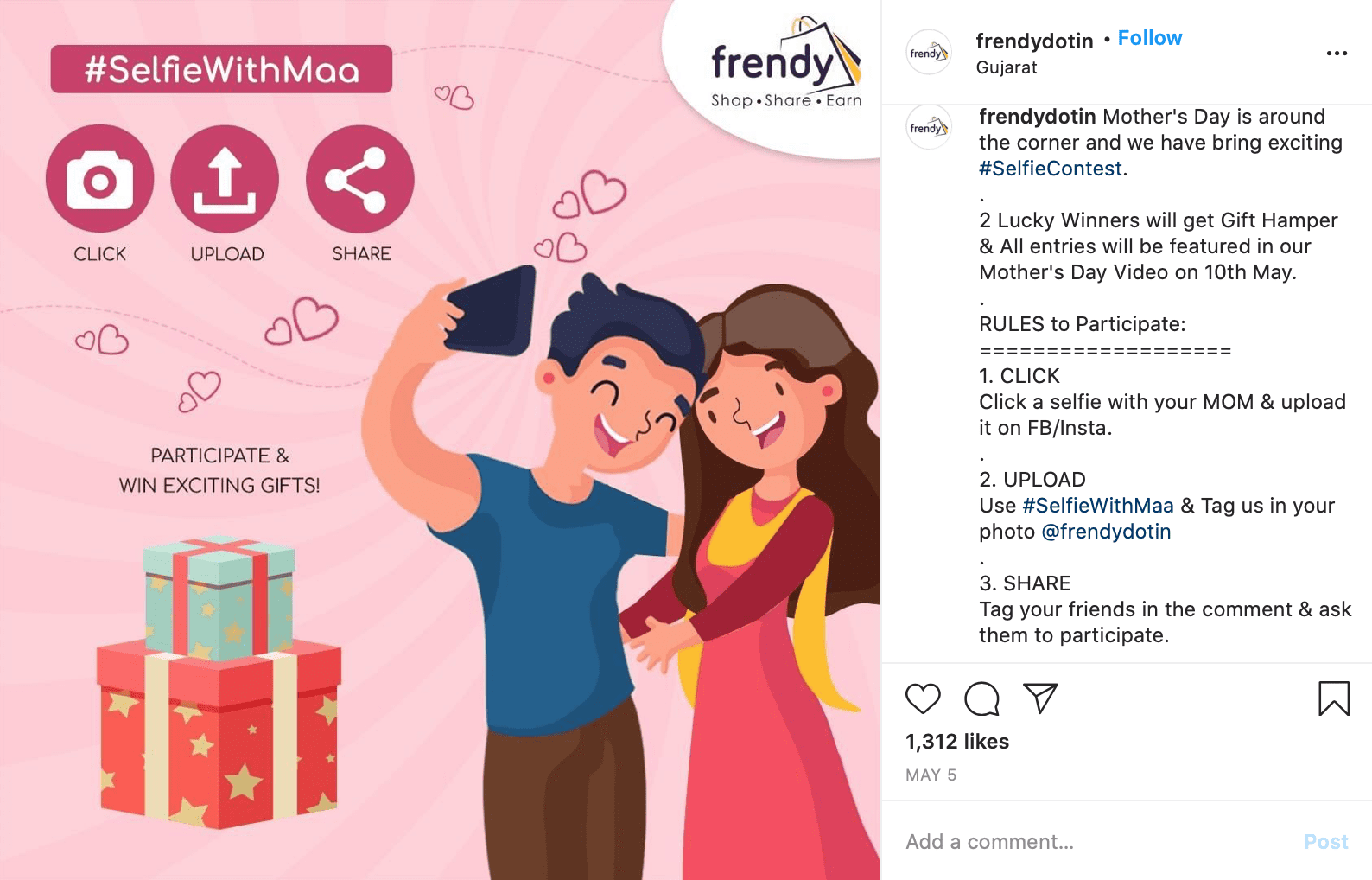 4. DIY Contest
Teach your audience how to do something – related to your business of course – and then choose a winner based on who did it best. This is one where you could get super creative! Maybe it's a DIY hairstyle, a recipe, nail art, handmade clothes, whatever. They just have to make sure to tag you so you can see their work and count their entry.
I think this is an interesting way to make people feel closer to your brand, engage with you, and have a fun and exciting experience, even if they don't end up winning.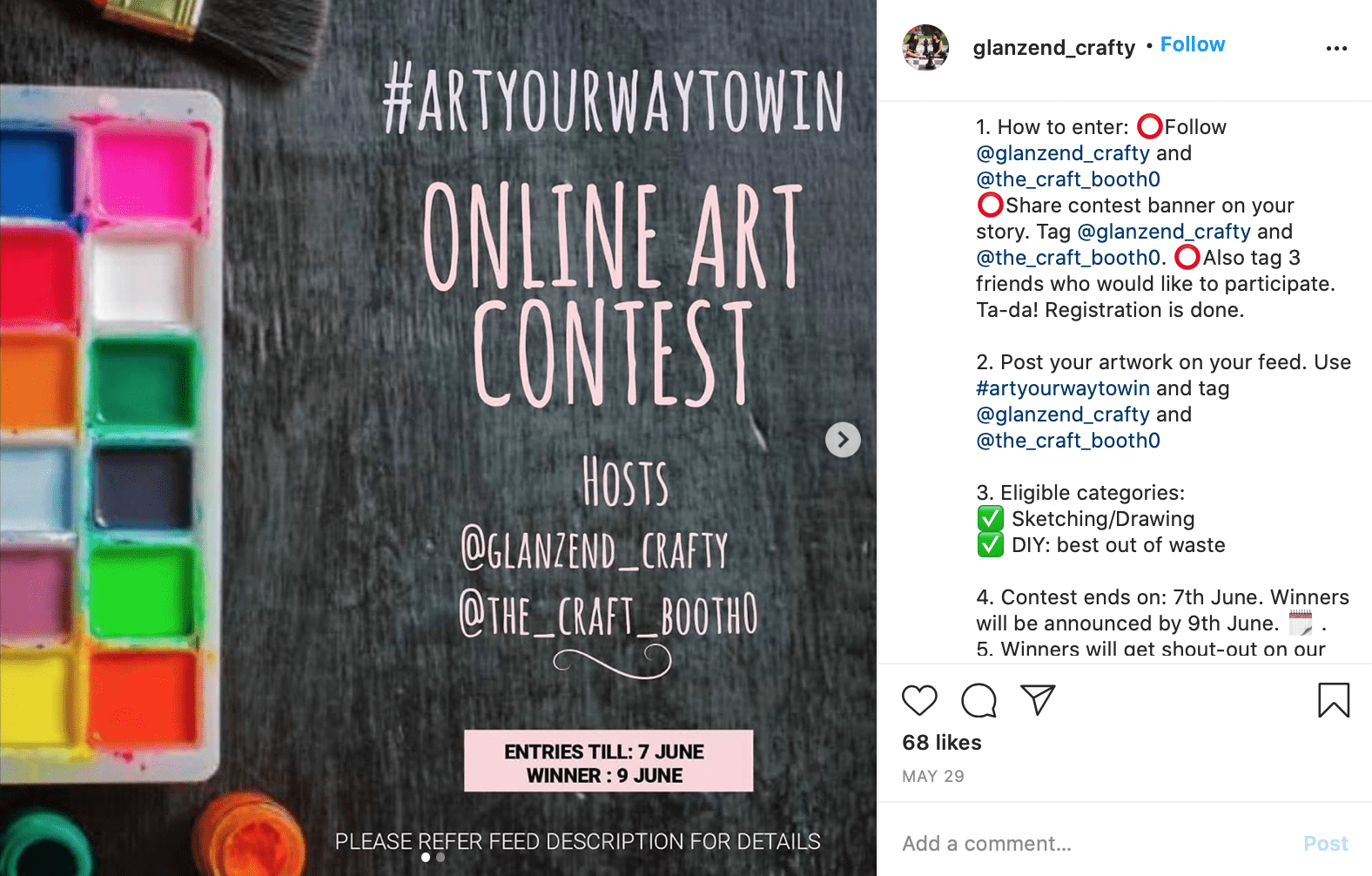 5. Photo Contest
This one is basically the same concept as the selfie contest, but in this one, the person doesn't need to be in the photo. You can ask people to create a specific kind of photo that shows the essence of your business, you could run a photography contest, or challenge people to look at things in a new and interesting way.
The best part of a photo contest is all of the user-generated content you will get. You can share these photos for years to come to help increase brand awareness and connect with your followers!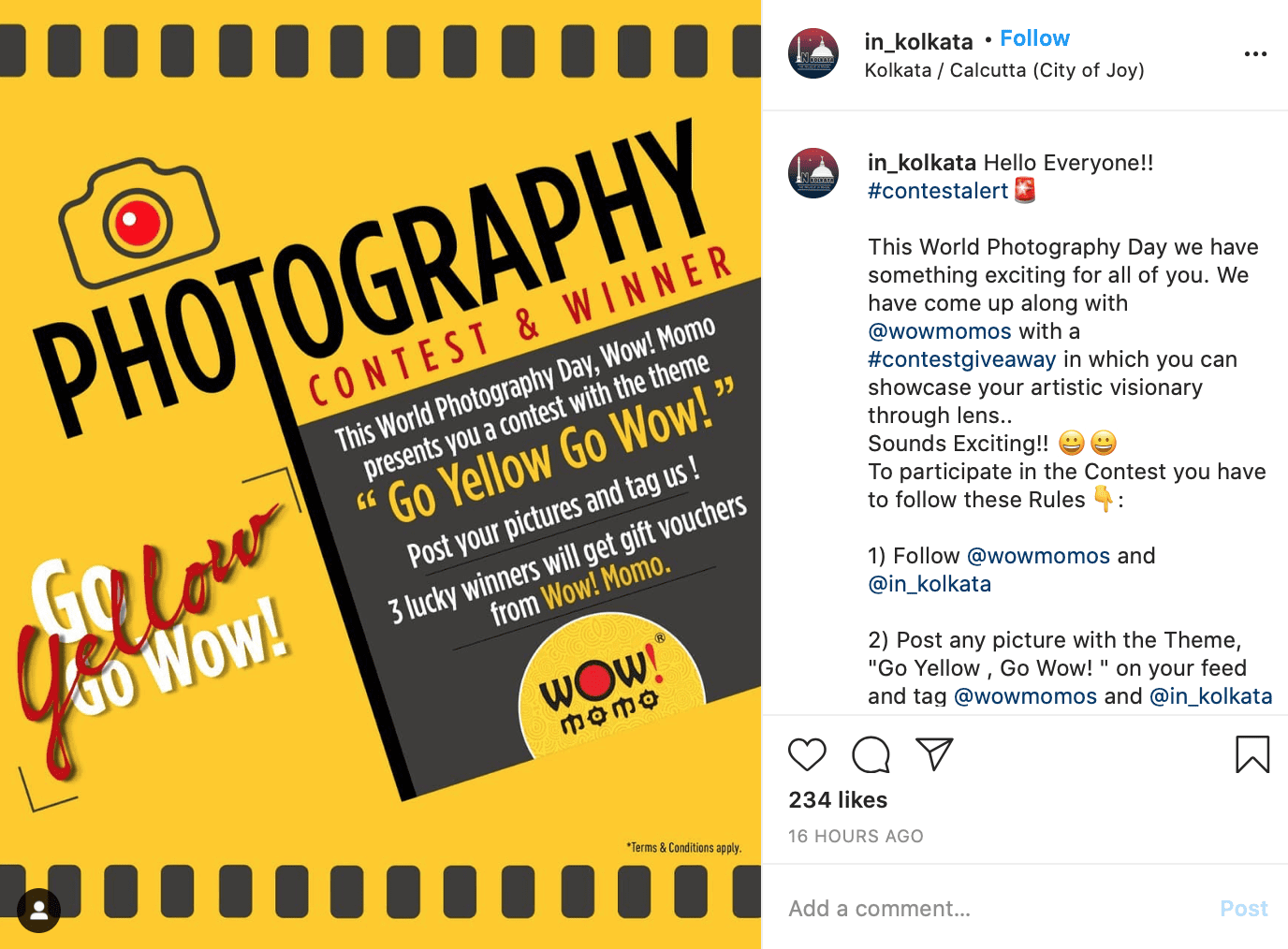 6. Video Contest
This one is just like the photo contest, but with video. There are so many more possibilities with video: you can have people film a quick DIY, a funny dance, a time-lapse or slow-motion video, or even a short speech! Keep in mind that a lot of people feel shy in videos so you might not get as many people participating… or you have to make sure the prize is really worth it for people!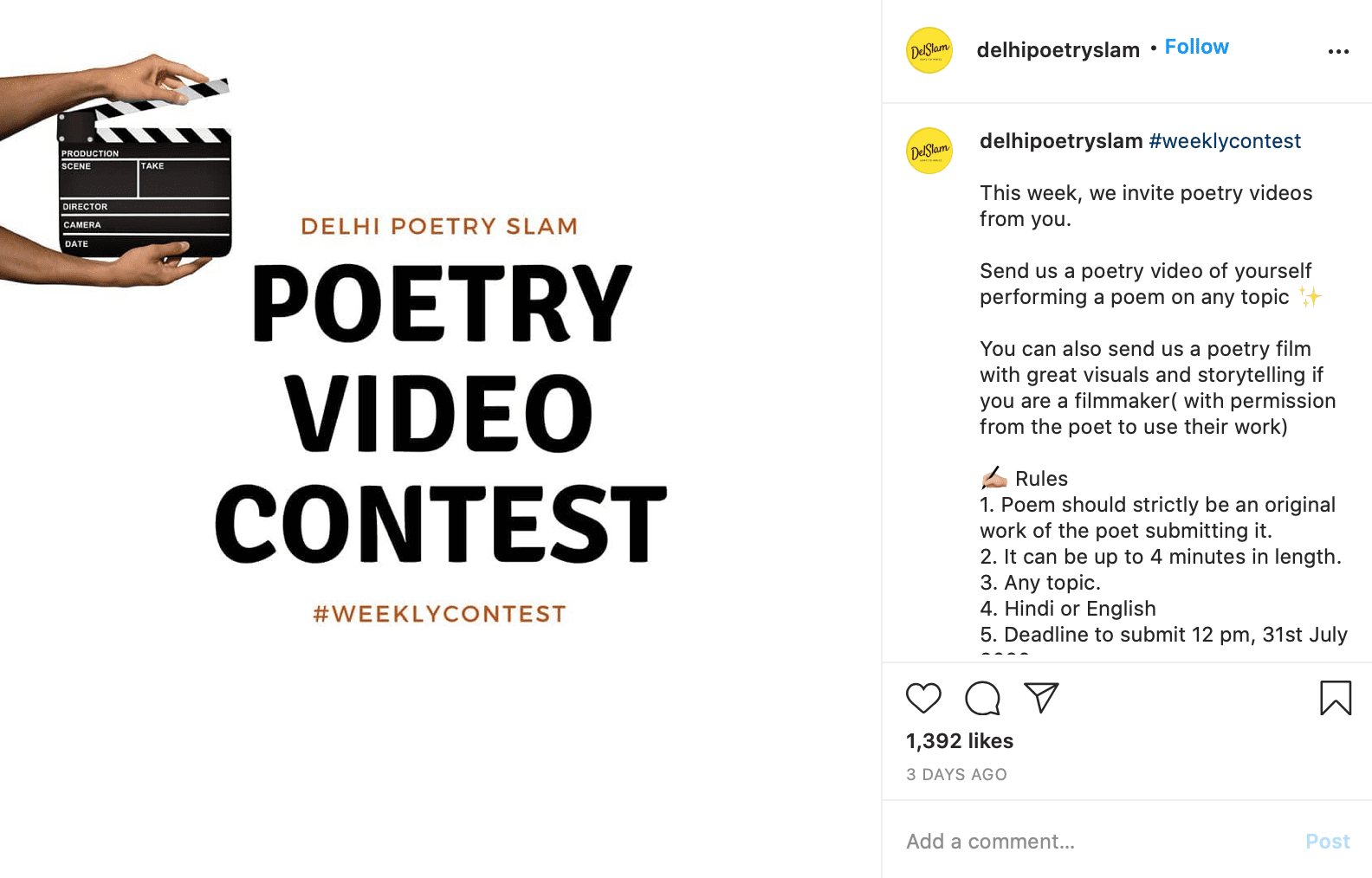 7. Voting Contest
Let your audience decide who gets the prize with a voting contest. This is a fun one because everyone likes to share their opinion. Ask people to weigh in on your next product launch or help you come up with your new slogan! It's pretty easy to set up: just have people leave comments with their ideas and then take the top comments and hold a vote! On a new post, ask people to drop an emoji that matches the suggestion they like best. It's a great way to crowdsource and also drive engagement to your Instagram page!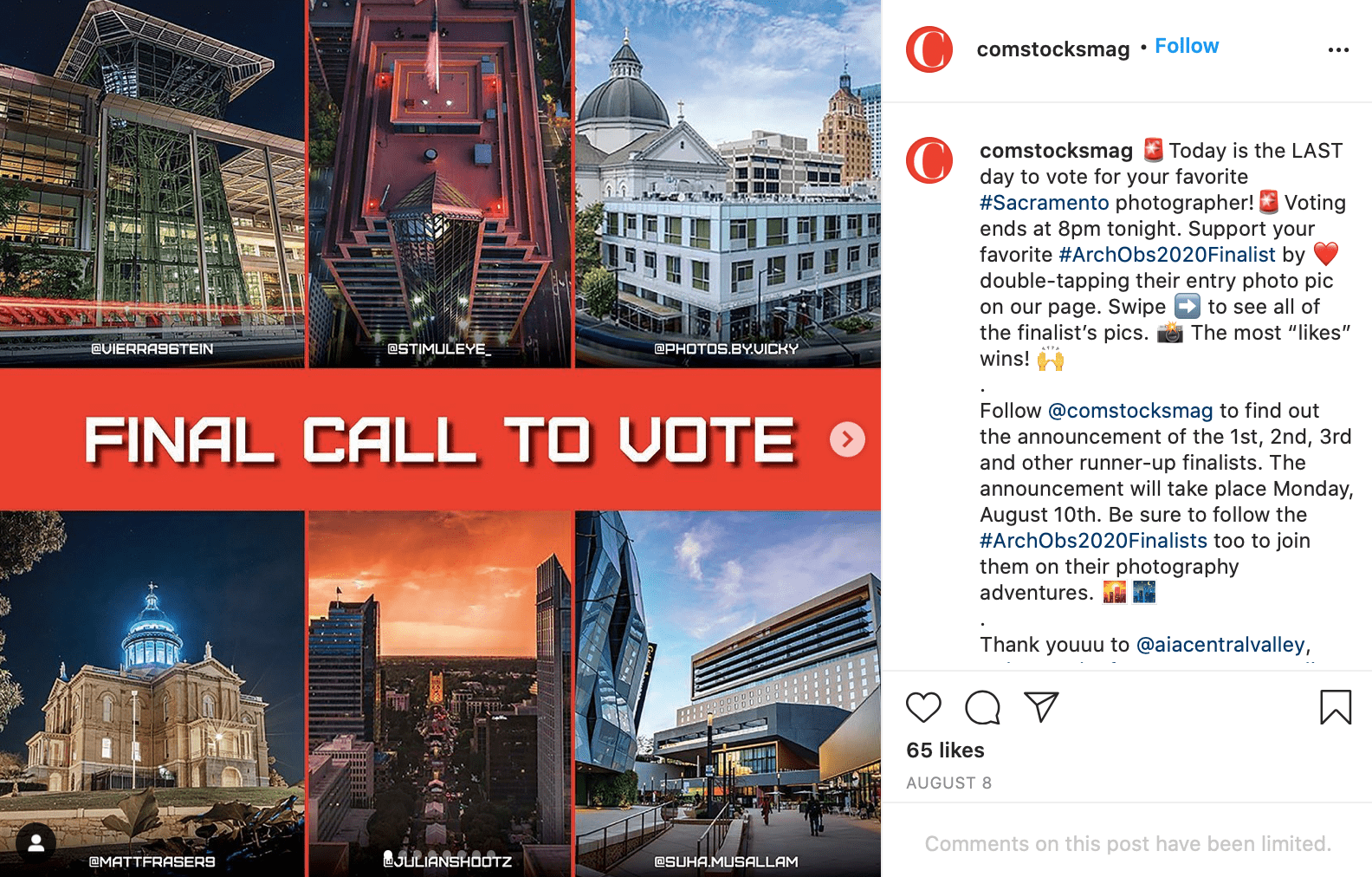 8. Caption Contest
Post a picture on your feed and ask users to create a caption for it and the best caption wins. Don't forget to share it to your Stories so you can get more people to come and participate in your post. If you want, you can tell people what kind of comment you're looking for or just let the creativity flow!
9. Challenge Contest
In this type of giveaway, the person who solves the challenge first wins. You can come up with a challenge, something people have to figure out, and then ask them to message you once they know the answer. This is a fun way to engage and it usually ends up being a shorter giveaway that's fairly easy to manage.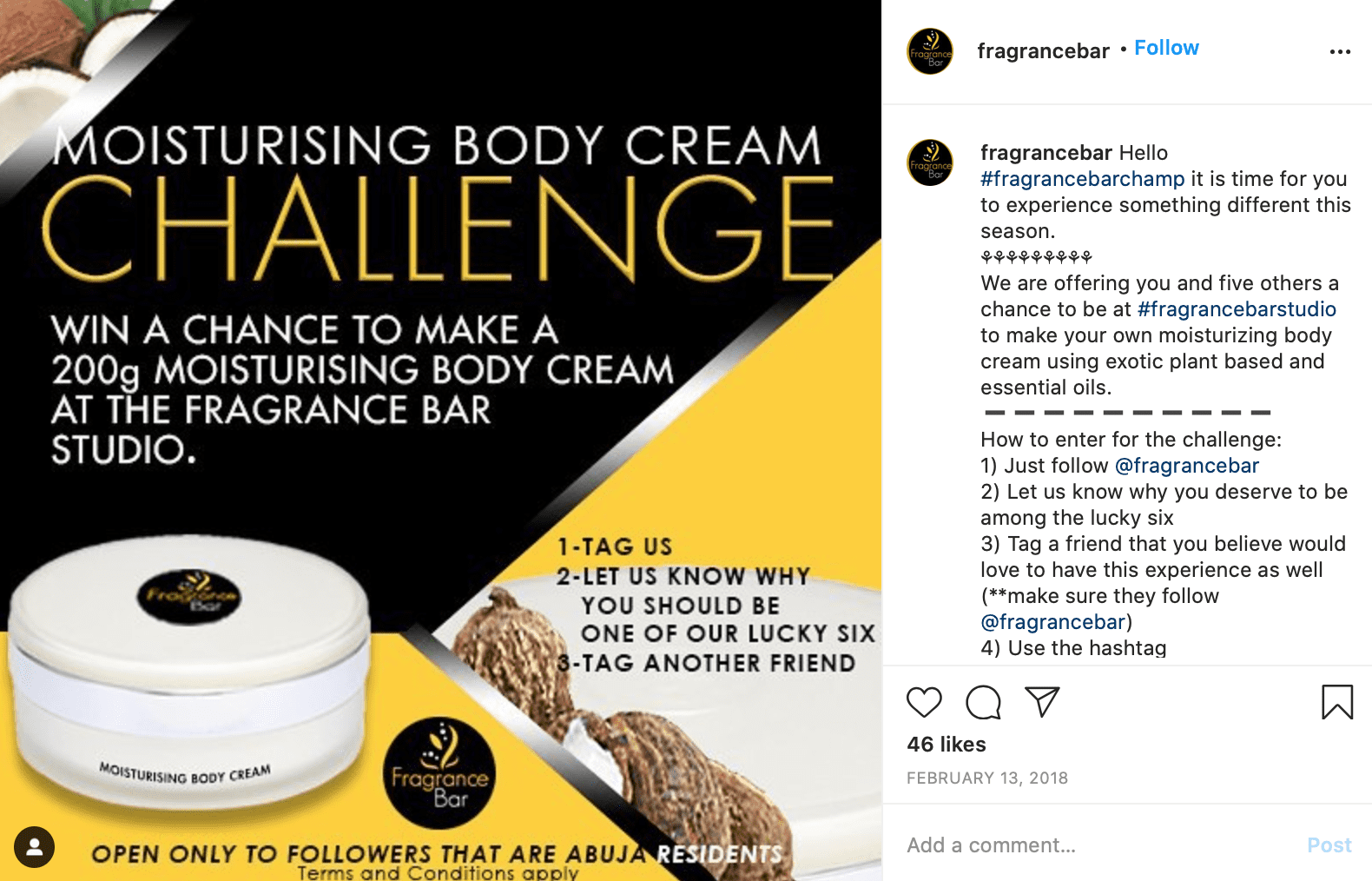 10. Scavenger Hunt Contest
If you'd rather do something a little more involved, a scavenger hunt contest can be really fun! You can hide a prize (or a series of prizes) in your city and then give tips on your stories to let people know where the prizes are hidden. Ask people to take photos of themselves when they find a prize so you can post updates as the contest goes on. You should also give people some hint as to what the prizes are so they feel motivated to go out and do the scavenger hunt.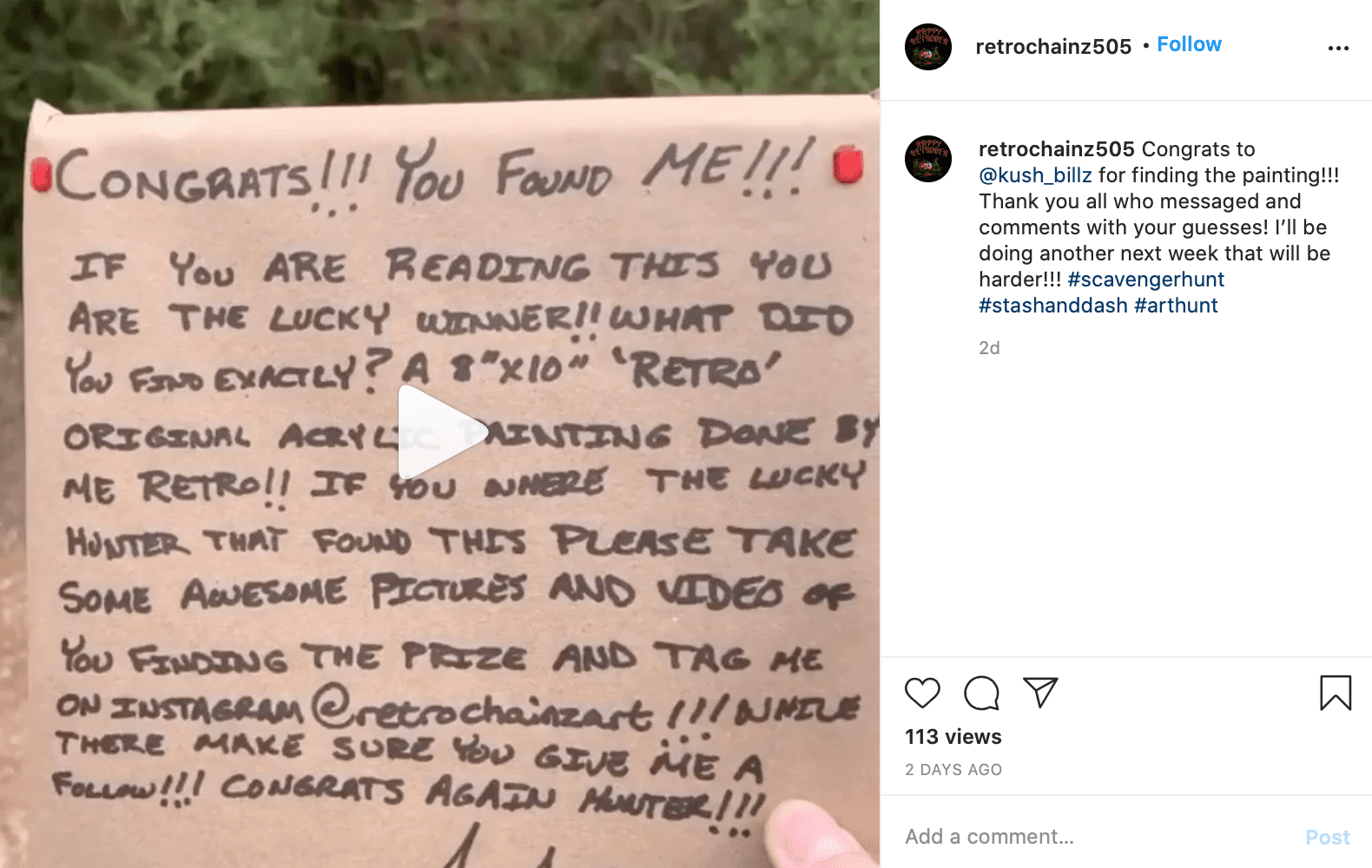 11. Testimonial Contest
This type of giveaway works best for people who are already your customers. Ask people to tell you why they love your business or share an experience they've had with your brand. Then, you can offer a new product or service as a prize to a random winner after a certain timeframe has passed. This one is great because you will get all kinds of great testimonials that you can use later as user-generated content. You can share the messages on your stories or even on your website on the testimonials page!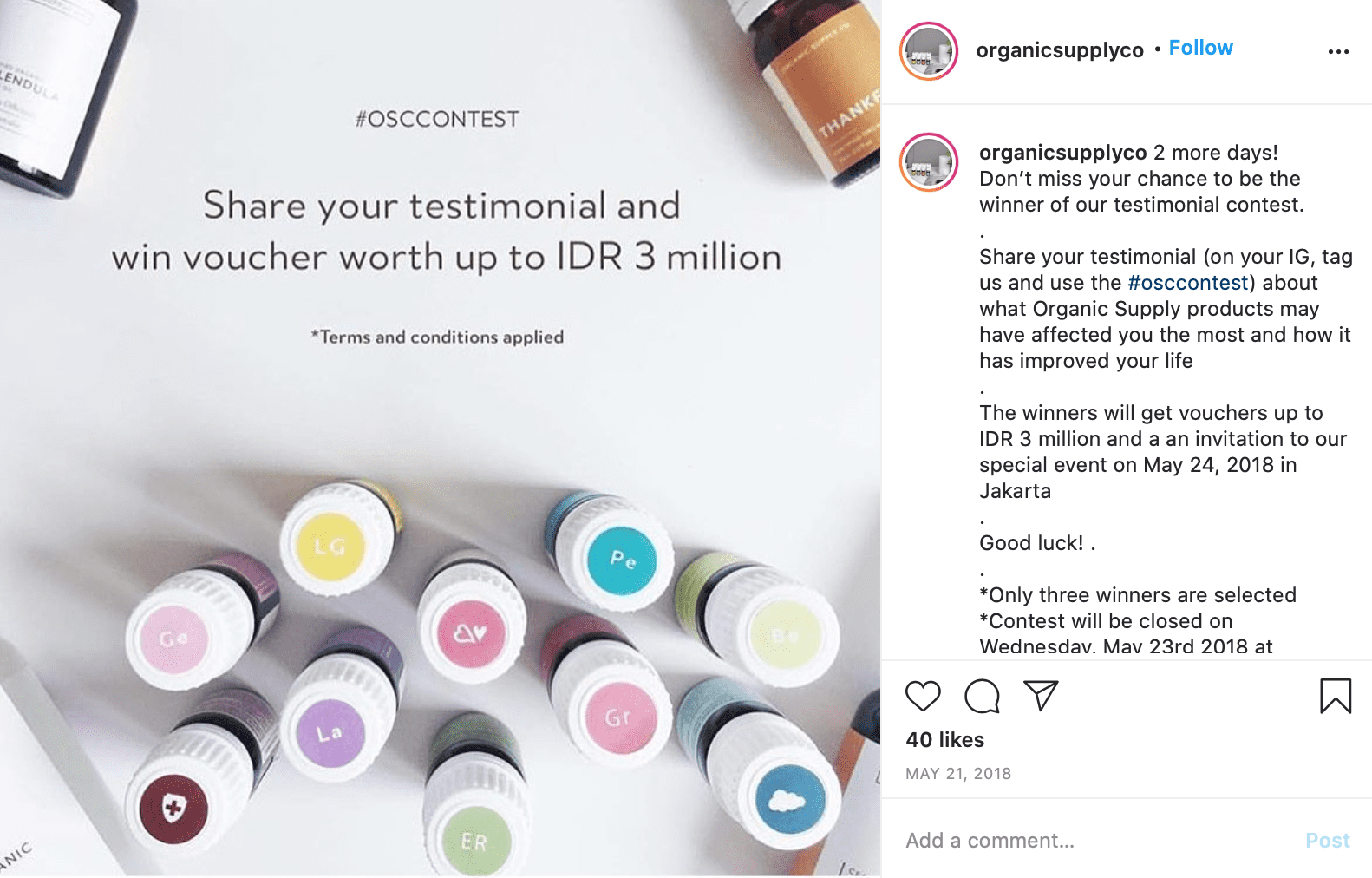 ---
We can't wait to see what you do. Please tag us using the hashtag #GrowingMyBiz so we can see and share your work!
Did you like these tips?! Then don't forget to save the image below in your "Instagram Marketing Tips" board on Pinterest! Also, check out our Pinterest page and follow us to get daily updates + digital marketing and social media tips for small businesses!