Looking for March Madness social media post ideas? Well, march is approaching, and with it comes the time to prepare for March Madness! This much-anticipated tournament is definitely something that you can create a content strategy around, so you want to be sure you're on top of your game (no pun intended). If you haven't given it any thought yet, now is the time to sit down and plan out your marketing strategy for the month of March, including content that centers around the excitement of March Madness!
Many businesses like to create a promotion or event to coincide with March Madness. If this sounds like something you want to do, you will want to plan in advance so your followers and customers know what you're up to and how they can participate. If you want to do something but simply can't come up with anything, don't worry. In this article, we are going to share some post ideas that you can adapt and use on your business' social media pages!
Read more: 27 Social Media Post Ideas for When You Run Out of Ideas
In this post, we've also gathered some examples of real businesses that did a great job during March Madness. Maybe their ideas will inspire you to come up with some of your own! 
Are you ready? Put on your creative thinking hat and let's start planning!
Read more: March Social Media Calendar + Post Ideas for Businesses
13 March Madness Social Media promotion Ideas for Businesses
1. Create a Bracket-Themed Promotion
This is one of the most obvious kinds of promotions you can do for March Madness, but there are so many ways to be creative with it. Many people follow the tournament with these brackets and enjoy using them to predict the winner. You could create a printable version of the brackets for your business – add your logo to it or brand it with your colors and fonts. This way, your customers and audience will be reminded of your business whenever they look at their bracket.
Another option is to make a fun bracket graphic using your products! Make it fun and share it on social media. For example, you could create a food or drink bracket and ask people to vote on their favorites each day while you fill out the bracket. Then, you could give a special discount on the item that won. You can do the same if you sell products, even if they are not related to basketball. Just get into the March Madness spirit.
2. Create Competitions (e.g. "Guess the Score" or "Guess the Winner")
Another fun way to engage with your audience during March Madness, either virtually or in-person, is to create mini competitions. You could ask people to guess the score or winner of a game. Whoever guesses closest to the actual score wins a prize! It could be a product of yours, a service, or even a discount or small gift card.
If you decide to do a "Guess the Winner" contest, you could give away one big prize for the person (or people) who guess the winner of the entire tournament. This would encourage people to play along for the entire 2-3 weeks.
3. Create a Contest
Another option is to create a contest. It doesn't necessarily have to involve guessing games. Instead, you can create a contest where people dress up in a certain way, or create the funniest decoration or even dress up their pets! If you would rather do an online contest, just have people tag you in their photos or send their photos to you. Then, you can post them and have people vote on a winner. As with any contest, make sure the rules of the contest are super clear and pick a prize that makes sense for your followers (and that they all would be happy to win).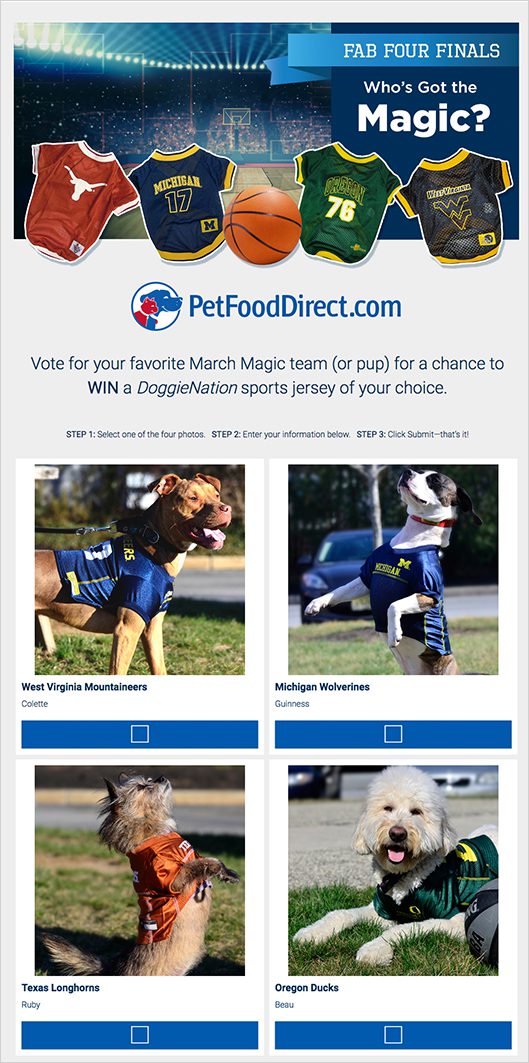 4. Run a Giveaway
Giveaways are an easy way to get your audience engaged and put your business in front of a lot of new people. If you want, you can just create a simple "tag your friend and follow us" giveaway or you can think of something more elaborate. Whatever you decide to do, just make sure you offer your own products and services as prizes. This way, you'll attract the kinds of people to your business that might ultimately become paying customers.
Read more: Instagram Giveaway Ideas for Businesses and How to Run One
5. Broadcast the Games
If you own a bar or restaurant, the best way to attract more customers during March Madness is to broadcast the games and make it an event. Share on social media which games you're going to be broadcasting, along with the start times. This way, your audience will see it and make plans to join you. Make sure you have a few different special offers for those who come in to watch the games!
6. Create a Special Menu
This is a fun one! Get creative and come up with a special menu just for March Madness. Even if you don't own a restaurant, you can still do this one. If you own a coffee shop, juice bar, ice cream shop, bakery, or anything that serves food and/or drinks, you can come up with some basketball-themed items. If you have a local team playing in the tournament, you can theme your menu and come up with creative names based on some of the player's names. March Madness fans will definitely love it.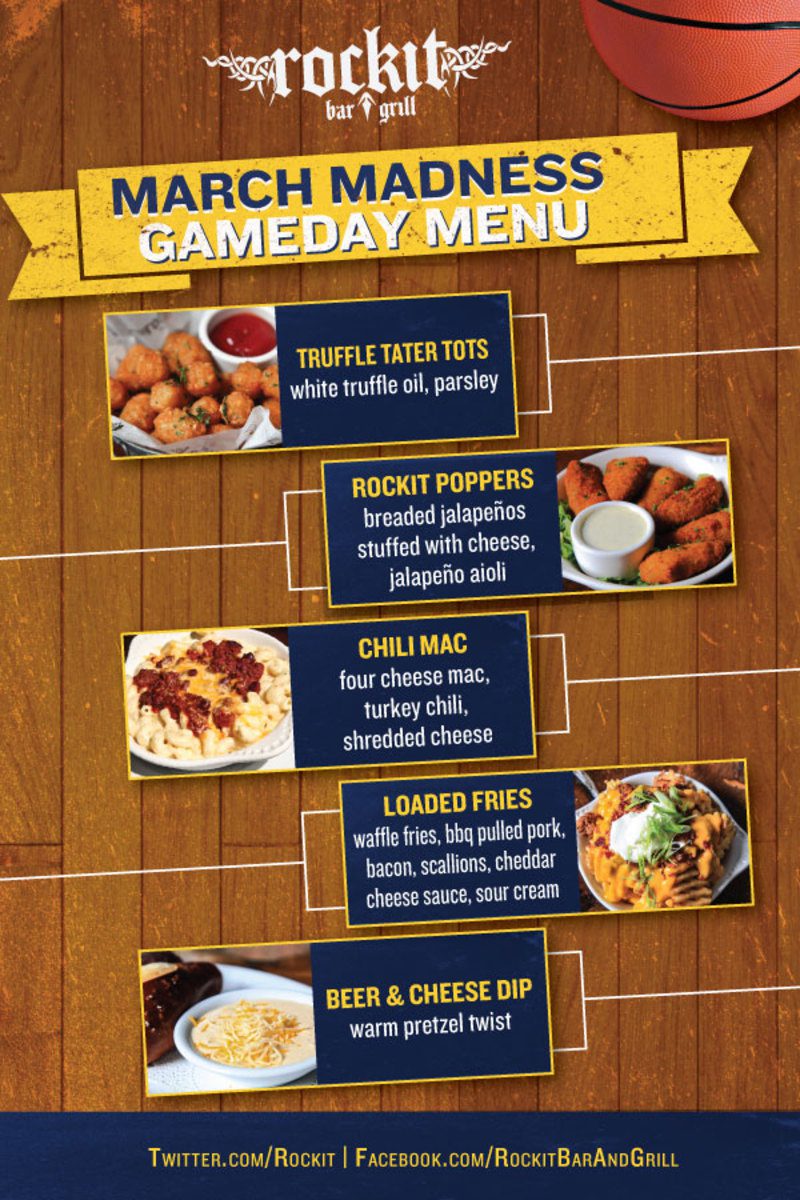 7. At-Home Tournament Kit
Another fun way to get your customers and followers involved in the fun of March Madness is to create an at-home tournament kit for people to pick up and enjoy in the comfort of their own home. If you own a restaurant, you can create some combos that people can order for takeout or delivery. If you own a gift shop, you could create a kit that includes a mug, a printed bracket, a blanket, and some snacks. This might not make sense for every industry, but if you can find a creative way to make it work, there's a good chance people will take advantage of it and tell their friends about it, too!
8. Team Up with Other Small Businesses
Teaming up with other small business owners is an awesome idea, especially if you're in the same niche. You don't need to be direct competitors, but if your businesses complement each other, why not partner up and offer your customers a more complete experience? For example, maybe you own a brewery and you want to team up with a local pizza shop to offer a take and bake pizza + beer bundle. Who wouldn't want that for March Madness?
Another tip we gave in our Super Bowl Post Ideas for Small Businesses post is to create a special deal, a kit, coupon, or even a giveaway with your partner. You can create something like this: whenever your customers spend $100 in your store buying basketball-related products, they get a 20% discount on their orders on your partner's restaurant during March Madness. This way, both of you can advertise this deal and reach new customers!
Read more: Super Bowl Sunday Post Ideas for Businesses
9. Offer March Madness Deals
You can use the period of March Madness to go crazy on your special offers. It might be a nice way to drive your sales up during the month. Create special discounts every week or even every day on different items.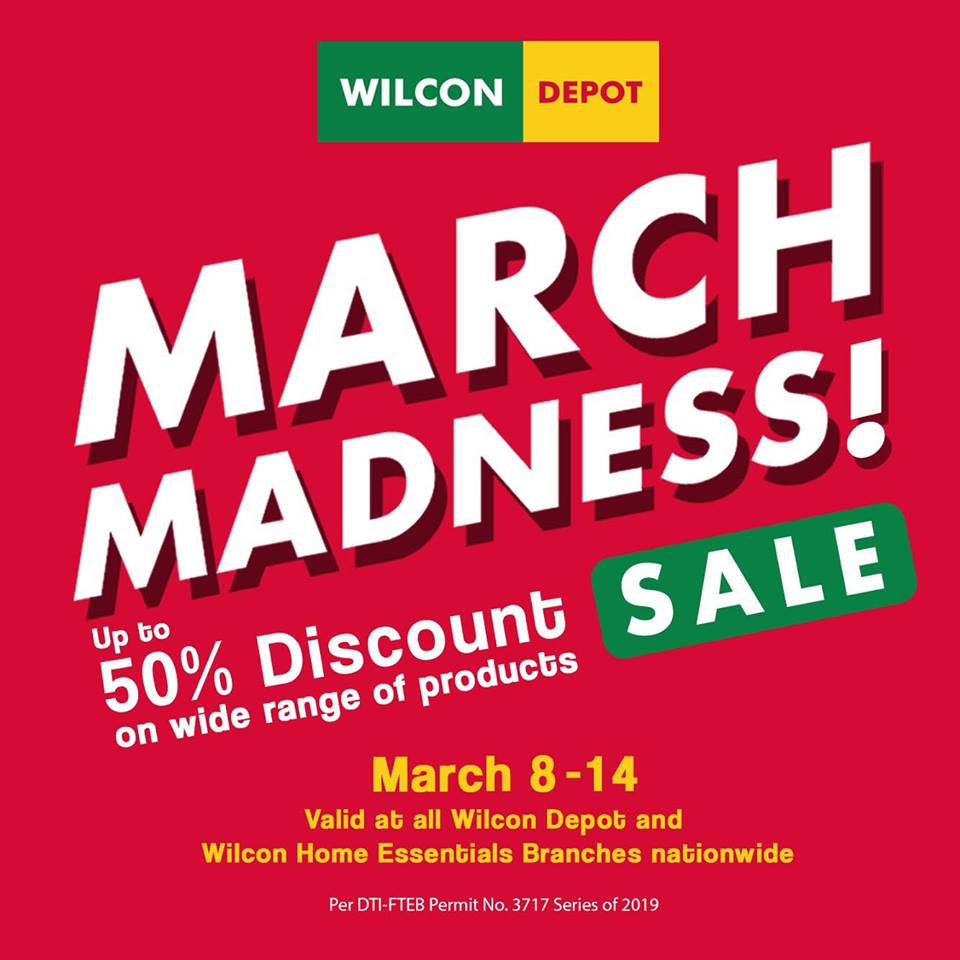 10. Give Customers Something for Free
Another option is to give your customers a little something for free. It can be anything, from free delivery to a free drink whenever they order an item on the menu during March Madness. Be creative and advertise this on social media; this way you make sure everyone knows about it and you're enticing people to come in or place an order with you.
11. Partner with Micro-Influencers
Another good idea might be to partner with micro-influencers (aka people who have less than 10k followers on social media). If any of them visit your place or seem to like basketball, invite them to watch one of the games at your restaurant. In return, you can give them a complimentary meal and ask them to share a post or some stories on social media that show off your business and your food.
Since micro-influencers have a smaller following and their followers are usually local, it's the perfect strategy for your business to be seen by the kinds of people that could become lifelong customers!
12. Share User-Generated Content
If you decide to partner with a micro-influencer, be sure to share their content on your own social media page as well. Even if you don't team up with influencers, you can still share content from other people on your page. In fact, this is a great way to get some coveted social proof.
This is a bit of a psychological trick, but when you show people how much fun other people are having at your business or how much they enjoy your products, it subliminally makes people want to be a part of the group. So, they're much more likely to patronize your business AND post about it if they see others doing it first. 
A way to encourage your customers to post photos at your place or using your products is to ask them to tag you on Instagram to get something for free!
13. Create Stories
Stories don't need to be as polished as in-feed posts, so they are a perfect way for you to show a snapshot of what it looks like in your business during the game. Or, you could use the platform to create some bite-sized content that has to do with the tournament. You could share a tutorial, a recipe, or show off your team's March Madness looks and ask people to vote on the best one. Stories are a great way to invite people to come along and join in on the fun!
Read more: Instagram Stories for Businesses: The Complete Guide
---
We can't wait to see what you do! Don't forget to tag us using the hashtag #GrowingTheBiz so we can see and share your work. And don't forget to follow us on Pinterest for some more inspiration and ideas!