Instagram Stories now has more than 500 million monthly users (which corresponds to about half of all Instagram users). It's only going to get more popular, so if you are a company or a solopreneur, you should definitely use Instagram Stories. Do you know how to make the most out of your Instagram Stories and how to use them to promote your business, increase engagement, and ultimately, make more sales? If not, don't worry! That's what we are going to discuss in this post.
But, before we get into all that, there are some important facts about Instagram Stories for businesses that you need to know.
What Are Instagram Stories?
Instagram Stories are a newer feature inside the Instagram app. It's great for sharing short videos, photos, posts, and polls, but the content disappears after 24 hours (unless you actively save it to your highlight reels). Instagram Stories are a fun and more intimate way to interact with your audience.
Read more: Instagram Reels 101 – How To Use Instagram Reels for Your Business
Should You Use Instagram Stories for Business?
In order to answer the question of whether Instagram Stories are good for businesses, let me share some interesting stats with you. Currently, around 200 million Instagram users visit at least one business profile every day. Meanwhile, Instagram Stories from brands have an 85% completion rate. In other words, 85% of users watch brands' Stories all the way through without skipping ahead. Finally, according to Instagram, 68% of people become more interested in a brand or product after seeing it on a Story. Personally, I know I spend a lot more time watching Instagram Stories than scrolling through brand's feeds. 
Basically, Instagram Stories are good for businesses because:
Half of Instagram users

use Instagram Stories every day;

85% of users

watch brands' Instagram Stories until the end;

68% of people

become more interested in a product/brand after seeing them on Stories;

You can use Instagram Stories to increase your brand awareness;

Instagram Stories can help increase your engagement;

You can use Instagram Stories to sell more products or services.
If you're not using Stories on your Instagram Business account yet, or if you haven't made it part of your regular content marketing cadence, take some time to read through this guide and get inspired to use this new feature to boost your brand's success on social media!.
Read more: Instagram Marketing for Businesses 101 – Everything You Need to Know
How to Use Instagram Stories for Businesses
First of all, you need a business account on Instagram. Once you set this up, you will have access to Instagram Analytics, which will help you create content that performs well and speaks to your target audience.
Next, choose a goal. Are you using Instagram Stories for your business to increase your reach? To drive people's attention to a new service? To engage with your audience more casually? To develop a stronger and closer relationship with your customers? To sell more products?.
It's important to have a specific goal in mind so that you can focus your efforts. Of course, if you do it right, you will sell more as a result of your efforts. You don't necessarily need to be promoting your products and services all the time, but once you increase brand awareness, you will increase clicks to your site, and as a result, increase your sales. 
Remember that Instagram Stories are more informal. While the content on your Instagram feed is probably more organized and curated, the content on your Instagram Stories can be more spontaneous and freestyle. By the way, here are some Instagram feed ideas for small businesses and tips on how to organize yours!
To start, I would recommend using Instagram Stories to record videos of yourself and your team talking about something interesting that's happening in your business or industry. Perhaps share some videos of the "behind the scenes" process or show off your space! You can (and should) share some interactive content, like polls or question boxes. These are simple things you can do almost without thinking, but don't worry, we have some more practical examples coming up in the article. 
In the meantime, just remember that social media is all about sharing and connection. Focus on starting conversations with your followers and really listen to them. Doing this small step will create a bond of trust that will lead to shares, tags, positive word of mouth referrals, and even more sales or an increase to your offline and online bookings.
Read more: 18 Social Media Post Ideas for Small Businesses
How Often Should a Business Post on Instagram Stories?
While stats say that brands post, on average, 2.5 Stories per week, I recommend that you post a little bit more. You don't need to post every day but definitely shoot for at least 3 or 4 times per week.
You don't always need to come up with original content, though. You can share your own past content in your Stories or share user-generated content that your customers have tagged you in. We talk about user-generated content in almost every Instagram blog post we write because this stuff is solid gold. Whether it's a testimonial or a simple story, this kind of content serves as social proof and shows other people how much everyone already loves your business!
How to Use Instagram Stories to Increase Brand Awareness and Engagement
Increasing brand awareness and engagement on Instagram Stories is relatively easy; you just need to know what to do. Here are a few examples of what you can do to make sure more people find you and your content on social media.
As a side note, before I go any further: don't give up you don't get a lot of interaction in the first few weeks or even months. It takes time to build trust on social media, so give it a little time and just keep initiating interactions until your followers start to engage back. 
1. Add Hashtags
Everyone uses hashtags when posting on their feeds; however, not many people use them when posting on Instagram Stories. Using hashtags helps you reach more users because your Story will show up for users on the hashtag's explore page. It's not going to be a huge source of traffic, but you can definitely increase your reach with it.
To get the most traction with hashtags, don't use the hashtag sticker. That only allows you to add one hashtag per Story. Instead, use the writing tool and add the hashtags you want to use to your Story. Just don't add too many or you might start to look spammy. Keep it under five and you'll be just fine.
Oh, and remember to always use relevant and niched hashtags. You don't want to increase views just to increase them – viewership is a vanity metric, after all. What you really want to do is increase views among people who matter, aka your ideal customer. You can do this by choosing targeted and relevant hashtags to add to your Stories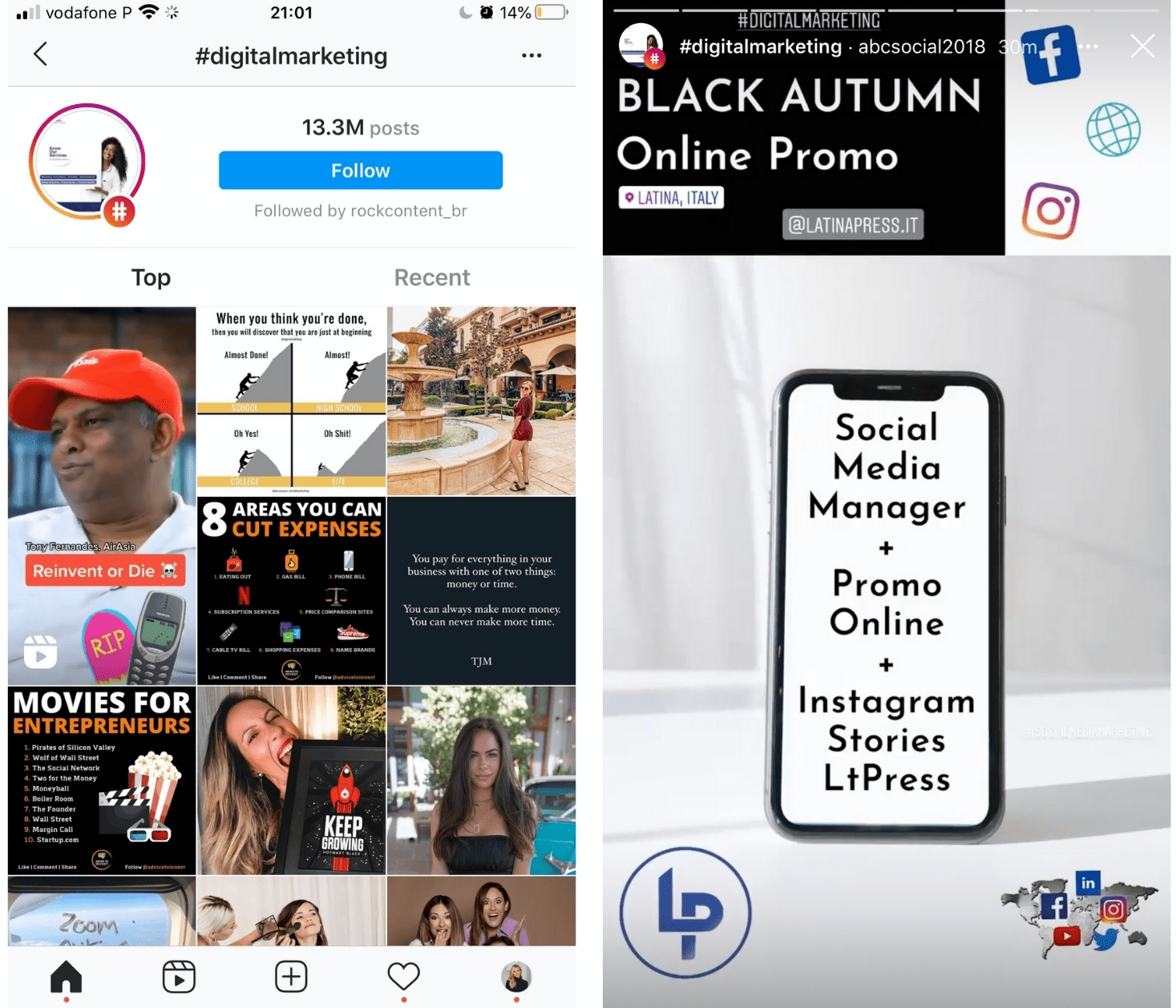 2. Add Your Location
A lot of businesses don't know how amazing the location tool can be in Instagram Stories! Essentially, adding your location has the same effect as adding hashtags. Whenever you post an Instagram Story with a location tag, people who don't already follow you can find your tagged Story in the Explore feed for that location. So, if you're a local business, you should definitely be taking advantage of this tool so you can show up for more people in your geographic area.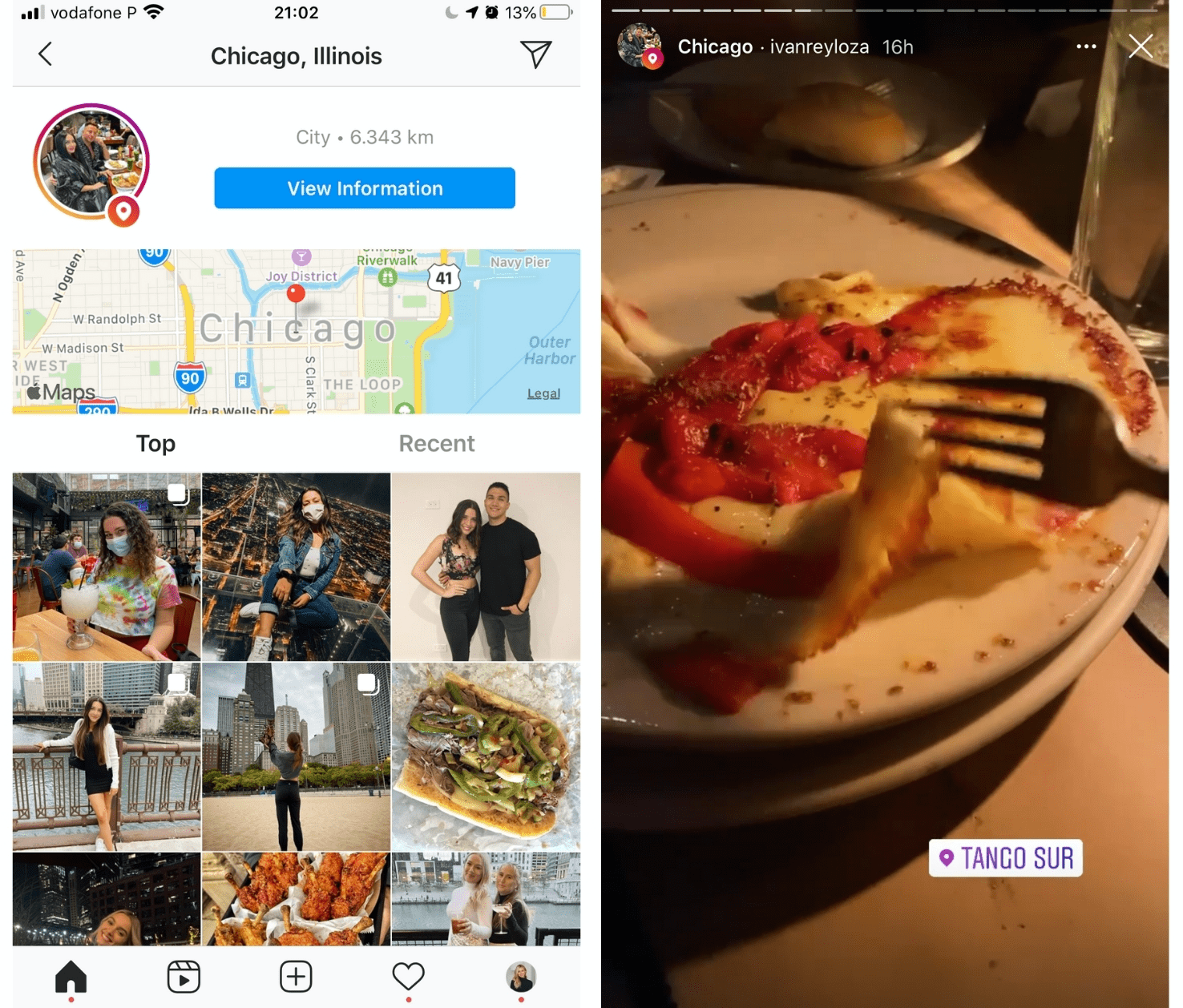 3. Tag People
Tagging people is a great way to increase your exposure, too. Don't just tag people out of the blue, though. Use this feature strategically. Like, if you take a photo of a customer or team member, be sure to tag them! If you are partnering with another local business or stop into your favorite coffee shop next door for a pre-meeting pick-me-up, tag them! Not only will this encourage them to share your story to their audience, but you also show up in the Explore feed whenever someone looks for that location. If you're sharing one of your favorite books or a quote from an expert in your industry, tag them. As long as it makes sense to tag someone, make sure you do it. 
4. Encourage Customers to Tag You
Another way to increase brand awareness and engagement is by asking (and encouraging) customers to tag you on their Instagram Stories. A common and simple incentive is to simply repost Stories that you get tagged in. People will see that this is something you do, and they'll want to be part of your community and part of your business.
If this doesn't work, you can always incentivize them by offering them a bonus or a discount when they tag you in their Stories. It's worth it to do this because when they tag you, their friends and followers will see your business which is great word-of-mouth advertising. It immediately increases the number of people interacting with your brand, and you don't have to do any legwork to find them!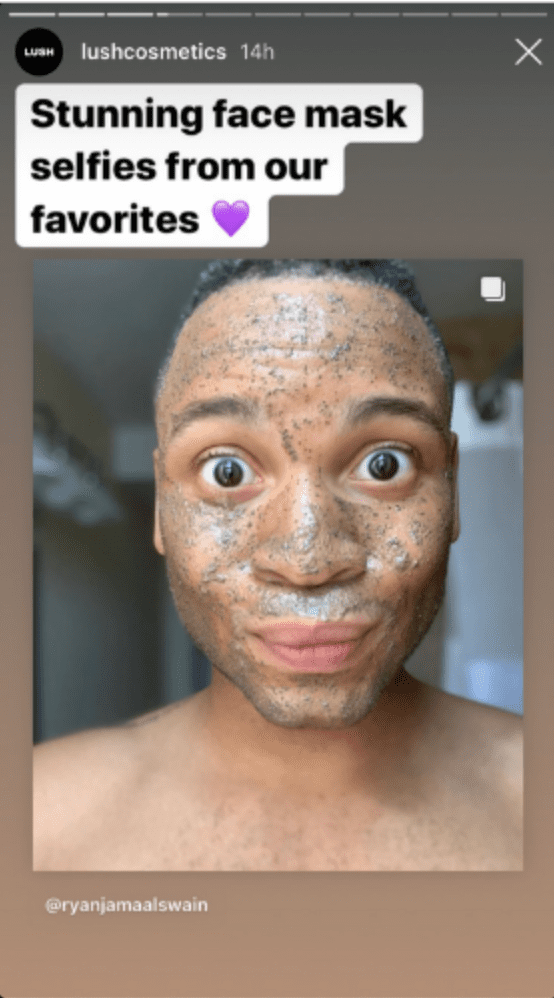 5. Create a Giveaway
Creating an Instagram Giveaway is one of the best ways to increase engagement and brand awareness for your business. While most of the action happens on the feed – usually people post a photo on the feed where the audience can interact and tag people – you definitely should use your Stories to promote the giveaway, too.
Posting only on the feed is not enough these days since the photos don't show up in chronological order. If you don't post on your Stories, your audience might miss your giveaway altogether, so if you want more people to engage with your contest, be sure to share it in your Stories at least once a day while the giveaway is running.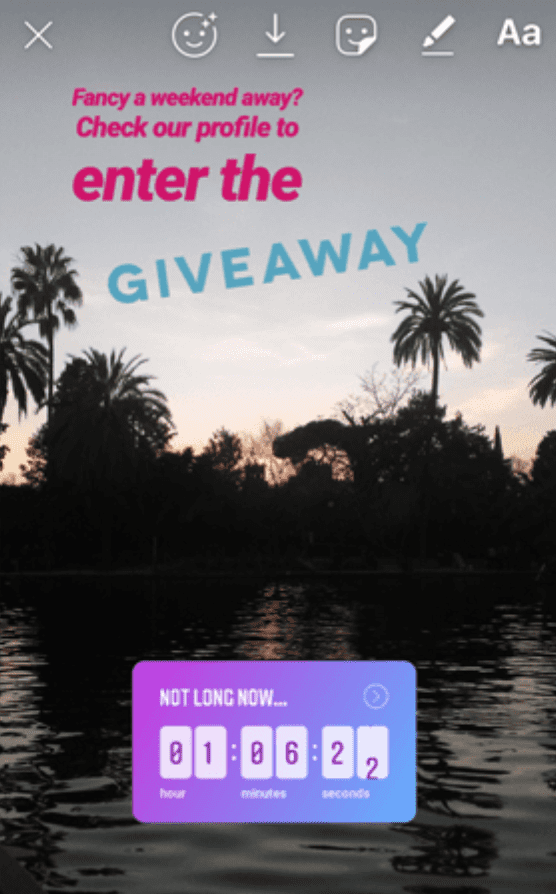 6. Create Polls or Quizzes
Polls and quizzes are the easiest way to encourage interaction on your Instagram page. People love to take quizzes, they love to answer polls, and they simply love to give their opinions and find out if they are "right" or "wrong" about something, even if it's a little bit trivial. So, try to come up with something fun to turn into a poll or quiz on your Instagram Stories. You could ask people about something that's related to your industry, your business, or you could simply ask people for their opinion. Don't forget to share the results afterward!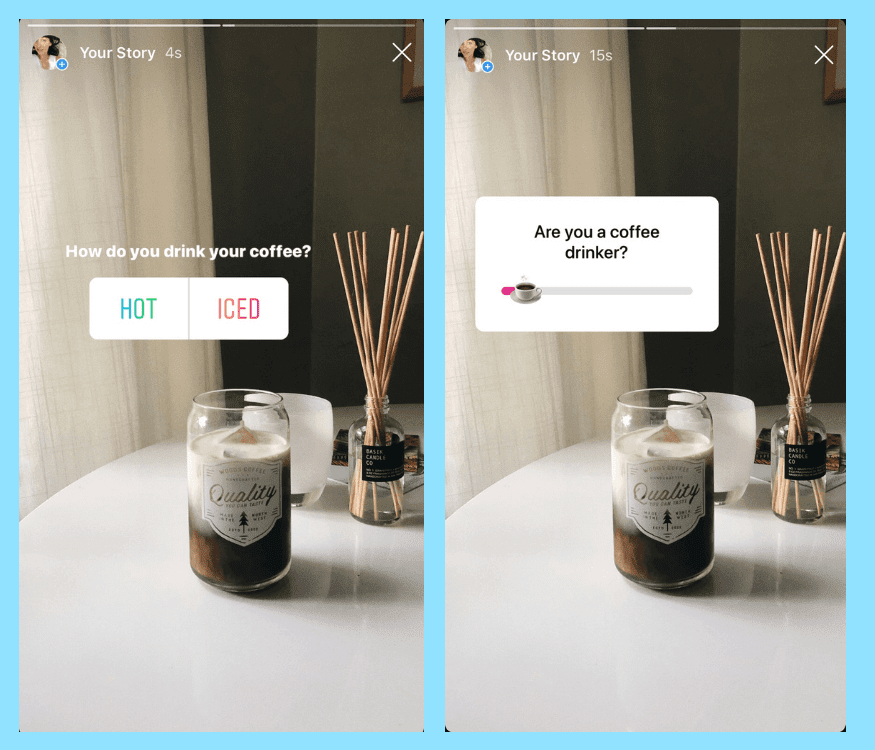 7. Ask Questions
Another way to increase engagement is to use the questions sticker on your Instagram Stories. The question you ask doesn't need to be complex. In fact, it's better if it's not that complex because people don't want to spend too much time on these. Ask something light and fun that your audience can answer easily. Ask them for recommendations, for things they want to see on your Instagram page or in your business, or ask them what their favorite morning beverage is! People love to talk about things they love, so they will definitely interact with a question like this.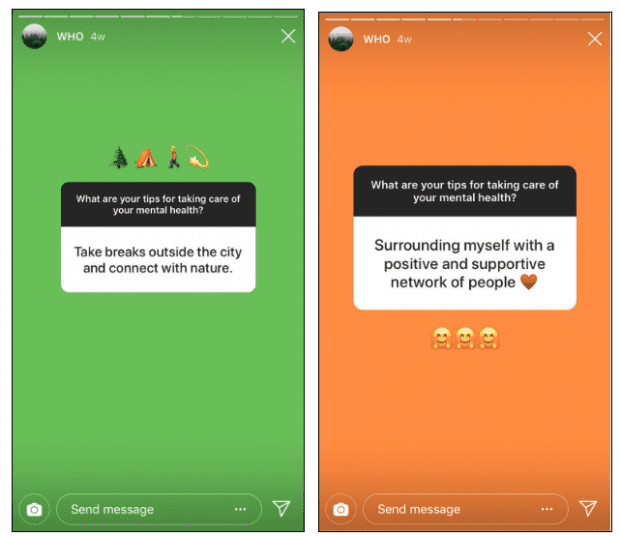 8. Add a DM Me Sticker
Sometimes people are too shy to leave a public comment, but they might want to send you a direct message. The "DM Me" sticker is a great way to make it easier for your audience to send you messages privately. Whenever you post something about a product or service, you can add the sticker and tell them to contact you via DM if they have questions or feedback. Making things easier and frictionless for your customers and audience is an important part of increasing your engagement.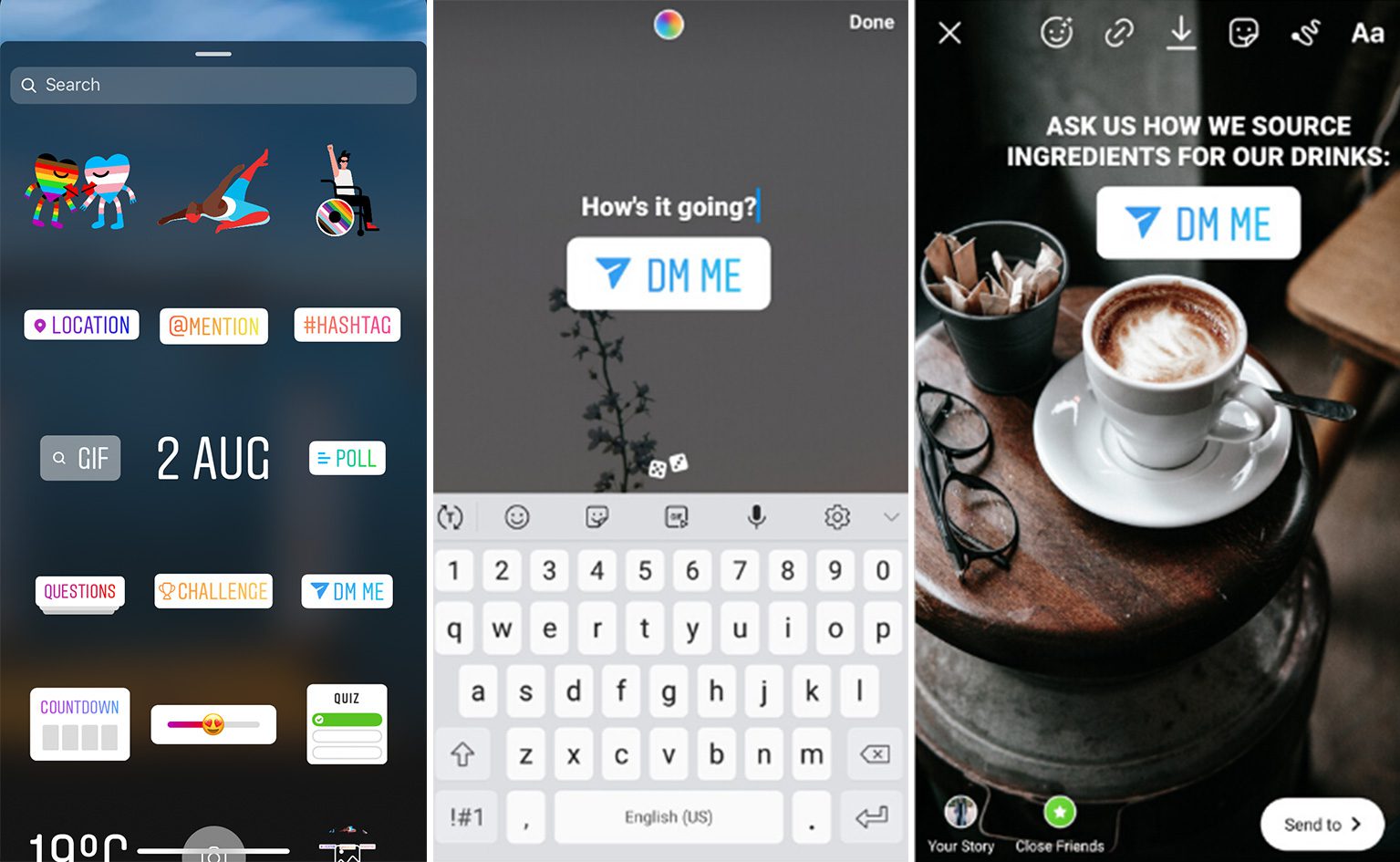 9. Create a Countdown
Adding a countdown sticker to your Instagram Stories is an amazing way to build excitement for a product launch or special event, especially a sale. When you create a countdown, people can opt in to get a notification when the countdown is almost over and then again when it officially ends so they can continue to be reminded about your event. They're even reminded to visit your profile, which is such an awesome way to keep your business front of mind for your followers without having to post constantly. Instagram does all of the work for you!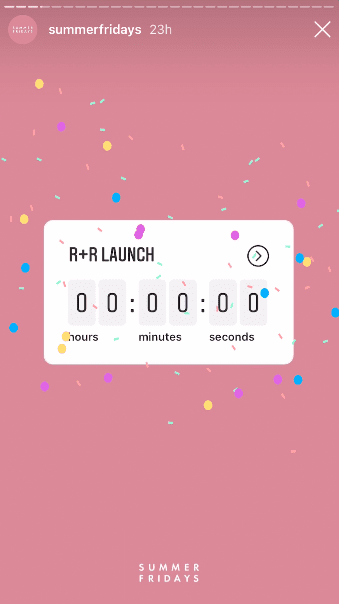 10. Create Templates
I'm sure you've seen those cute Story templates that ask "This or That" or have a bingo card that people can check off. The truth is, templates are amazing for engagement. As I said before, people love to share their thoughts and the things they love. You don't need a degree in graphic design to create these. Canva has some cool templates for templates (!!!) that you can use to create fun Instagram Stories that your followers can easily copy to share their thoughts on their own Stories. Just make sure that you add your business' Instagram handle to the templates so that when they get shared, people will know who made them. Also, make sure the themes of your templates are related to your niche or industry so it makes sense.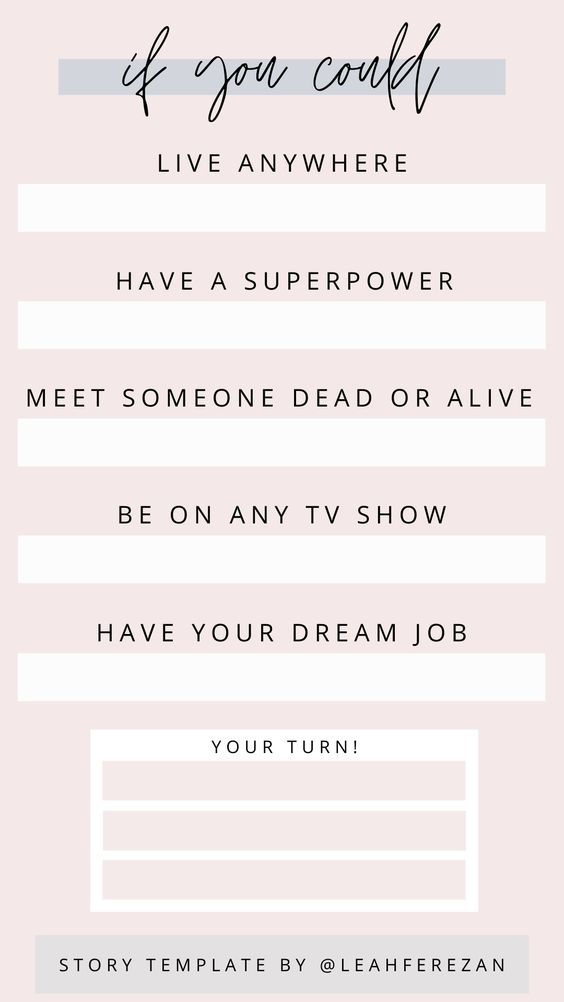 11. Create Share-Worthy Content
Informational content and content that reaffirms people's tastes and opinions are usually very share-worthy. Basically, you should always have content marketing in the back of your mind when you're posting something on your Instagram Stories. You can post something that teaches your audience about a certain topic; maybe an infographic, a step by step tutorial, or a video. Create content that people feel compelled to share. Try to put yourself in your audience's shoes and think about what they would like to see from you. Pay attention to the things they're already sharing from other brands. This can give you a pretty good indication of which way to go with your own content.
12. Create an Instagram Stories Filter
This is a little bit more advanced, but if you're a bit more comfortable with techy stuff, you can probably figure out how to create an Instagram filter for your brand. For example, if you're a burger restaurant, you could create a filter where the user's face turns into a gigantic burger. Or, maybe you could make one of those filter "games" where you click and it shuffles through a bunch of different burger types and then lands on the type of burger you are. This is definitely a fun way to increase both engagement and brand awareness, though it is a little bit more advanced than some of the other options on this list.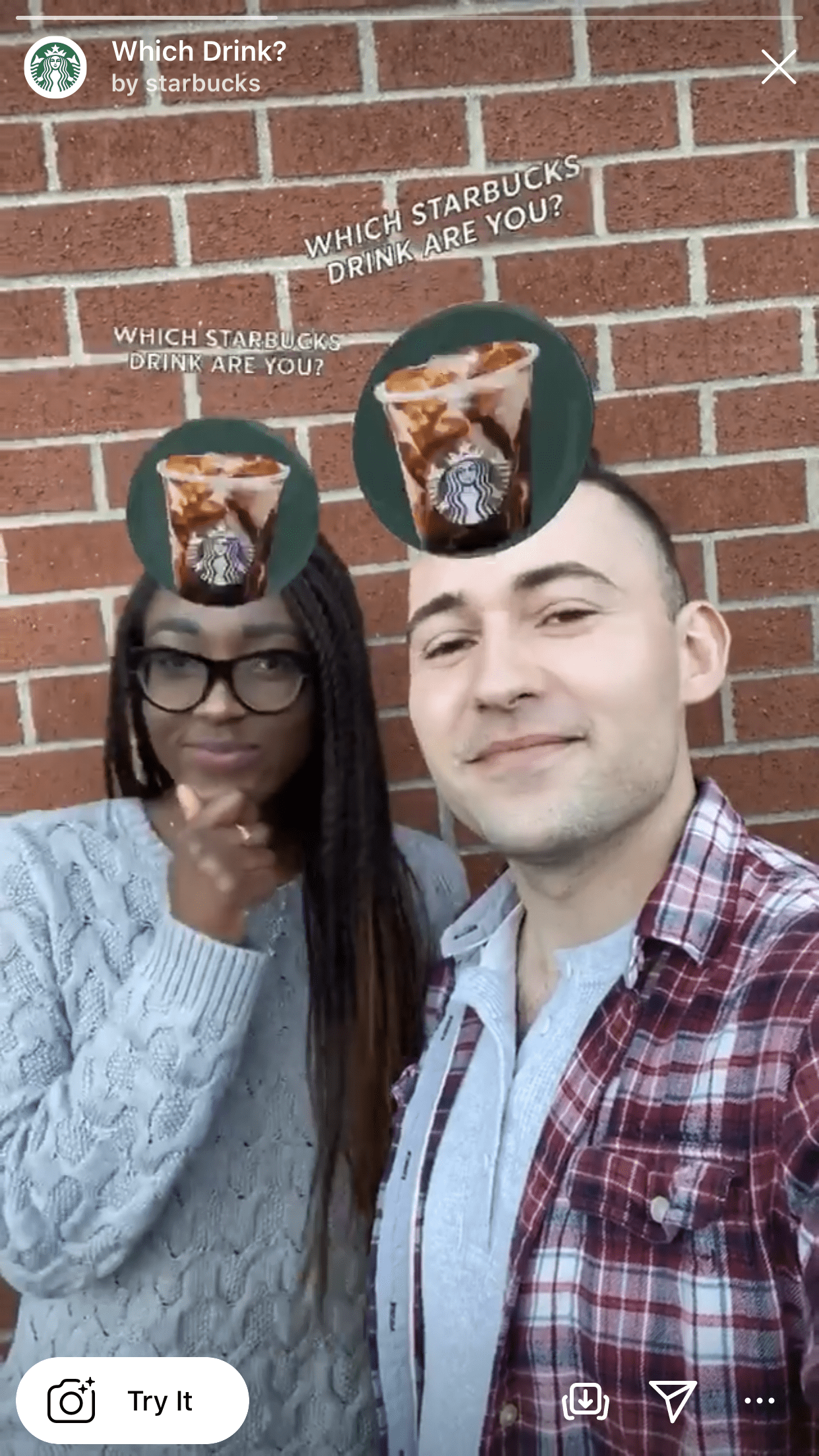 13. Share a Feed Post
Another way to increase engagement is by sharing your feed posts to your Instagram Stories. As I said in #5, sometimes people don't see all of your posts on their feed, so it's a great idea to share them on your Instagram Stories. Try to make it interesting, though. Don't just hit the paper plane icon and hit post. Instead, add a call to action, a fun gif, or encourage them to leave a comment on the photo with their opinion. It might feel weird, but you should constantly be telling people how they should interact with you, otherwise, they will forget to do it.
How to Use Instagram Stories to Increase Sales
Most of the tips we mentioned in the previous section (How to use Instagram Stories to Increase Engagement and Brand Awareness) will also help increase your sales and online bookings. That might not be the primary goal, but they definitely build trust in your brand and that trust will make people want your products and services more. 
However, there are some more direct watts to use Instagram Stories to increase your sales. Let's go over them now!
1. Create Gift Cards
Instagram has many features to help business owners, and one of them is the ability to create gift cards. First, you need to create a gift card through one of their partners like Gift Up!, Rise.ai, or SumUp. Then, you need to add the gift card sticker to your Instagram Story. That's it. Gift cards are a great way to promote your offers and encourage people to give your products and services a gift to a loved one – which is an especially good strategy for Black Friday and Cyber Monday marketing… or Christmas!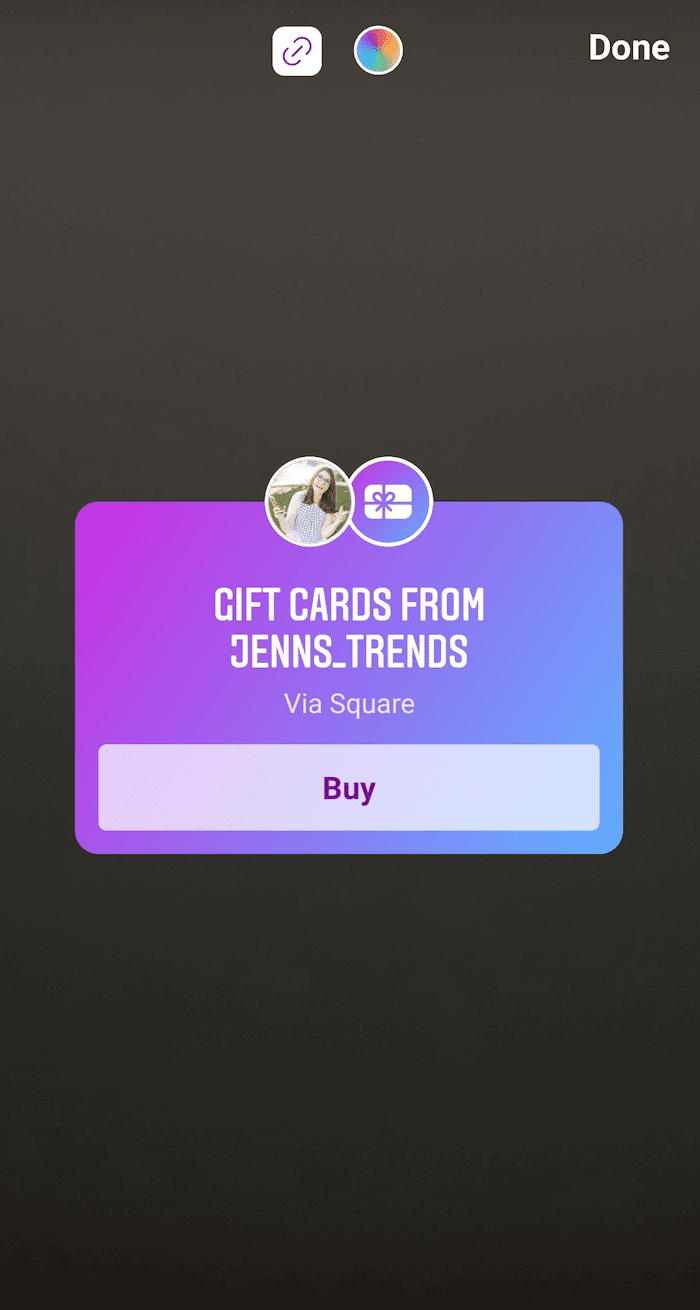 2. Use Food Order Stickers
Another thing you can do is add food order stickers. To do this, you need to create a profile on a partner website, just like with the gift cards. For food orders, you will need to check out Leferando.de. By doing this, you make it easier for people who follow your business on Instagram to order from you!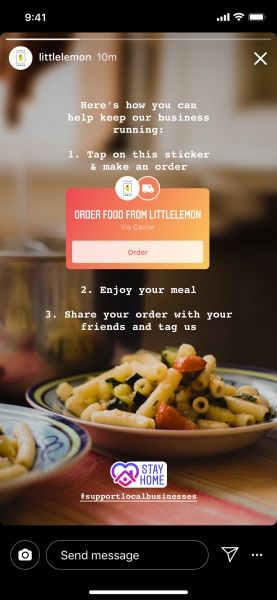 3. Add a DM Me Sticker
Direct message stickers are awesome to increase engagement and encourage your audience to send you a message whenever they have a question about a product. For instance, let's say you post an offer for a new product on your Instagram Stories. Adding a "DM Me" sticker gives your customer an easy way to ask about that product sent to you, which ultimately increases your chances of selling the product.
4. Answer Questions
Answering questions is a great way to help your clients understand that your offer is the perfect solution for them. The truth is, not everyone will send you a message if they have a question. And, if you only answer the questions you do receive in a private message, other people with questions won't be able to see the answer. It's a missed opportunity! 
Open up the conversation and create a question sticker or share some of the questions you get through email or DM on your Instagram Stories. This is a much more helpful way to talk about your products or services with more people!
Just remember, when adding a question box to your Stories, try to avoid creating an "ask me anything" question box. The more specific you are about the topics, the more specific you can get about certain products or services you want to highlight.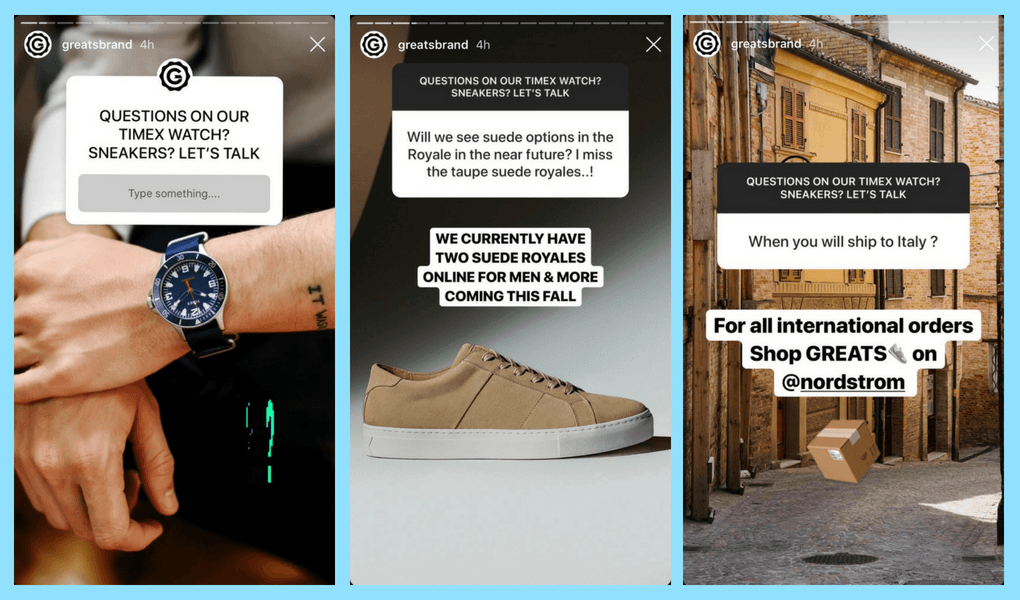 5. Add Hashtags and Locations
Adding hashtags and locations to your Stories will not only help to increase engagement, but it will also help more people find your content and hopefully, come visit you in person. As I said earlier in this article, these two features increase discoverability, so if one of your goals is to reach more people in your geographic area or find more people who are interested in your specific niche, be sure to use those hashtags and location tags in your Instagram Stories!
6. Encourage Customers to Tag You
Again, this is a tip we have already talked about, but asking people to tag you is an important way to establish social proof, which drives sales. Even if the people tagging you aren't necessarily "influencers", they still have influence. Maybe their friends or family members see their Instagram Story where they're talking about your brand. It has the same impact as a word-of-mouth referral. They trust them because they know them personally, and so your brand will stick in their brain as a reputable brand to buy from or hire.
7. Share User-Generated Content
User-generated content (content not created by you but by someone from your audience) is another great way to get that coveted social proof. Why does it work so well? Studies show that whenever people are in doubt, they tend to just go along with whatever everyone else is doing. So, if it seems like everyone is buying your products or hiring you, they will want to get in on it, too. The more Stories you share from your happy customers and clients, the more people will want to be included in on the good time. The best part is, you don't even have to pitch yourself at all.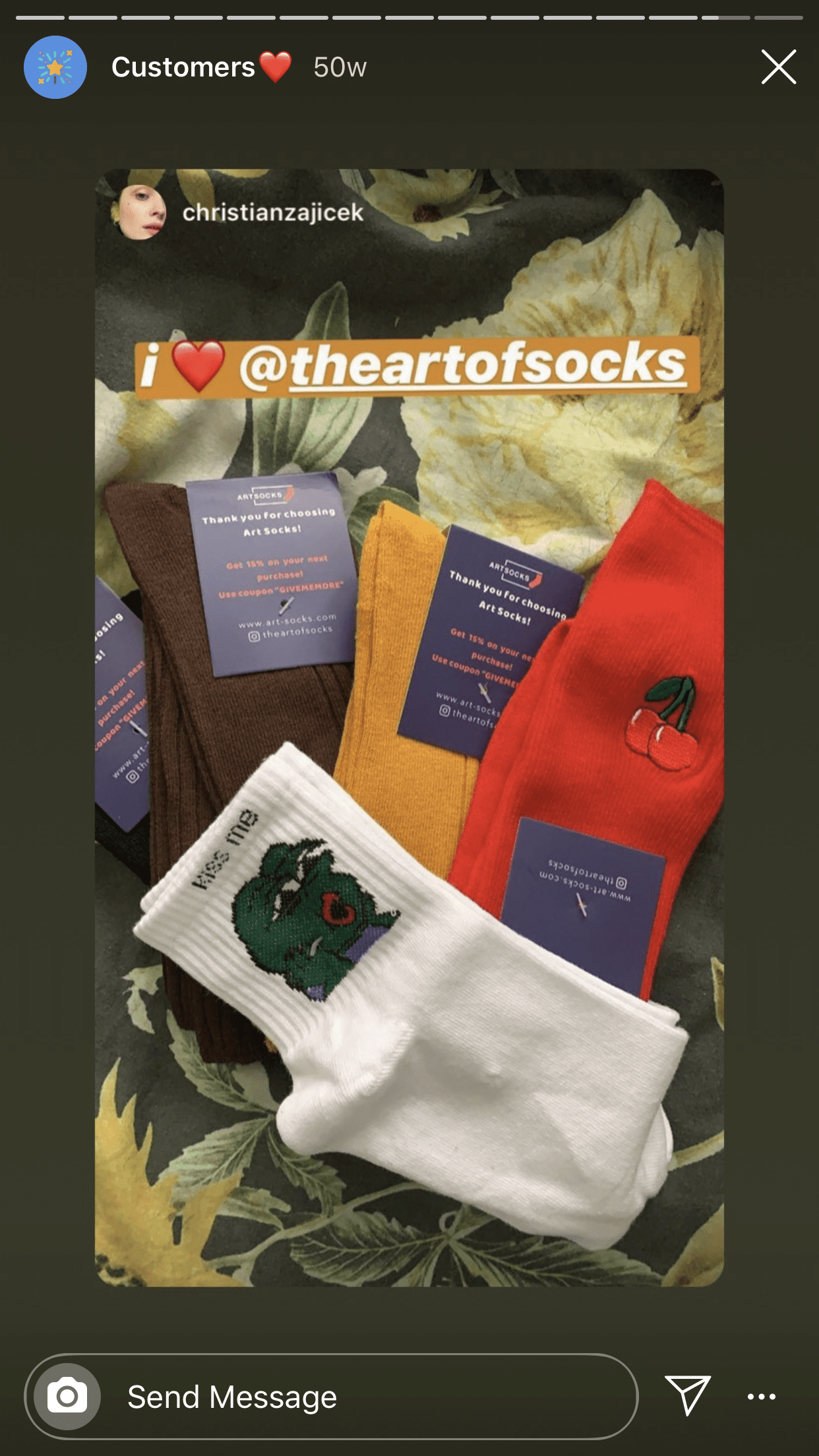 8. Create a Countdown
Creating a countdown is an excellent way to increase the buzz around new products and offers. It increases engagement, but it also increases people's curiosity about the eventual launch or announcement. Give your followers just a few details to entice them to activate the notifications setting, and then make sure you prepare something really awesome for the end of the countdown so they feel like the wait was worth it. 
9. Add a Link
If your business has over 10k followers, you have the option to add a "swipe up" link to your Instagram Stories. This just makes everything easier. Rather than always directing people to the link in your bio, you can just add a direct link to a product or service page to your Stories. The "swipe up" option also comes in handy whenever you need to share a more complete form of content, like a blog post or YouTube video.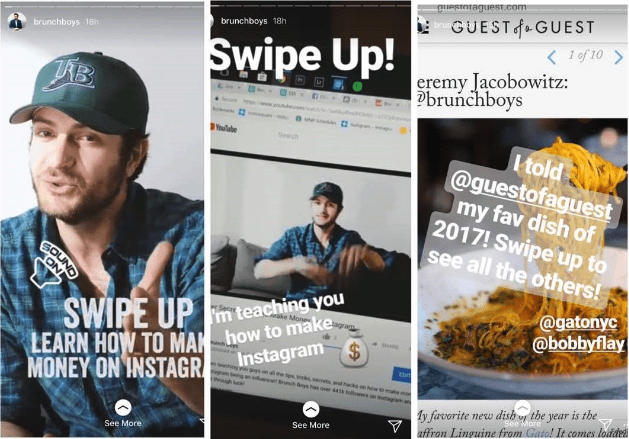 10. Add a Call to Action to Your Bio
Everyone on Instagram has the ability to add one link to their bio. So, if you want people to go to a certain page on your website to book you or buy a product, add that specific URL to your bio and then create an Instagram Story that tells people how they can get the product or service. Some tools like Linkin.bio or Linktree will let you create a simple landing page where you can add several links instead of just one. 
11. Use Product Stickers
If you're registered on Instagram as a commerce business, you have the option to add a product sticker to your Instagram Stories. With this sticker, you can tag specific products on your Stories that lead to product pages, which can really increase conversions. You can do this even if you don't have 10k followers, you just have to set up Instagram Shopping in the business section of your Instagram settings. 
I hope you learned a lot about using your Instagram Stories to increase engagement, brand awareness, and ultimately, sales. If you want some more tips on how to create better Instagram Stories and find out the best apps to create amazing Instagram Stories, check out our post about the topic!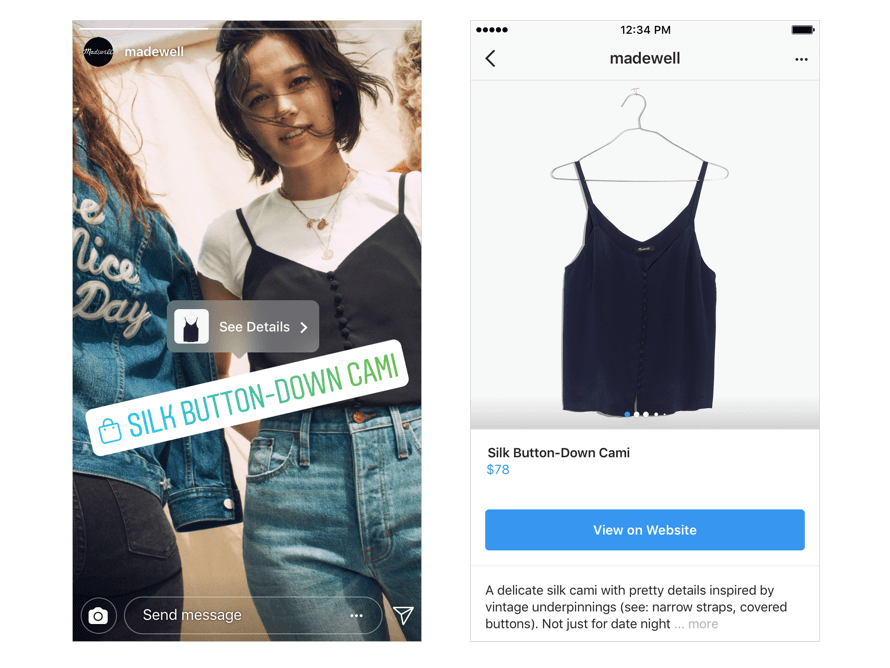 ---
Did you like these tips?! Then don't forget to save the image below in your "Instagram Marketing Tips" board on Pinterest! Also, check out our Pinterest page and follow us to get daily updates + digital marketing and social media tips for small businesses!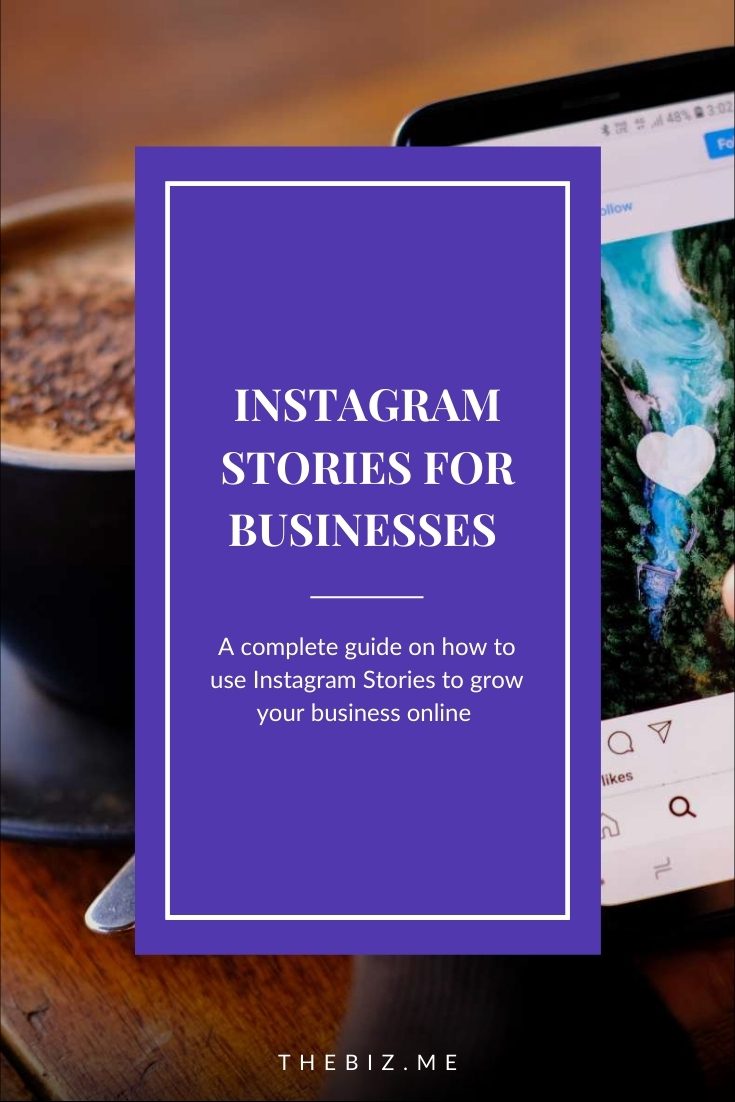 We can't wait to see what you do. Please tag us using the hashtag #GrowingMyBizso we can see and share your work!