Realtors, you might have noticed that it's a little bit tougher these days to find new clients. Gone are the days where you can just put some signs up around town with your headshot and telephone number on them to drum up leads. Times have changed, and that's mostly due to the fact that everything is happening on social media nowadays. That's probably why you clicked this article; to find some social media post ideas for realtors, like yourself, to find new clients.
The truth of the matter is, if you want to be seen and continue closing new deals, you have to be on social media. But even that is not enough. You have to be posting quality content on a very consistent basis to grow a following of qualified potential clients. 
Read more: 8 Benefits of Social Media Marketing for Businesses
Now you might be wondering what exactly counts as "quality" content on social media. Or how you will create quality content on social media as a busy realtor or real estate agency owner. Hopefully, this post will help you understand exactly how, why, and what to post. These post ideas for realtors are designed to help you grow your business or brand without dedicating tons of time or energy into the content creation process. 
Are you ready? Then let's get right into it!
Read more: How to Create a Social Media Plan
Social Media Post Ideas for Realtors
1. Create Polls
Polls are a great way to increase your social media engagement. If you know at least a little bit about social media, you know that posts with engagement will show up for more people – that's just how the algorithm works. So, your goal is to create some polls to increase engagement, then right after the poll, post something you want more people to see, like a house listing or a link to your website. 
You don't need to ask many questions all at once. Just ask 2-3 questions per week to get people used to engaging with your content. If you don't know what to ask, think of topics that might interest your audience, like which house model do they prefer, which home staging style do they like more, are they drawn more to a beach house or a mountain cabin? Have fun with it and share the results after the poll ends so people can see where they line up with others.
Aside from being fun, creating polls like this is also a great way to get to know more about your followers! Knowing them better is very helpful if you often feel like you don't know what to post.
Read more: 27 Social Media Post Ideas for When You Run Out of Ideas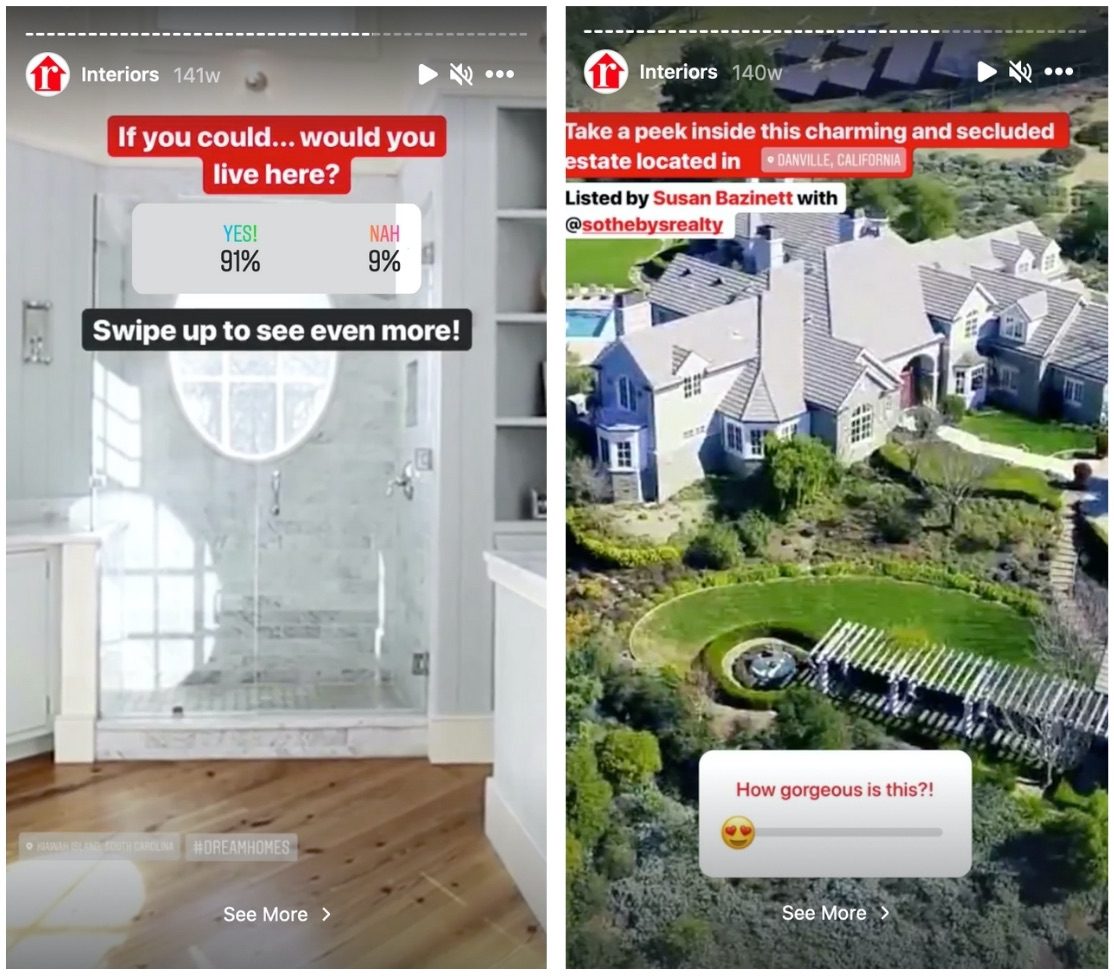 2. Share Behind the Scenes Content
People love to get a peek behind the scenes. Show how you prepare for open houses or a glimpse of the house you are about to list on your website. Marketing is all about creating a buzz around what you're selling. Make your audience curious, entice them, and then, later, sell what you want to sell.
The perfect way to do this is to create video-based stories where you say something like, "Hey guys, I'm here at this house we are about to list on our website, and it looks amazing! We came here to take some pictures, and I just want to show you a few things before we officially list it."
Then, just show a few pictures or short video clips. You could even combine this with idea #1 and add a poll at the end. You could ask whether they would buy the house if they were house hunting or ask which room of the house is their favorite.
3. Create a Giveaway
Giveaways are a great way to boost your engagement and make sure your content gets in front of more people. However, just make sure you are giving away something that is related to your business. Money or more "general" kinds of prizes (like a smartphone, laptop, camera, etc.) usually attract the wrong people… those who are only interested in the prize, not your content.
The easiest way to run a giveaway is by creating a "follow us and tag your friends" kind of giveaway. But there are other fun ways to do it, like contests, scavenger hunts, and others.
Read more: 11 Instagram Giveaway Ideas for Businesses – and How to Run One
4. Post About Houses You've Just Sold
Did you just sell a house? Why not share a photo of your customers in front of their new home holding their keys? It might sound cheesy, but people love to see other people on social media (it's called social media, after all), and who doesn't love a feel-good story?
Sharing pictures of your clients in front of their new homes — or even a picture of a house that has just been sold — also serves as social proof. People will see your successes and the happy clients you've helped and want to be a part of that story!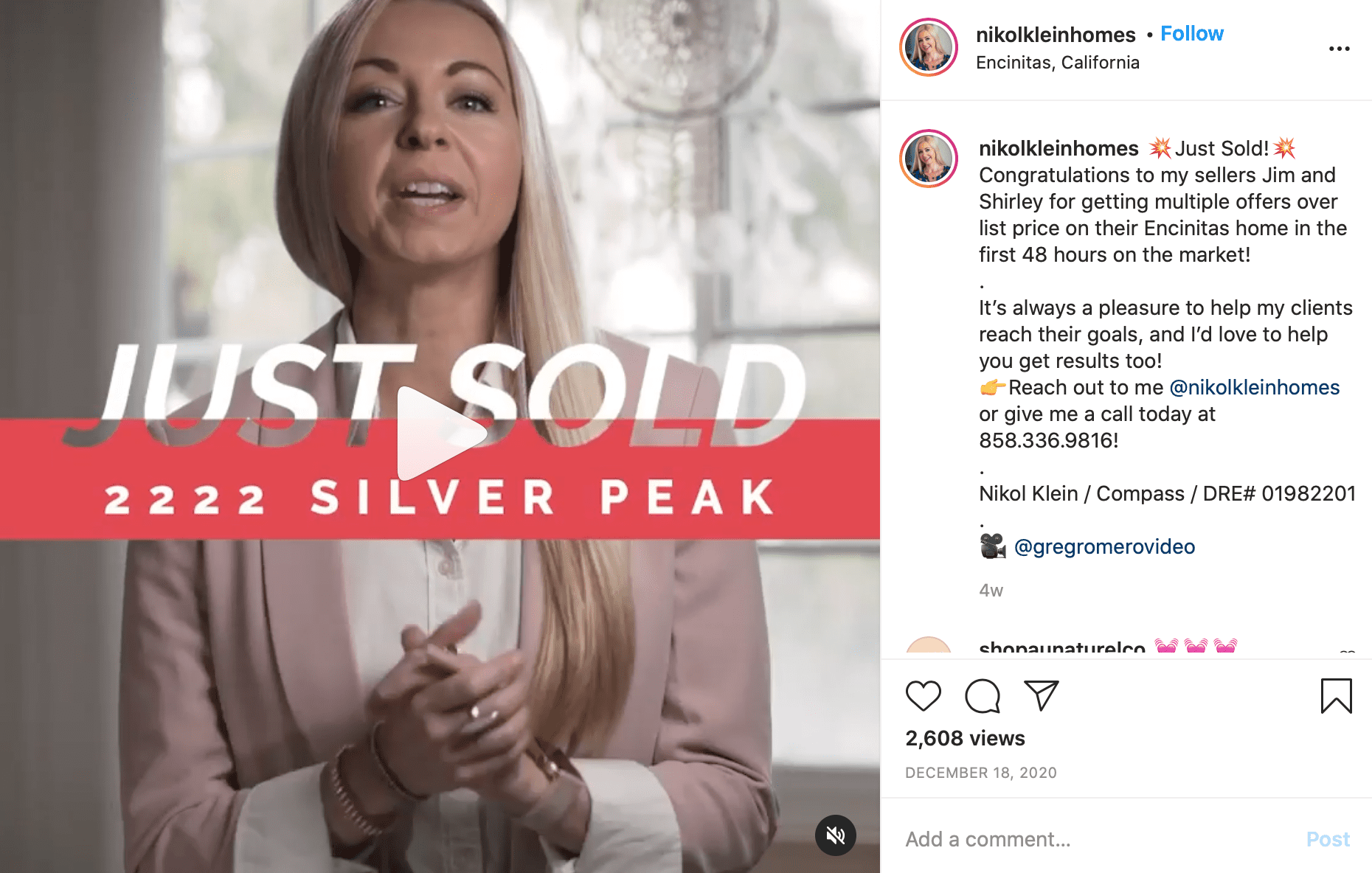 5. Post Your Listings
Sharing your listings is another great post idea for realtors. It's easy and effective, and you might already be doing this to some degree. However, it's important to think about how you can take these posts to the next level.
Instead of just posting a link to the listing, why not upload the photos directly to social media so people don't have to click through first? What about a cute branded post to grab people's attention so they click the link? Or, you can share a video where you walk through the house and narrate your favorite parts! 
Whatever you choose to post, make sure you're thinking about what your followers want to see and how you can set yourself apart from your competition. Above all else, make sure your posts are informative and have a quality photo and video content. That's what is most important.
Read more: How to Take Product Photos with Your Smartphone
6. Share Some Information About the Neighborhood
Another way to create interesting content is to share some information about the neighborhoods your listings are located in. Neighborhoods often have an interesting history that you can talk about, or you can simply highlight the benefits of each neighborhood, e.g. it's great for families with young kids or for young professionals, etc. You could even turn these posts into a fun series with some branded graphics that will look amazing on your page!
7. Share Blog Posts and News Stories
Did you find some interesting news about the real estate market or about a town or neighborhood you're working in? Share it on social media! The goal is to always be a great curator of content and think of what your audience wants. As tempting as it might be to post stuff you find interesting, you have to remember that your audience is not you and they may have different interests.
Get to know your followers and what they like. Then, create blog posts and other pieces of content that will resonate with them. 
For example, let's say you find a very technical article about the real estate market. Your audience probably won't be interested in that. But, maybe you can pull one interesting statistic from the article and create a short blog post that will resonate more with the everyday person who is interested in buying or selling a property. Sometimes it takes a little work, but it's always worth it.
8. Give Tips on Buying Houses
This kind of thing is pure content marketing, and content marketing is a super important part of any business's digital marketing strategy. 
Some people have never bought a house before, so they don't know how it works, they don't know the market, and they also feel a little lost on where to start. It's a big decision, and they need all the information they can get before they take the next step.
On top of that, people want to hear from an actual expert, someone who knows their pain points and takes them into consideration. If you already know your audience pretty well, you can create content that speaks to them fairly easily. If you don't, use polls to ask them about their biggest questions and concerns.
9. Create a Weekly Series
A great way to come up with new content consistently is to create a series of content where you'll talk about a specific topic each week. It could be in the form of posts on your feed, videos, or even live streams, whatever you feel most comfortable doing. 
It might be helpful to think of a specific day and time to post; this way, you commit to your audience and to yourself. You should also plan the content in advance and batch it so that you don't have to take time away from your day to create content on the fly every week.
Read more: How to Plan 1 Month of Content in One Sit
10. Share Some Inspiration
This is another great content marketing strategy! Creating inspiring content is one of the best ways to get people to start dreaming of purchasing some real estate. Share some pictures of nice homes and gently urge your audience to start dreaming about what they would want in a new home!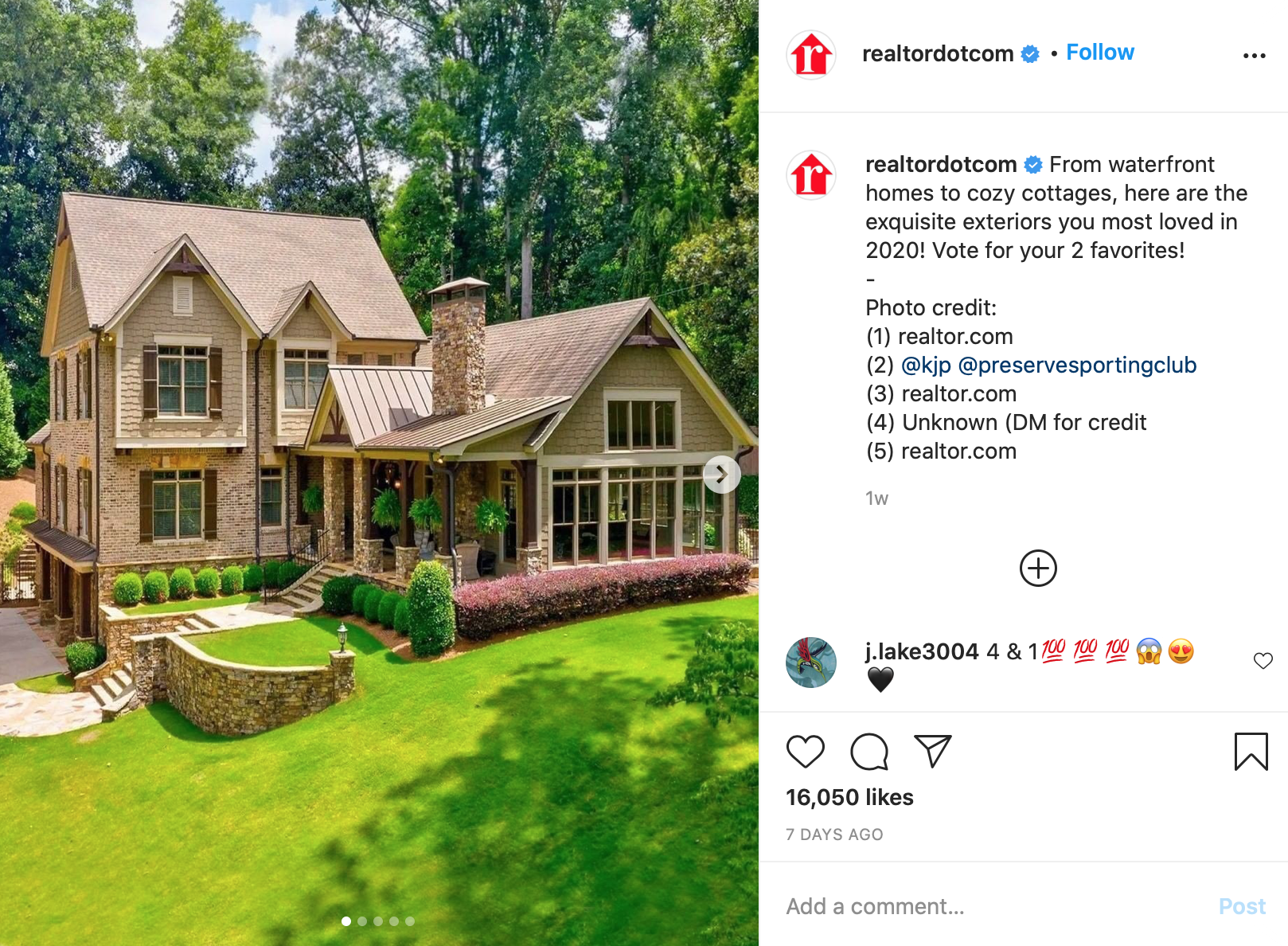 11. Share Customer Testimonials
Testimonials are one of the most effective forms of social proof. Whenever you can, share your client's testimonials on social media. Doing this helps to increase the perception of you, your brand, and your work and it helps people to trust you more. Just make sure you don't do it too often, or it might start to seem overly self-promotional. Once a week is the most you would probably want to share testimonials.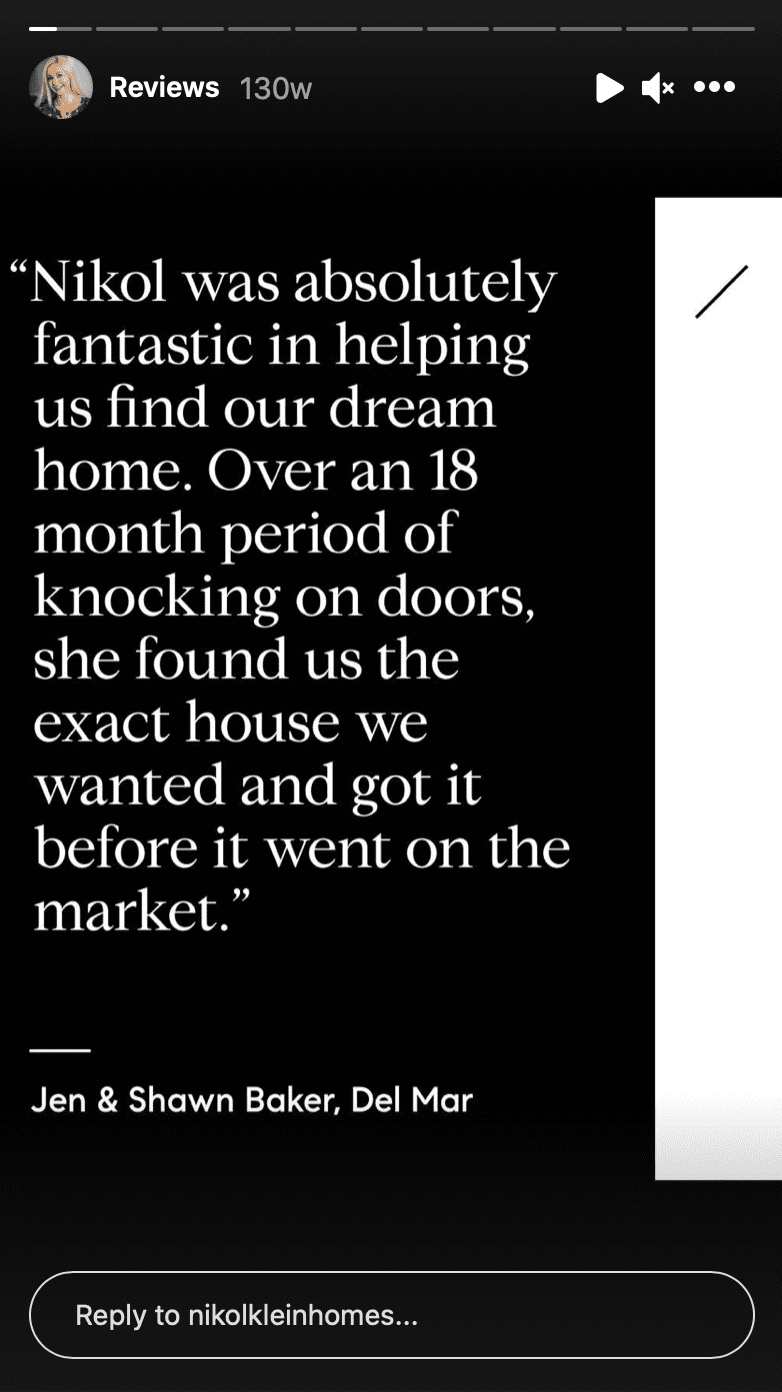 ---
We can't wait to see what you do! Don't forget to tag us using the hashtag #GrowingTheBiz so we can see and share your work. And don't forget to follow us on Pinterest for some more inspiration and ideas!