Halloween is coming up, and the more ahead of the curve you are, the bigger your chance to create a successful marketing campaign around the holiday. We actually mention how important it is to plan your marketing campaigns in advance in our previous post where we talk about how to create a content calendar.
In short, even if you're a small business owner, planning your campaigns, sales, events, and even your posts on social media in advance is super important, especially when you're trying to align with a popular holiday such as Halloween. Here's why:
You don't want to constantly feel like your rushing or falling behind;

You'll end up creating more meaningful campaigns;

Your work will be more polished;

You can prepare your audience for what's coming next.
There are so many fun holidays and observances, so sit down and choose some of the ones you want to plan a marketing campaign around. Don't just choose the ones that are blatantly aligned with your business. Get creative with it!
Read more: Days of Observance and Holidays in 2020 for Small Businesses
For example, let's say you want to create a special dish for your menu during October to celebrate Halloween. To make sure everyone knows about the special and to generate some hype around it, you will probably want to start planning at least 2-3 months in advance. Think about it: you have to come up with ideas for the dish, test the recipes, create a new menu, print it, announce it to your customers, etc.
Perhaps you want to create a Halloween event for the kids featuring face painting, a spooky storytime, a bounce house… you get the idea. This will not only require advanced planning because of all the logistics, but you'll also need to make sure to give the parents and families enough time to plan so they can attend! 
Halloween is the perfect time to hand out sweet treats, wear costumes, have a little bit of fun with makeup, and go all-in on the fun fall decor. Pretty much any business can embrace their spooky side, grow brand awareness, and connect with customers. Not everything is about making more sales. Sometimes it's just about showing your people a good time!
Halloween Marketing Ideas
So, what are some ways you can celebrate Halloween as a small business? Here are a few ideas:
Create a special product or offering that is ideal for this time of the year;

Create a "spooky" or controversial product – like the

pineapple pizza

, which haunts people all over the world;

Promote a Halloween-themed event for kids or grown-ups;

Create a Halloween sale;

Promote a

giveaway

;

Promote a contest (maybe a costume or baking contest);

Spookify your business with cobwebs, spiders, ghosts, and more. If you're online-based, you can add Halloween-themed banners to your website!

Partner with other brands to create Halloween-themed deals;

Surprise your customers with special gifts, discounts, and other free stuff;

Create Halloween posts on social media to promote what you're doing and engage with your followers.
Halloween Post Ideas for Businesses
Now that you have some interesting ideas, here are a few Halloween post ideas for your business:
Halloween Contest
Dunkin Donuts created a Dunkin dress-up contest where customers would dress up in a Dunkin Inspired costume and share it on Instagram for a chance to win $1,000 and a year of Dunkin coffee. You don't need anything as big as that.
What you can do is create a contest or challenge that's easy to enter and that's also related to your business. Make sure you choose a nice prize to give away to entice people to participate. It could be a meal, a service, a product, or a gift certificate for something that your business offers. Think outside the box and do something unexpected!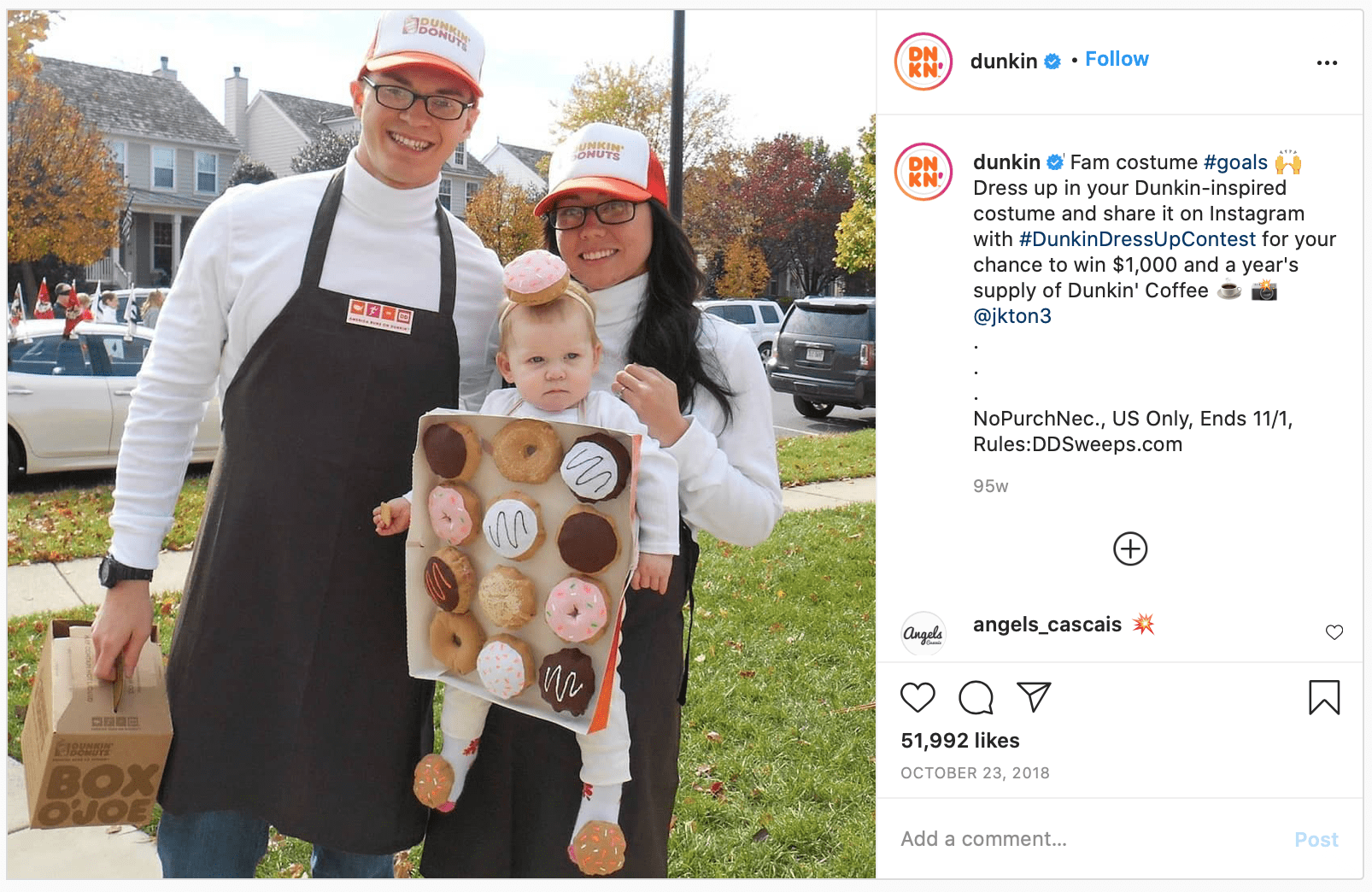 Halloween Quiz
Want an easy way to get people to engage with your posts? Create a quiz about spooky folklore, horror movies, or anything else related to Halloween (and your business). People love to engage in these kinds of things, especially if there's a good prize. Consider how you could use Instagram Stories to host your quiz. It would be pretty easy since they already offer a built-in quiz feature! 
Halloween Offers
This is the most obvious way to create an appealing Halloween marketing campaign. All you need to do is give your customers a special discount on specific products or services during a determined time period. Nabla Cosmetics, for instance, has created "monstrous offers" in the past around Halloween. Why not create a spooktacular offer for your business, too?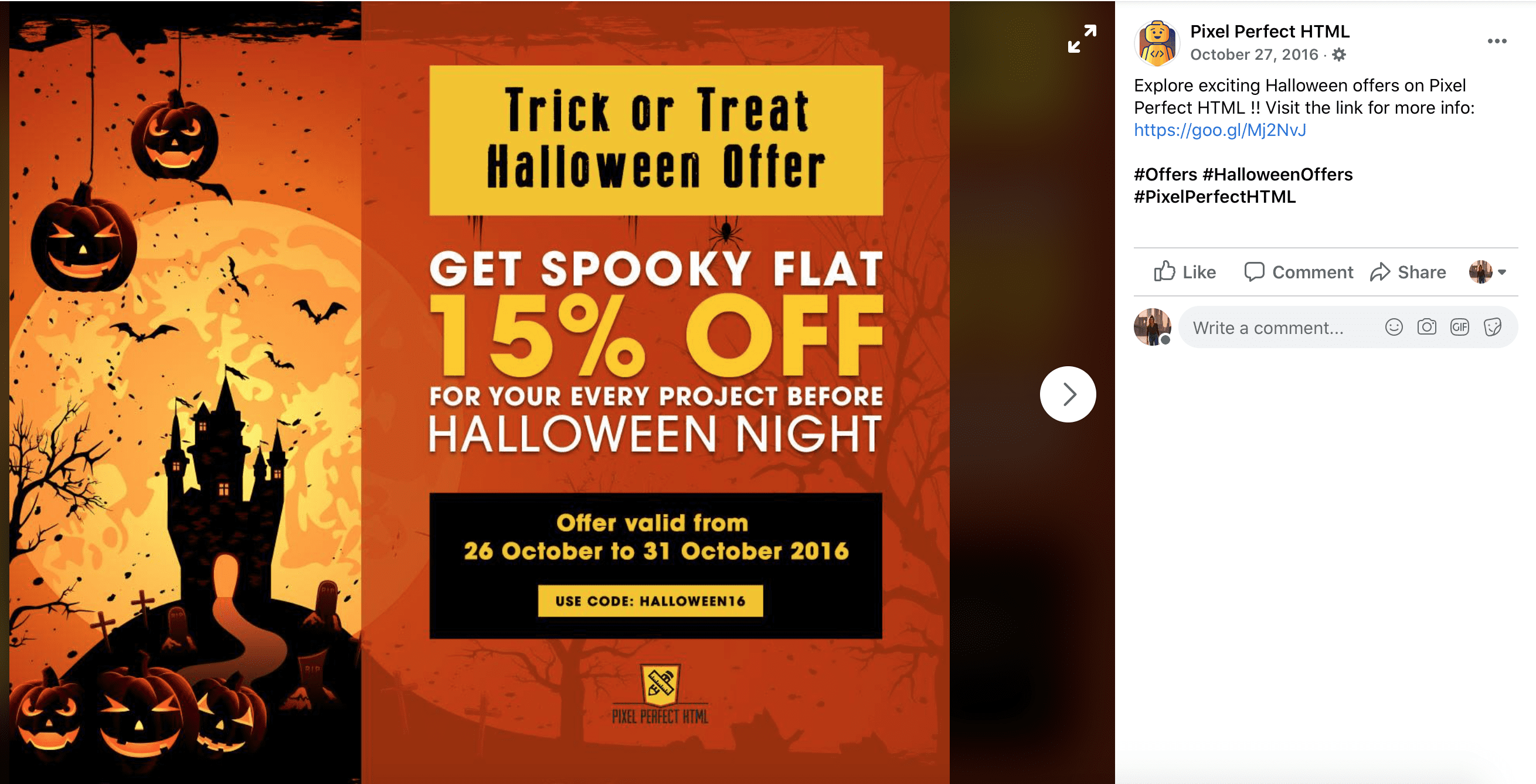 Halloween Products
Another great idea for your Halloween marketing campaign is to create Halloween products. This one probably requires more planning than any of the other ideas, but you can create new products or services specifically related to Halloween, just like the big brands do. If your customers love what you create, you can bring it back year after year and it can become a cult favorite for your business! Just be sure to promote it a lot on social media, on your blog, and in your email campaigns so people know about it and don't miss out.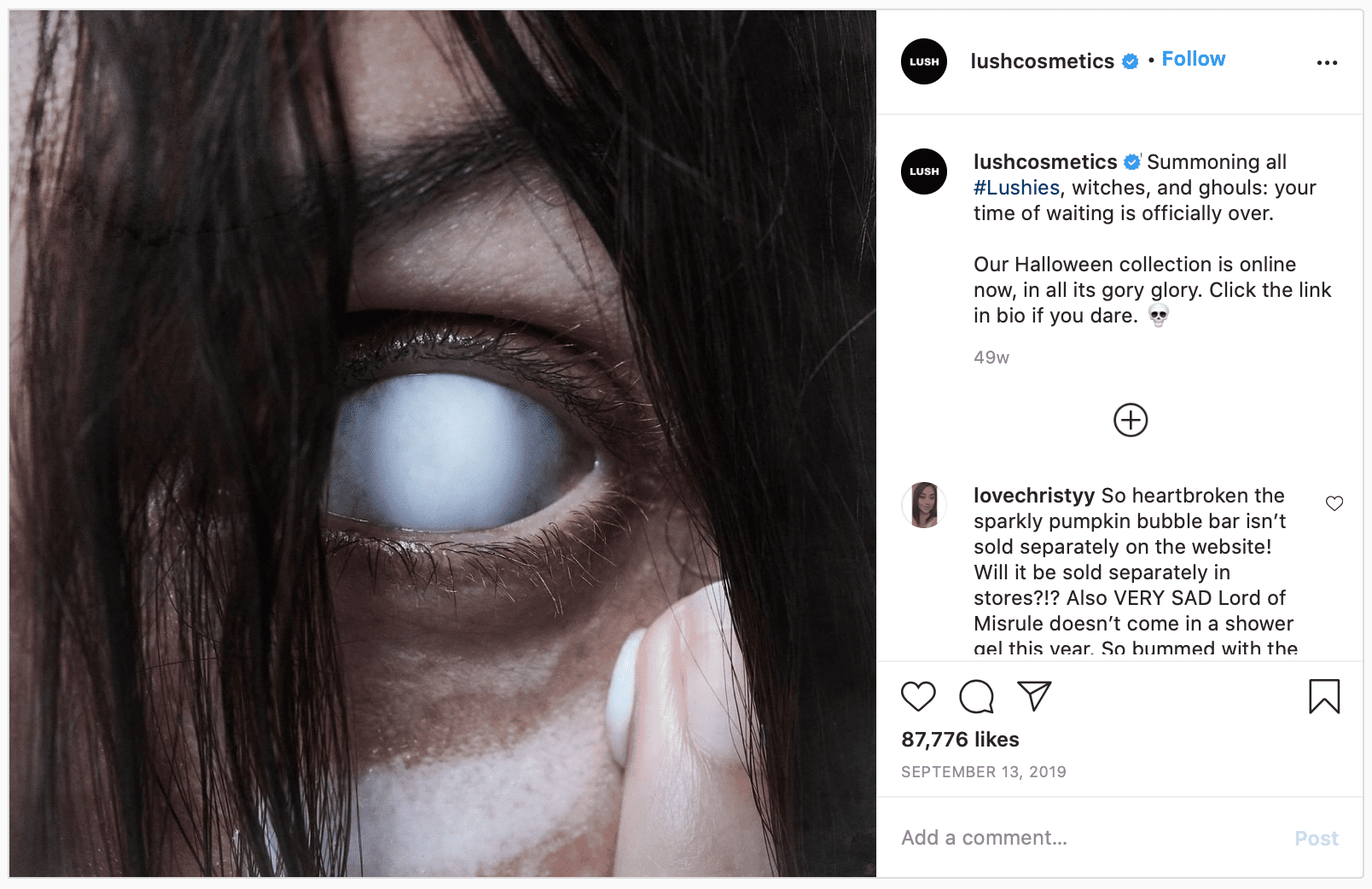 Engage with Your People
People love it when you ask for their opinion. Create a poll online and ask people to weigh in. For example, you can create quite a buzz around a new October menu if you ask people to help you decide what to include on it. Make it even more fun by asking them to come up with "spooky" names for the dishes!
Once you have a good list of ideas, create another poll and ask people to choose the winning ideas. Because you're asking them to be involved, they'll be so much more likely to stop in and try it out once October hits. If you don't own a restaurant, you can still do this with deals and special services. Ask customers to help brainstorm new ideas and then choose the winning suggestion!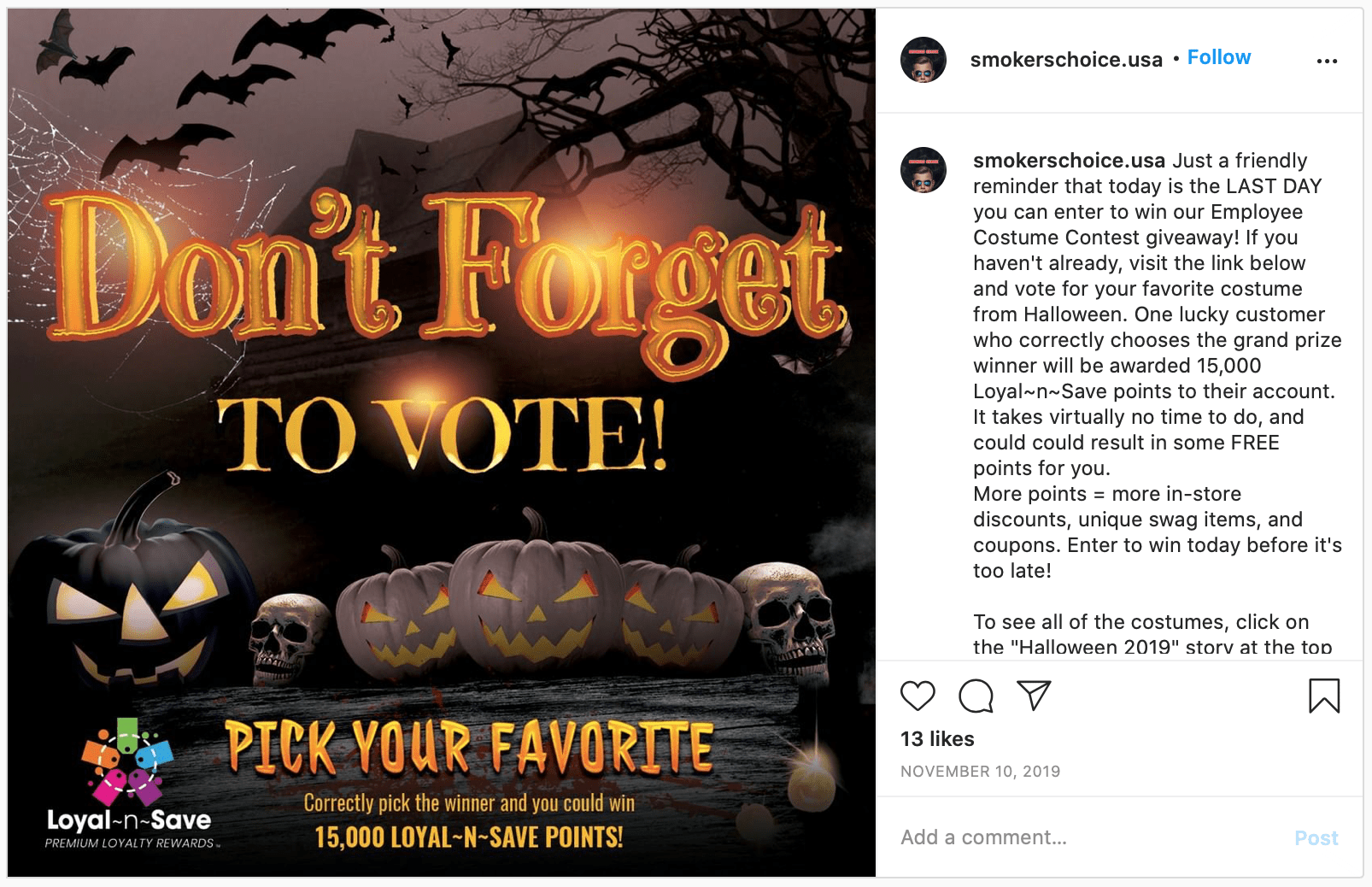 Halloween-ize your business
It doesn't matter whether you own an online business or a brick-and-mortar store, you can always dress up your business for Halloween. You can create amazing posters with Poster Maker or use our Halloween templates for Canva and then print them and put them on display. Decorate your customer-facing areas with fake spider webs, spooky skeletons, pumpkins, or colorful lights. Create a Halloween-themed environment to show your customers that you like to have fun.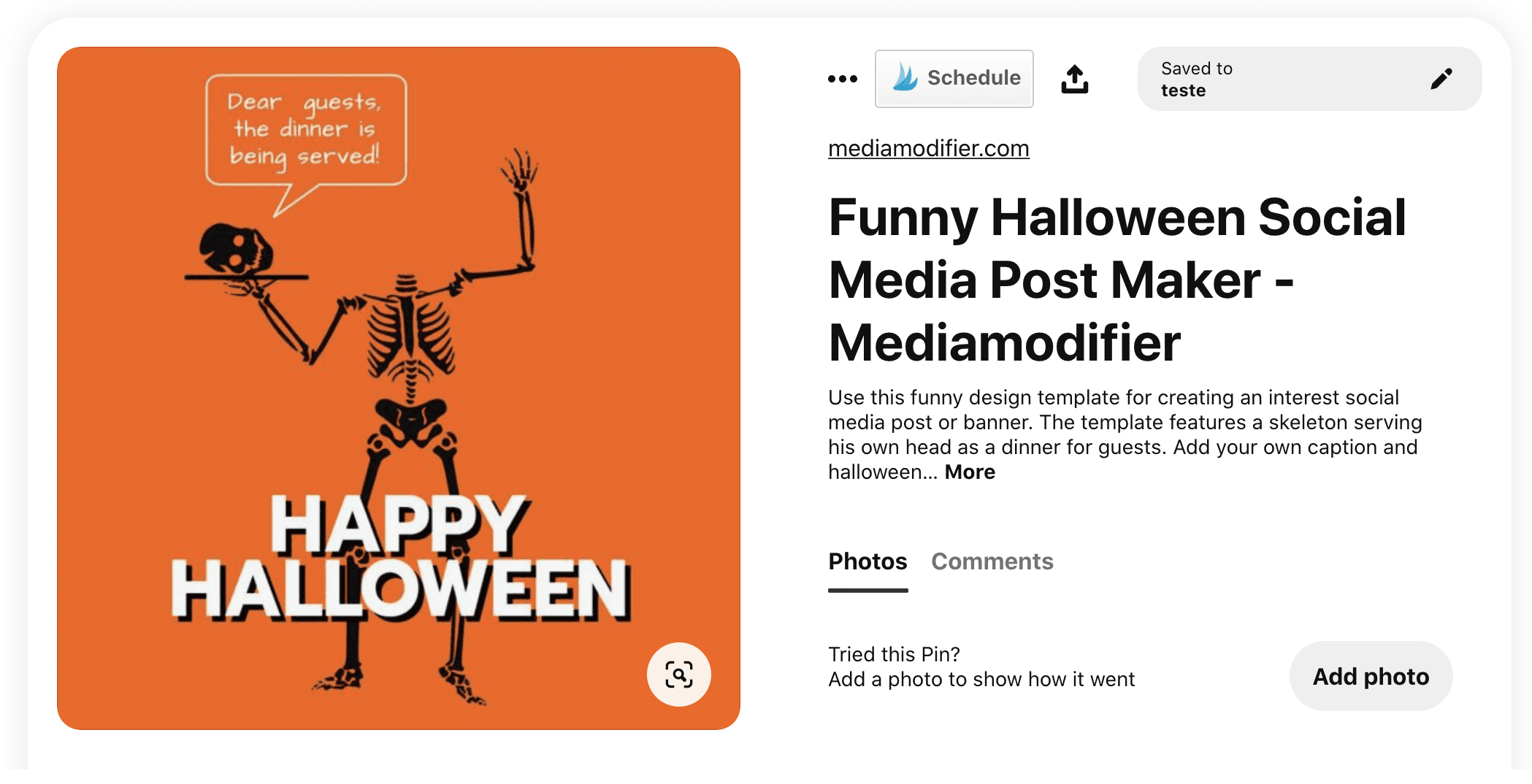 Use Halloween Templates
Use Halloween-themed templates to announce your events and special offers on social media. Small businesses like Protein Dynamix and Northampton Saints, for example, created special posts to announce their Halloween offers, and it's a really great (and easy) way to grab people's attention.

Check out our Halloween templates for social media! You can use them on Instagram Stories and feed and on Pinterest!
We know that most business owners are way too busy to create their own templates, so we created a series of Halloween templates that you can download for free! These ready-to-use templates can be used on Canva, a free web-based drag and drop design tool. It's super easy to learn, and all you need to do is replace the information in the template with your own business' information.
Receive our free Canva templates right on your inbox and step-up your Halloween marketing campaign!
Pssssst! You can also get FREE access to our 42 October Social Media Templates by clicking the button bellow. This way you can promote all the days that matter to your business
---
Did you like these tips?! Then don't forget to save the image below in your "Social Media Post Ideas" board on Pinterest! Also, check out our Pinterest page and follow us to get daily updates + digital marketing and social media tips for small businesses!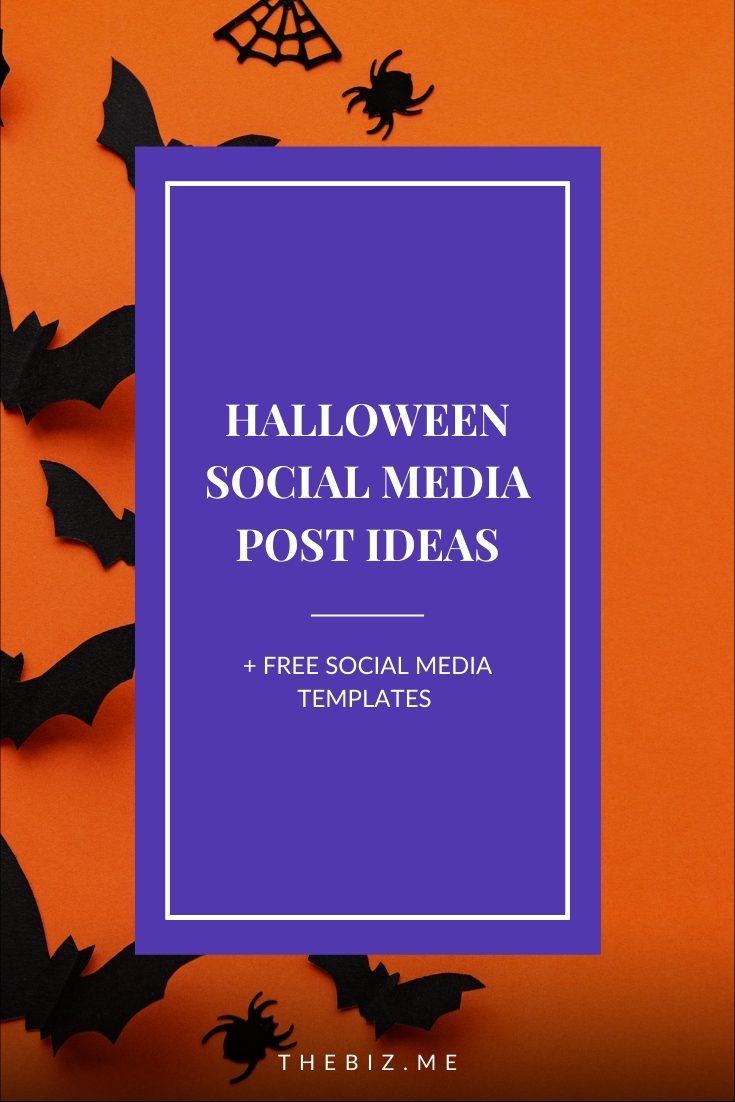 We can't wait to see what you do. Please tag us using the hashtag #GrowingMyBiz so we can see and share your work!