Changing your bio link on Instagram is tiring, especially if you have to do it often. This is why the link in bio tools for Instagram are so useful. They allow you to get more mileage from the one link Instagram allows you to have on your profile so you're not constantly having to log in and update every time you have a new offer or piece of content.
But before we get started, how do you know if you should even use a link in bio tool in your Instagram bio in the first place? What are they for, and what exactly should you consider when deciding which link in bio tool is right for your needs?
What Are Link in Bio Tools for Instagram?
If you've ever used Instagram, you're probably aware that they only allow you to add one active clickable link to your bio. So, let's say you have an online store and you want to add a link to the New Arrivals page and the Last Chance page to your bio so people can easily click to shop. Unfortunately, Instagram doesn't let you do this, so you would have to choose just one to add.
Read more: Instagram Marketing for Small Businesses 
This can make many business owner's lives difficult because they usually have more than one offer to promote or more than one blog post or video they want to share with their audience. 
So, the solution for this technological dilemma? Link in bio tools. These tools essentially create a landing page where you can add a bunch of different links and/or buttons to direct people to different pages you want to share. Then, you just put the URL for the link in bio tool in your Instagram bio. It's basically a link directory!
Should You Use a Link in Bio Tool?
If you have a website, email list, e-commerce store, podcast, YouTube channel, or even different social media platforms, you should definitely use a link in bio tool to house all of your links in your Instagram profile!
What Kinds of Links Should You Add to Your Link in Bio Tool?
You can add links to your most popular pieces of content, frequently asked questions, your menu, services, freebies, blog, shop pages, sales, courses, email list sign up pages, online scheduling tools, other social media profiles, and so on! With a tool like this, you don't need to feel limited to only one link. Instead, you can select a handful of the most important links you want people to visit.
Just make sure you don't add too many links (this can be overwhelming) and that you update it frequently, so you don't have old or outdated content in your bio.
5 of the Best Link in Bio Tools for Instagram
Now that you understand how the link in bio tool works and why you might want one, here is a list of some of the best and most popular options. Most of them are free and easy to set up and use. However, if you'd like to see the analytics and go deeper into the performance of your links, then you will probably need to invest in their pro versions. 
In any case, there's a good choice for everyone, so check out our list below:
1. Linktree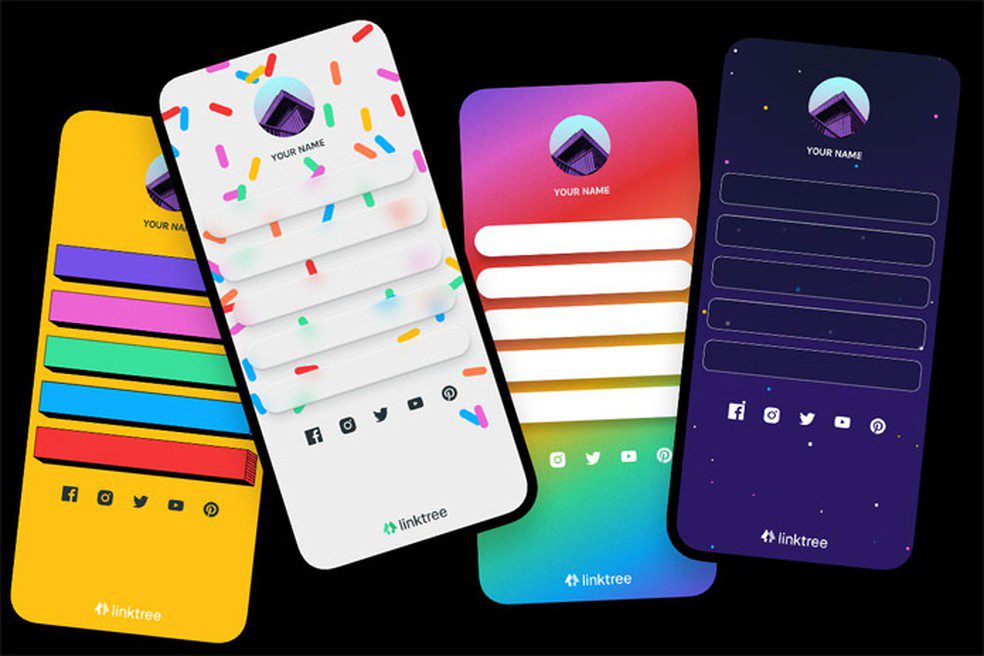 Linktree is definitely one of the most popular link in bio tools for Instagram out there. It's been used by everyone from Alicia Keys to The Guardian. They were the pioneers in this industry, being the first tool to offer this kind of solution to the single link Instagram problem. 
Linktree is super easy to set up and use – it just takes a few clicks to get it up and running! Plus, you can add as many links as you'd like and then reorder or disable them however you would like in the free plan. 
Best for: Those who are looking for the most basic and easy-to-use link in bio tool.
Highlights: 
Unlimited links

Scheduled links

Link tracking

Retargeting
Cost: Free or basic plan starting at $6 per month.
2. Linkin.bio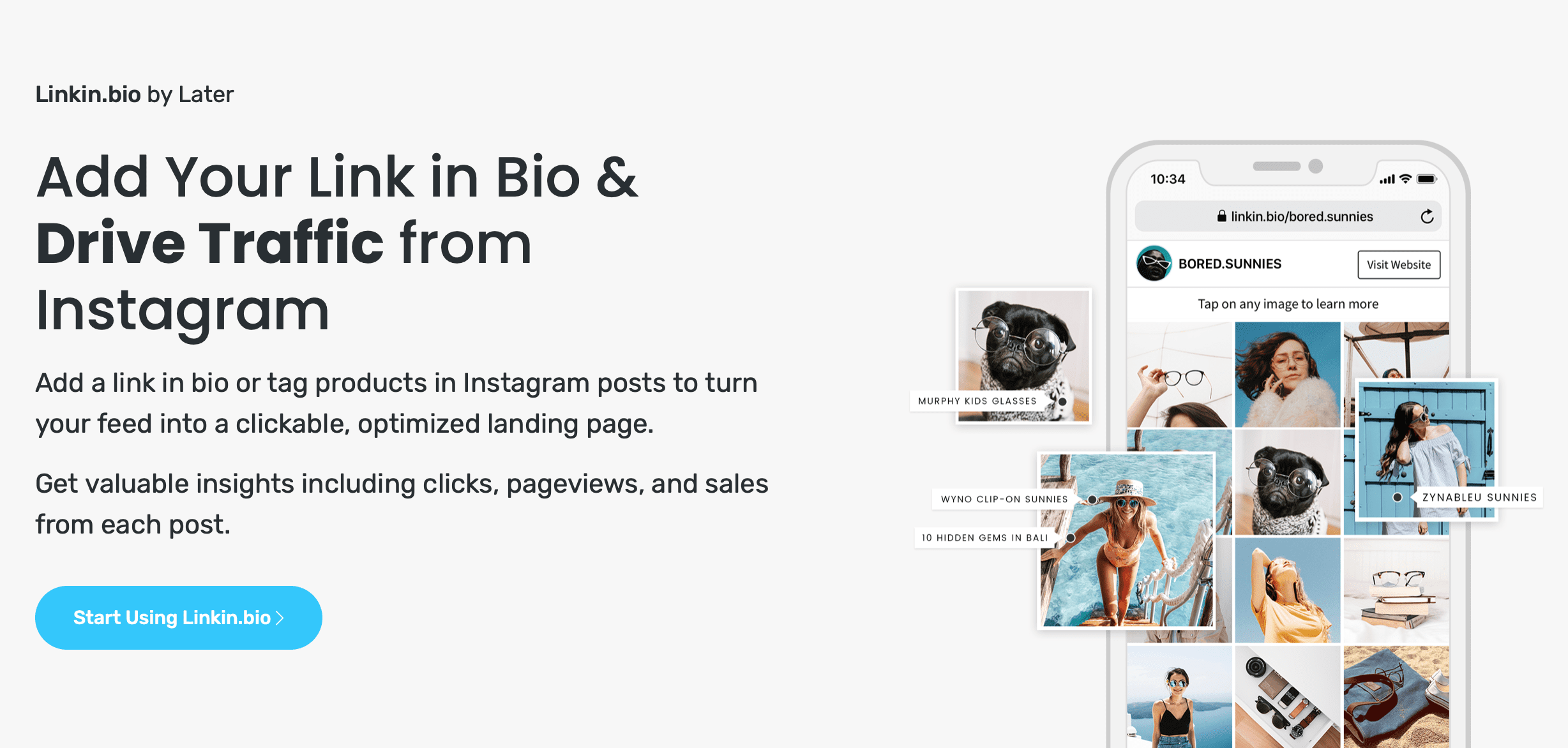 Linkin.bio is another very popular link in bio tool. It was created by Later, which you might recognize as the popular Instagram scheduling tool. The difference between Linkin.bio and Linktree is that Linkin.bio offers an additional option to the links list.
In addition to allowing users to create a landing page with a list of your links, you can also create a landing page that resembles your Instagram feed where every photo has a clickable link – which is perfect for e-commerce stores. 
Let's say you sell purses and you have several photos on your feed showcasing different products. With the Linkin.bio tool, you can add multiple links to those photos that will be "mirrored" on their page so customers can shop like they are browsing through your Instagram feed. The best part is that their tool tracks the data from this landing page so you can better understand your customers' behavior.
Best for: Those who have an online store.
Highlights
2 options to add a link to your bio (list or grid)

Allows you to add up to 5 links per photo

Scheduled links

2 Instagram accounts
Cost: Free or basic plans starting at $7.50 per month.
3. Milkshake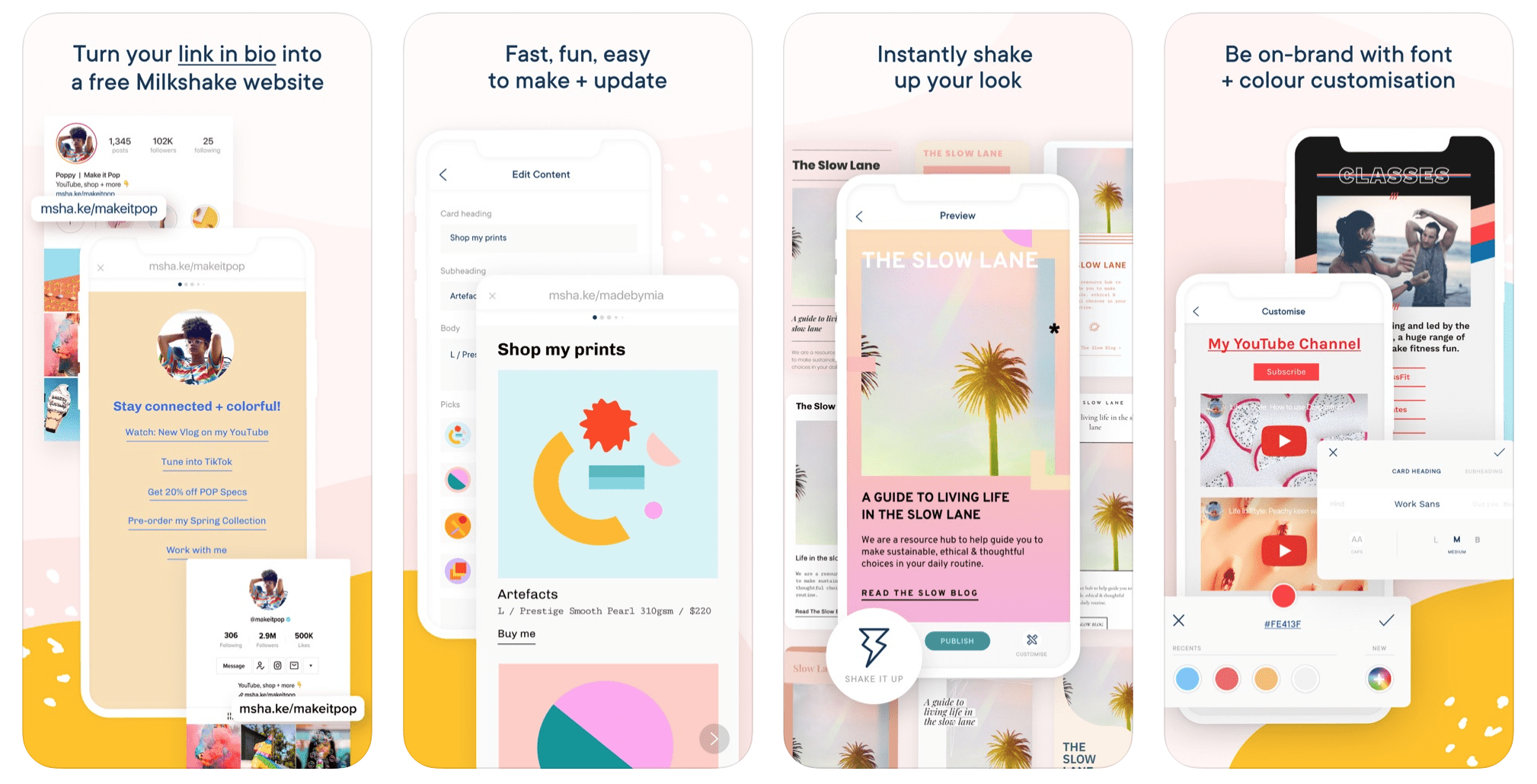 Milkshake is probably one of the most amazing link in bio tools for Instagram. In fact, it's kind of a shame to even refer to Milkshake as a link in bio tool because it's more like a website builder. In fact, that's actually how they pitch their product – an "Instagram website" that you can set up on your phone in minutes. 
Milkshake allows you to create customizable websites that have different pages within them. Then, all your audience needs to do is to swipe to the side to see a different page. 
The website/app allows people to use what they call "cards" that work as website pages; these cards can be customized with different colors, fonts, and images. You can set up these cards to be your bio, contact, links, photos, and so much more.
Best for: Those looking for a more detailed and customizable experience rather than just a list of links. Also great for those who don't have a website yet.
Highlights:
Create a "website"

Highly customizable

Detailed information – not only the link

"Buy" button that leads customers to PayPal
Cost: Free
4. Url.bio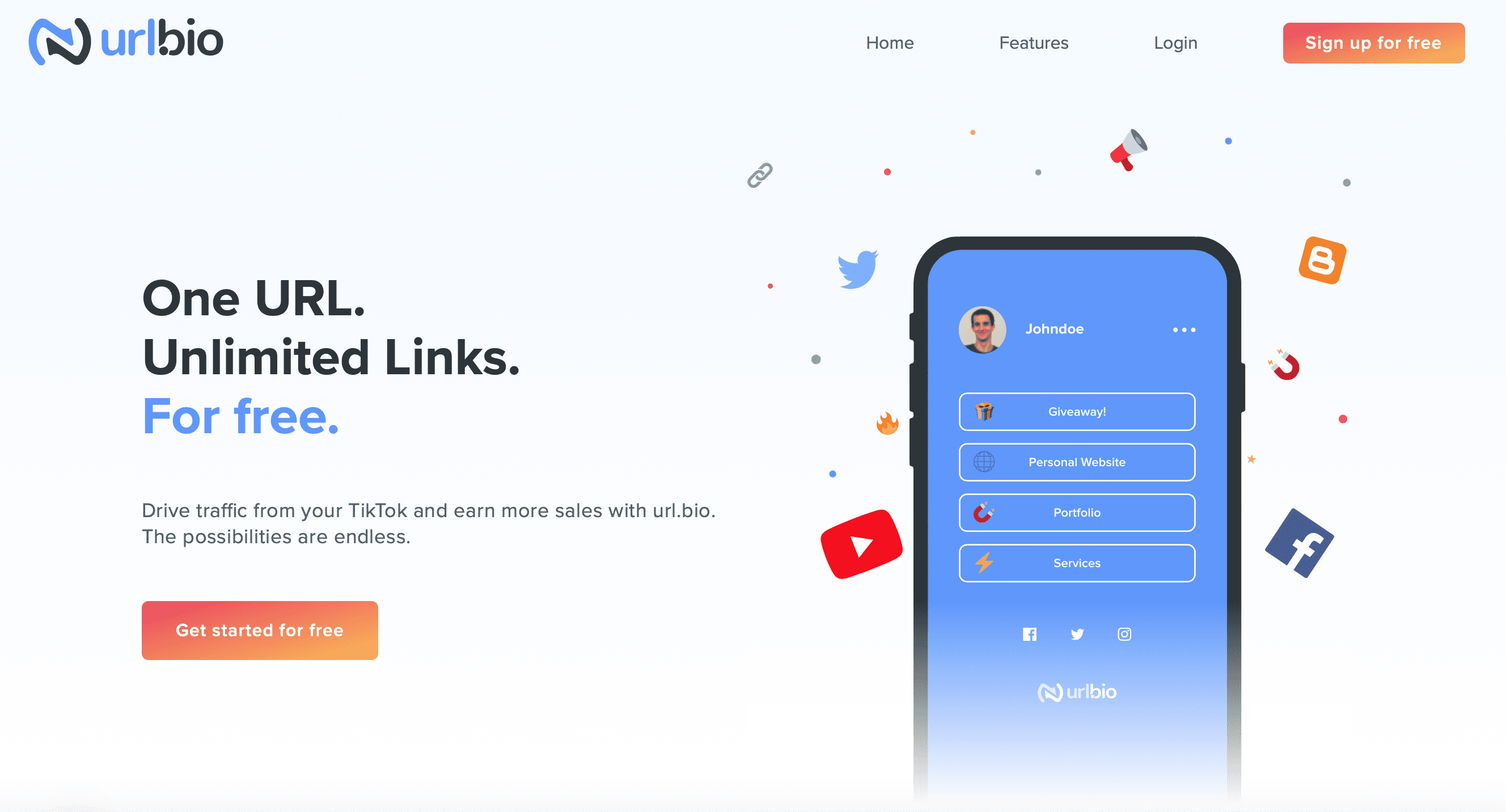 Url.bio is another good tool that allows you to add extra links to your Instagram bio. You can add as many links as you want and even make them animated if you want to draw more attention to certain links. You can also customize your landing page, changing the colors and themes as well as its structure.
You can also add photos, hide the Url.bio logo, add links to other social media channels, and schedule links for the future. You can also track your link activity by integrating your Google Analytics account.
Best for: Those looking for something as basic as Linktree, but with a few extra customization options.
Highlights:
Simple and easy to use

Basic but customizable

Integration with Google Analytics
Price: Free 
5. Shorby
Shorby is the only option on this list that doesn't offer a free plan, but that might make it a little more appealing for some businesses. 
First of all, Shorby is highly customizable, allowing you to add your own branding elements and content, making your link in bio page look like a website (similar to Milkshake). They also allow you to add videos, backgrounds, icons, and headlines.
But that's not even the best part about Shorby. The absolute best feature is the retargeting option for third-party websites like Clickbank or Amazon and the integration with messenger apps like Facebook Messenger and WhatsApp, which allows people to contact you quickly and easily.
They also have a tool called Dynamic Content Feeds, which automatically shows the latest products added to your Etsy or Shopify store, as well as YouTube videos, podcast episodes, and blog posts.
Best for: Business owners who need to integrate their Instagram page with messenger apps, whether for user experience or for customer service purposes.
Highlights:
Highly customizable

Retarget audiences on third-party websites like Clickbank or Amazon with ads 

Messenger apps integration

Dynamic content feeds

Free trial with no credit card required

Price: Plans start at $15/month
Link in Bio Tools Best Practices
Before you go, you should consider a few of these best practices to get the most out of your link in bio tool. So here are a few pro tips to help get you started, no matter which tool you decide to use.
Don't Add Too Many Links
Just because most of these tools allow you to add as many links as you want, that doesn't mean you need to add a lot of links. In fact, adding too many links is confusing and might make your audience decide not to click on any of them. Five links is probably the most you should have.
Track Your Links
Another way to optimize your performance is to track your links. If the tool you choose doesn't offer the option to track your links, create customized links using a free tool like bit.ly so you can see how many clicks each of your links get.
Simple and Easy
Your links and the text within the buttons should be simple and easy. If the text in the button is too complex or too wordy, people might get confused and navigate away. But, be sure not to be overly simple, either. For example, instead of just typing "Freebies," try something like "Freebies for Entrepreneurs" or "Free Marketing Checklist."
---
Did you like these live stream content ideas for small businesses?! Then don't forget to save the image below in your Instagram Marketing Tips board on Pinterest! Also, check out our Pinterest page and follow us to get daily updates + digital marketing and social media tips for small businesses!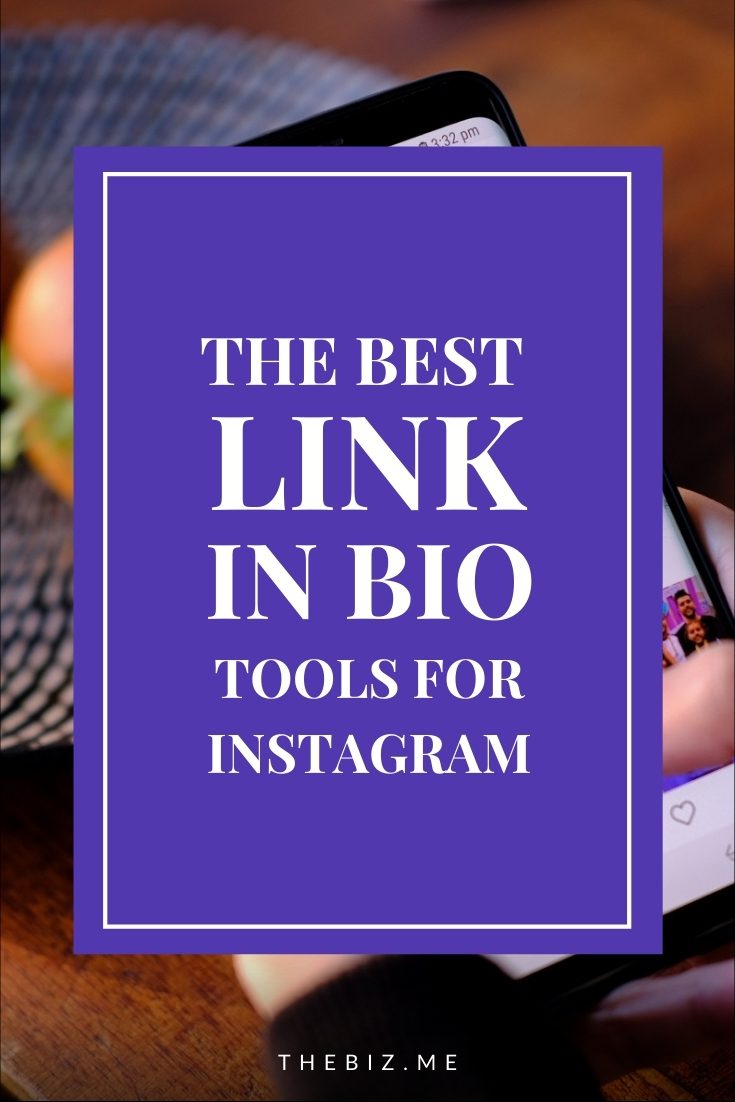 We can't wait to see what you do! Don't forget to tag us using the hashtag #GrowingTheBiz so we can see and share your work.