Do you own a hair salon business and want to step up your game on Instagram but don't really know how? Don't worry! We've got your back!
Instagram is one of the most popular social media apps at the moment and it seems to get more popular every day. It's also primarily a visual platform, so if you own a hair salon or work as a freelance hairstylist, you definitely want to establish a presence and share photos of the amazing work you do! 
In this post, we've gathered some of the best hair salons on Instagram. You can check them out and look to them for inspiration as you start to build your own reputation and following! 
7 of the Best Hair Salon Instagram Accounts
When it comes to hairstylists on Instagram, this is by far one of the best hair salon Instagram accounts. It's not just that the hairstyles are incredible. I also love how consistent and creative they are with their posts. 
When you first go to the feed, you can immediately see that their account has more than just the basic before and after photos of their cuts and styles. They also create some of their own memes, which makes it really clear that they have a good sense of humor. To me, it makes them authentic because you can get a real sense of their actual personality.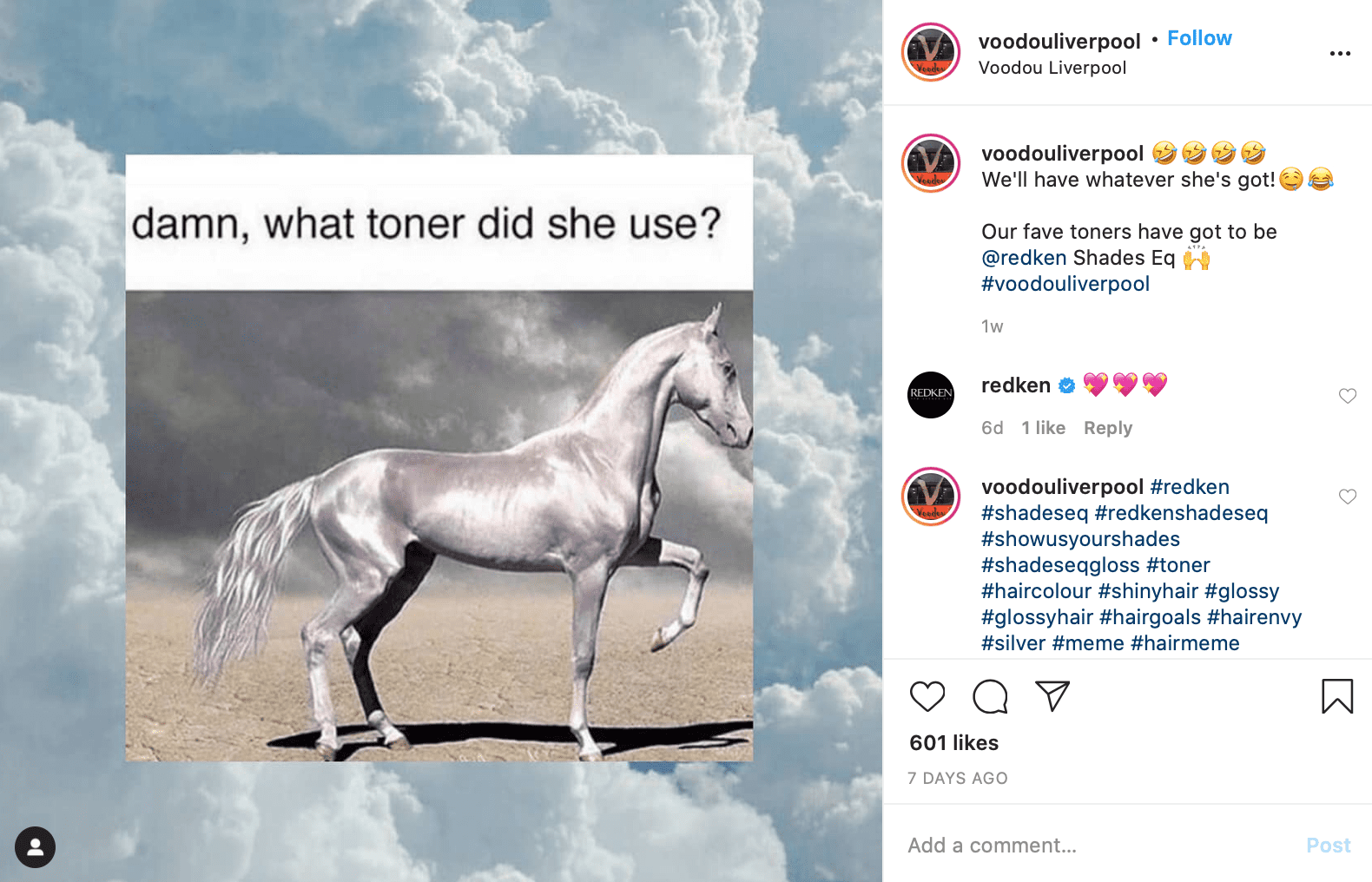 Apart from that, they have creative giveaways, like the one below. They ask people to interact with them by asking them to show off their roots to win a free appointment for a root touch-up and blowdry.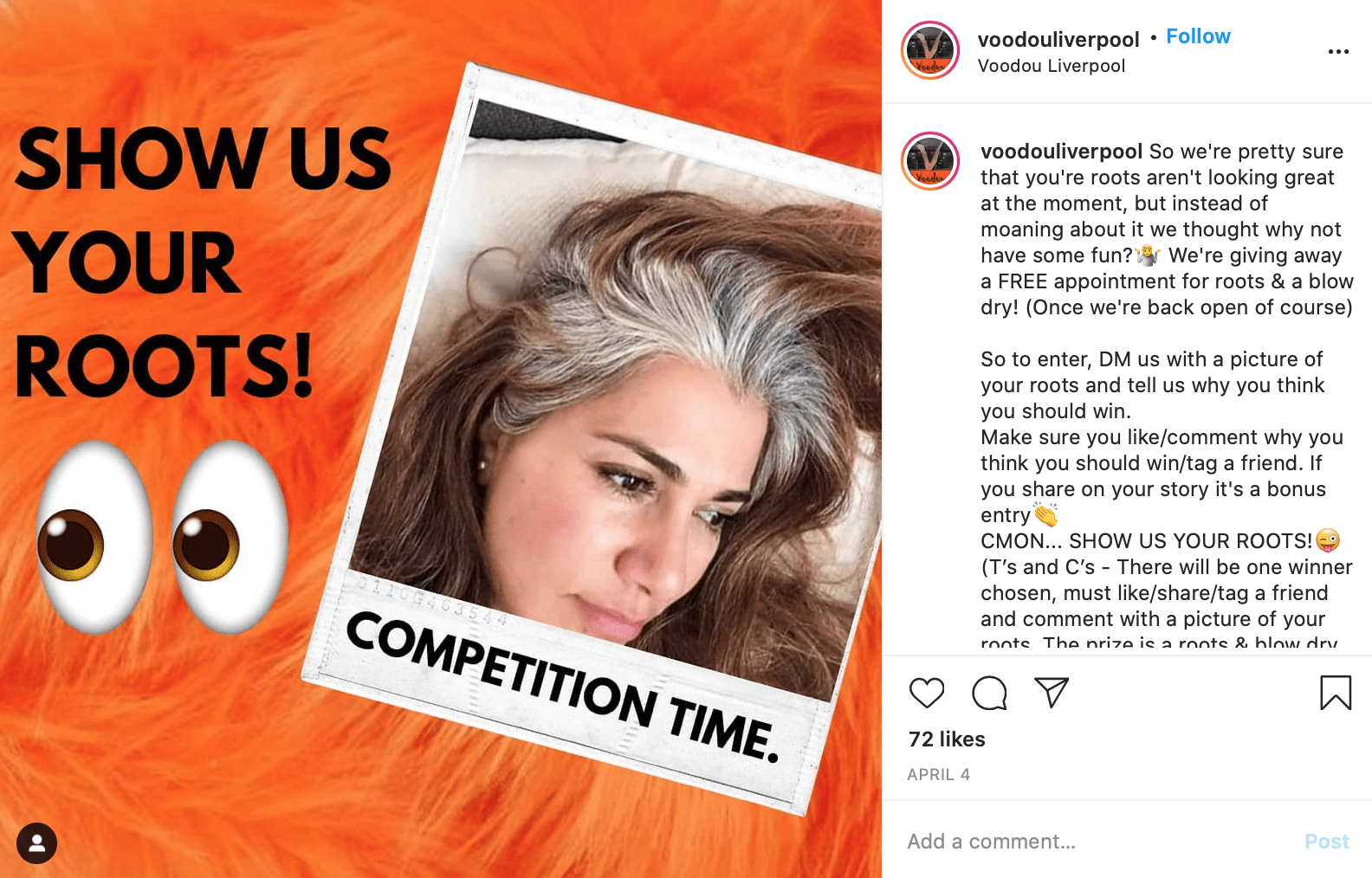 They also do a good job of sharing their client's posts in their Instagram Stories. When their clients see that they often share these images, they're much more likely to send them or tag them so they can be shared as well. This really is a win/win because the salon gets great content to post and people feel like they are a part of the brand!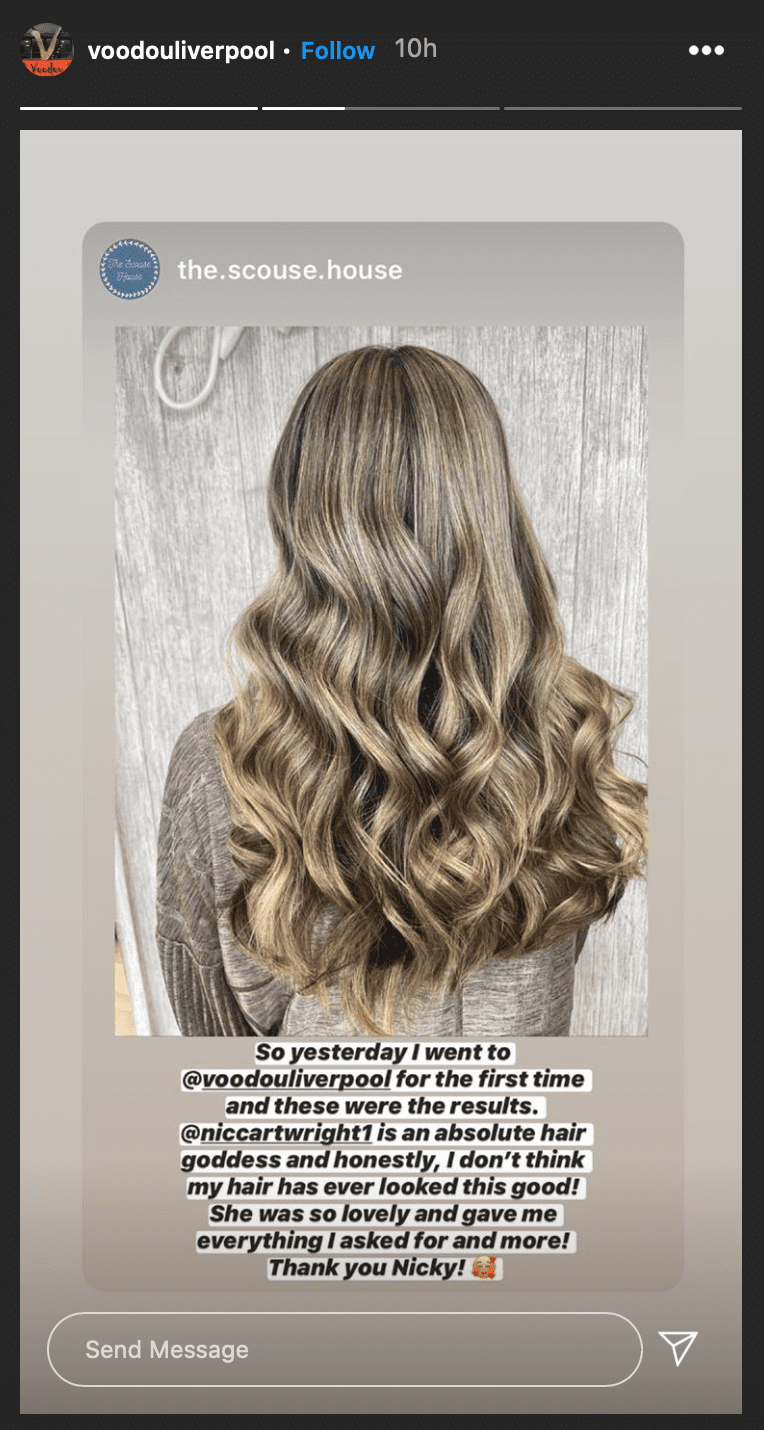 One of the things I like the most about City Curl Studio is that they show tons of before and after shots (and videos) of real clients. Because they get such gorgeous results, I'm sure it's tempting to just show the beautiful after photos, but being able to see the transformation is really cool. I always look forward to seeing their updates.
Aside from just entertaining us, they are also essentially building a portfolio of their work right on their own Instagram feed. Pretty smart, right?
I love the fact that they specialize in curls. This has a very specific niche, which helps them find the people who will really like and appreciate what they do. They are experts in curly hair and there's a very good chance that a majority of their followers are people who have curly hair. That's a lot of potential clients to interact with!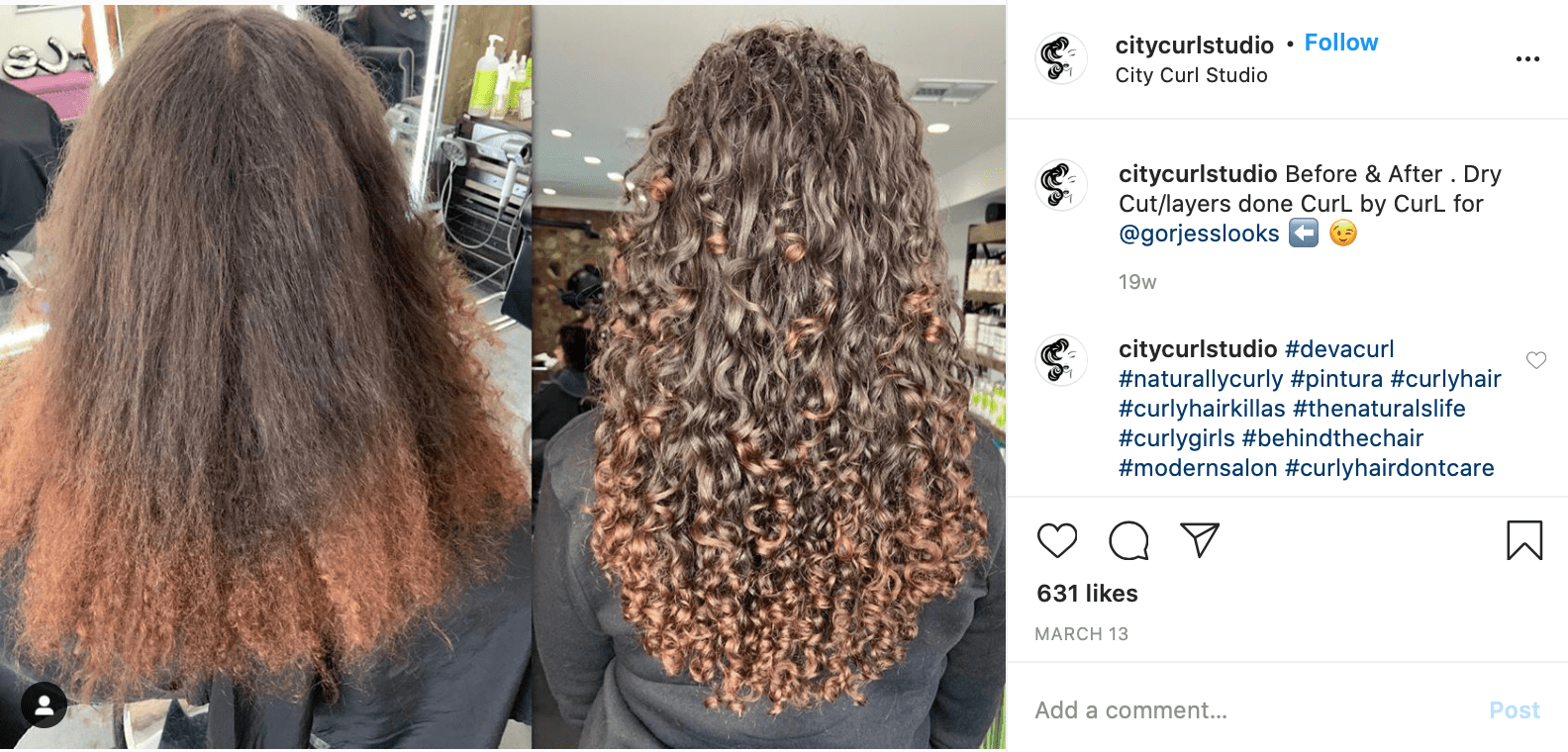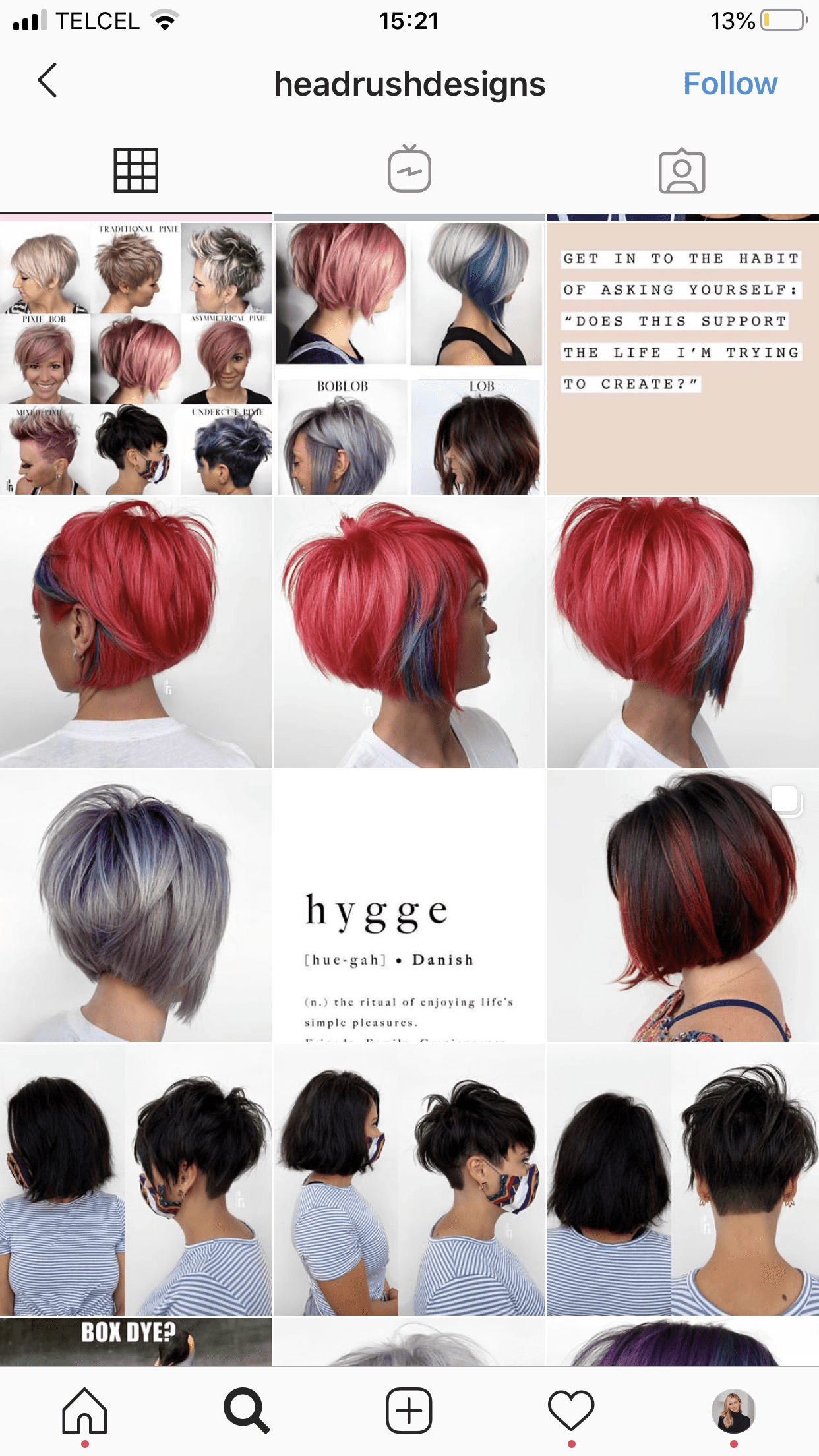 Besides being a niche hairdresser – which is something I love – Head Rush Designs has a good sense of aesthetics, which makes it one of the best hair salon Instagram accounts I know. Her Instagram feed is organized, and she takes photos of her clients from different angles, always using the same background. This makes her pictures and profile look more polished and professional.
She mostly shares the results, so when you scroll through her feed, you'll see many different hairstyles, which will make any potential customer feel inspired.
Read more: 17 Instagram Feed Ideas for Small Businesses – and How to Organize Your Own Feed
Sometimes a single photo can't really show off all of the details and angles of a good haircut. I love how Kim Tran shares videos and before and after collages on her feed so you can really appreciate her work.
Before and after collages are cool because you get a chance to see what the client's hair looked like before the treatment. Sometimes you can see how damaged their hair was and it really makes the "after" shot seem even more impressive.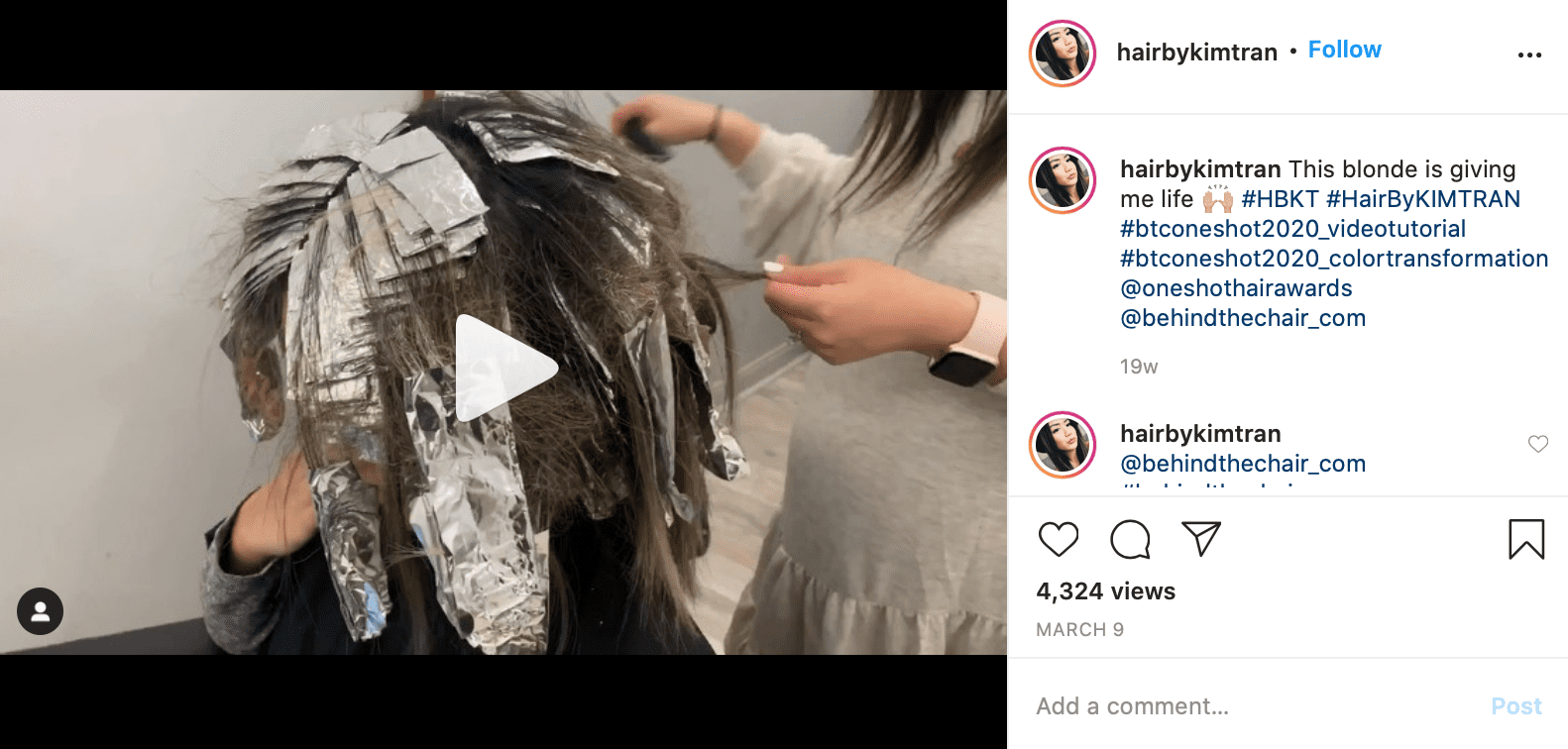 Leysa Carrillo is a curly hair expert, educator, and stylist. She posts her client's before and after photos as well as some videos sharing her process and teaching other hairdressers how to properly cut, dye and paint curly hair.
The videos of the hair transformations she makes are awesome because they don't take too long. They feature just a few seconds of each different part of the process so you don't have to spend a ton of time on each of them! Perfect for short social media attention spans.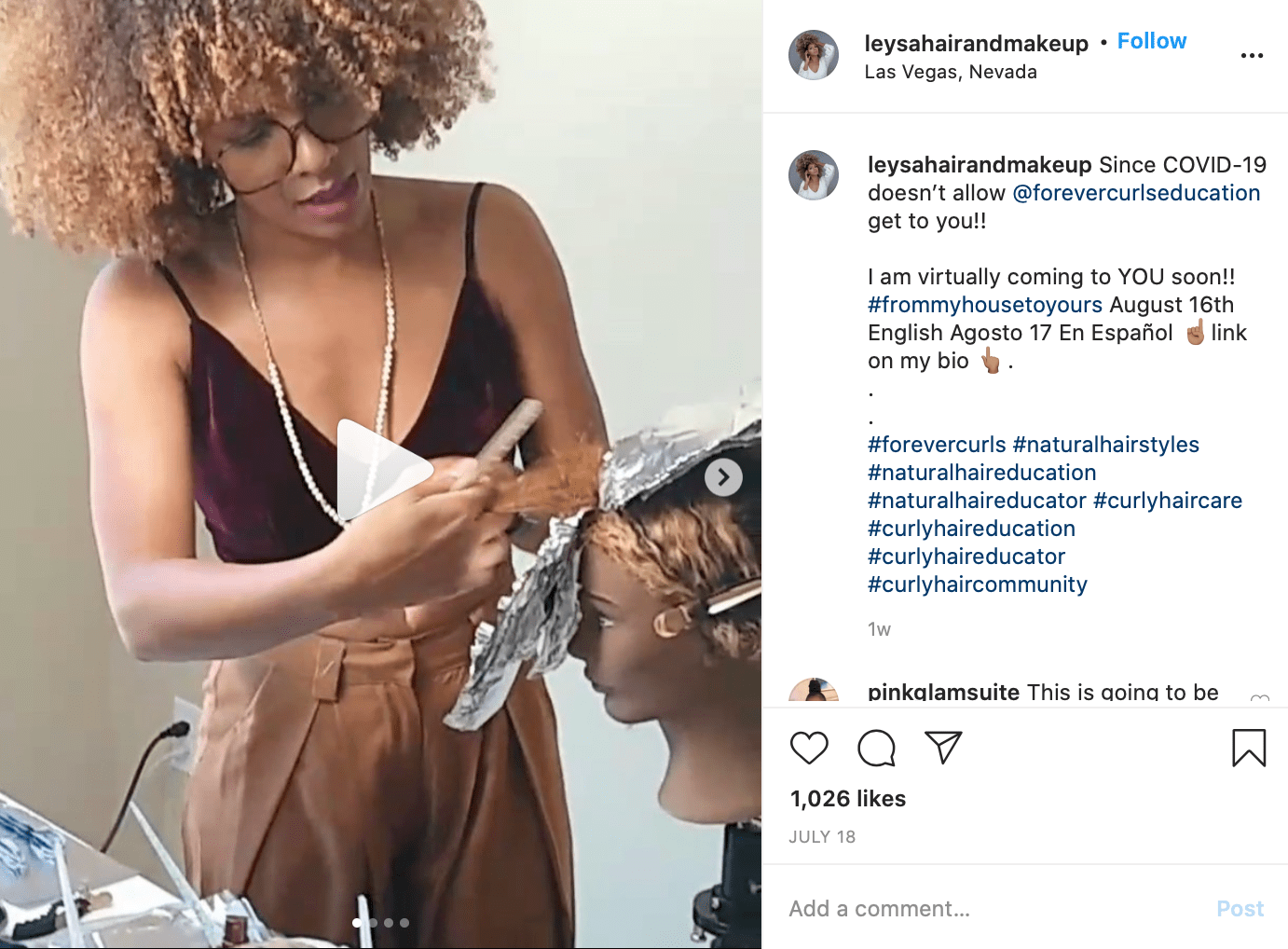 I like George Northwood's Instagram account because he shares not only the results of the work they do but also some haircut and hairstyle inspiration photos. I especially love this recent post, where they teach their followers how to cut their own hair at home.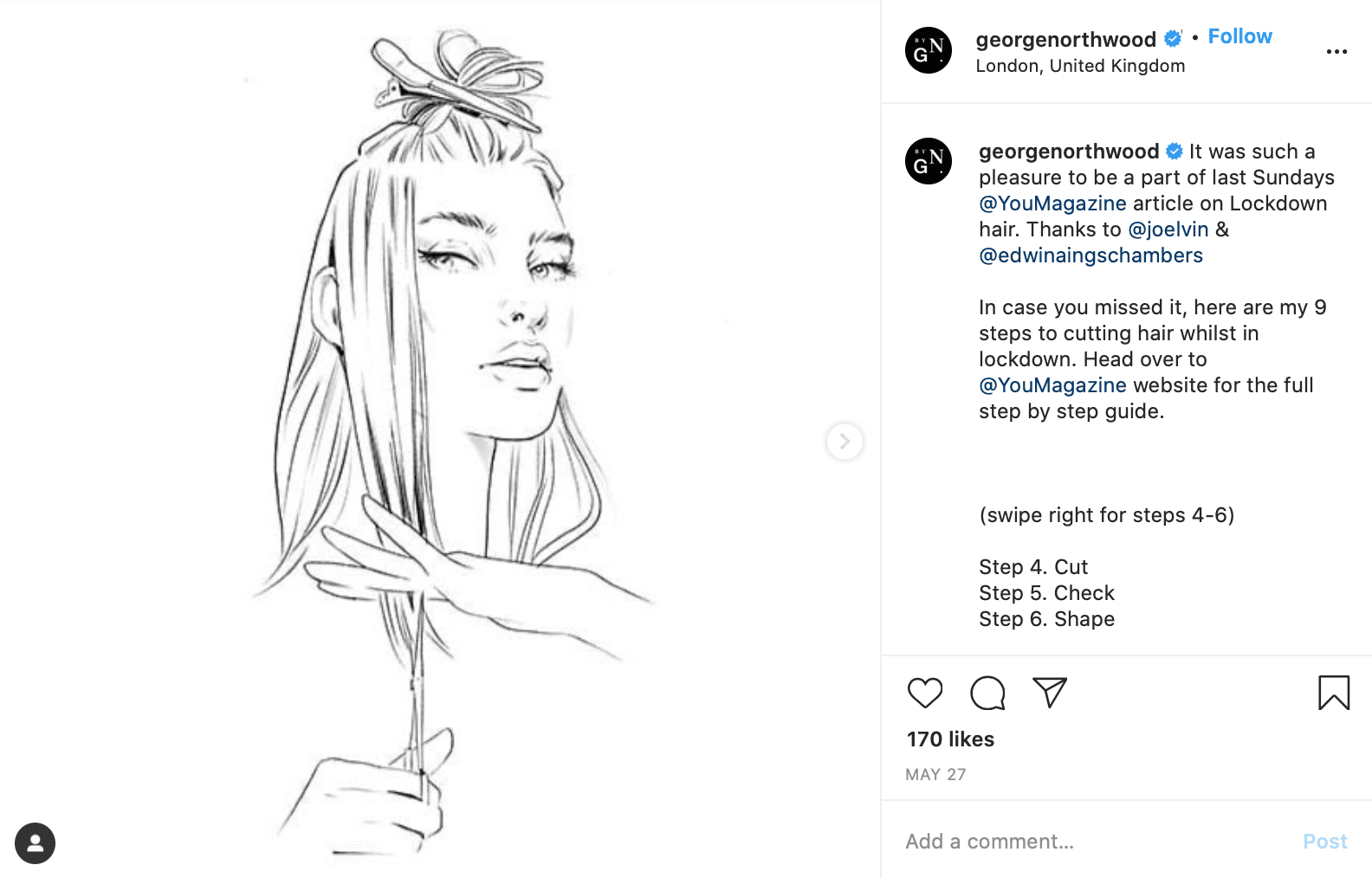 Butterfly Loft Salon specializes in more unique hairstyles, and they show them off beautifully in their Instagram posts. However, what stands out the most for me is the "how'd they do that" kind of post they share once a week or so. 
I love to see their tips and tricks for styling your own hair at home. They're giving their followers so much value in these posts, and people appreciate it when not every single post is self-promotional or a sales pitch.
---
Did you like these tips?! Then don't forget to save the image below in your "Instagram Marketing Tips" board on Pinterest! Also, check out our Pinterest page and follow us to get daily updates + digital marketing and social media tips for small businesses!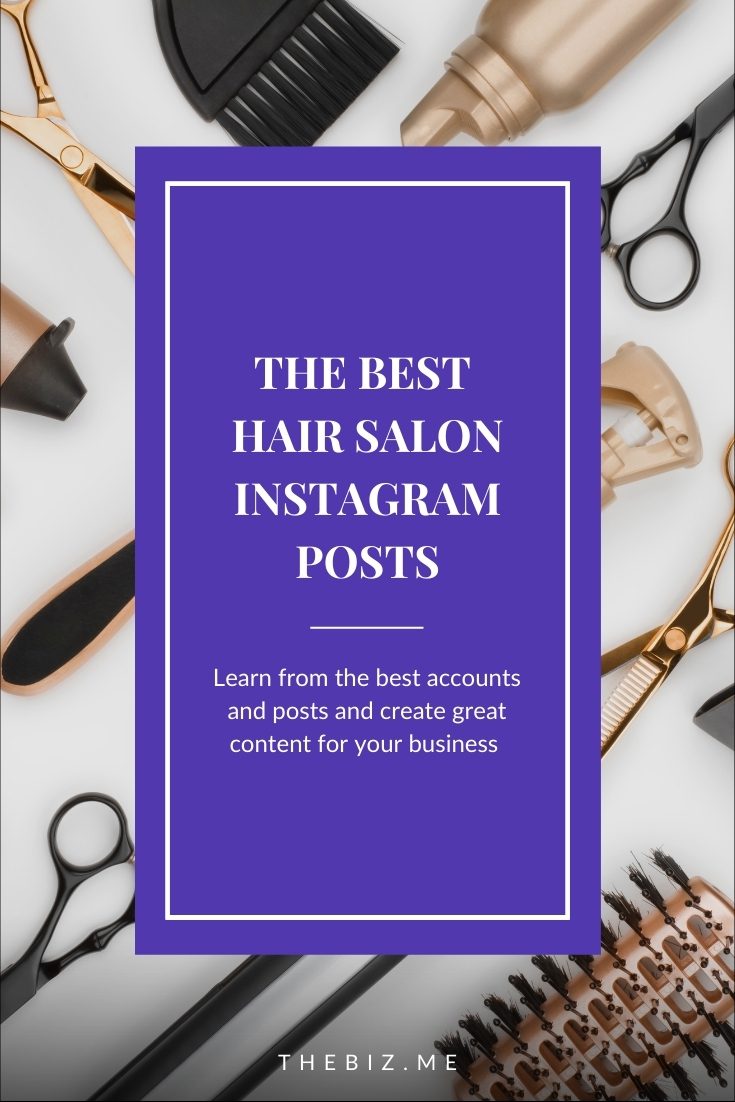 We can't wait to see what you do. Please tag us using the hashtag #GrowingMyBiz so we can see and share your work!