October is Breast Cancer Awareness Month and it has become a great way for large and small businesses to support a worthwhile cause. At this point, #pinktober is pretty universally recognized and businesses are really starting to rally around the cause and create effective and creative marketing campaigns targeting women and their families.
Of course, there's still work to be done when it comes to breast cancer and even just awareness around the topic, but October is a great time to shine a light on it and hopefully, help people think about what they can do to help all year round. There are several ways we can encourage both our clients and our audience to educate themselves and participate in our campaigns.
We should remember that, as businesses, we have a unique opportunity to support causes that really matter to us and our customers. Chances are, you know someone who has been personally impacted by breast cancer. Aside from skin cancer, it's the most common type of cancer in women. They have a 1 in 8 chance of developing breast cancer in their lifetime. Men can get it too, although it's a lot rarer. 1 in every 1,000 men will develop breast cancer. 
I personally know how important the early diagnosis is. It's the reason my mother is still with us today. She has always gone to the doctor regularly and about 18 years ago, she discovered breast cancer at a very early stage. She had to go through a mastectomy but 20 years later, she is healthy and cancer-free.
Why did I share that with you? I want you to see that even though we are talking about marketing, Breast Cancer Awareness Month is really a great time to spread the kind of awareness that can actually save lives. You might think that as a small business you don't have enough power to make a real difference, but you do. Even if you can just change one person's thinking, you'll be doing something amazing and putting your platform to good use.
So, let's go through this and learn how we can use our power as small businesses and small business owners to positively influence our audience and customers!
6 Ways to Raise Awareness About Breast Cancer
In this post, we've created a list of ways you can help to raise awareness about breast cancer during Breast Cancer Awareness Month. But before we go any further, remember, awareness starts with you. There's nothing more awkward than businesses who want to talk the talk before they know how to walk the walk. First, research breast awareness. Understand how it impacts your customers and learn about the topic yourself (especially if you're a man), then bring this knowledge and awareness to your team. Even if you only have 1 or 2 employees, you want to make sure everyone's on the same page and has the same information so you can spread the right message.
Okay, let's get into the six ways you can raise awareness:
1. Share Tips and Information
Information is key when it comes to preventing breast cancer. Link to some resources to help people do self-checks. Create posts on social media with helpful information or statistics. If you have a brick and mortar store, print out some flyers. Promote an event or invite someone to speak, either online or offline. There are so many ways you can help people learn more about breast cancer, so try to think outside the box and find something that really resonates with your brand and the work you do.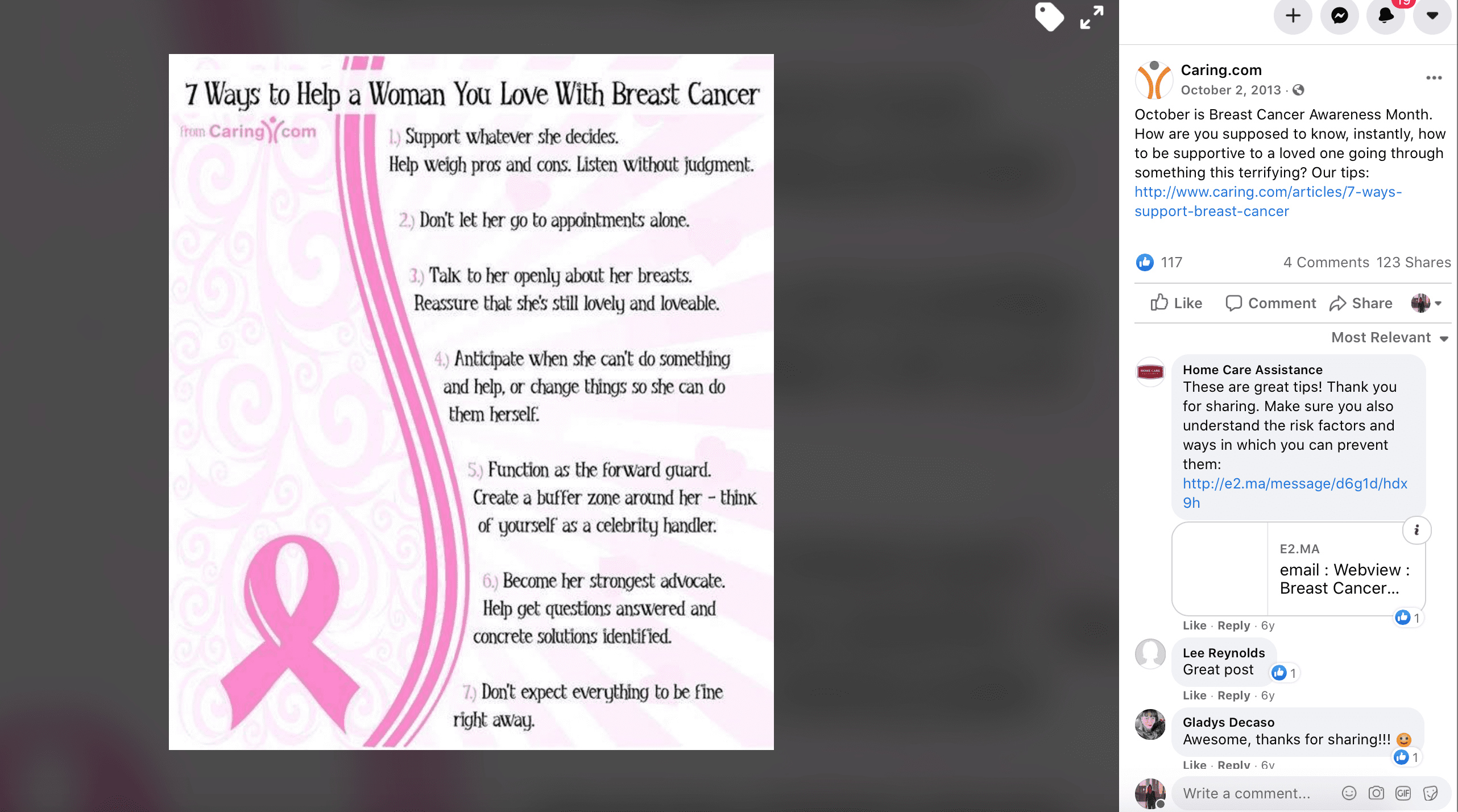 You can also use one of your free customizable Canva templates for Breast Cancer Awareness Month for that. Here's an example: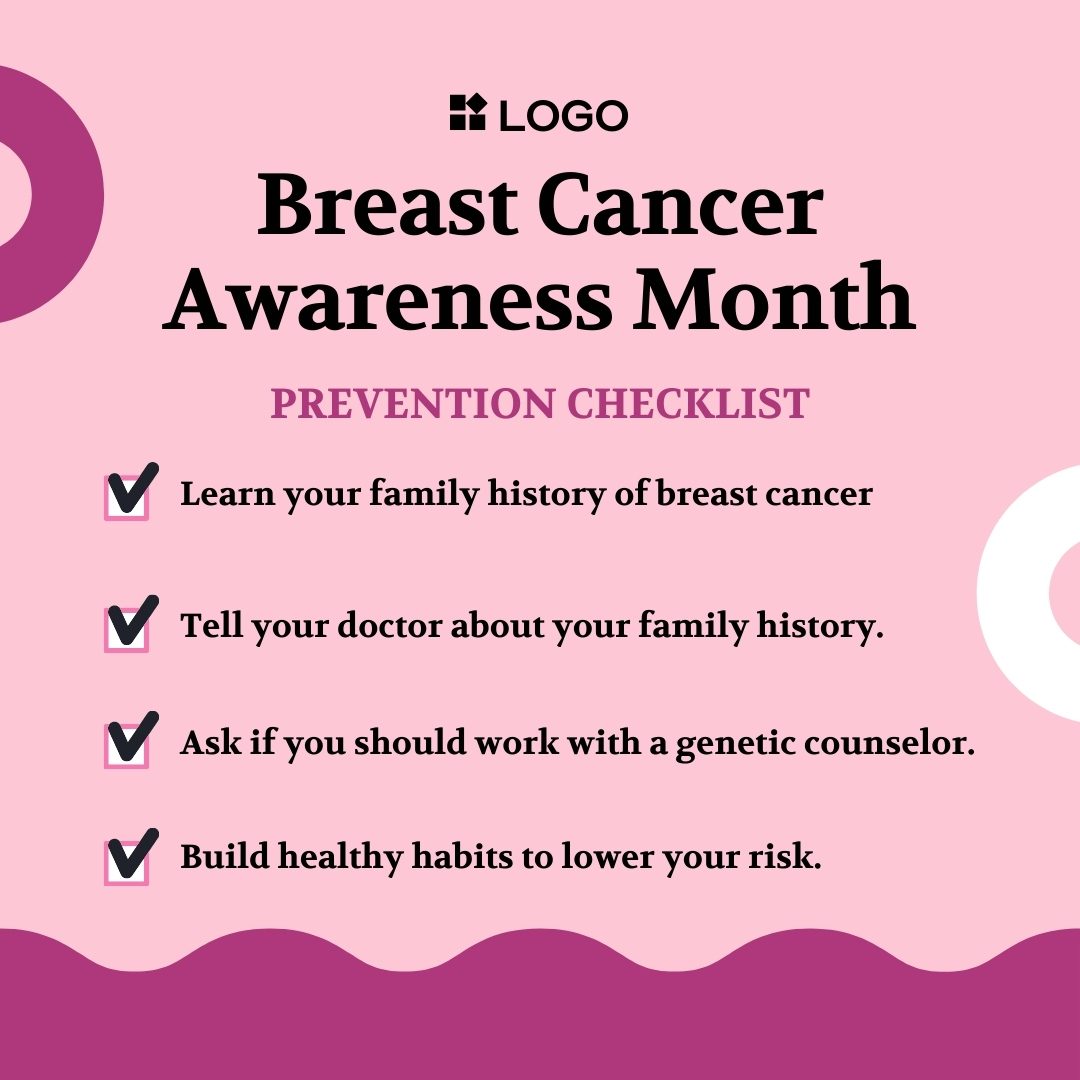 2. Help Institutions
Another great way you can make an impact is through donations. There are institutions out there who help people who get diagnosed with breast cancer that you can support in many different ways: 
Create a special product and donate part of the profits during October

Choose an existing product and donate part of the profits during October

Create a day where most of your profits go to a worthy institution

Give a percentage of your profits from October to an institution

Create a donation box for people who want to participate and donate with you

Promote an event and raise funds to go to a specific institution
There are so many ways you can donate to the cause. Personally, I'm not a huge fan of asking clients or customers to donate. I think when you ask people to buy something and tell them that you're going to donate part of the profits, the result is much better. People will feel like they are helping by making the purchase, and you're also contributing by giving away part of the profits.  If you're just asking people for money, it might seem like you're not contributing or that you're going to take all the credit for the money they've donated.
Here's an example from a customizable Breast Cancer Awareness template we've created for you to download and adapt as you like.
Campaigns like McHappy Day are so successful because they bring together some of the biggest competitors to rally around a cause. Even though this particular campaign is not about breast cancer, it might be a good inspiration for your small business!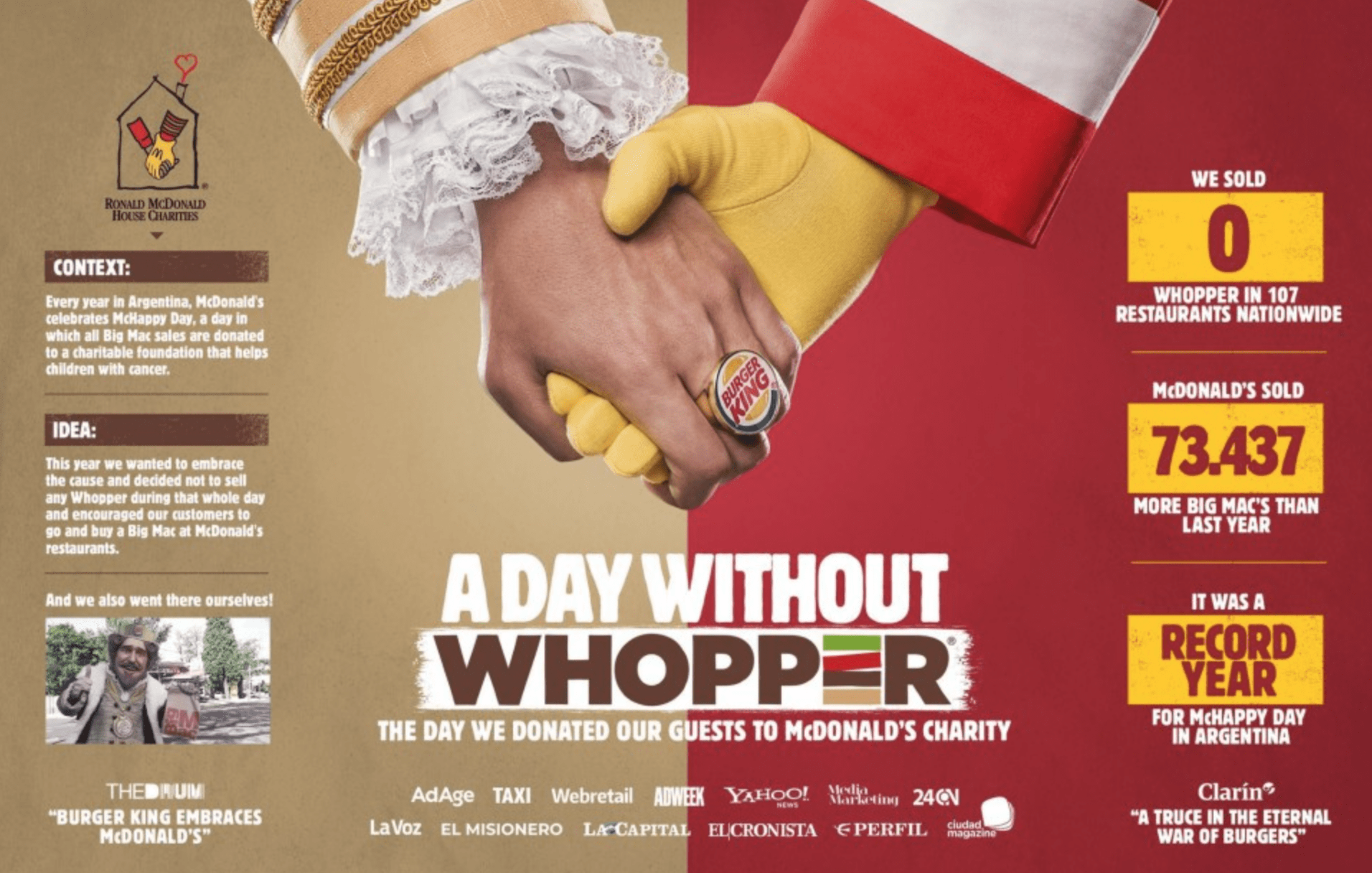 3. Give Gifts
Have you ever thought about giving people something for free that is somehow related to Breast Cancer Awareness Month? Perhaps small chocolate with pink packaging and a message that reminds people of the occasion. Maybe a flower, pink ribbons, or even something more special and unique that has to do with your industry or niche. Some different examples that I like are hot and cold gel pack, pink water bottle, notepad, cosmetic bag, purse hook, or lip balm.
Whether you're a brick and mortar business or an online business, you can always give your customers a little surprise. Think of ways you can surprise them and use this opportunity to spread awareness. See the example below from our free Breast Cancer Awareness Month templates – and click here to download them!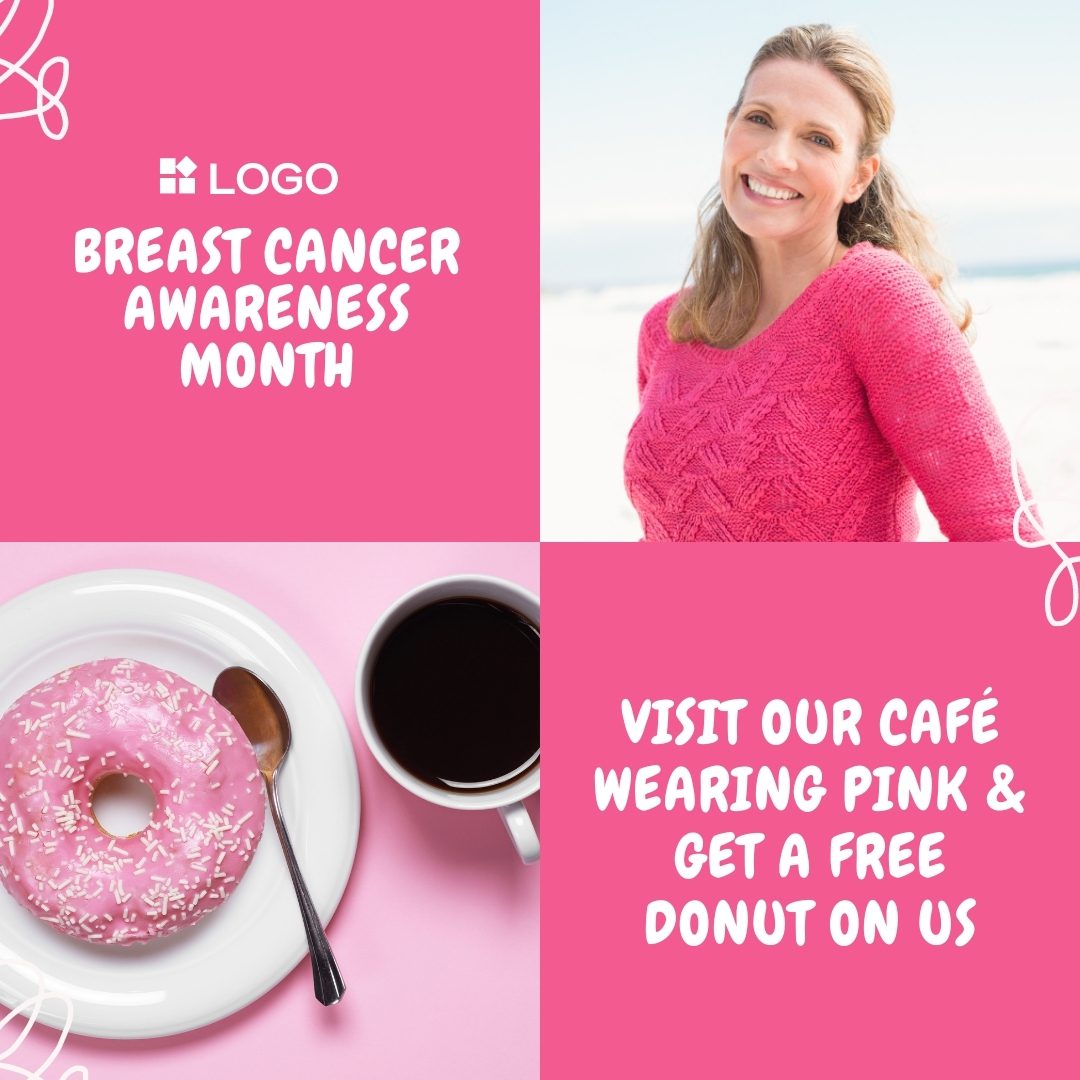 4. Wear Pink
This doesn't just have to include yourself and your employees. Let your customer and clients in on the fun, too. Create a Breast Cancer Awareness Month campaign and give everyone who shows up wearing pink a special discount or free item. A great example of this is the campaign below from Sheriff Jewellery. They give a 30% discount to customers who wore pink and they also give part of their profits to a cancer institute.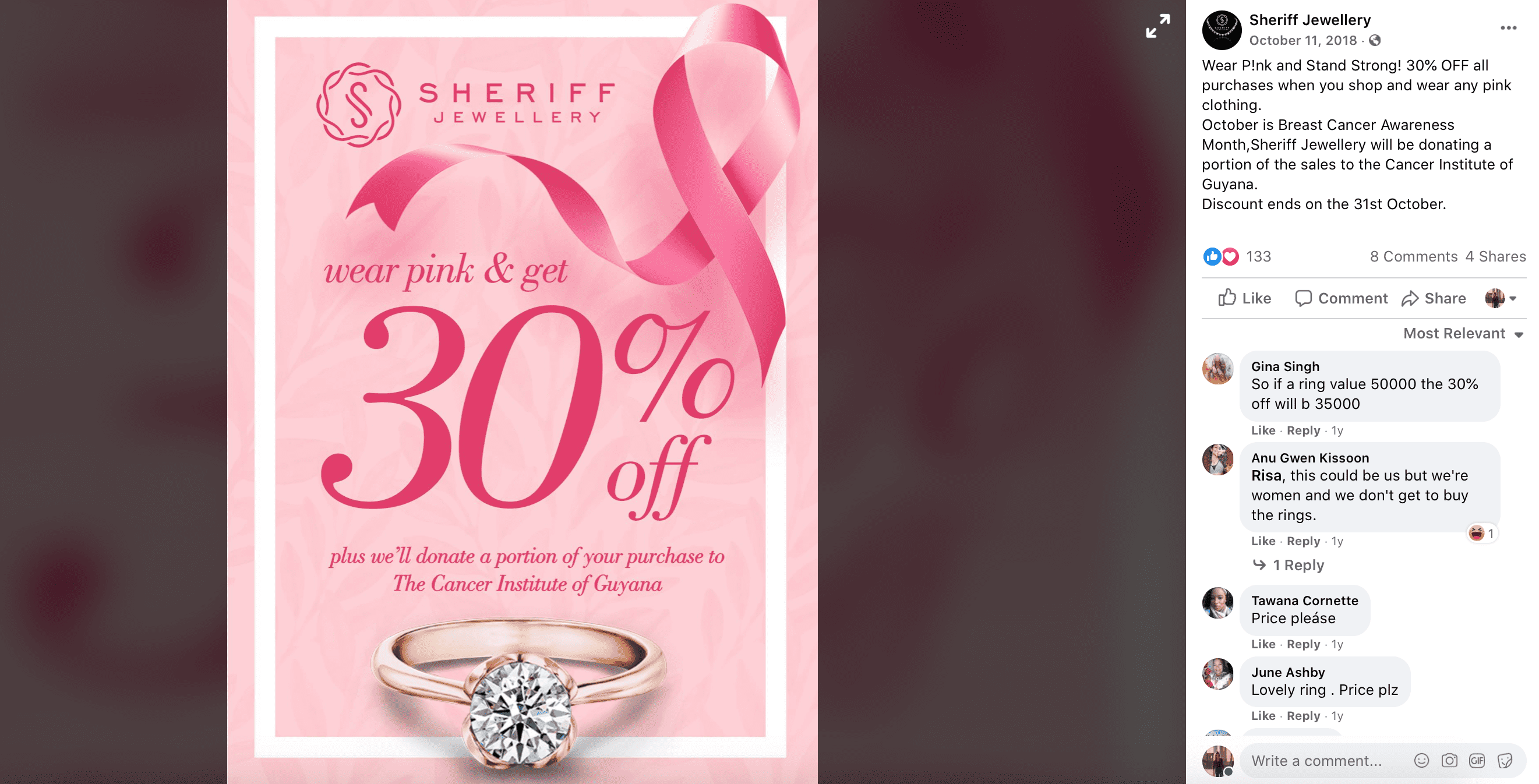 Want to do the same? Download our free customizable Breast Cancer Awareness templates for social media! Here's an example: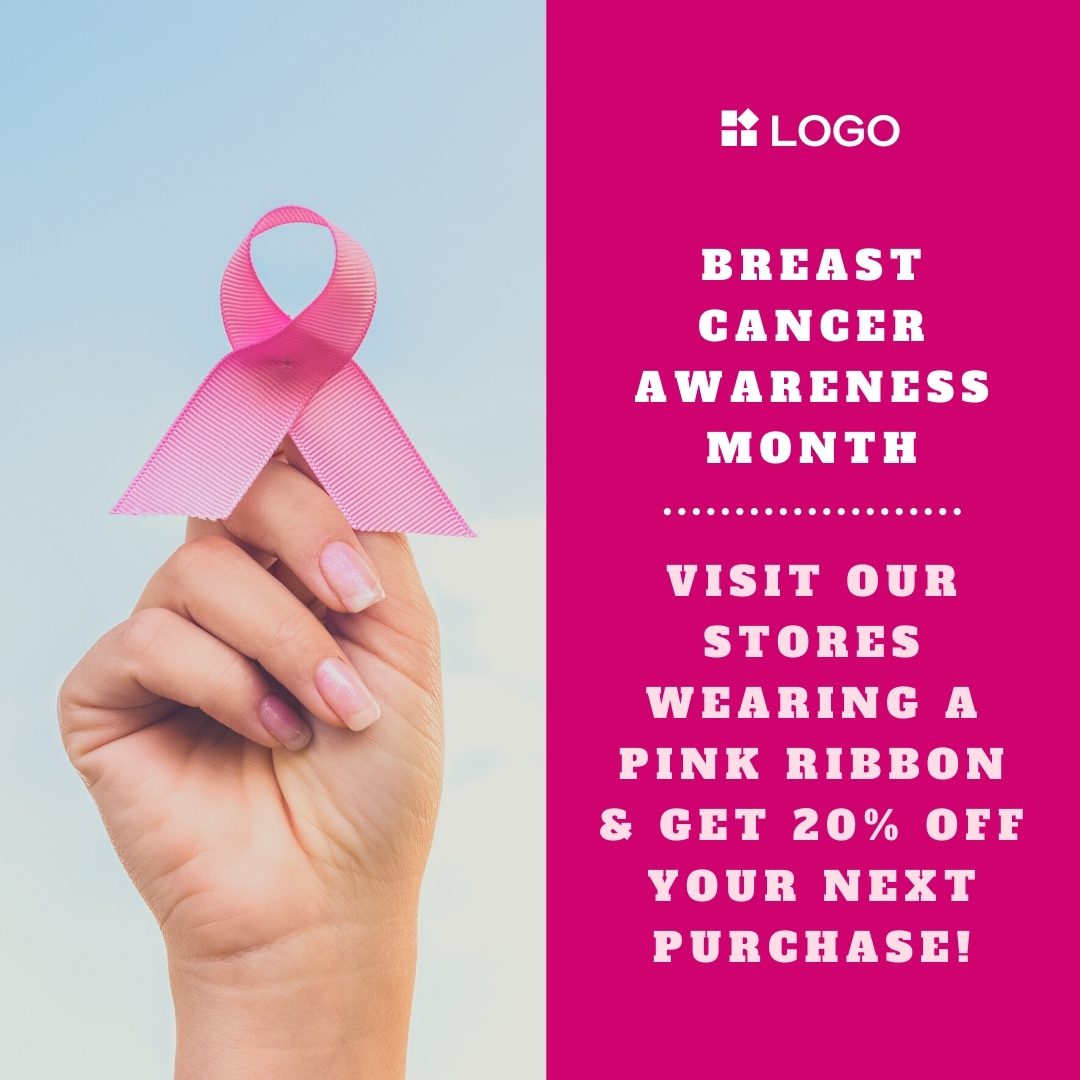 Another cool thing to do is take pictures of your team or your clients (with their permission, of course) and post them on your social media feeds. This will make them feel like they are part of something bigger and it's a great way to call even more people to participate. You don't need to do it throughout the entire month. Just pick a day and give people at least a few days' notice. You can also give special discounts on pink items as Sportsdirect.com did below.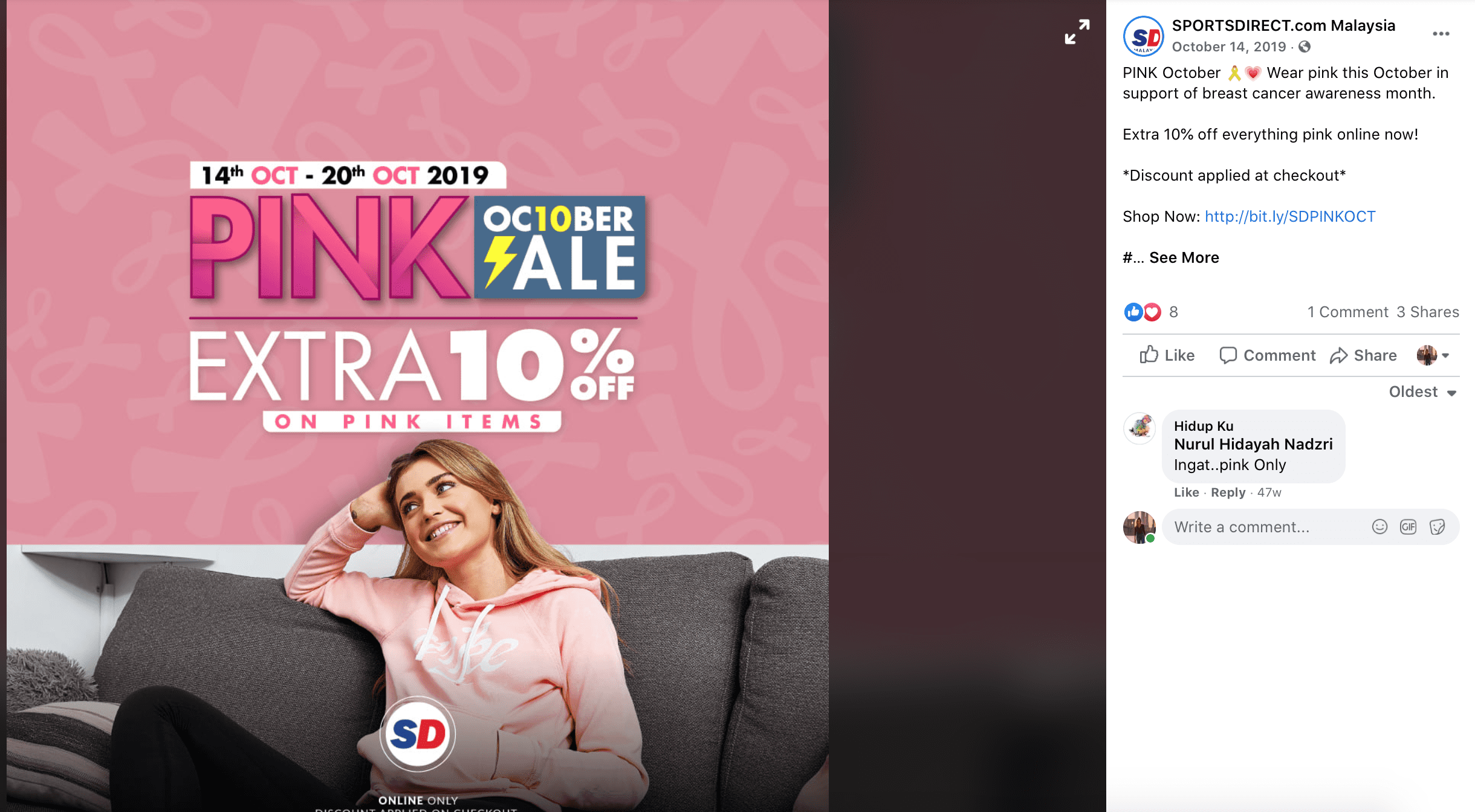 5.
Pinknize
Your Business
Sometimes spreading awareness can be a little more subtle, especially for Breast Cancer Awareness Month. Everyone expects to see more pink during the month of October. Take part and "pinknize" your business by turning your logo pink for the month or adding a pink ribbon to it. You can also add more pink elements to the graphics you post on social media or if you want, decorate your real-life office pink. This is a great way to fully embrace the message of this month and show that you're doing everything you can to increase awareness for the cause.
6. Promote a Giveaway
Giveaways are a great way to increase the reach of your online content, especially when your giveaway posts get shared a lot on social media. Create a giveaway that has to do with Breast Cancer Awareness Month! Put together a nice gift from your business and create a giveaway that specifically mentions why you're doing it and what this month means to you. Ask people to share your post and tag their friends as a way to participate in the giveaway. Check out this example from the small business Bow & Rattle: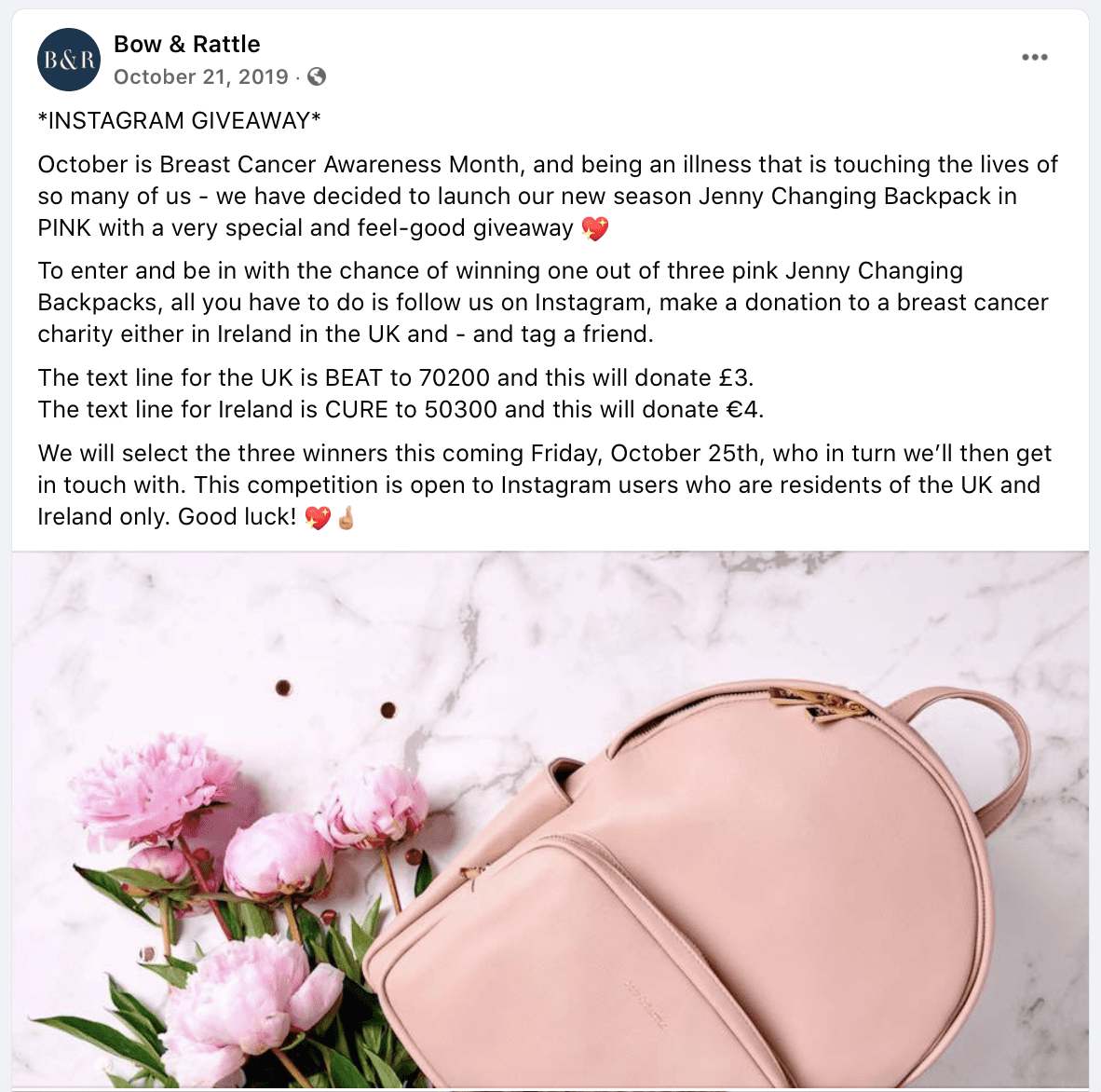 I also like the example below because even though orthodontics might not have much to do with breast cancer, they've created a giveaway that features something pink… a pink Sonicare toothbrush! This is a great prize that anyone would want to win, and it shows that you don't need to necessarily be directly involved with the cause to support it. Get creative!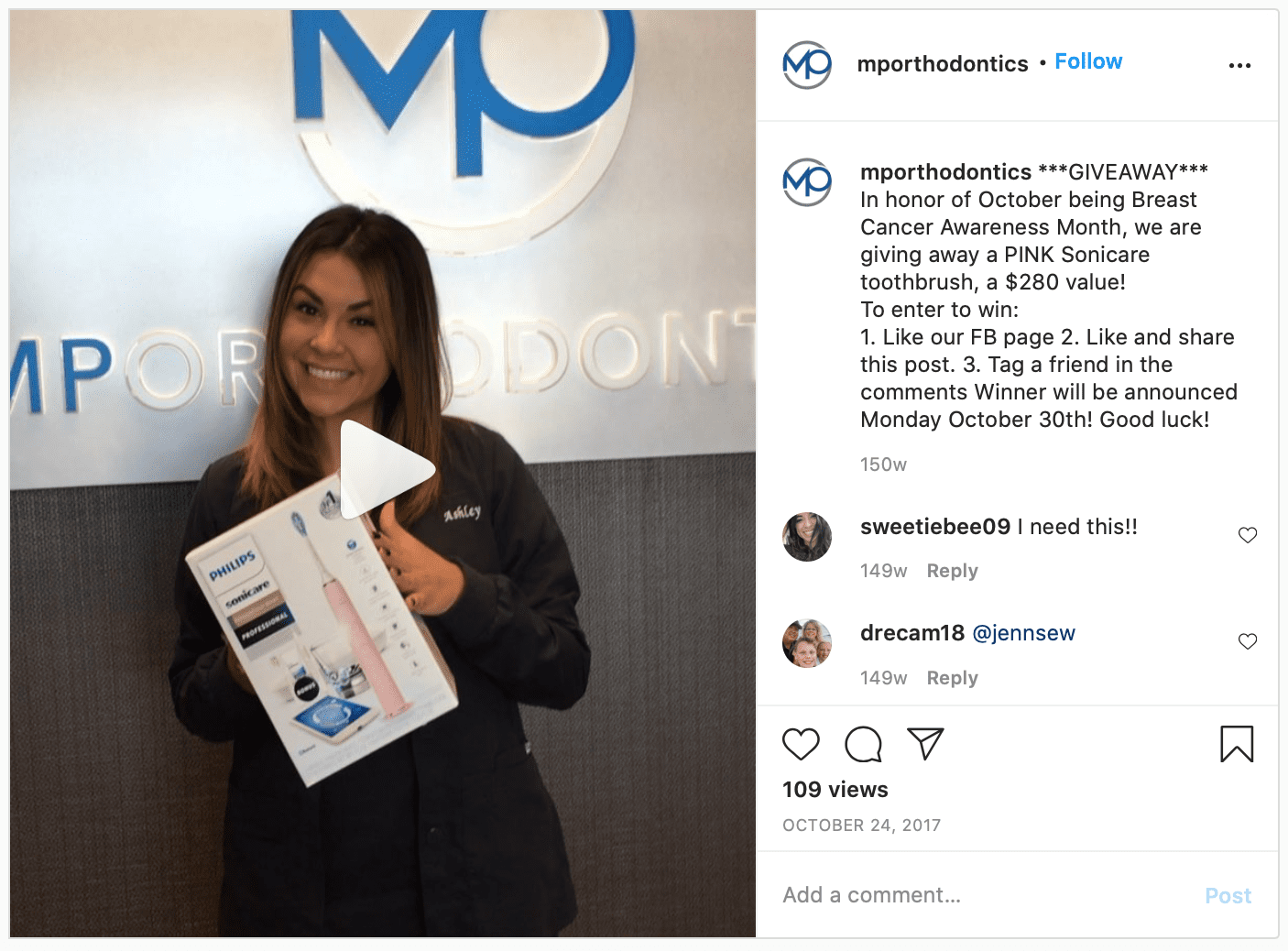 Check out our yearly holidays and days of observance calendar to find more holidays and days of observance as well as post ideas and free social media templates for your business.
---
We can't wait to see what you do. Please tag us using the hashtag #GrowingMyBiz so we can see and share your work!