Do you own a pizzeria and often find yourself lost when it comes to digital marketing and social media? Do you feel like you're not really sure about what kinds of photos and captions you should use? If so, you're not alone!
We know that many restaurant owners tend to fall back on just sharing photos of their menu items, which is great to do, especially if you know how to take high-quality photos. But, there are so many more opportunities to use social media to boost business!
The key to a great social media account is to create content that is first and foremost, interesting to your audience and customer base. Instead of thinking about how to generate more sales, think about how you can give more value to the people who see your posts on social media.
For example, showing people the process of cooking your signature dishes, addressing some of the commonly asked questions about your business, and sharing some of the history behind your brand, might be a great way to diversify the content you post and make it more interesting to your audience.
In this post, we've curated some of the best pizzeria accounts and posts on Instagram. We hope that they'll give you some inspiration as you start to build your reputation and following on Instagram! Ready? Let's get started! 
The 11 Best Pizzeria Instagram Posts and Accounts
There are several things I like about UNO Pizzeria. First, even though they don't have a large following on Instagram, they are doing a great job branding themselves on social media. Second, you can see that their photos are not professional, but they do look really nice and the food looks incredibly craveable!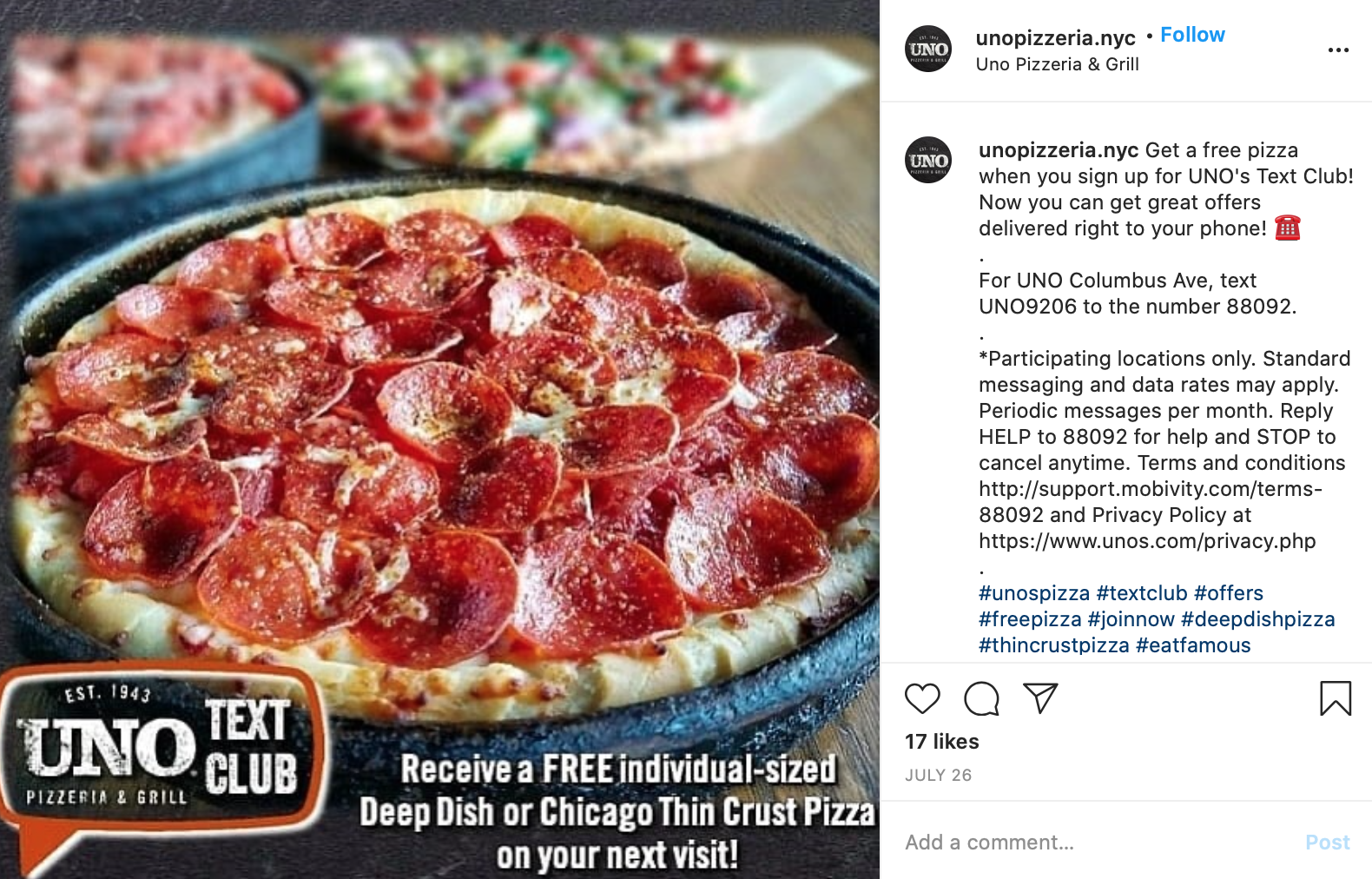 Another thing that I like is that they share images with text overlaid on top of it whenever there's a sale going on. The images show the pizza and give you enough information about the discount or offer. Last but not least, I love how they create a scene with their photos. It would be easy to just snap a photo of one pizza or one slice. Instead, they create vignettes like the one below that show a delicious picnic with a great bottle of wine and a tasty pizza. It goes beyond the product; they are selling the experience!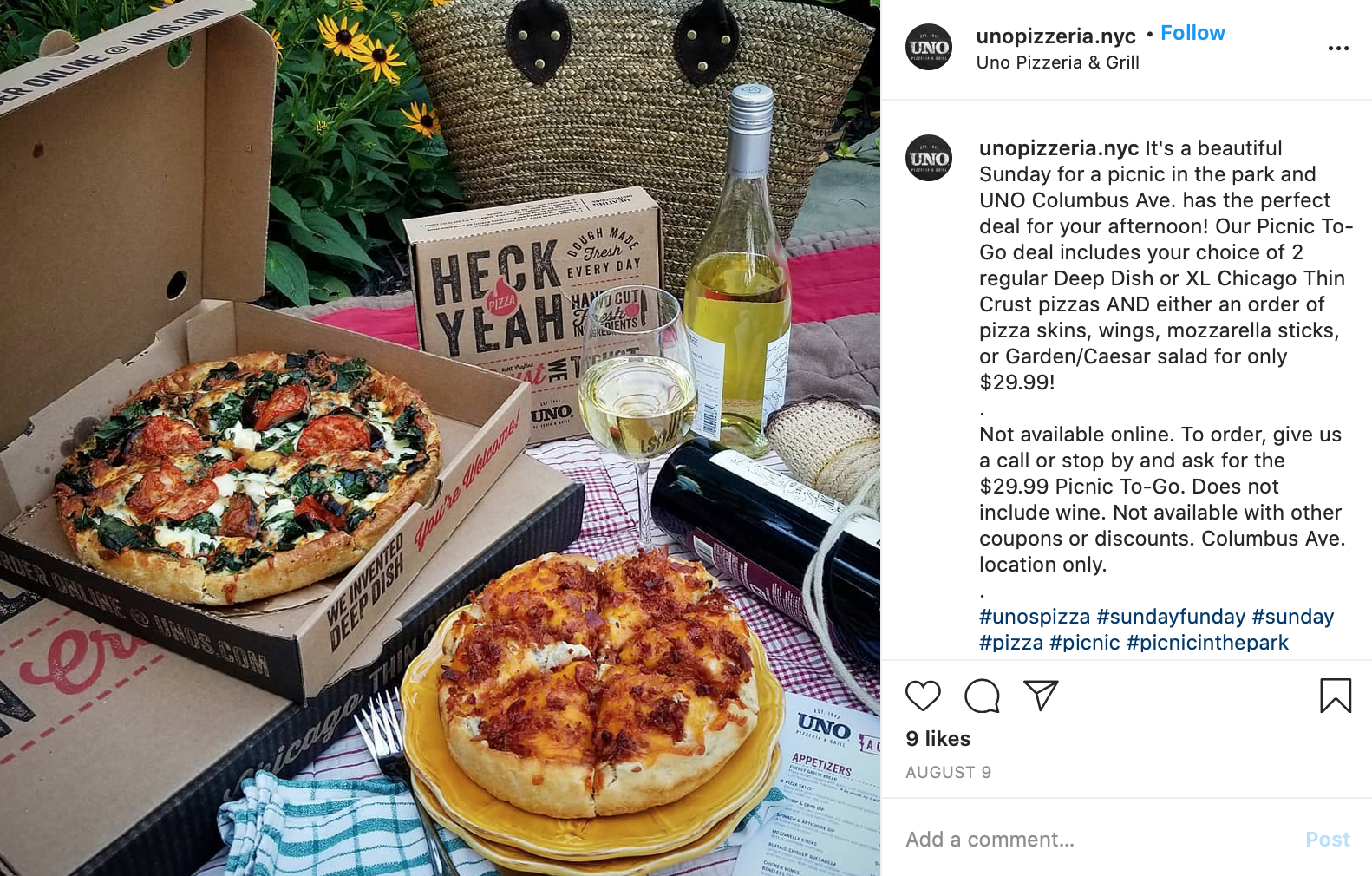 Oh God, if there was just one thing I could tell you about Di Fara Pizza's social media presence, it's that they have completely stolen my heart with the post below.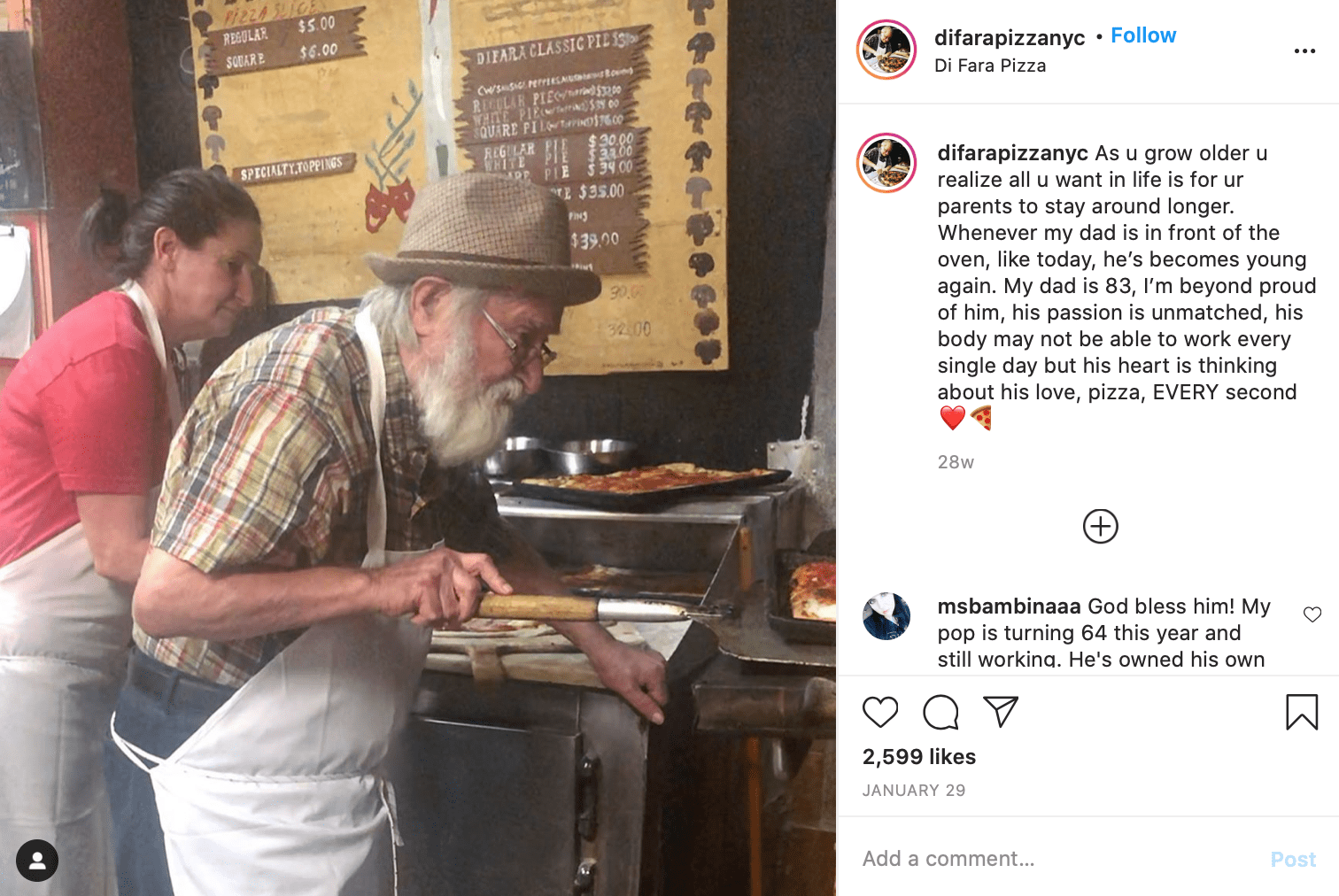 I'm such a cry baby when it comes to a business with history. I love seeing owners that are there working hard until they grow old. Sharing these moments and stories on social media is a sweet and lovely way to connect with customers and future potential customers because it appeals to the heart, not just the appetite. 
Apart from being great at showcasing the fact that they're a family-owned pizzeria with a great history, they are also super funny! They like to make collages, share funny pictures, and memes on Instagram. Their brand persona is friendly, fun, and cool and that is what they show in their posts.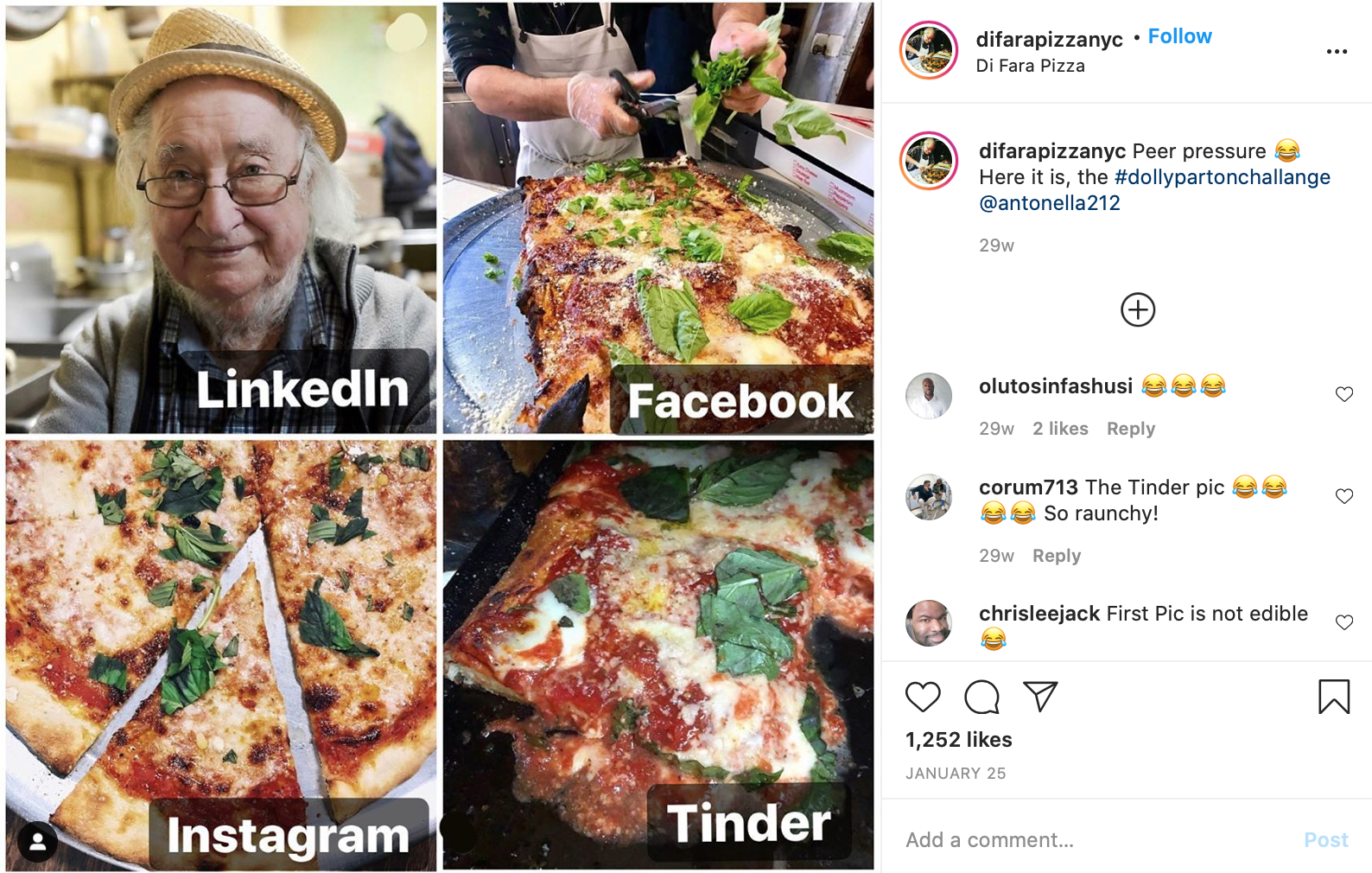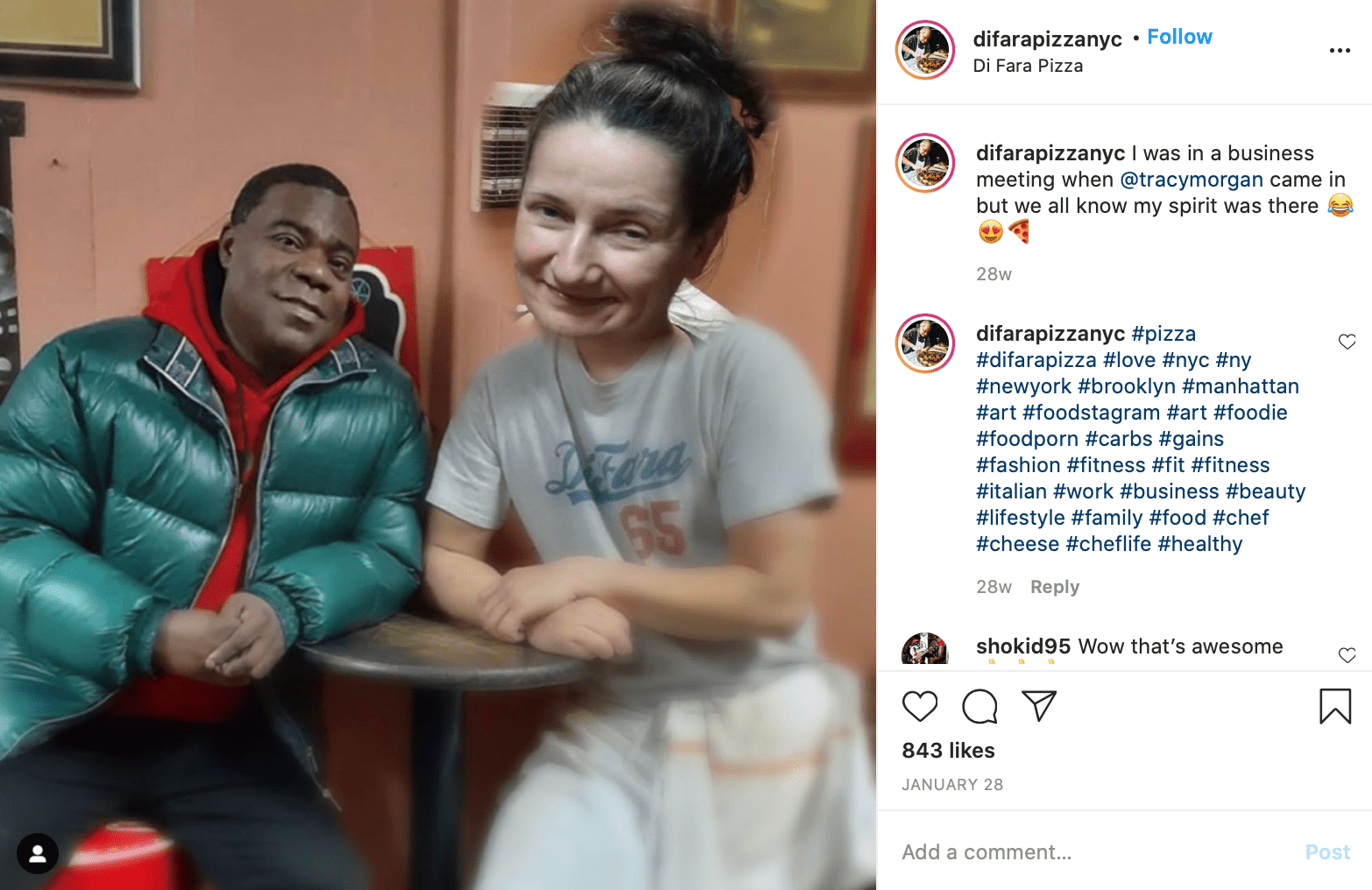 Screamer's Pizzeria is all about sharing photos of their delicious pizzas. Just scrolling down their feed makes my mouth water. Wait, did I just see a chocolate and marshmallow pizza?! 
Anyway, that's not what caught my attention the most. What I like about them is the fact that they support a cause through what they call "Donation Day." This is a day when 75% of all of their sales go to an organization that fights for racial justice and equity.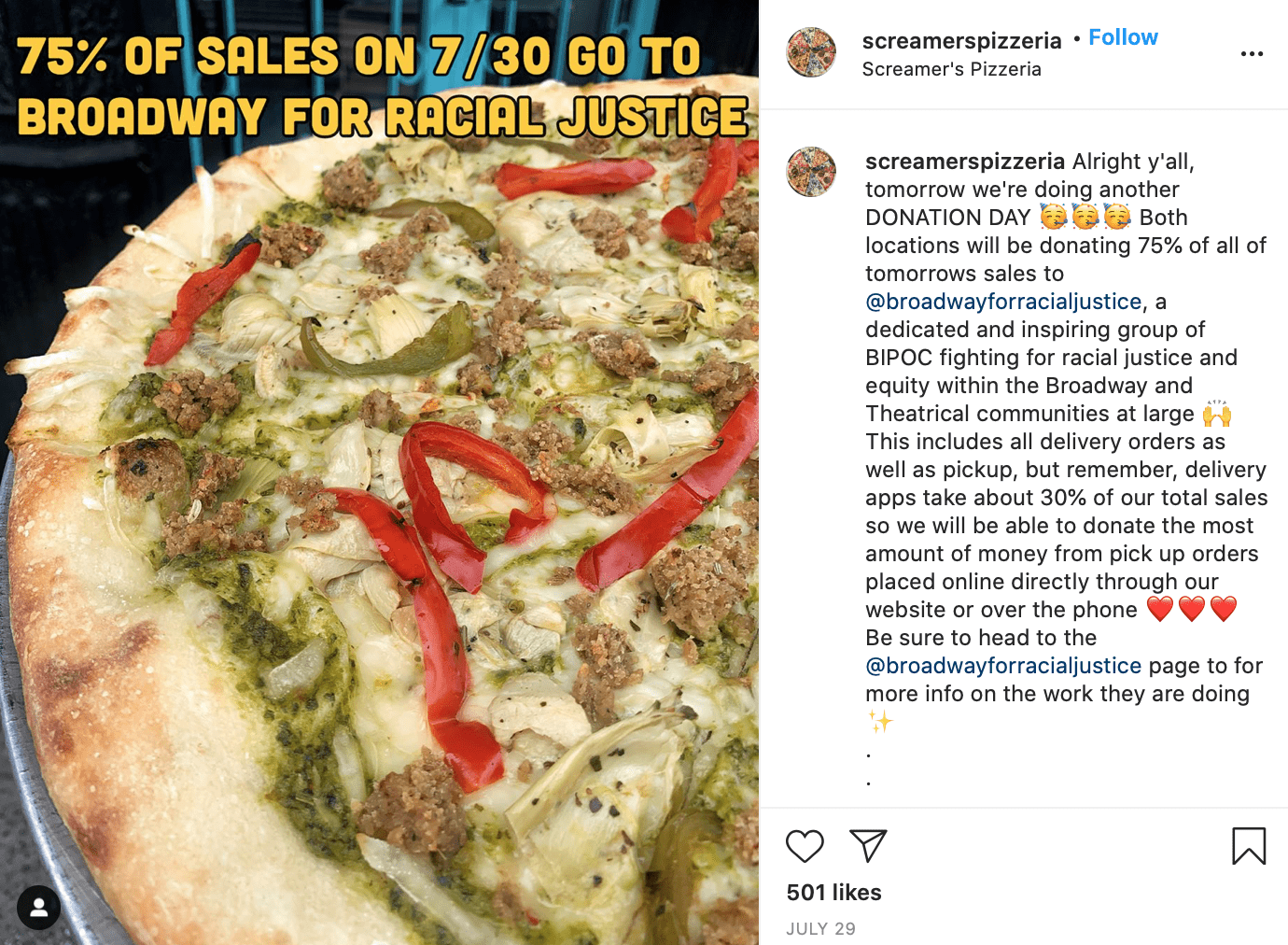 I also think it's awesome that they created giveaways teaming up with other local businesses. As we all know, local businesses are hurting, and collaborating on giveaways or even just mentioning each other on social media is a great way to grow together and reach more potential new customers!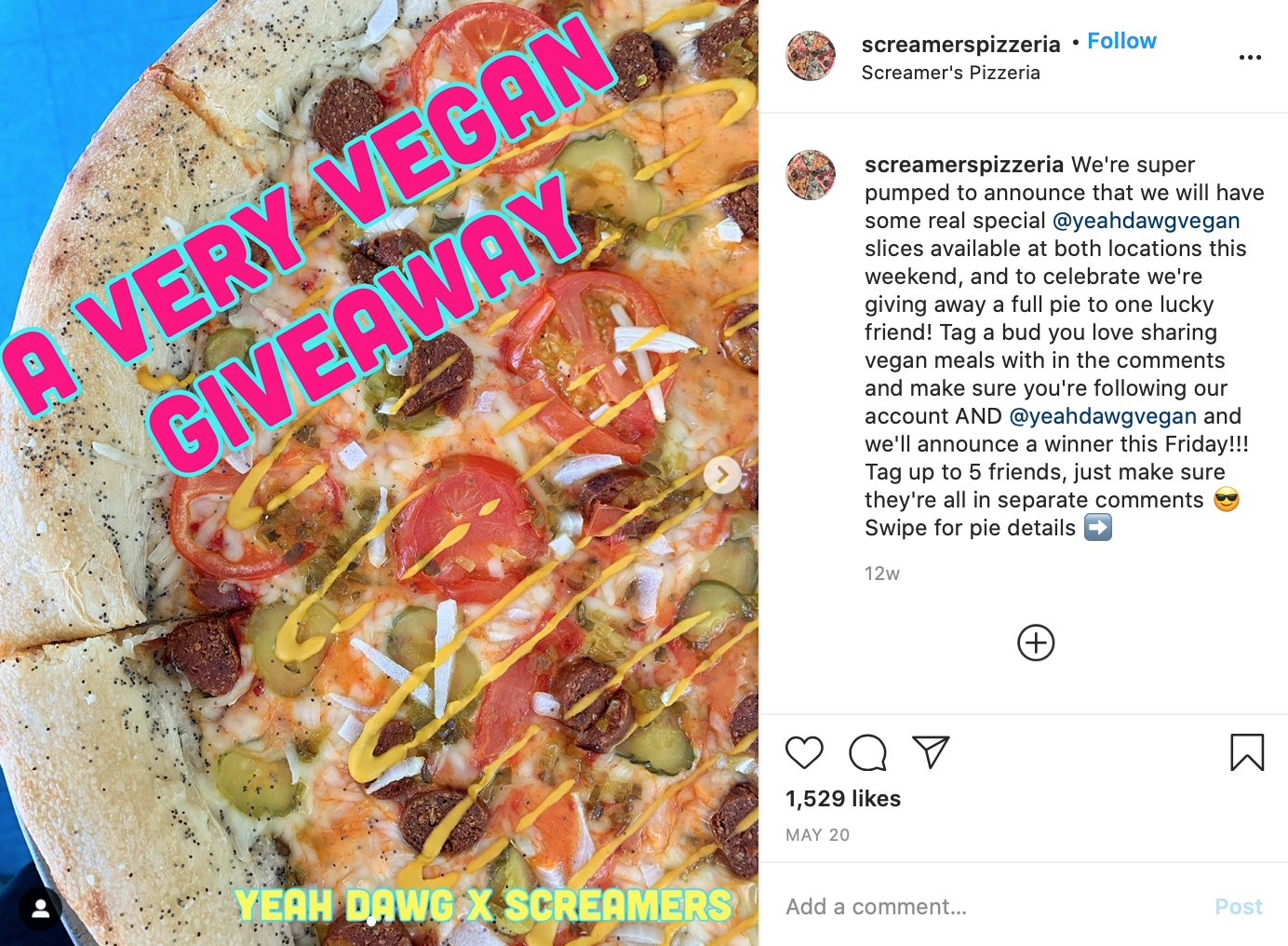 Read more: 15 Social Media Marketing Mistakes You Shouldn't Make
Most businesses don't use Instagram Stories very often, and when they use them, they don't save their stories in their highlights. What I like the most about San Matteo Pizzeria e Cucina is that they have some highlights that show videos they've shared in the past of their food and food prep.
If you're going to showcase your food, I really believe videos are a great choice. People are able to get a better sense of what the food looks like in real life through video. I just watched this highlight where they prepare a Nutella pizza and let me tell you, I wanted to call them and place an order right away!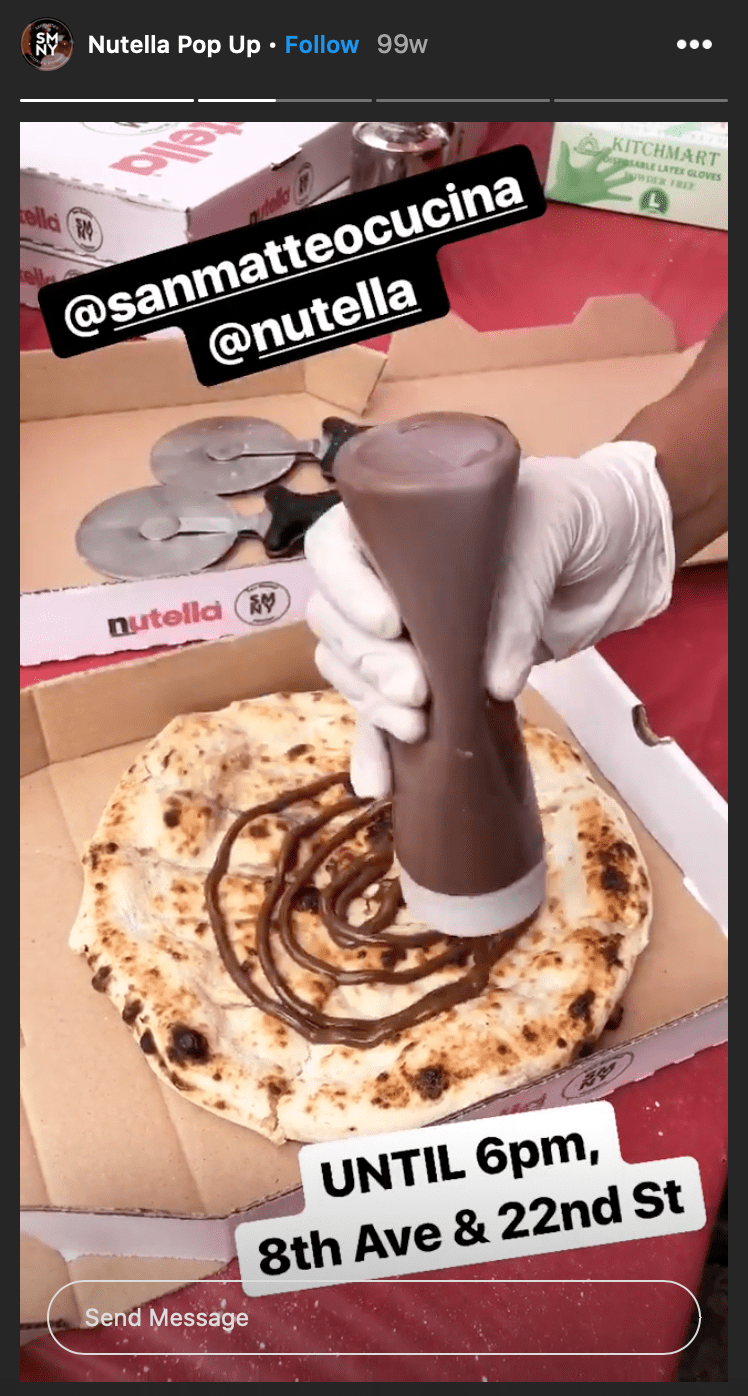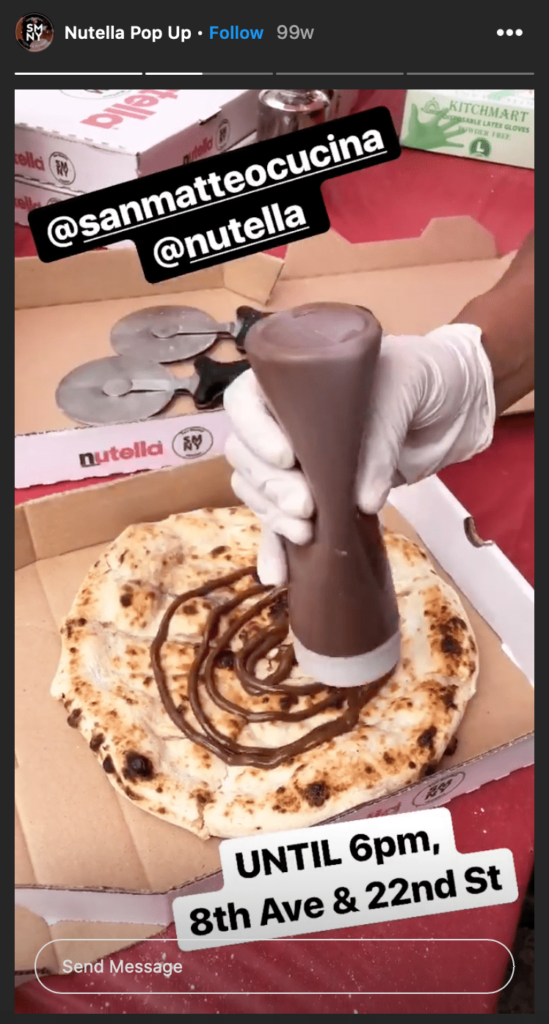 L'Antica Pizzeria Da Michele looks like an amazing, cozy place to eat pizza, pasta, or even just drink a few beers while watching the Champions League games. I've never been there, but their Instagram sure makes me feel like I have. They don't use their Instagram feed only to show off their dishes, they also share photos of events, their team, the customers, and the ambiance.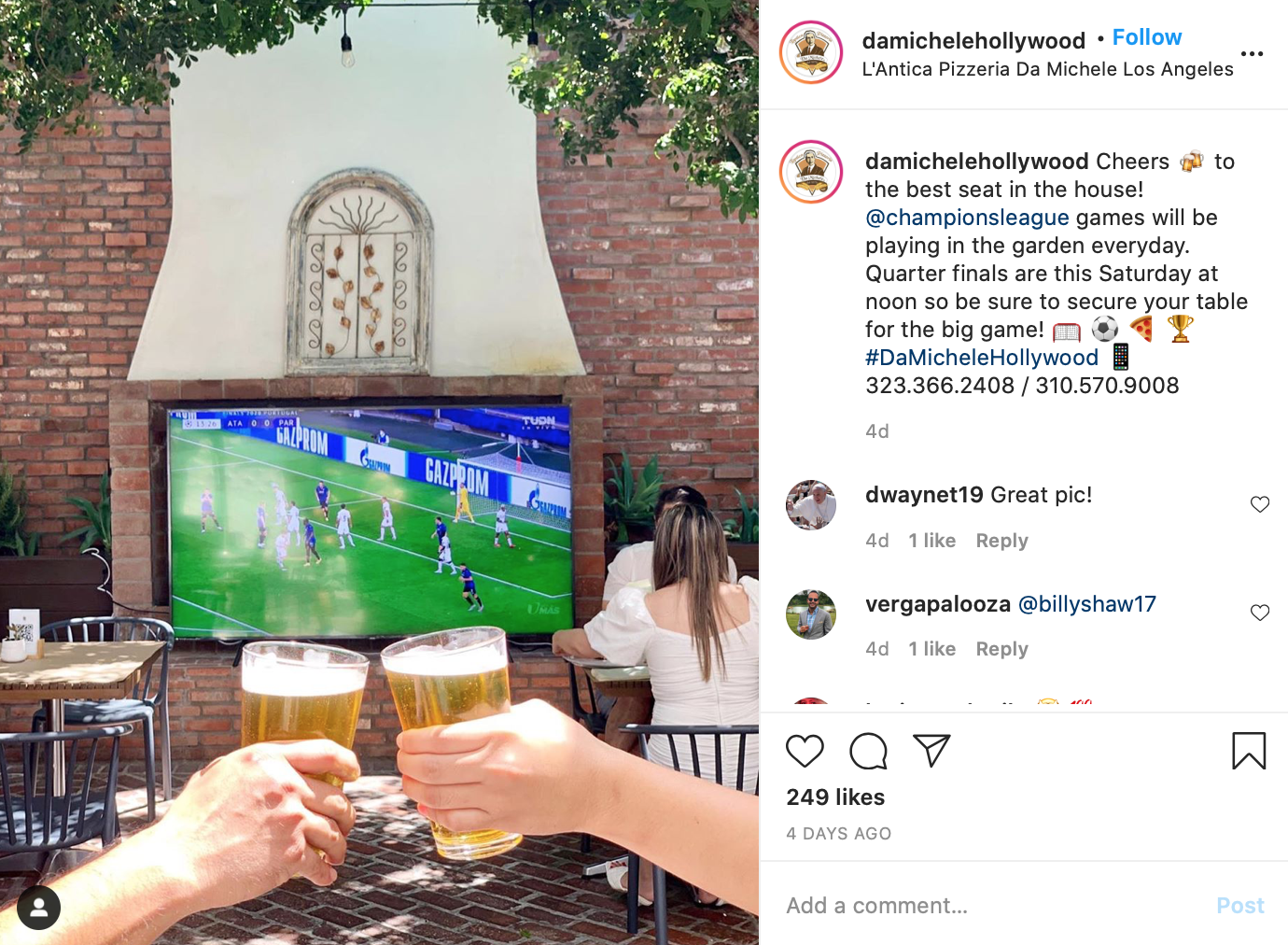 Apart from that, they've created something that I think is really amazing. They sell kits for people who want to cook some delicious pizza or pasta at home! What a great way to serve people, even if they don't want to come and sit down in your restaurant.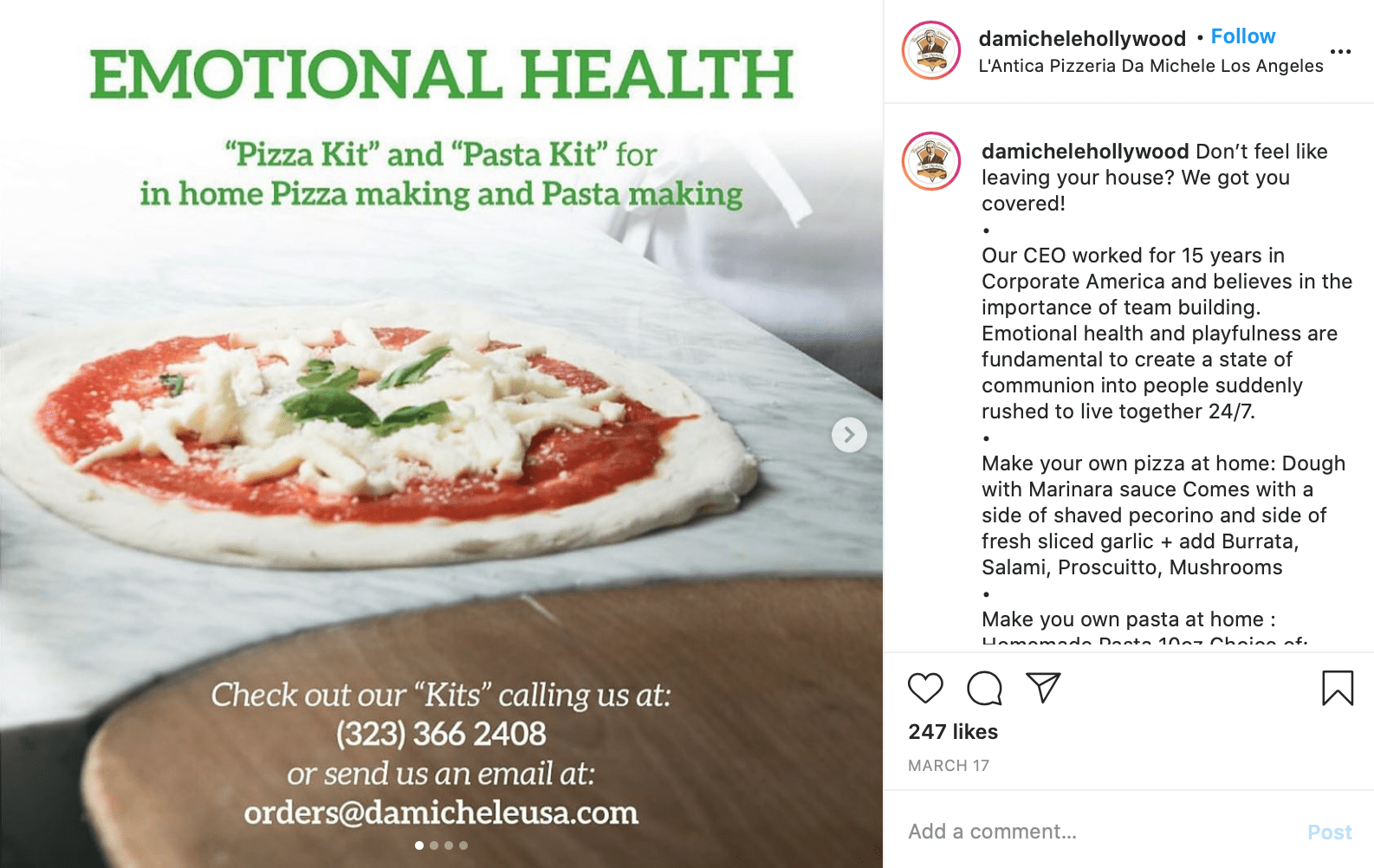 Upside Pizza is a relatively new restaurant, but they are doing a good job on Instagram. Even though they don't have many posts, the ones that they have published are very good. I especially like the ones that show the "behind the scenes" shots of the pizza-making process. 
Most businesses end up sharing photos of the finished dish but showing the process of making a pizza is also super interesting for those of us who love pizza. In the caption, they talk about their process, which shows that they're professionals when it comes to the art of pizza making.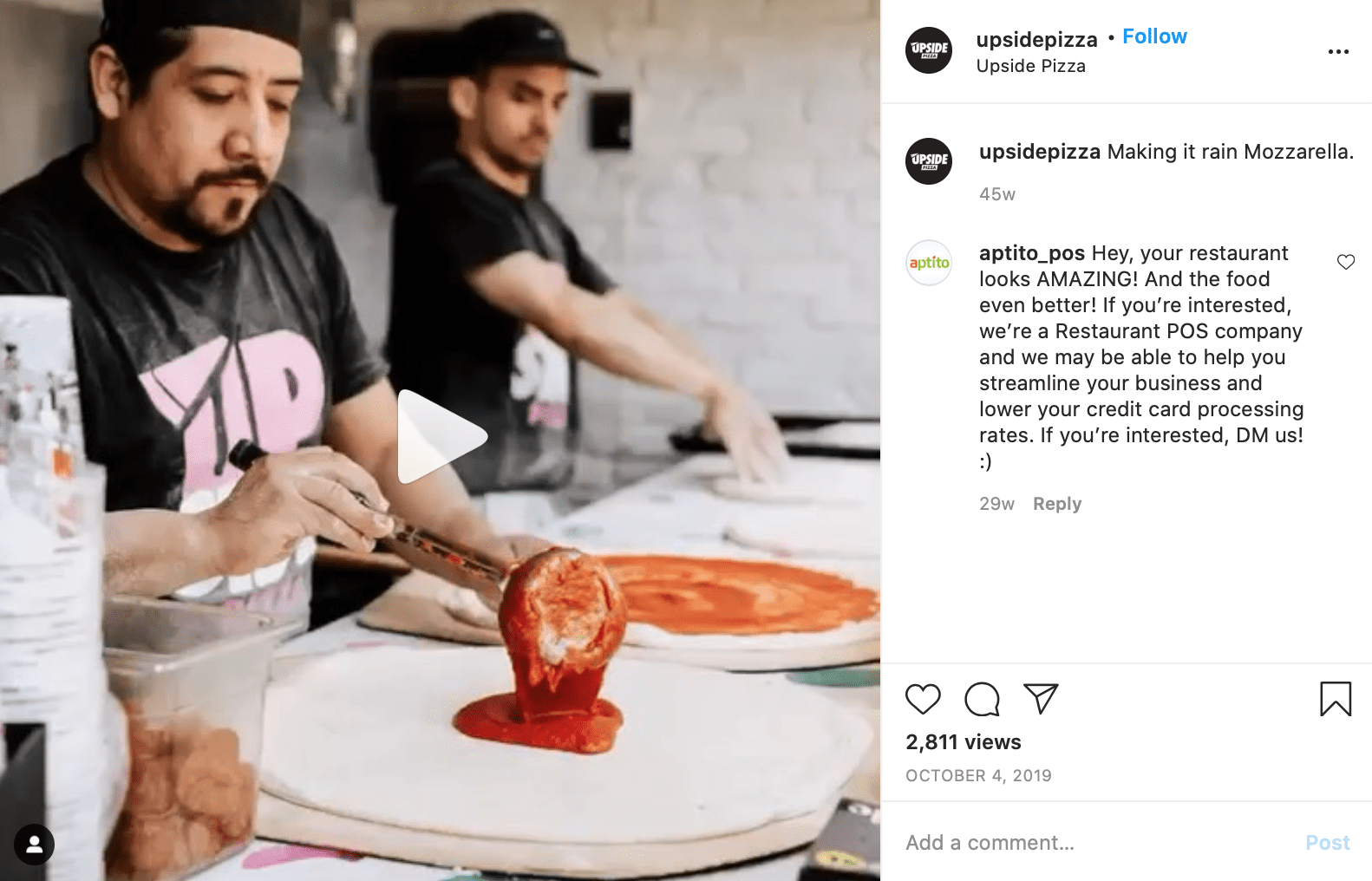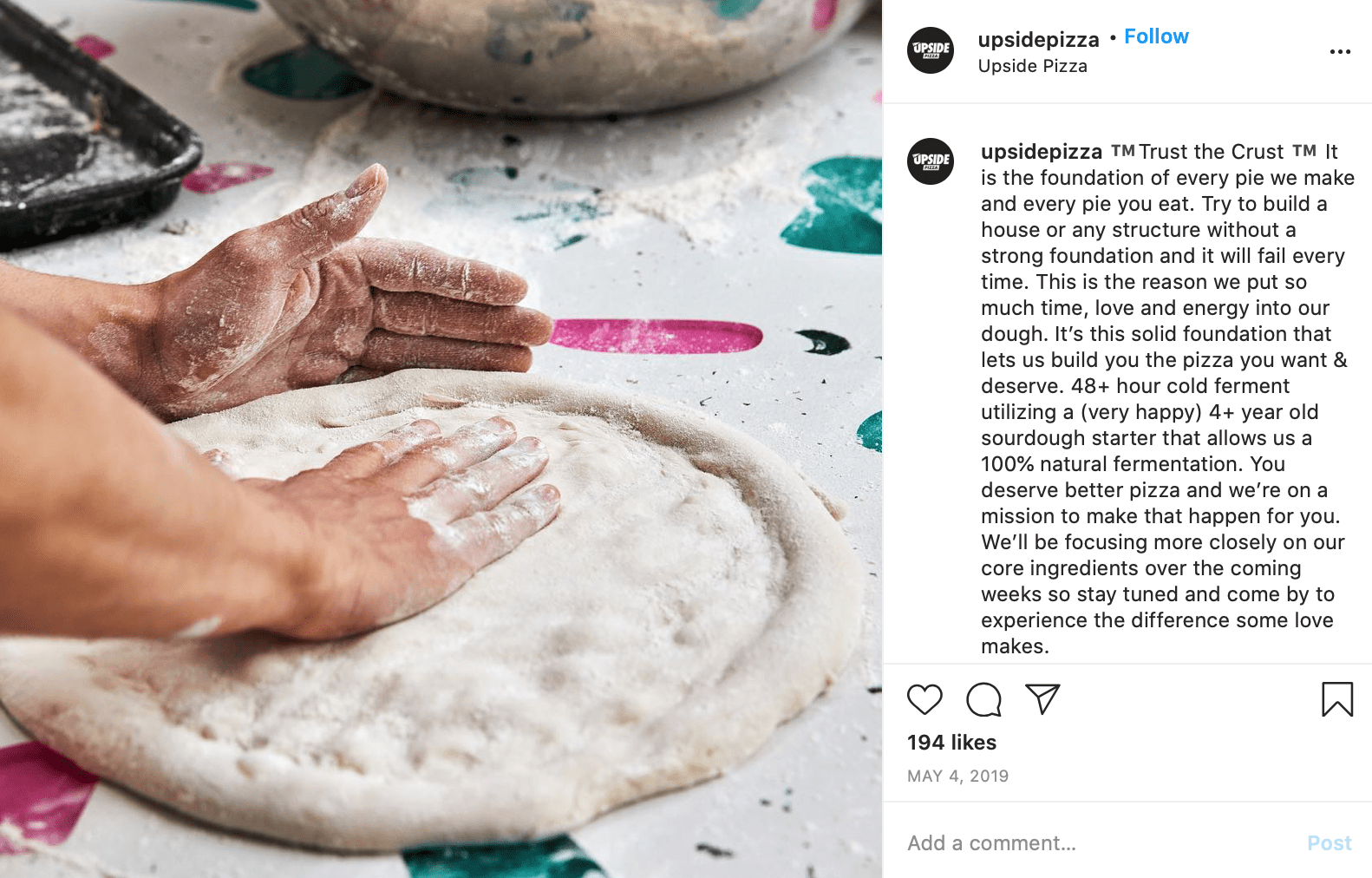 There are a lot of things I like about Lucia Pizzeria's Instagram feed. I like how it's super organized, and they use quality photos of their dishes and drinks. The photos are consistent, and they are all well lit (none of them is too dark or has too much contrast).
Another thing I like is that they have their brand colors and fonts very well defined, so whenever they post a graphic on their feed, it looks really consistent and it's easily recognizable when it's on a follower's feed mixed in with posts from all kinds of other brands and Instagram users.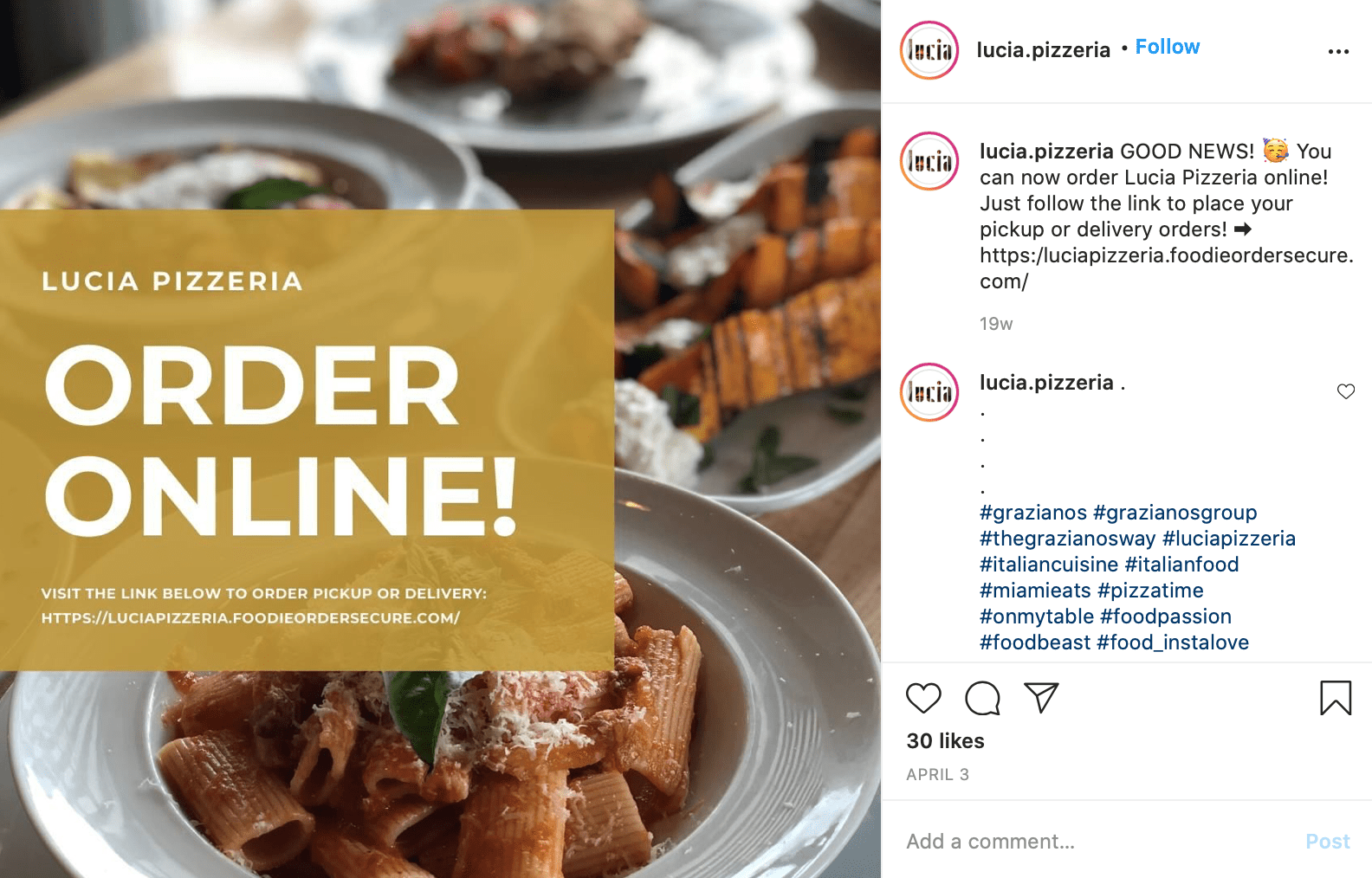 I also really like their highlights. They have relevant information saved there for their followers and they even took the time to create customized highlight covers so that everything is on-brand.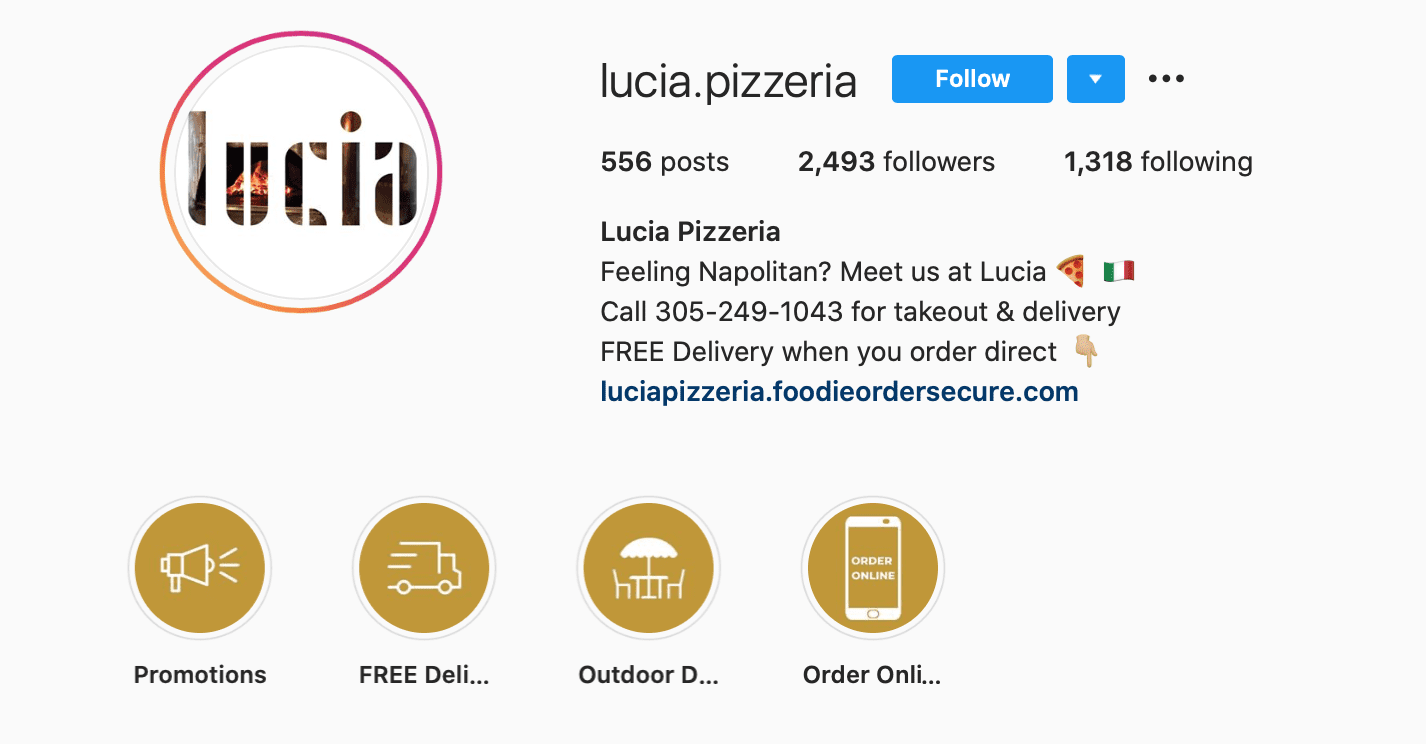 Even the photos of their food go a little bit further by showing someone actively interacting with it. It isn't just a plate on a table, looking flawless and untouched. The fork in the photo below shows you what a bite of this lasagna really looks like, and I think that's super effective.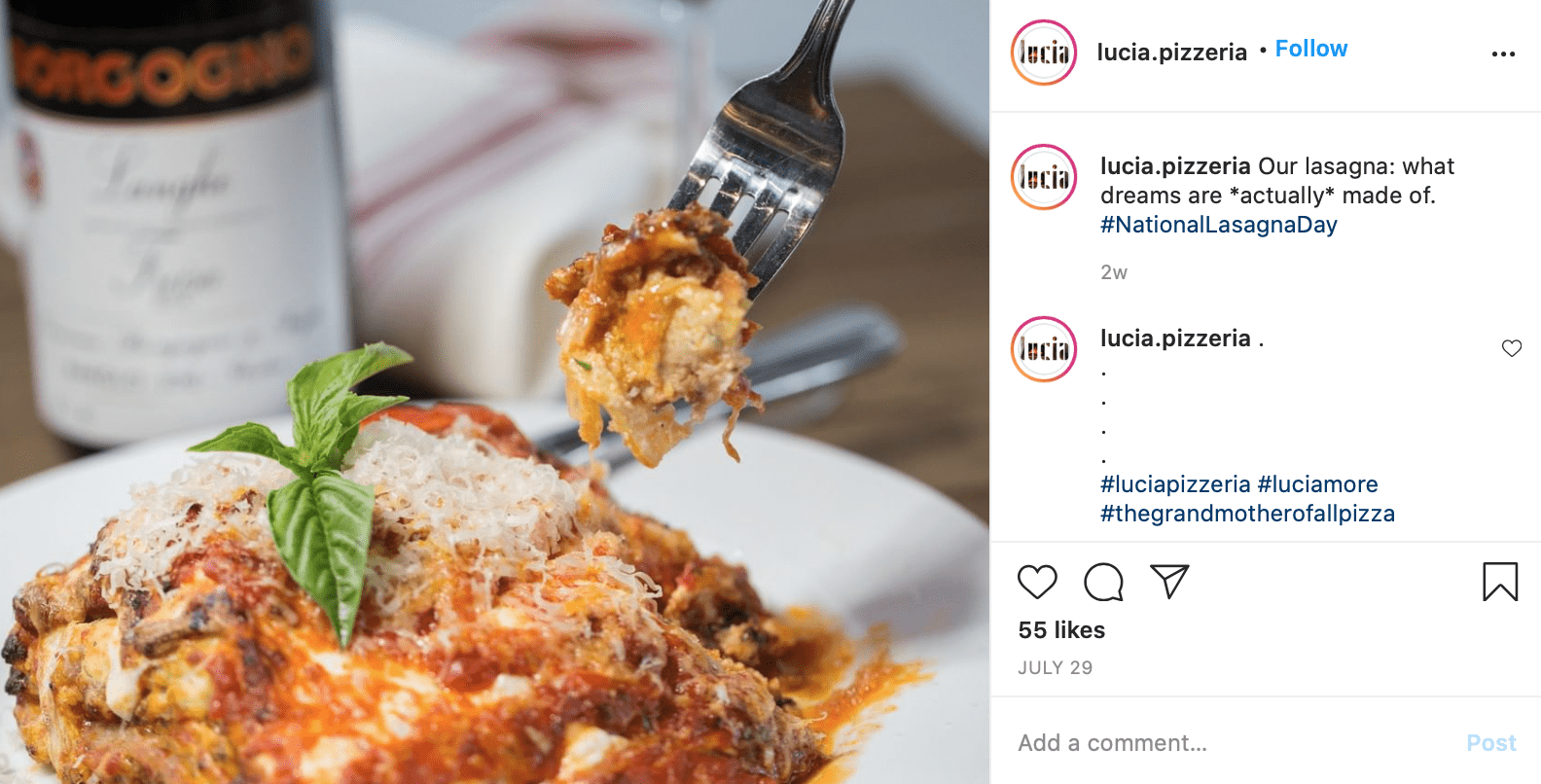 Another thing I saw on their Instagram feed is the promotion for a weekly event called "Serate di Cinema" (or "Movie Night") where they feature an Italian movie in the restaurant. Women get a complimentary glass of wine during this event, which is such a great way to get people to come in and dine.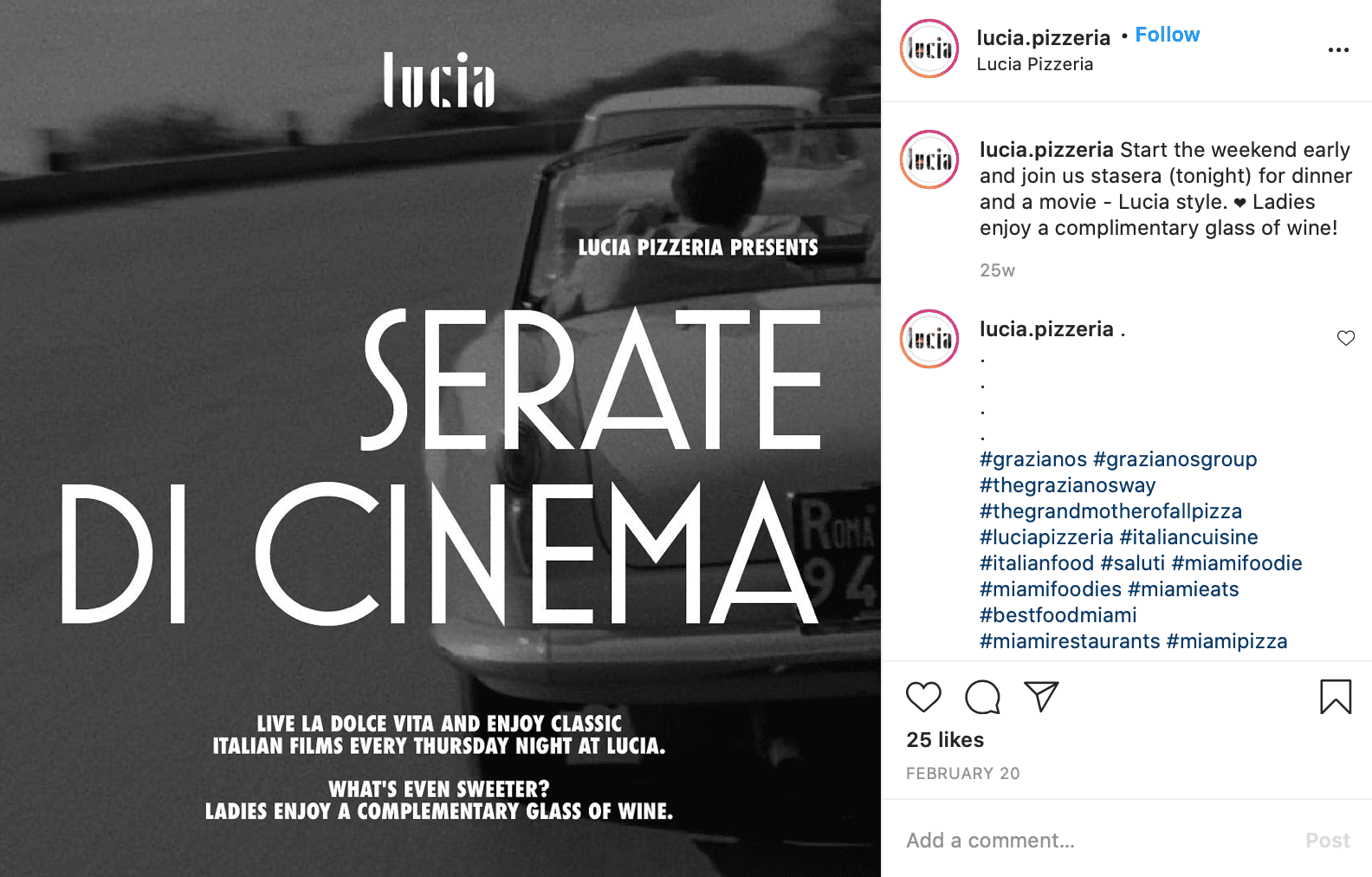 Read more: Days of Observance and Holidays in 2020 for Small Businesses Owners
If there's one thing that drives me crazy, it's when you can't find a restaurant's menu online. Why do some restaurants make it so difficult for people to find more about their dishes? What I really like about Pizzeria Mozza – apart from the beautiful and mouth-watering photos of their pizzas – is that they share their menu right on Instagram. 
This is SO helpful for people who are thinking of visiting or who have visited before but want a refresher on what you're serving. You don't have to post your menu all the time, but make sure you do it every so often so the post is easy to find when someone visits your page. It would also be smart to share it on your Instagram Stories so you can save it to a "Menu" highlight.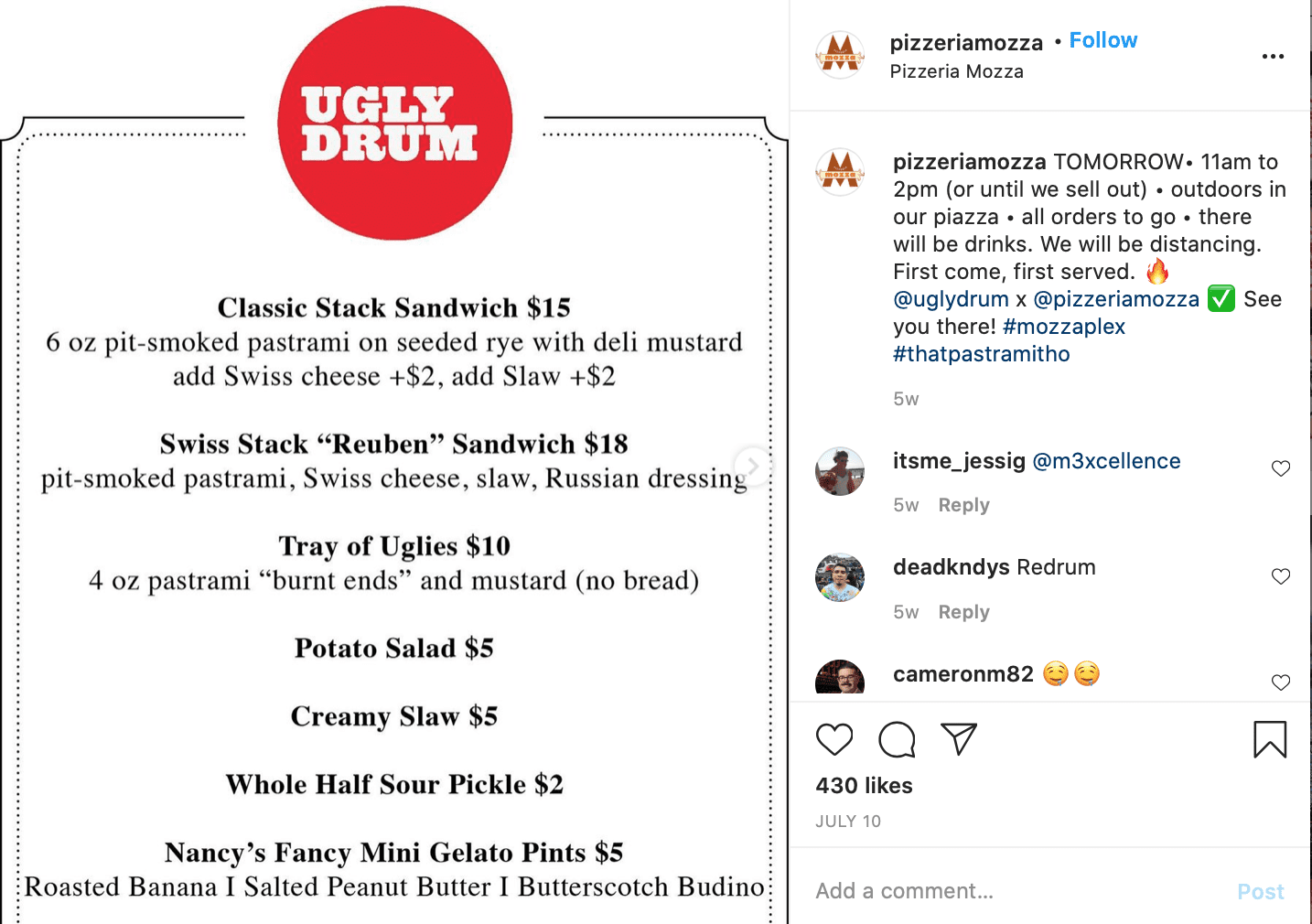 Lil Frankies' Instagram feed looks like a portfolio of all of their dishes, which for some might feel a little repetitive but also makes it easy for customers to choose what they would like to try. As a customer, I'm always deeply disappointed when a restaurant posts a beautiful photo of a dish and doesn't say which dish it is. If you're posting something because it looks delicious, at least tell people what to order the next time they come in!
Lil Frankies posts photos of their dishes and also the names AND the ingredients in each of them. Looking at those pictures is enticing, but knowing what is in each dish is also super helpful, especially for customers with food aversions or allergies.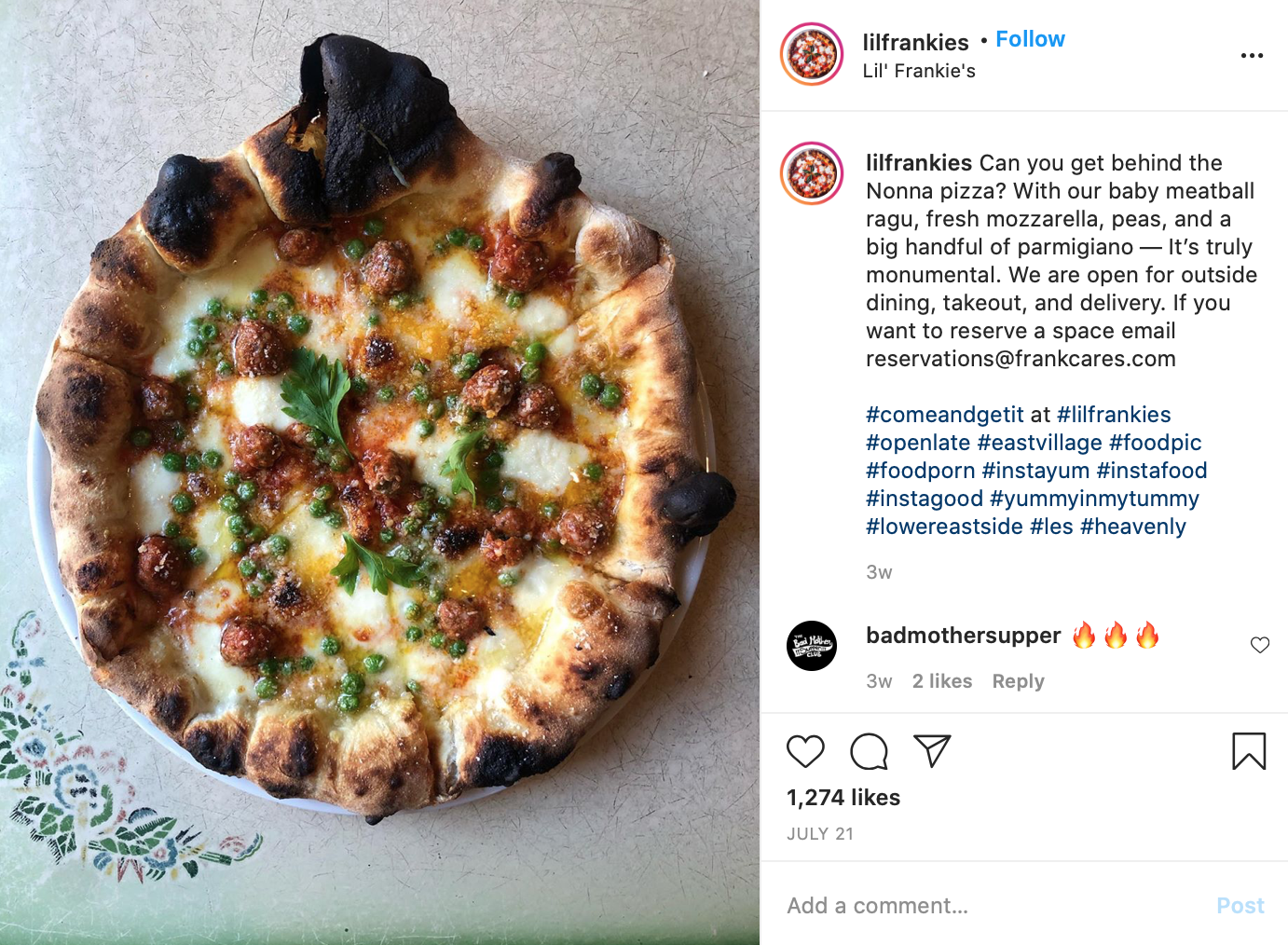 For me, what makes Emily Pizza so special is their photos, specifically their close-up photos. When you take a close up photo, you can see everything in more detail: the melty cheese, the little pools of grease in the pepperoni, the bubbly dough… okay my stomach is officially rumbling.
Anyway, the people at Emily Pizza do an amazing job taking pictures from very close, and that's what makes their feed so fun to look at.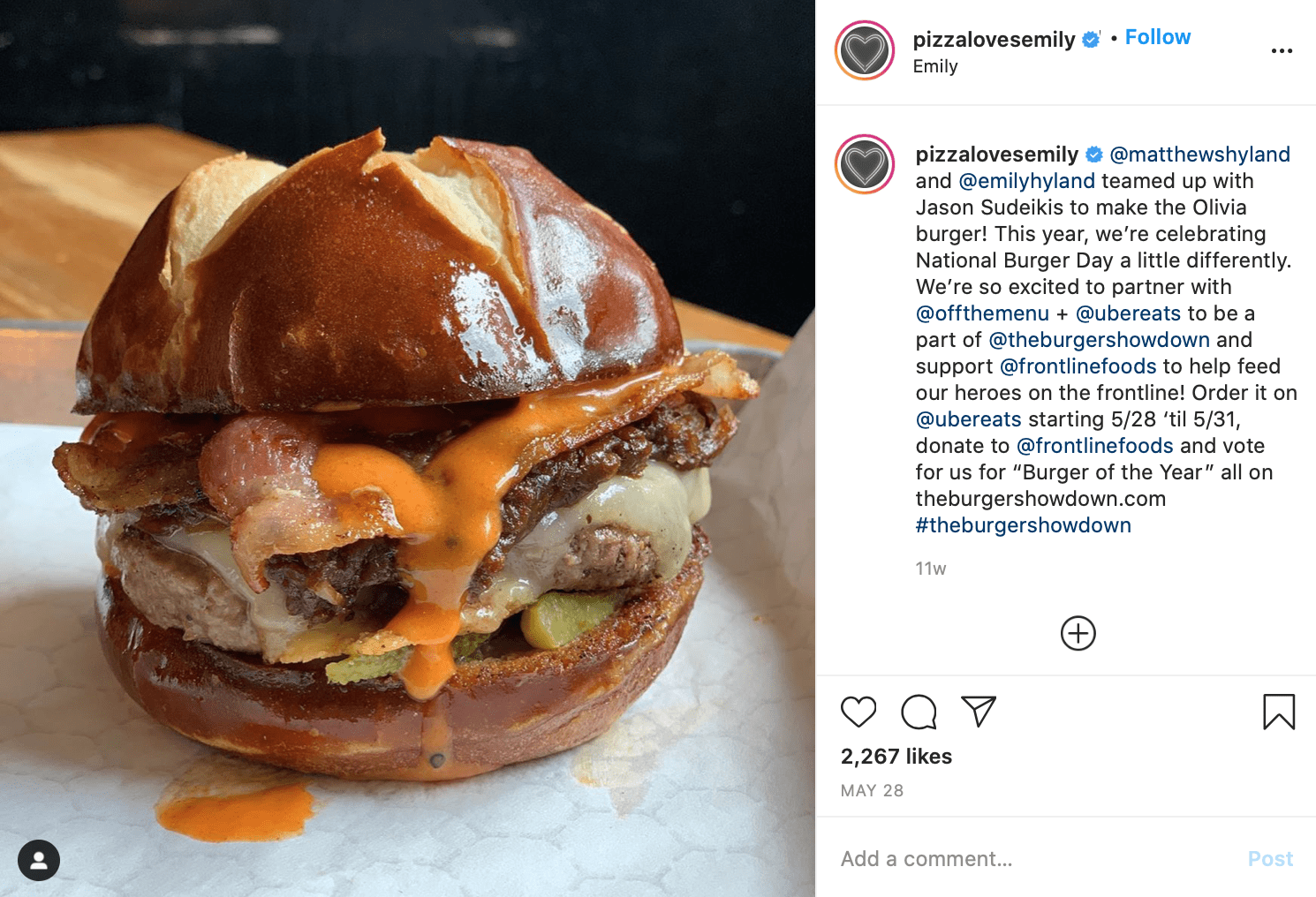 They are probably using a professional camera to get shots like this, but you can definitely take great-looking photos using your phone in the portrait mode. This will create that blurry effect in the background and isolate the food in the foreground. Afterward, just edit the photo in an app like VSCO, Snapseed, or A Color Story. 
Another aspect of their Instagram that is worth pointing out is the fact that they constantly share photos of the inside of their restaurant. It definitely has a cozy feeling and the photos are inviting and welcoming.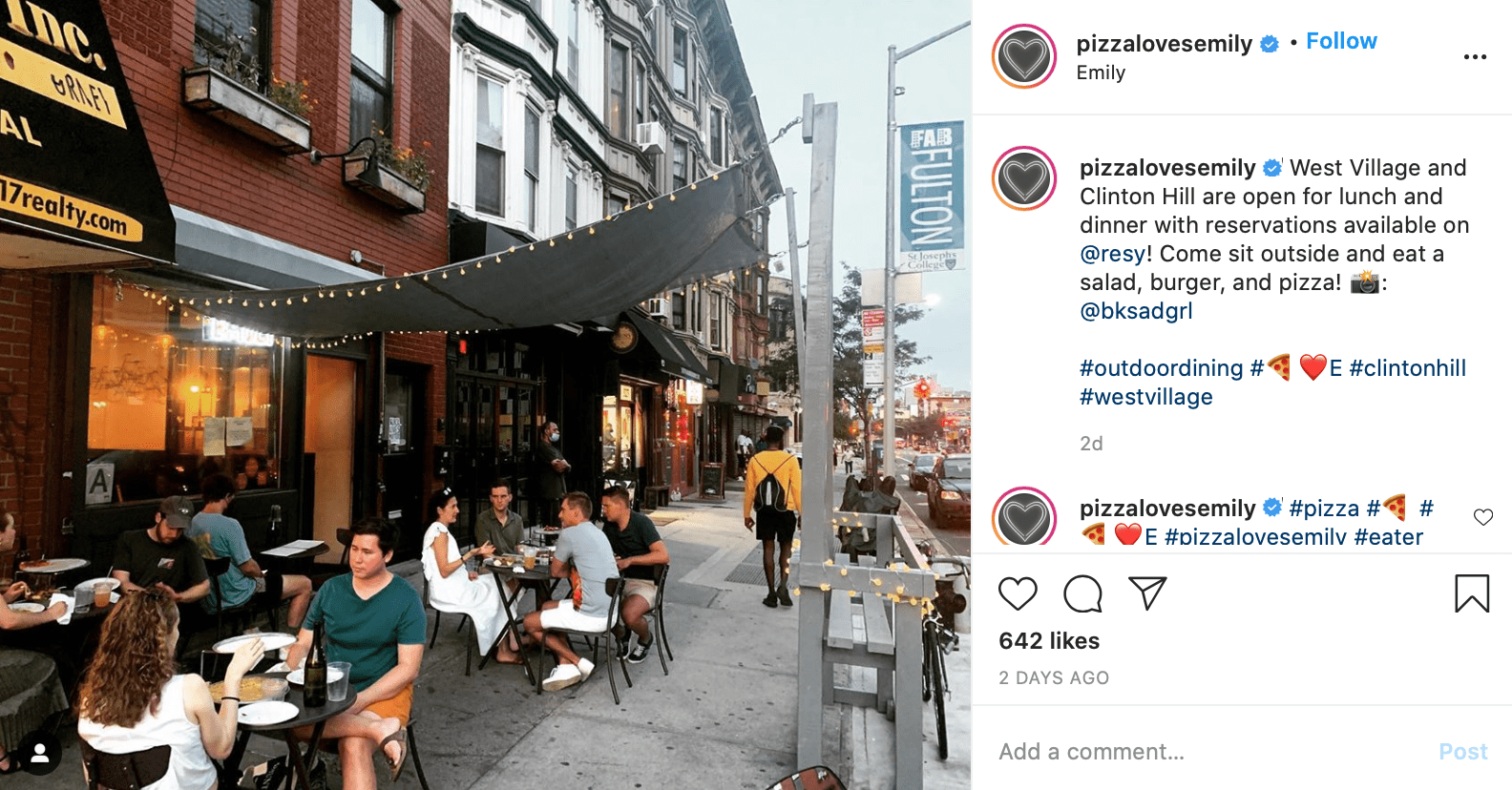 Last but not least, it's Pizza East – I swear I definitely didn't plan that out because of the rhyme. Pizza East's food photos are absolutely mouth-watering. I mean, look at this mozzarella stick!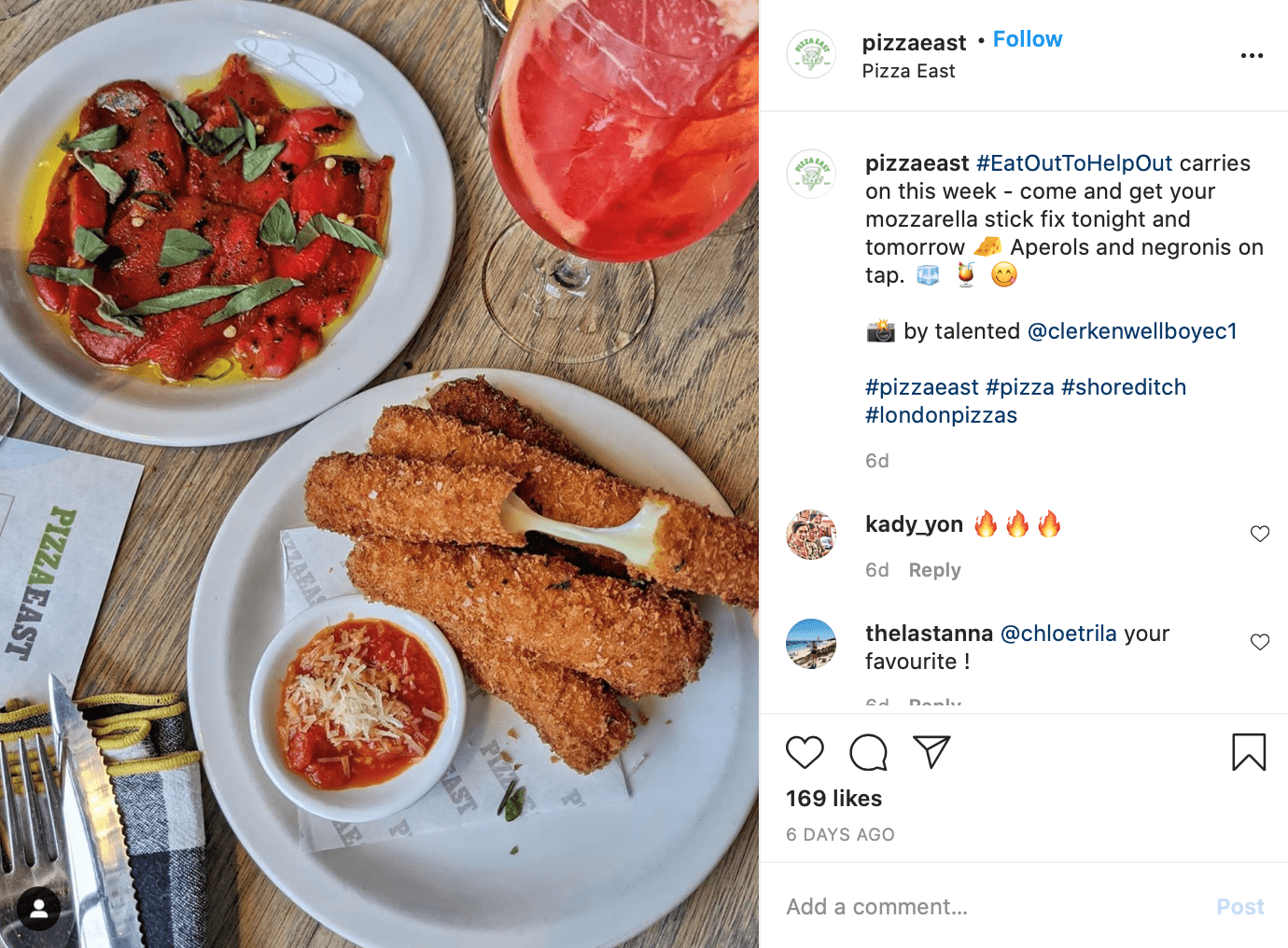 But the best thing about the photos on their Instagram feed is the fact that they show the whole table with multiple dishes! For example, the photo below is almost overwhelming, but in the best possible way. I want to sit at that table and enjoy a little bit of everything they're showing me!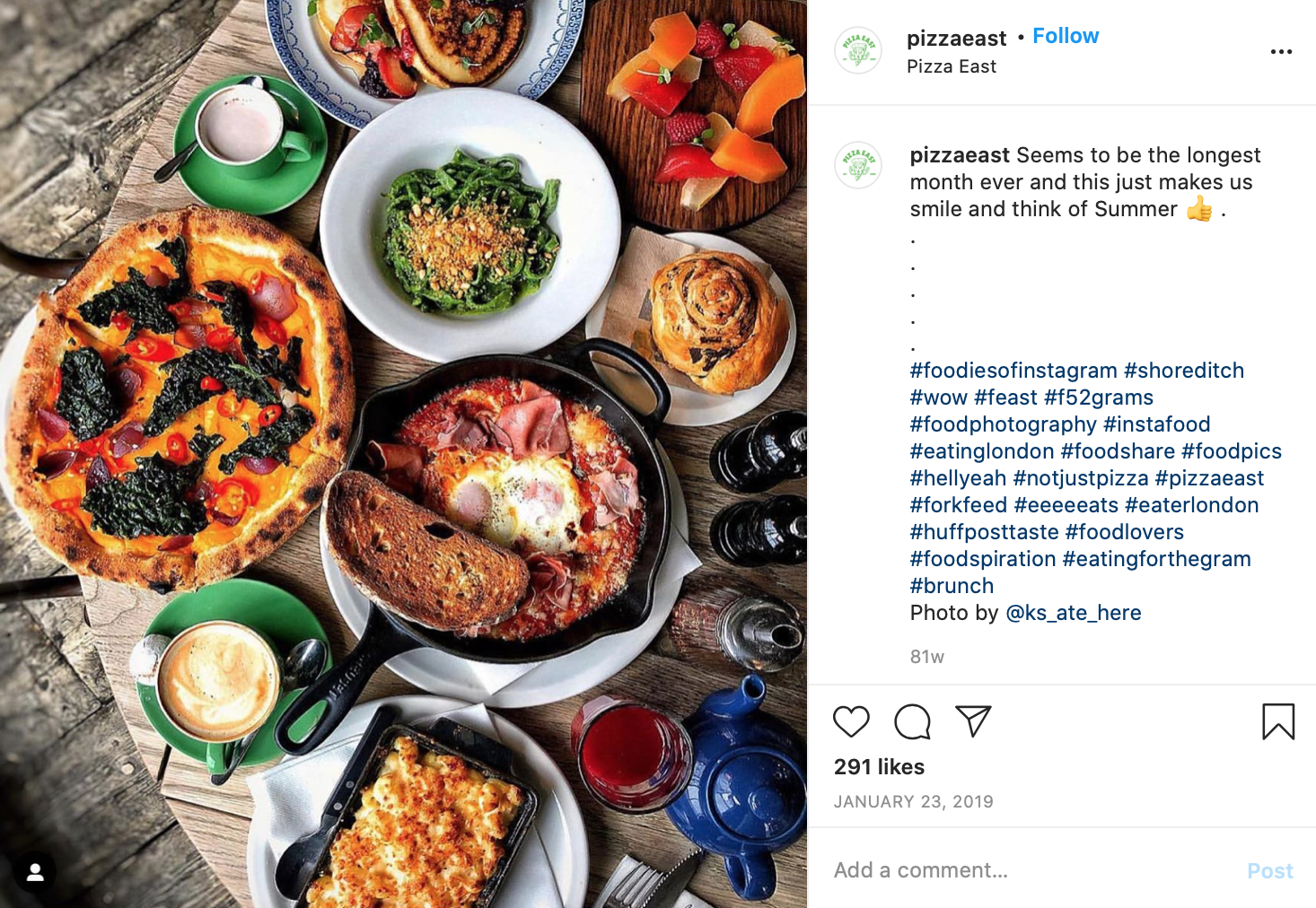 They switch things up and rotate between photos of just one dish, photos with tons of dishes, photos of a signature drink, photos of their team members and behind the scenes shots of things being made in the kitchen. You'll never get bored following their Instagram feed, that's for sure! 
---
Did you like these tips?! Then don't forget to save the image below in your "Social Media Post Ideas" board on Pinterest! Also, check out our Pinterest page and follow us to get daily updates + digital marketing and social media tips for small businesses!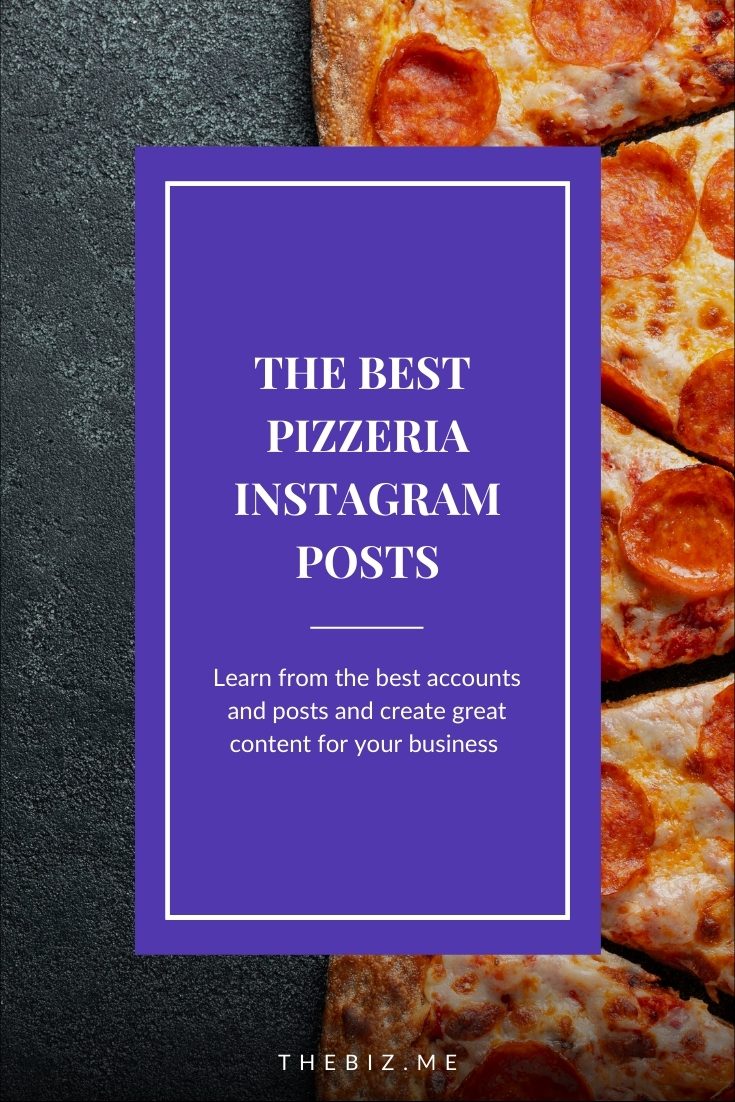 We can't wait to see what you do. Please tag us using the hashtag #GrowingMyBiz so we can see and share your work!