Are you looking for some fun Valentine's Day post ideas for your business' social media feed? Planning your posts in advance is the key to creating content that gets the likes, comments, and shares you need to grow your following. We decided to put together this list to help you gather some ideas so you can create a Valentine's Day marketing strategy nice and early this year.
Valentine's Day is the first — and the most romantic — commercial holiday of the year, which means it's pretty popular no matter which industry you're in. Are you ready to put together a strategy for your social media channels so you can celebrate Valentine's Day with your customers and future customers? Get ready to take some notes! 
11 Valentine's Day Post Ideas for Businesses
1. Create a Gift Guide
Gift guides are amazing! They are super helpful for your customers, and they are also a great way to promote your own products as well as other creative gift ideas from your partners or neighboring small businesses. This is something that can live on your blog and you can share it year after year, updating it as needed.
If you feel even more ambitious, you can create multiple gift guides based on several popular categories, like for her, him, for couples, geeks, creative geniuses, sports addicts, and so on. You can also create them based on budget, like gift ideas under $50, $100, $200, etc.
In order to make sure your gift guide(s) are useful, consider what your target audience really wants and what kinds of products you sell. For example, it makes no sense to create a gift guide full of products under $50 if only one or two of your products are actually in this price range. After all, you want to attract the right kinds of customers that will shop with you again and again!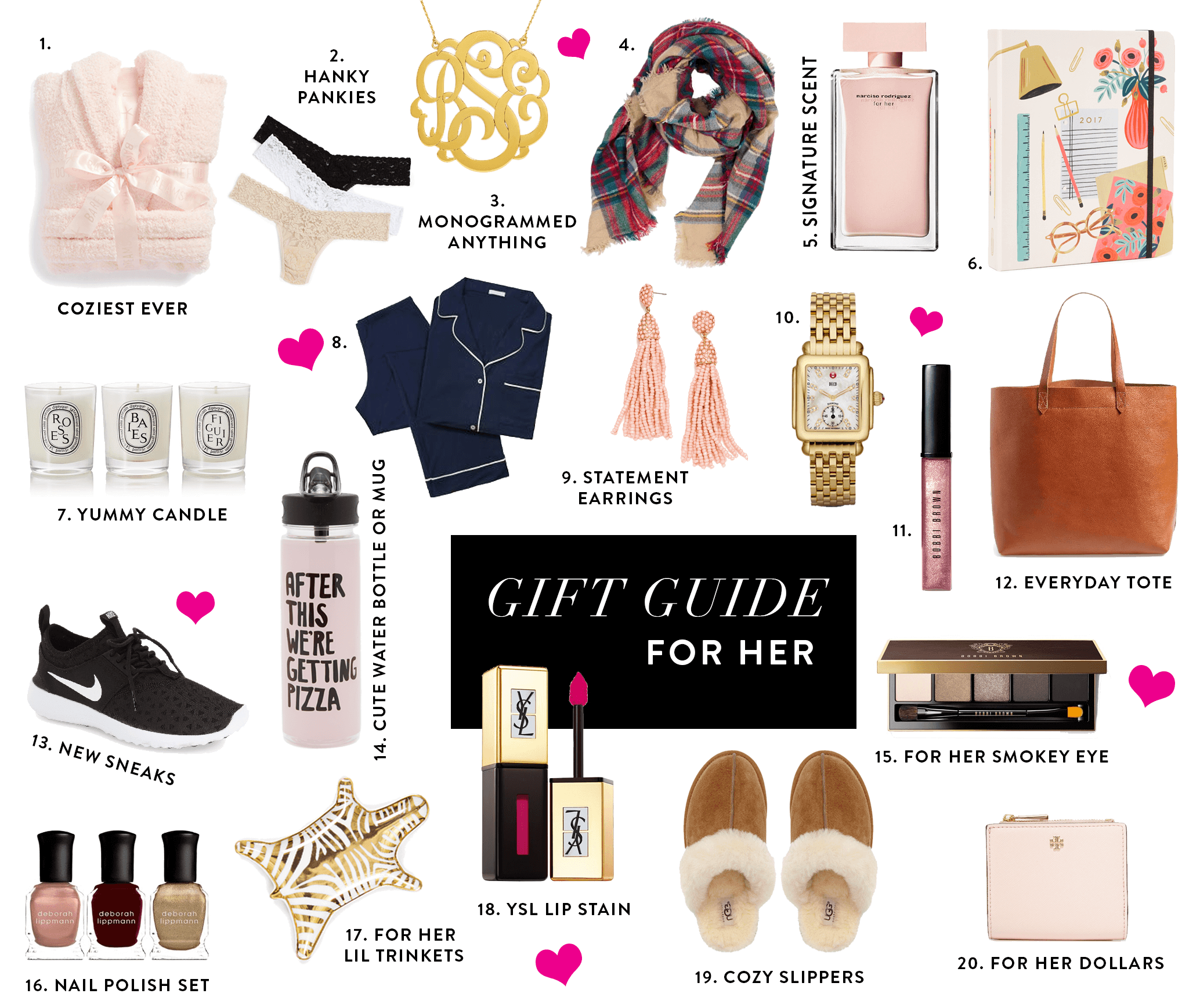 2. Host an Event
I know in-person events are not really a thing right now with COVID; however, you can always host an online event. Why not partner up with a musician to have a live video stream playing some nice songs for couples to enjoy while they have dinner at home? Or, you could create a fun virtual happy hour event for single folks who might be dreading spending the evening alone.
3. Showcase Love Stories
People love to be part of a community, and they love to feel embraced by the businesses they frequent, so why not ask your followers if anyone has a love story they want to share with you? After you receive a few of them, you can feature them on your page, share them in your stories, or even create a cute little video if they want to record themselves telling their story. The customers that are featured are certainly going to reshare your post with their friends and followers, which is a great way to grow your page!
4. Create a Competition
Competitions are fun, and people love to participate in them. Create one with a Valentine's Day theme, like the worst breakup stories, the best engagement proposals, the best Valentine's gift, etc. Be creative, and make sure you give the person with the best story a nice prize!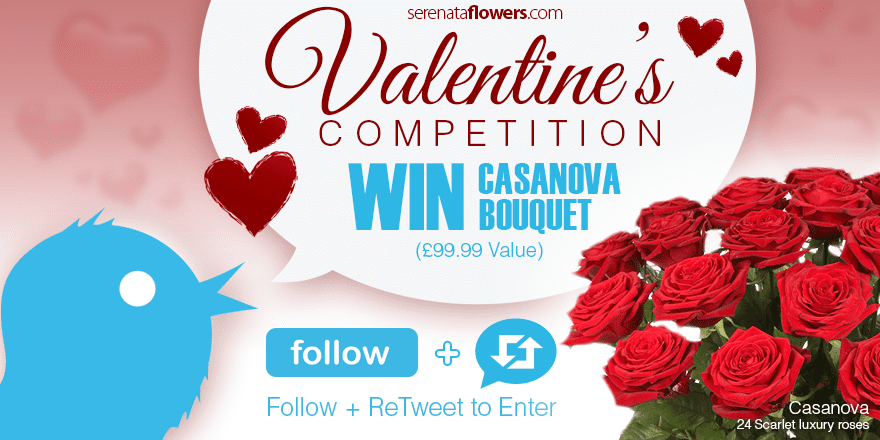 5. Promote a Giveaway
If a competition isn't your style, why not create a giveaway? The most effective giveaways are ones where you give something from your business as a prize. Money, laptops, and trips are a great way to attract more followers, but if your business isn't related to those prizes, those people aren't going to stick around after the winner is announced.
So, think of something you can give your customers. It can be a product, experience, or service. You can also partner with other small businesses in your niche and make it even more interesting! Ask people to comment on the post, share it, and/or tag people in the comments to enter to win the prize. You might want to start the contest a little bit before Valentine's Day so you can announce the winner on the big day!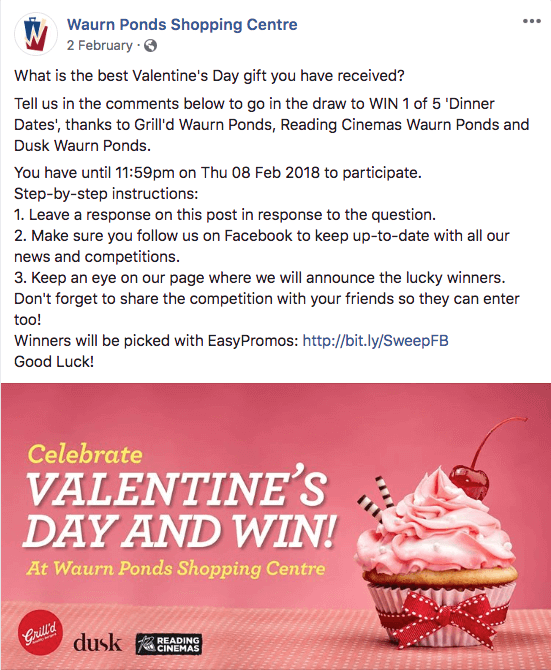 Read more: Instagram Giveaway Ideas for Small Businesses
6. Partner Up with Other Small Businesses
Partnering with other small businesses is another great way to grow your following. You could do a giveaway together, or you could create a product or service together, or offer a product bundle. The ideal way to partner with other businesses is to find someone in the same niche; this way, your products, and services will be interesting to their audiences and vice-versa. Get creative with it, and have some fun! For example, you could do a relaxing day at a spa + a weekend in a hotel or a locally roasted coffee in a travel mug + a guided snowshoe hike! 
7. Create a Bundle
We just talked about creating a product or service bundle with other small businesses, but you can also create one of your own. If there are things you usually sell together, you could create a special deal with and offer it as a Valentine's Day package. Use your imagination and think about the customer and the experience they will have with your products. For example, if you own a small grocery store or boutique shop, you could create a bundle that contains a nice bottle of wine and a pasta kit to go with it. 
8. Create a List of Small Acts of Love
So many people are committed to big gestures on Valentine's Day, but small gestures are also an amazing way to express love. You can create a list of small gestures your customers can do to make their partner's day better, like taking them breakfast in bed, cooking a meal, or even buying coffee for a stranger. While it doesn't necessarily need to include one of your products or services, it certainly can. It's mainly just a nice way to spread a little bit of love and show off your creativity to your followers!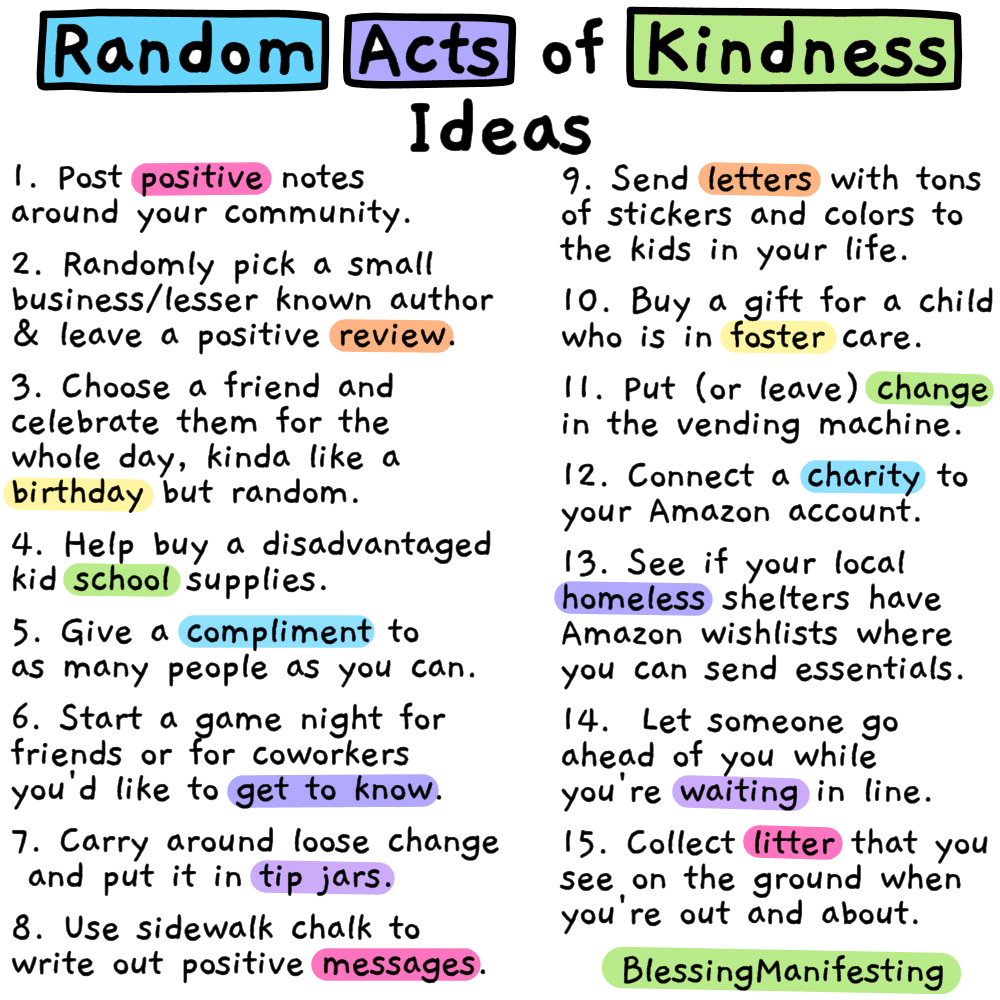 9. Run a Poll
All social media platforms support polls these days, so why not create a poll to interact with your audience and have a little fun with them? It can be something funny about Valentine's Day, but it could also be a fun question about your products and services, like "which one of these would you give your loved one today?" Be sure to share the results of the poll once it ends!
Read more: 27 Social Media Post Ideas for When Your Run Out of Ideas
10. Give Couples Something for Free
Everyone likes to get something for free, so this is sure to be a popular idea. If you have a restaurant, why not give couples a dessert at the end of their meal for free? Or maybe a free glass of wine! If you have a store, you could give them a small freebie with a purchase over a certain dollar amount or even free shipping on all purchases above a certain amount. Or, you could offer a smaller gift card for free with the purchase of a larger one. Give people a good excuse to shop with you for their Valentine's Day gifts!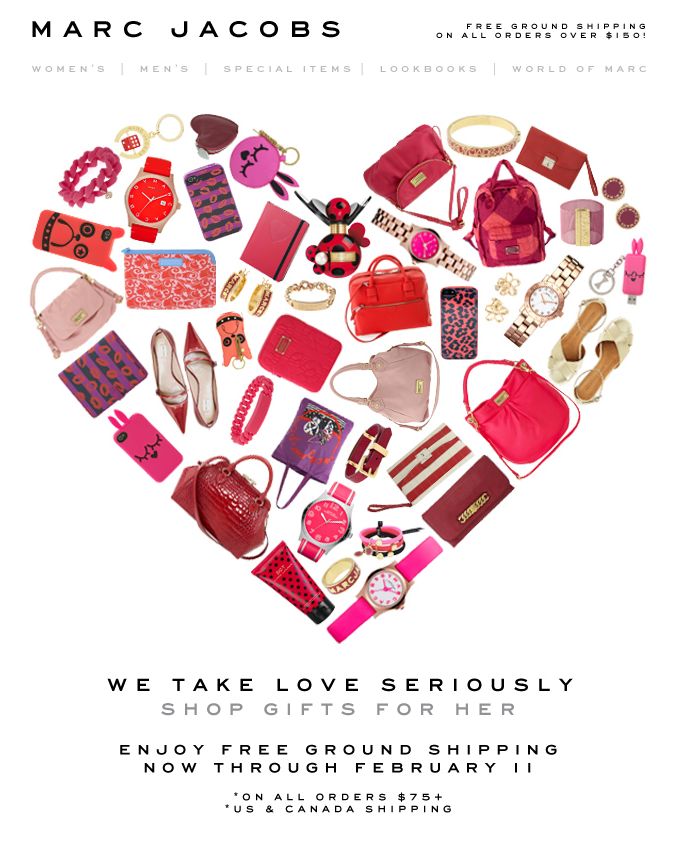 11. Celebrate Self-Love
People can't be truly loved if they can't love themselves first. There's so much truth in that statement and Valentine's Day is the perfect day to remind your audience of this fact. Sometimes, we forget how to take care of ourselves, whether we are in a relationship or not. Create a post that contains some self-love ideas or tips Don't forget to include some ways people can celebrate self-love using some of your products and services, too!
---
We can't wait to see what you do! Don't forget to tag us using the hashtag #GrowingTheBiz so we can see and share your work. And don't forget to follow us on Pinterest for some more inspiration and ideas!