It's time to think about your social media posts for October holidays and other days of observance! It's hard to believe it's that time already, but here we are. Holidays like these are an awesome opportunity to create fun and timely content to share with your audience on social media.
Some of them are well-known holidays (like Halloween) and some are a bit sillier (like Dessert Day), but when you find an innovative way to tie in your business and the work you do, these kinds of posts are excellent for getting your followers excited and engaged.
In addition to providing the dates of all of the major holidays and days of observance in October, you'll find some ideas to help you take advantage of these fun events to promote your small business. Once you choose which dates you're going to include in your social media plan, you can also use an app like Poster Maker to create amazing on-brand graphics and images for your social media channels.
Keep in mind that you don't need to – and probably shouldn't – post something on every single one of these days. Instead, take a look at the list and choose the days that actually fit your business. For example, if you own a Chinese restaurant, it doesn't make much sense to talk about Taco Day. 
October Holidays and Days of Observance
Breast Cancer Awareness Month – This is a cause that absolutely every business can support, even male-oriented businesses. When you do make a post, make sure it's about the actual cause and not just a veiled attempt to make a sale. Share a pink ribbon and talk about why this cause is important to you. Share some of the recent statistics surrounding breast cancer. Talk about how your business supports this cause. Maybe you can even pledge to donate a percentage of your profits from October to an organization that helps women with breast cancer.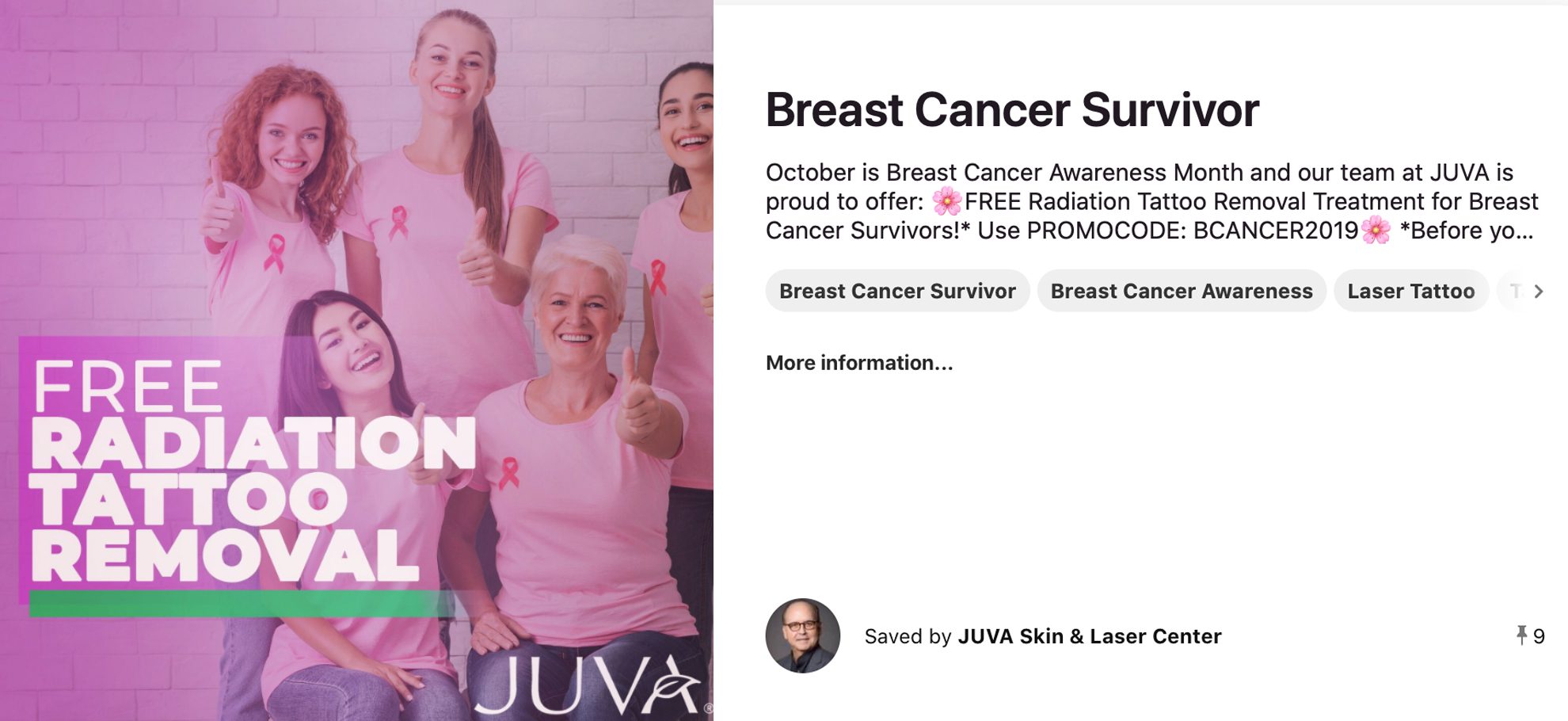 Emotional Wellness Month – Emotional wellness is important, and this is something that goes beyond just therapists and psychiatrists. Emotional wellness is also achieved by exercising, eating healthy food, nurturing healthy relationships, and so many other things. So whether you're a yoga teacher or a grocer, you can help your audience by giving them some tips to try, a free item, or even a video that shows them how to do something healthy for themselves!
Financial Planning Month – Everyone needs to have a good financial plan. You don't even need to be in the finance industry to post about this observance, though. Do you have a tip to help people save money in your industry? Share it with them! Do you have a special discount you want to offer? Make it a month-long initiative and show people how you're going to help them stretch their budget further. If you are in finance, this is a great opportunity to create an informative series that helps educate your followers.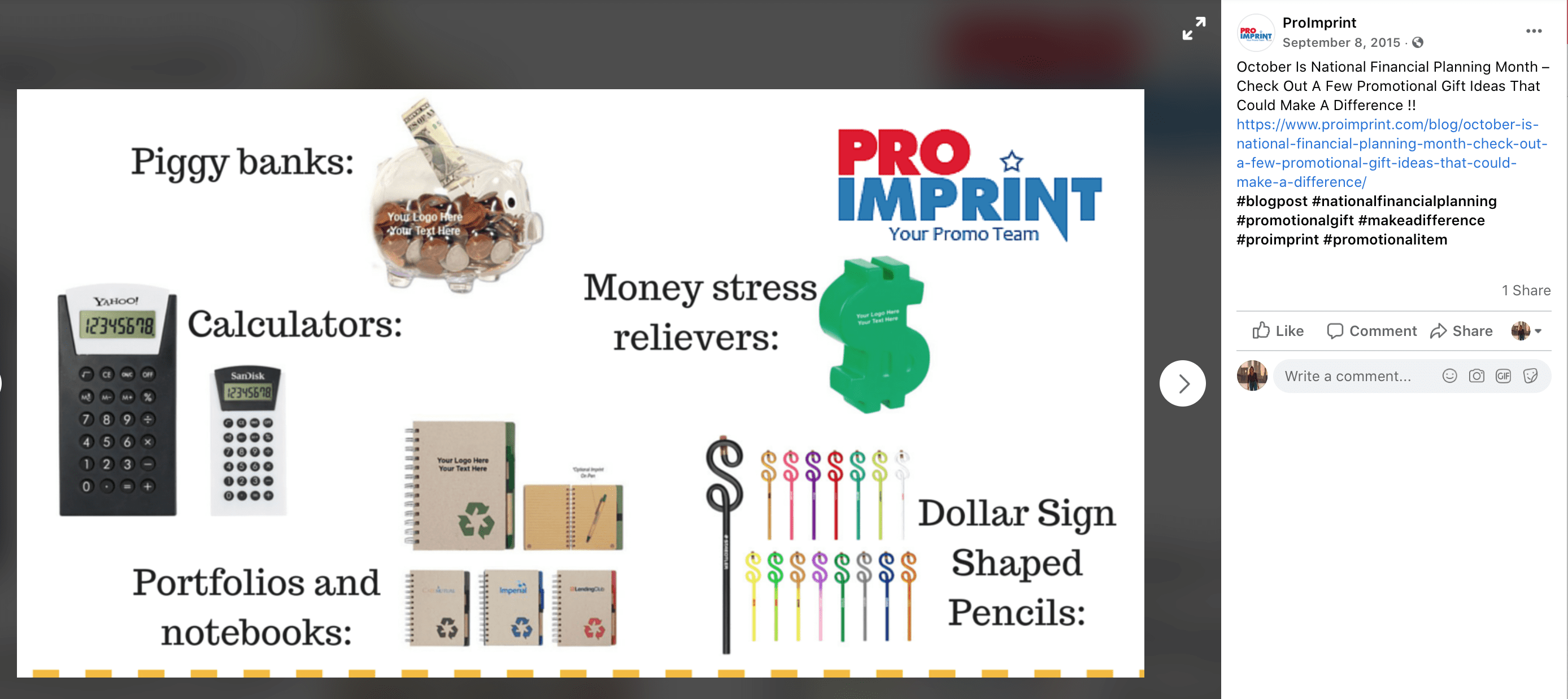 Global Diversity Awareness Month – This is another cause that every business can support. Diversity should be on the minds of every single workplace environment. Bring your partners, customers, employees, and even yourself to the spotlight. Talk about what diversity means to you in your business. Ask people to give a testimonial or talk about their experience with your business as it relates to diversity. It's a great way to spread an important message and let your followers know what you're doing to create a more diverse organization.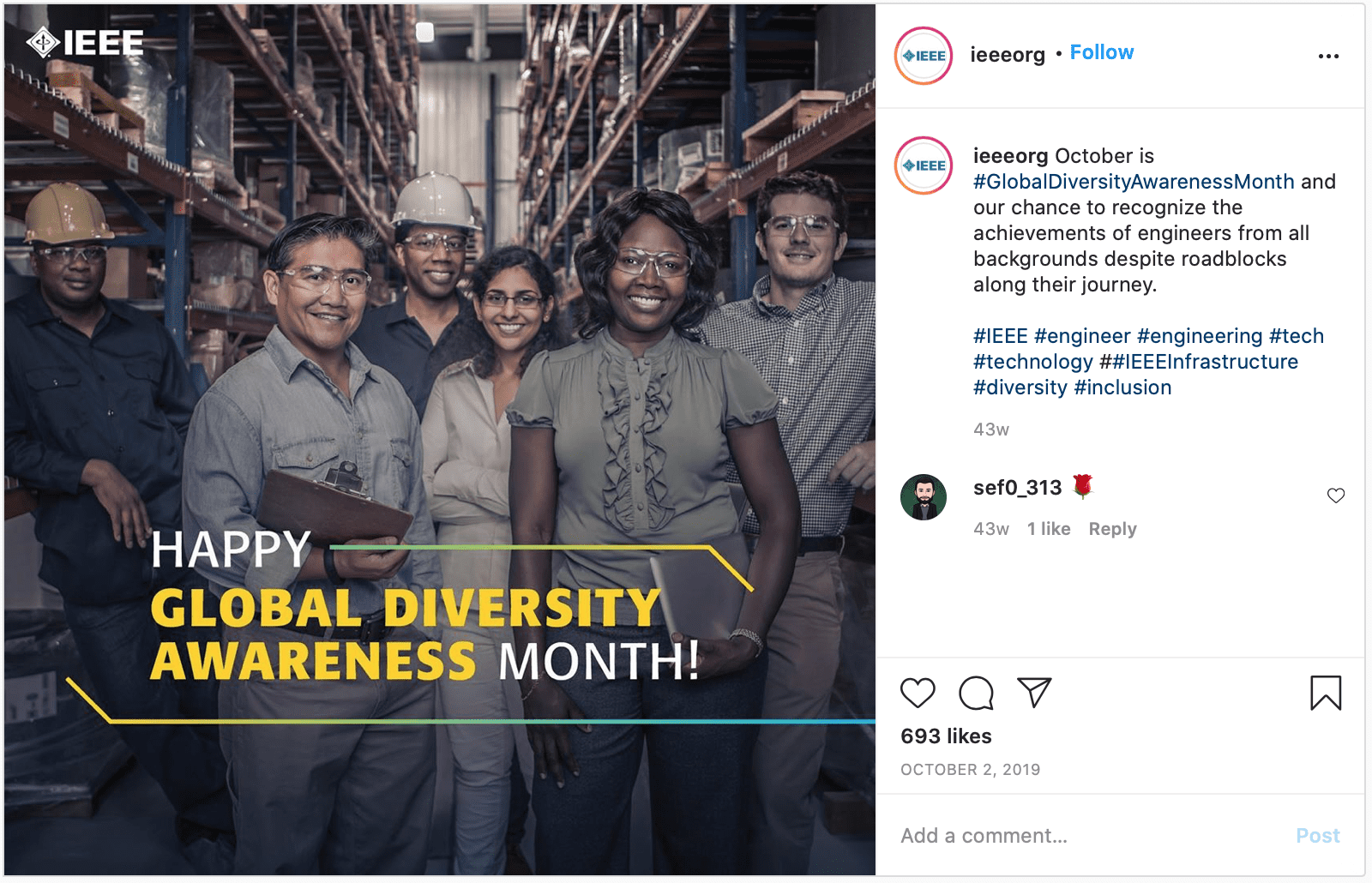 National Disability Employment Awareness Month – What are you doing to make your business more inclusive to people with disabilities? This is a great time to talk about what you're already doing and what you pledge to do moving forward. Is your business accessible to people with disabilities? Share some photos or a video that illustrates what you've done to make your physical space more accessible.
Adopt a Shelter Dog Month – When it comes to dogs, adopting is always better than buying from a breeder. Share your love for shelter dogs by holding a special event, partnering with a local dog shelter, or pledging to donate a percentage of your profits to a shelter or dog-related business if it makes sense to do so!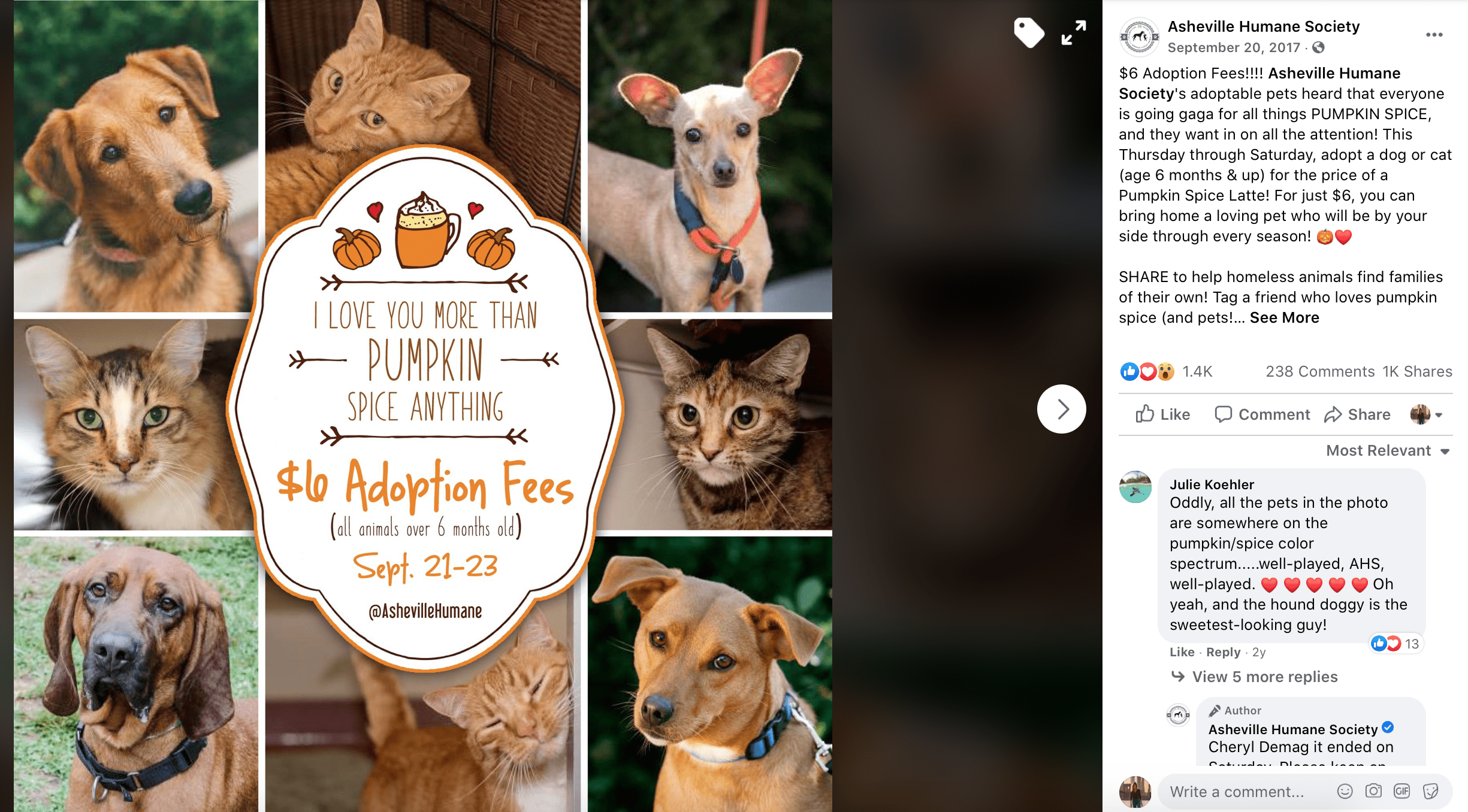 October Calendar
October 1st – International Coffee Day [FREE Social Media Templates]
This one is a no-brainer if you own a coffee shop, but you don't actually need to sell coffee to post something on International Coffee Day. Ask your followers what their favorite coffee drink is, have free coffee available for anyone who visits your business, or do a fun contest and give the winner a gift card for a local coffee shop you love to support.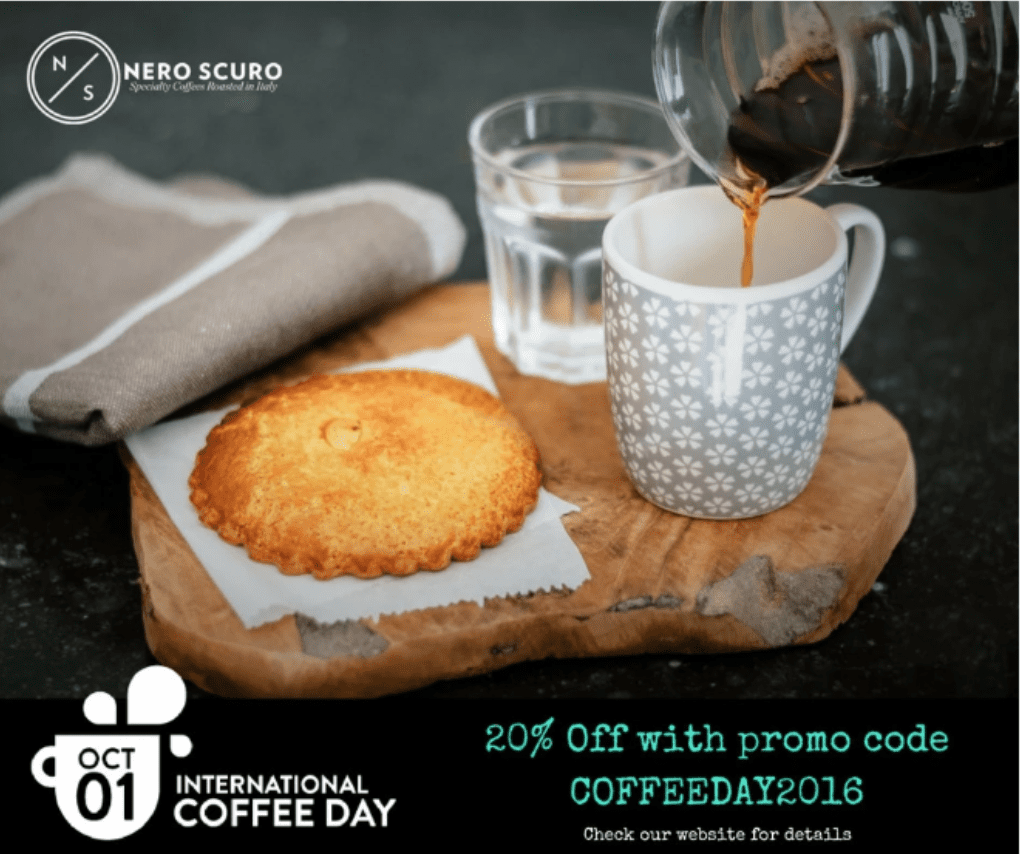 October 1st – World Vegetarian Day [FREE Social Media Templates]
This day is a great day to raise awareness for vegetarian cuisine! If it fits the spirit of your business, you can give your followers some tips to create a vegetarian meal at home or create and share a special dish of your own. You could also create a challenge that helps people go vegetarian for a day or two! Share your favorite things about vegetarian food and encourage people to celebrate with you.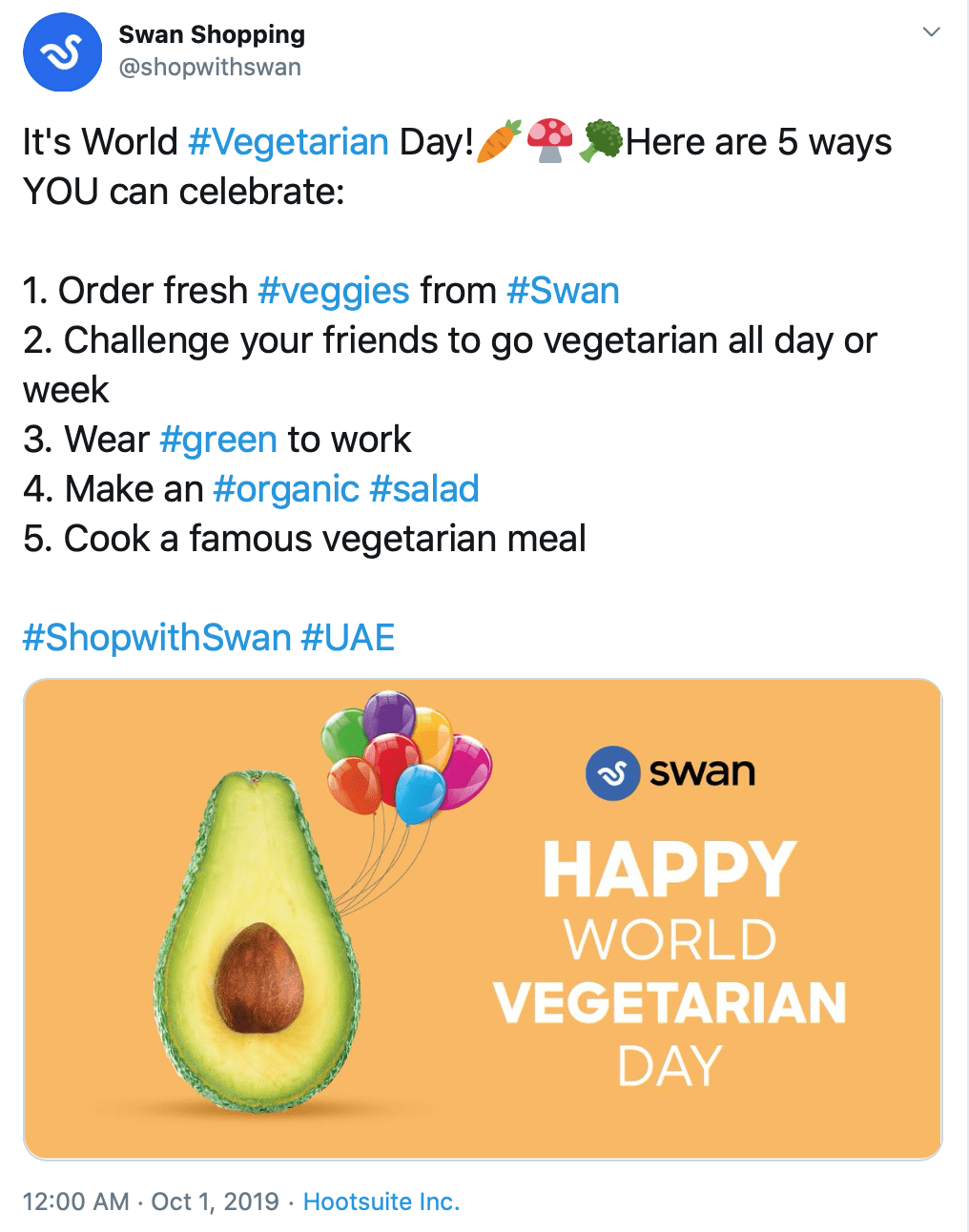 October 2nd – World Smile Day [FREE Social Media Templates]
You don't need to be a dentist's office to create a promotion around smiling. This is an easy one to celebrate, no matter which industry you are in. Create a fun coupon code, give free samples or products, or tell a knock-knock joke on your feed. Pretty much anything that makes people smile is game on this positive day!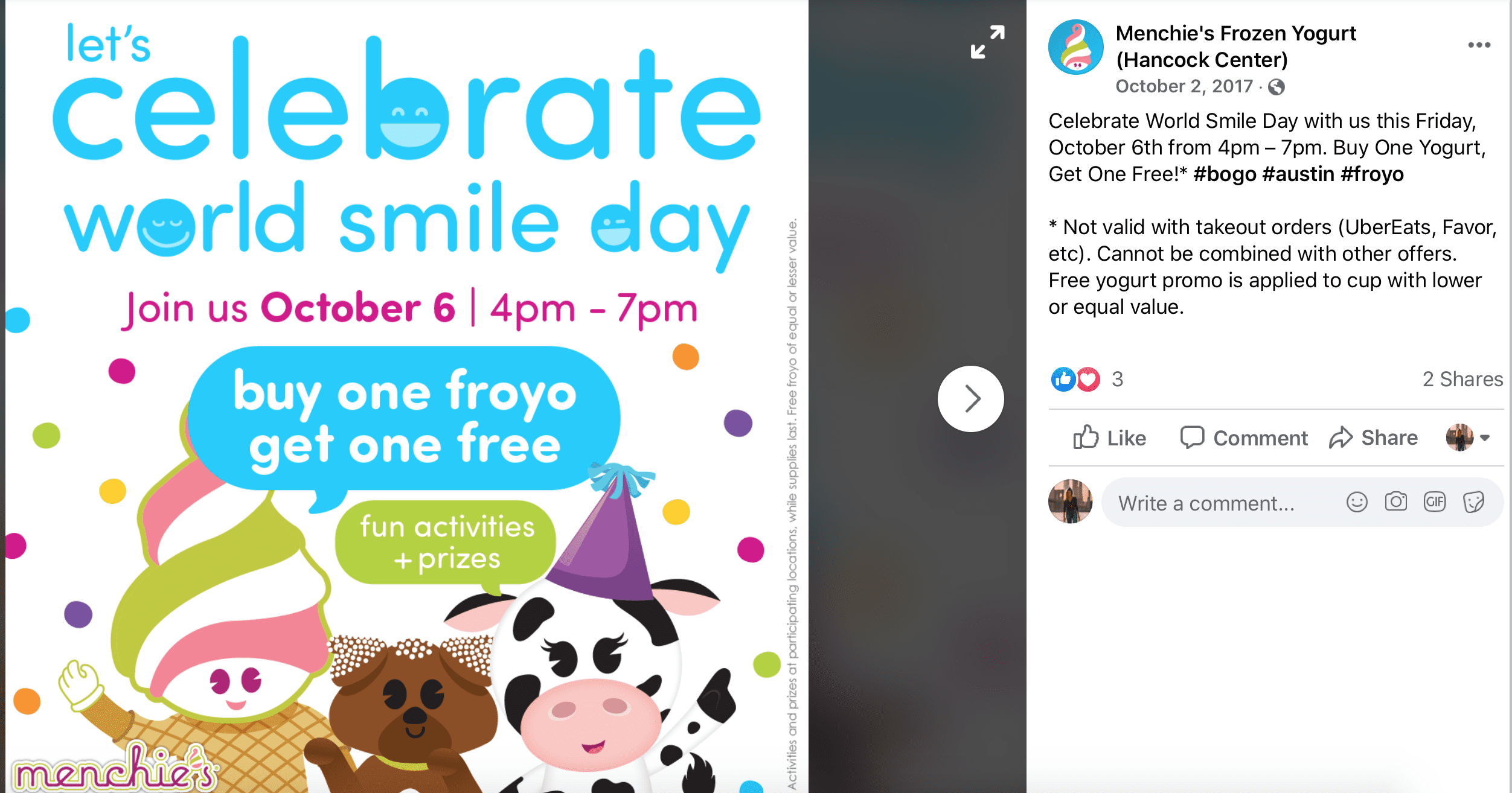 October 4th – Taco Day [FREE Social Media Templates]
Who doesn't love tacos?! If you sell tacos, you can obviously give out free or discounted tacos on this day. If you don't sell tacos, you can still celebrate with a contest to win free tacos, a "taco poll" where people weigh in on their favorite kinds of tacos, or you can share your favorite recipe for Taco Tuesday with your followers!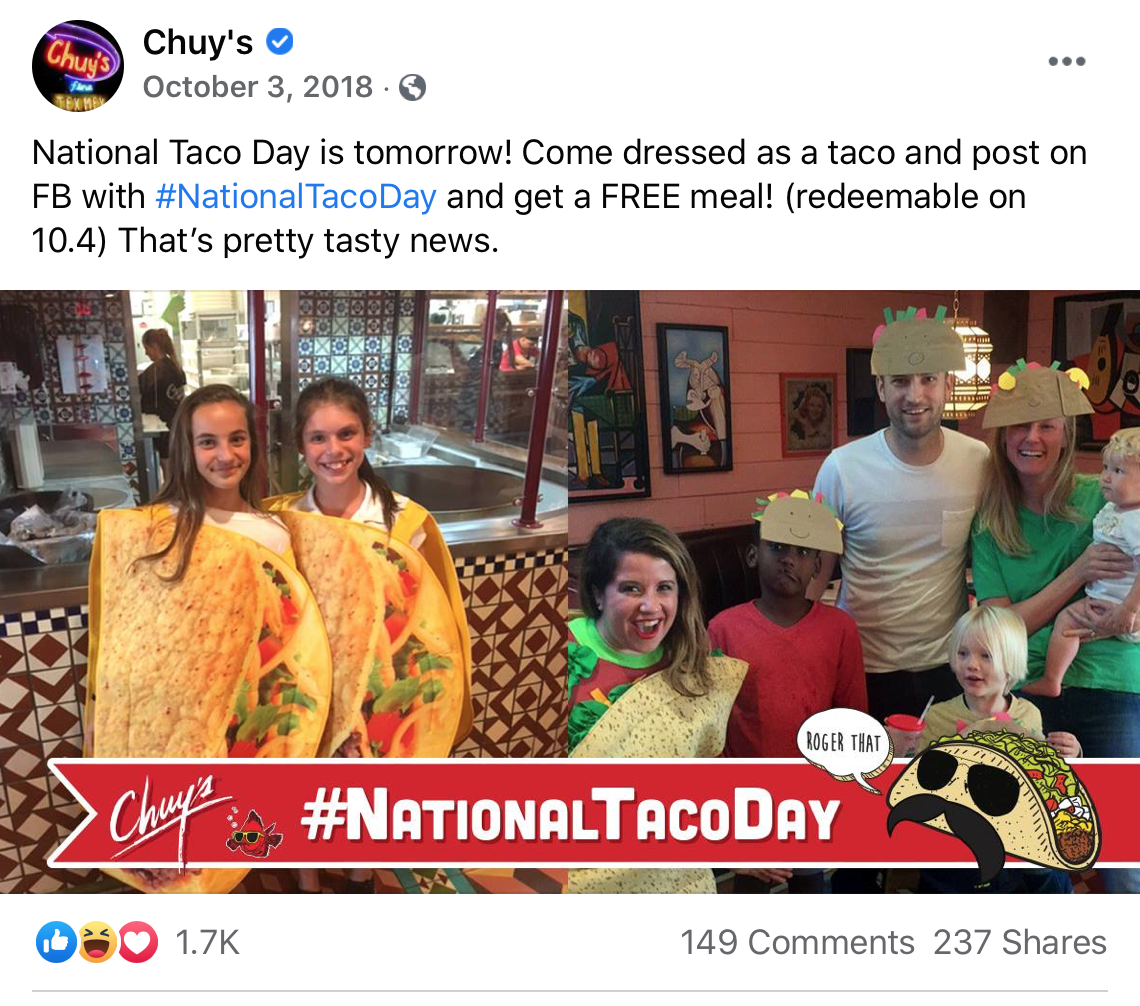 October 6th – Teachers' Day [FREE Social Media Templates]
Show some love to the brilliant people who work so hard to give everyone the best education possible. This year, especially, we have a lot to thank teachers for. Share a story about how a teacher changed your life, and invite people to do the same. Consider offering a special discount for teachers, too!
October 10th – World Mental Health Day [FREE Social Media Templates]
Mental health is so important. On this day, share some tips, resources, and techniques to help people navigate mental health issues they may be having. Almost every business has something that they could share to help their followers improve their mental health, so try to think about how you want to join in the conversation!.
October 11th – Coming Out Day [FREE Social Media Templates]
Even if you're straight (especially if you are) this is a cause to rally around. Show your followers that you support the LGBT community and make diversity a part of your business by posting a supportive message on this day.
October 12th – Columbus Day [FREE Social Media Templates]
Columbus Day is the anniversary of Christopher Columbus's arrival in the Americas. Why not invite your audience and customers to explore something new? Why not explore something new yourself? If you want to do something simple, share a quote on your page that has to do with exploration or discovery.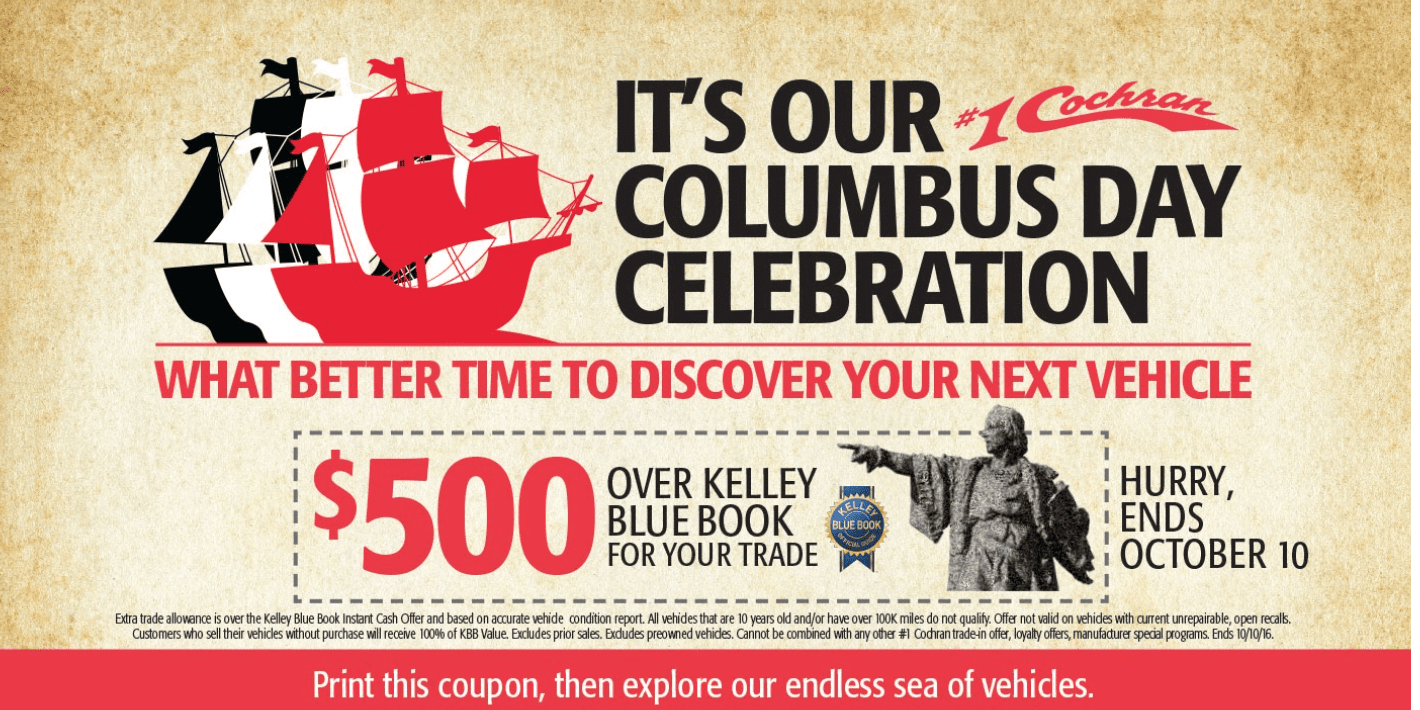 October 12th – Indigenous People's Day
Indigenous People's Day is a newer holiday that celebrates and honors Native American people and commemorates their history and culture. This is a great time to show your support of a Native American cause or talk about some of the local history as it relates to Indigenous people. 
October 12th – Canadian Thanksgiving [FREE Social Media Templates]
If you're a Canadian business, you'll want to post something about Canadian Thanksgiving! This is a great day for celebrating the harvest and other blessings that you've experienced over the past year. You might also create a giveaway or promotion around gratitude and thankfulness.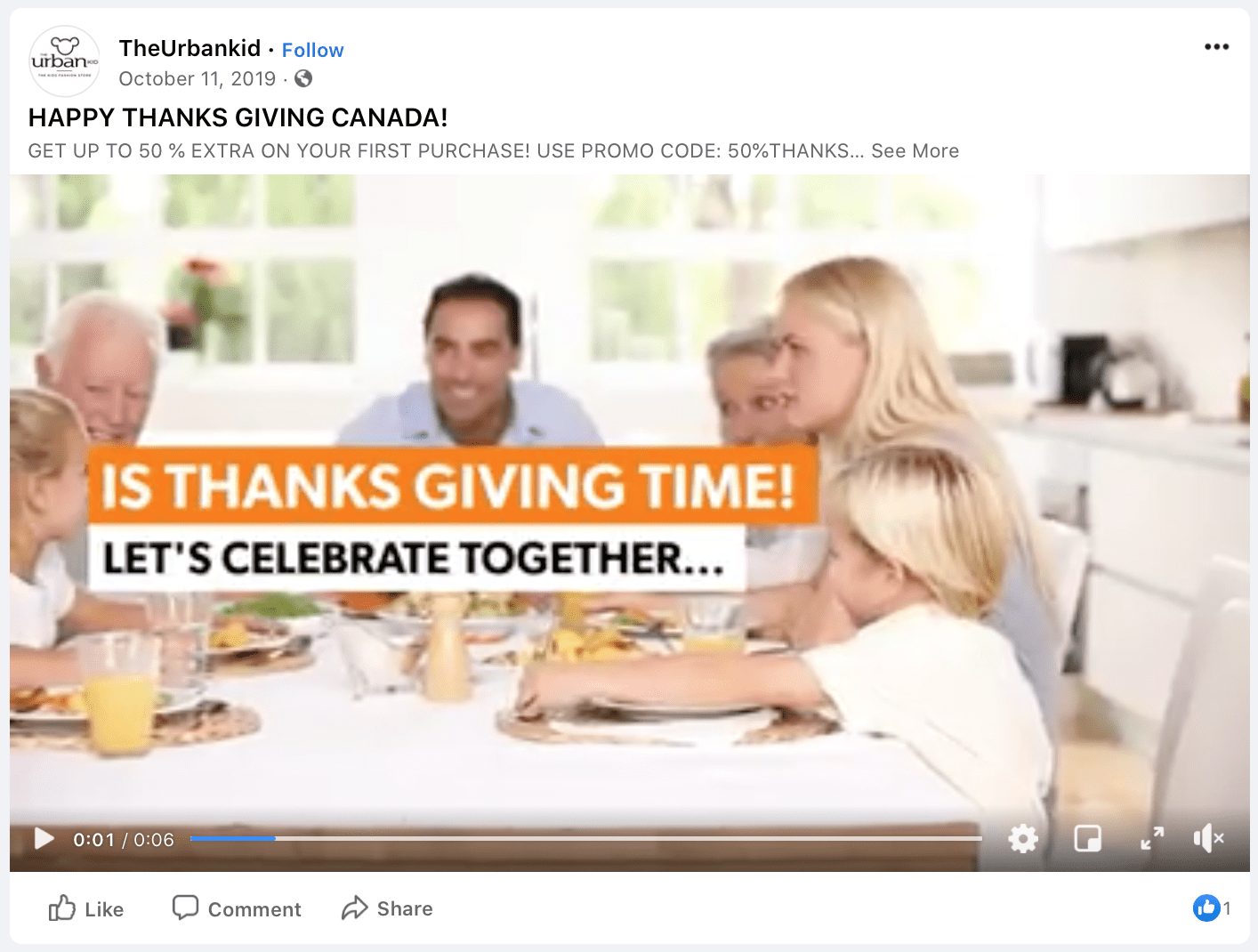 October 14th – Dessert Day [FREE Social Media Templates]
Who doesn't love dessert? Dessert Day is a great day to ask your followers about their favorite dessert, their favorite local place to grab a slice of pie, or do a fun dessert-related "would you rather" post. You can also give away some free desserts or even create a special dessert that honors and celebrates your customers!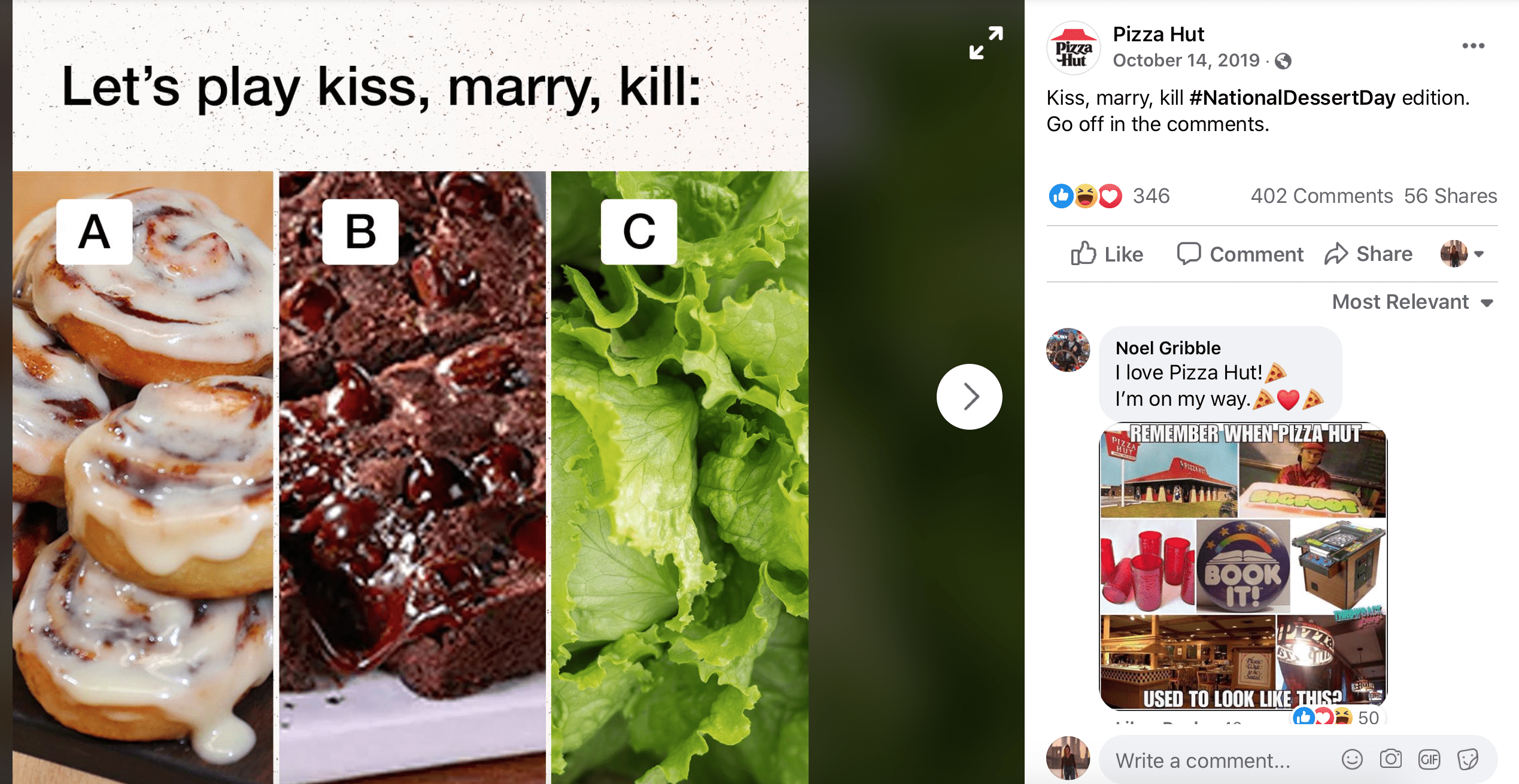 October 17th – Pasta Day [FREE Social Media Templates]
If you own a restaurant, this is a great day to create a new pasta dish or put one of your tried-and-true dishes on special. You can do a giveaway and pick a few winners for a special pasta meal at your restaurant. If you do not own a restaurant but your business is related to Italian culture or food, you might want to partner with a local restaurant and create a giveaway together.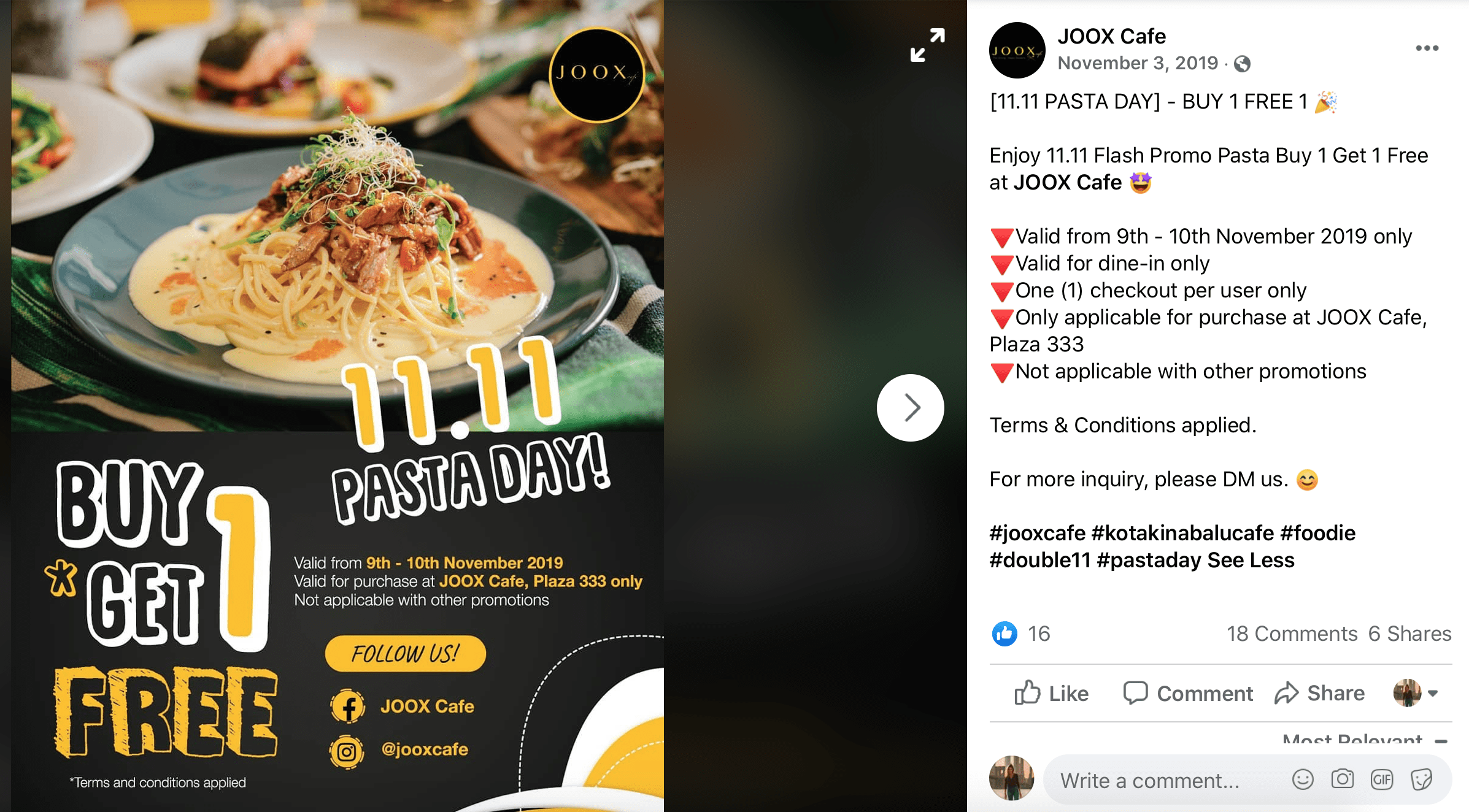 October 17th – Sweetest Day [FREE Social Media Templates]
Sweetest Day is the perfect opportunity to ask your followers to share their stories about love. Ask them how long they've been married or create a challenge on Instagram based around spreading random acts of kindness! Show your followers some love by creating a special video for them or offering a discount that is good just during Sweetest Day! 
October 19th – Evaluate Your Life Day [FREE Social Media Templates]
Evaluate Your Life Day was created by the excellent people at Wellcat.com to encourage people to check in on their lives and do some self-reflection. If you're a coach, this is the perfect opportunity to invite people to a free consultation with you, do a fun challenge with prompts people can follow, or launch a new program.
October 21st – International Nacho Day [FREE Social Media Templates]
It's time for another delicious Mexican food-themed holiday! Invite your customers to celebrate with free nachos, a discount, or even a nacho contest. You could ask your followers to share their favorite unusual nacho toppings and ask people to vote on the winner. You could create a cute infographic that uses nachos as a metaphor for all of the things your followers need to do to live a better life (relate it to your industry). Get creative!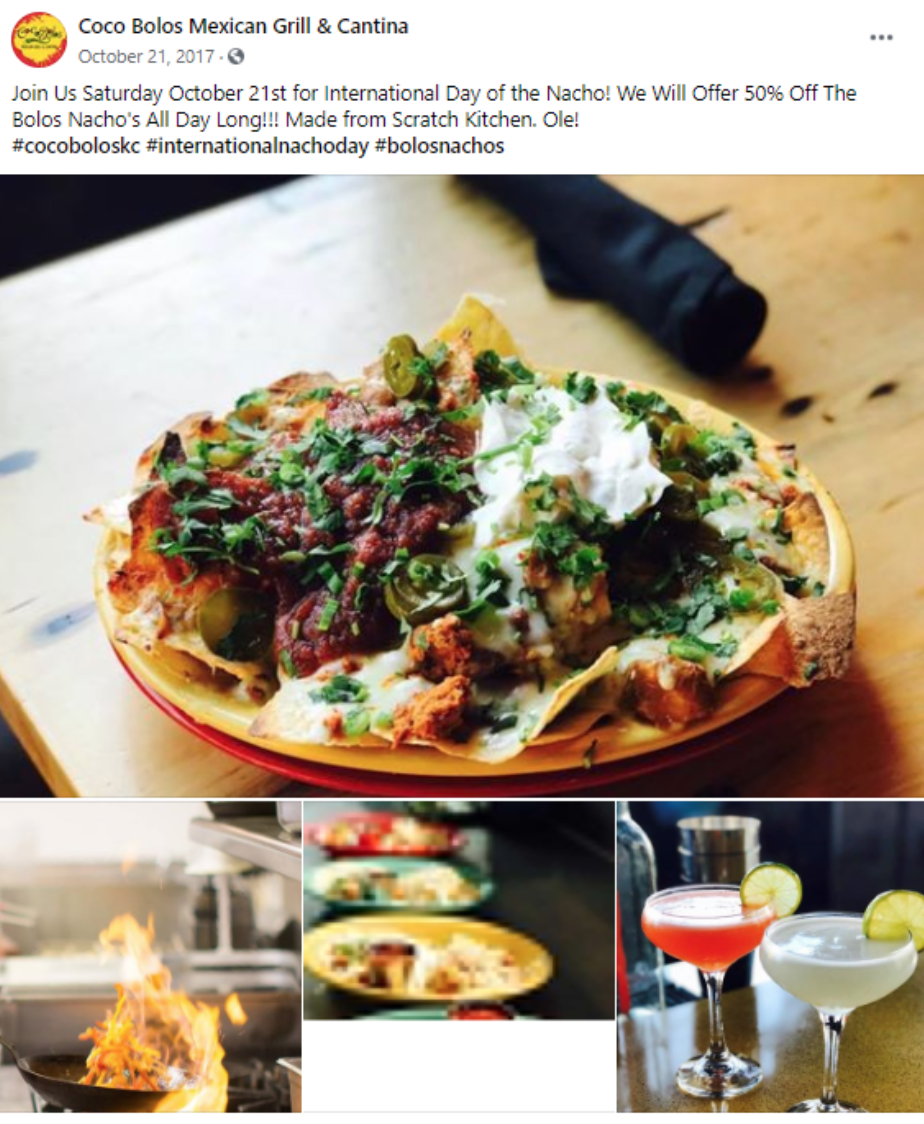 October 24th – Make a Difference Day [FREE Social Media Templates]
This is another great day to share some good deeds. They don't necessarily need to be your good deeds; they can be kind words from your clients or even your employees! If you want to do more, you could create some kind of initiative to help someone in your community. People love to support businesses that are out in the world doing good, so think about how you can do more!
October 24th – United Nations Day
Do you support the UN somehow? Do you think the work the UN is doing has impacted something in your business or industry? This is a good time to talk about it and spread awareness to your followers. There are also lots of great quotes related to the United Nations that you could share to honor this day.
October 29th – National Cat Day [FREE Social Media Templates]
Whether you're an animal shelter, a pet shop, or a veterinary clinic, you can easily find a fun way to celebrate this day with your customers. Create a giveaway where people share their favorite cat stories, give them a feline-themed discount, or have your team dress up in cat ears and whiskers for the day!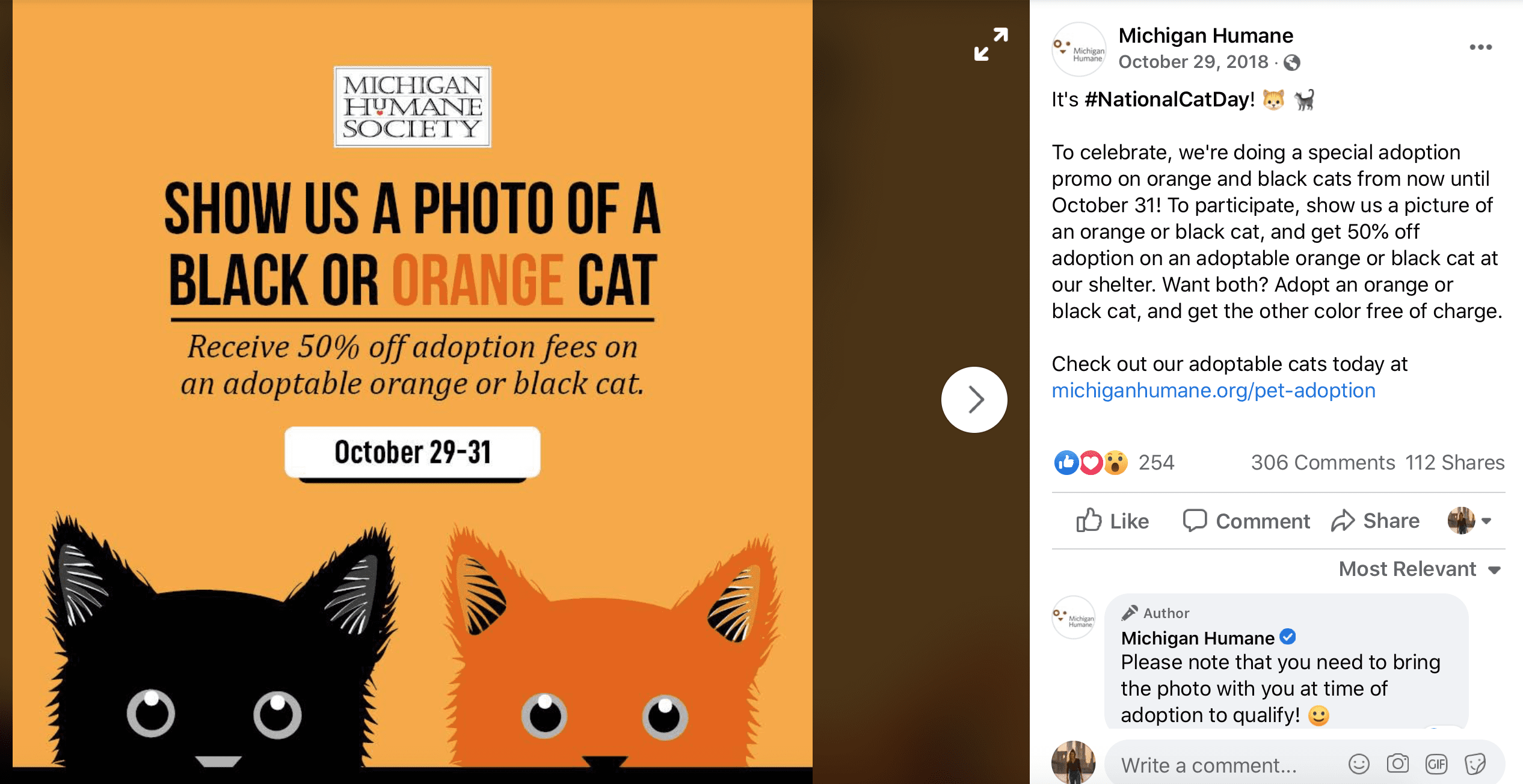 October 31st – Halloween [FREE Social Media Templates]
Halloween is probably the most well-known holiday in October, and most businesses will have some kind of treat bowl out for customers on this day and the staff may even dress up in costumes! If you're not public-facing or you're an online business, you can still celebrate! Share photos of your remote employees in their costumes, create a spooky-themed post, or ask people what their favorite candy or spooky song is to start an engaging conversation on social media!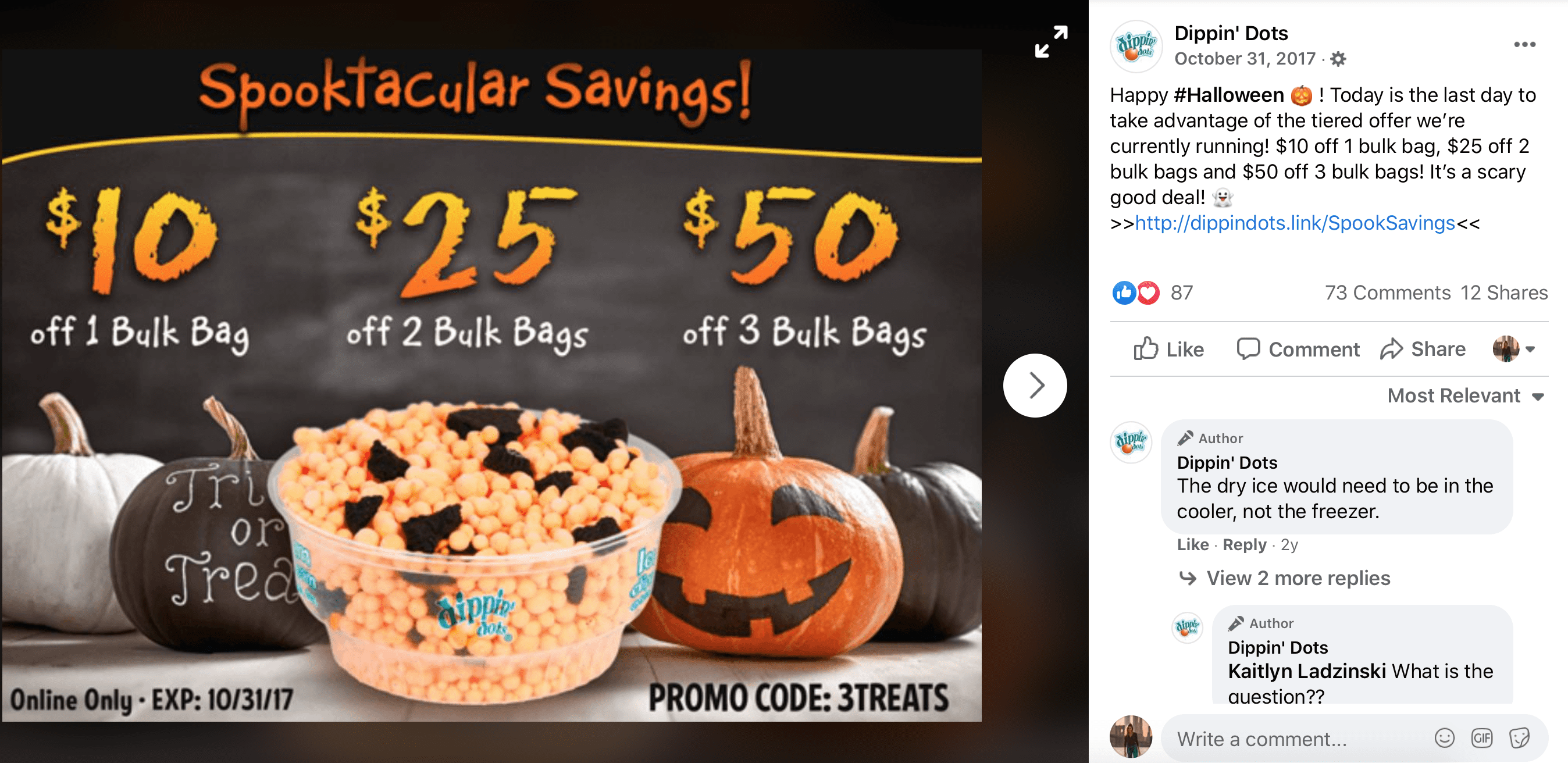 PS: We've created some awesome Halloween templates for your business! Click on the link below and get them now!
---
Did you like these tips?! Then don't forget to save the image below in your "Social Media Marketing Tips" board on Pinterest! Also, check out our Pinterest page and follow us to get daily updates + digital marketing and social media tips for small businesses!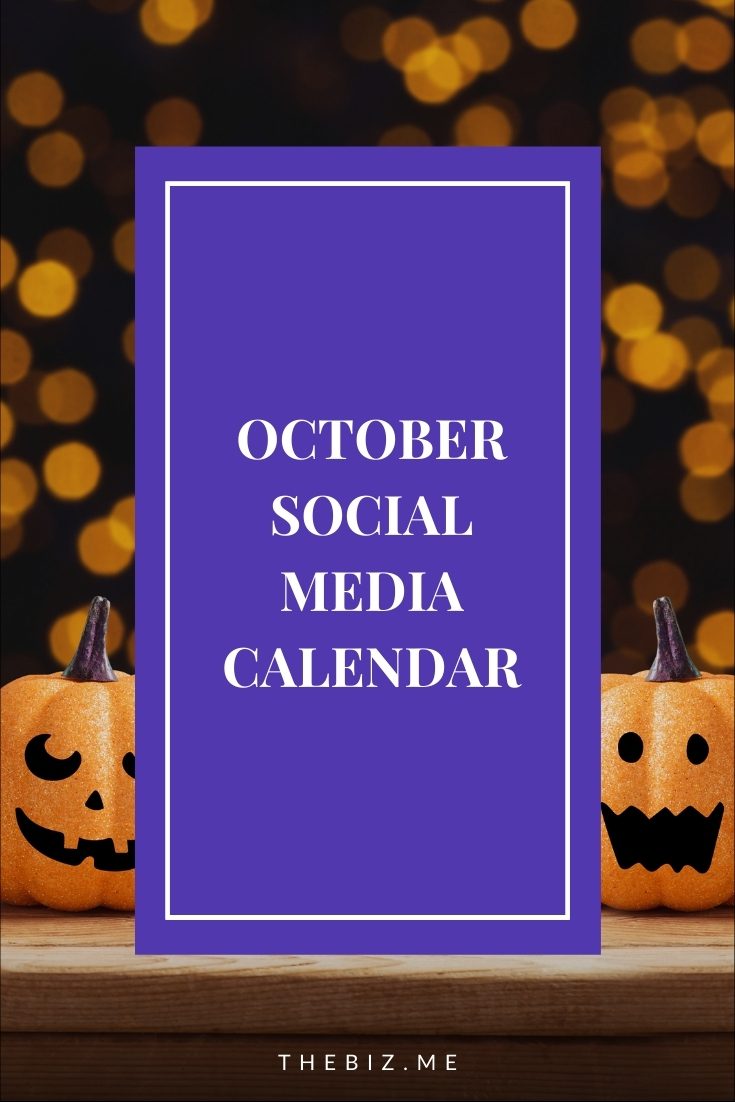 We can't wait to see what you do. Please tag us using the hashtag #GrowingMyBiz so we can see and share your work!