Looking for some Pizza Day post ideas for social media? Well, for sure February 9th is a very special day for those of us who really love Italian food, specifically, pizza. It's National Pizza Day! So for those of you who own an Italian restaurant, buckle up and get ready to celebrate this delicious day of observance with your customers (and potential future customers).
Read more: 2021 Social Media Calendar for Small Businesses
To help you to come up with marketing ideas for National Pizza Day and create some eye-catching posts for this special day, we've compiled a list with some of our favorite ideas for you! Check it out, pick your favorite ideas, then celebrate with your followers!
8 Pizza Day Post Ideas for Businesses
1. Create a Special Menu
One way of celebrating National Pizza Day is by creating a special menu for this day. Of course, it might be too much trouble to create a special menu for just one day, but why not make it a Pizza Week or Pizza Month, with special flavors and different presentations? The goal here is to be creative but also to create a limited-time promotion.
This is a great way to bring in some new customers and entice your established customer base to come in again. It's also just fun to try some new flavors you've been thinking about experimenting with to see if your customers like them. Just remember to share a post on social media at least a week in advance so people can plan ahead.
2. Ask Your Audience for Their Opinion
A great way to make people feel like they're a part of your business (and increase engagement) is to ask your followers for their opinion. There are so many tools you can use to do this. Instagram Stories, for example, makes it easy to find out what your audience thinks. You can ask for their opinion by asking a "this or that" question or use the built-in question box to ask them for suggestions.
If you don't want to go that route, you can always just post something in your feed and in the caption, ask people to leave a comment, or send a direct message with their feedback. What kinds of things can you ask your audience? Some ideas are suggestions for a special "Pizza Day" menu or ideas for a sale or event to celebrate the special day.
3. Give Your Customers Something for Free
People looooove getting free stuff, and this is so easy to do if you're a restaurant owner. One of our favorite National Pizza Day post ideas is to create an offer where your customers get something for free. You don't need to give them an entire free pizza if you don't want to. Instead, you can give them something for free for every pizza they order, like a free soda or dessert.
Whether they are eating at your restaurant or doing a pickup order, you want to make sure they know that you have this sale going on. So, publish a post about it the day before it starts and then again on the actual day so people won't forget. 
4. Create a Pizza Giveaway
Instagram giveaways are easy to plan and execute. Plus, they have the added benefit of putting your business in front of more people, and, if you do it well, the right people. For your giveaway to succeed and attract the kinds of people you consider to be your "dream" customers, there are a few key things you will want to keep in mind.
First, the prize has to be a pizza. This will entice only people who love pizza – aka your ideal customers. Second, you have to limit the area and make sure this is very clear in the rules. State that the giveaway is only valid for a dinner voucher or to delivery of pizza within a specific area. That way, you won't have people from across the country trying to participate!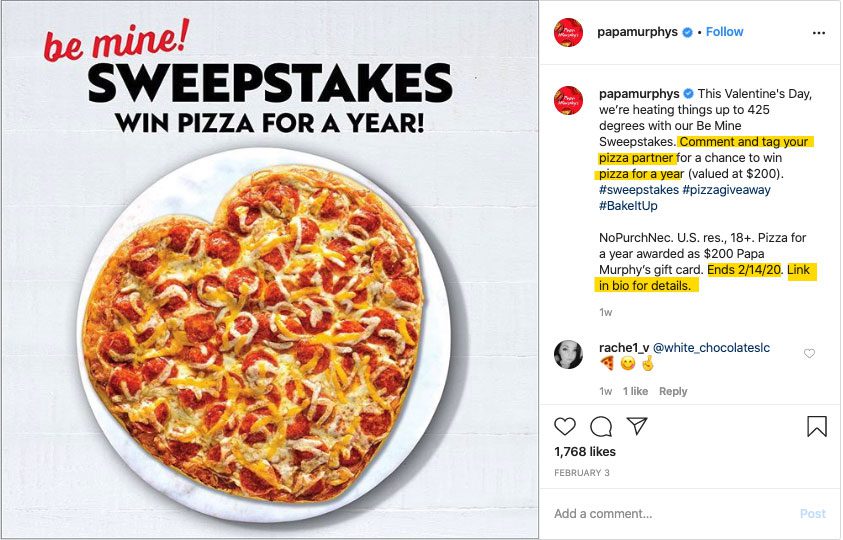 5. Give Discounts or Vouchers
An easy way to promote a special day like National Pizza Day and celebrate it with your customers and your social media followers is to give them discounts, vouchers or maybe even a coupon code for free delivery. Since it's only one day, go all out and make it a really attractive deal. The risk is so minimal and you might just end up earning some lifelong customers and fans! Don't forget to share a social media post with your National Pizza Day deal and be sure to do it earlier in the morning so people have time to plan ahead.
6. Create a Funny Post
Another fun way to celebrate National Pizza Day is by sharing a humorous post. Try to look for pizza memes or if you feel creative, you could make a funny post on your own. Why not create a list of the best pizza toppings for people who are shy, extroverted, adventurous eaters, etc. Another fun idea is to share the best pizza for each zodiac sign. You just might get a lot of shares, so be creative!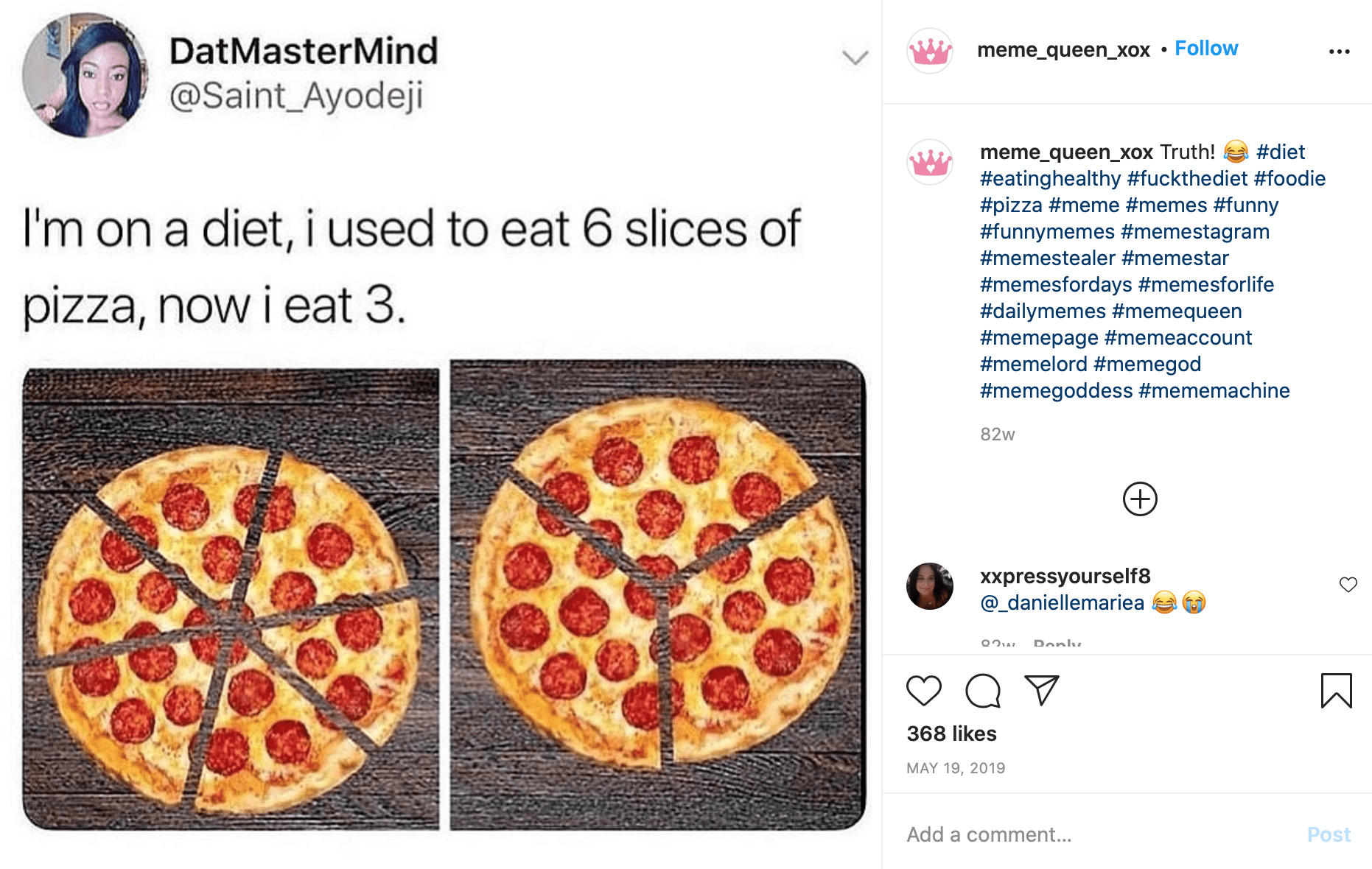 7. Share a Recipe
Another National Pizza Day marketing idea is to share a recipe with your followers. It doesn't need to be your family's top-secret recipe, just something that you can share with your audience so they can try to reproduce it at home. Maybe you can share a recipe for the perfect pizza dough at home, or maybe a step-by-step tutorial to make a delicious red sauce to put on your pizza. Anything can work! And don't worry too much about your customers not coming to your restaurant anymore because you gave them a recipe. They will certainly come back because what they love is what is made by your hands, not to mention the experience you give them!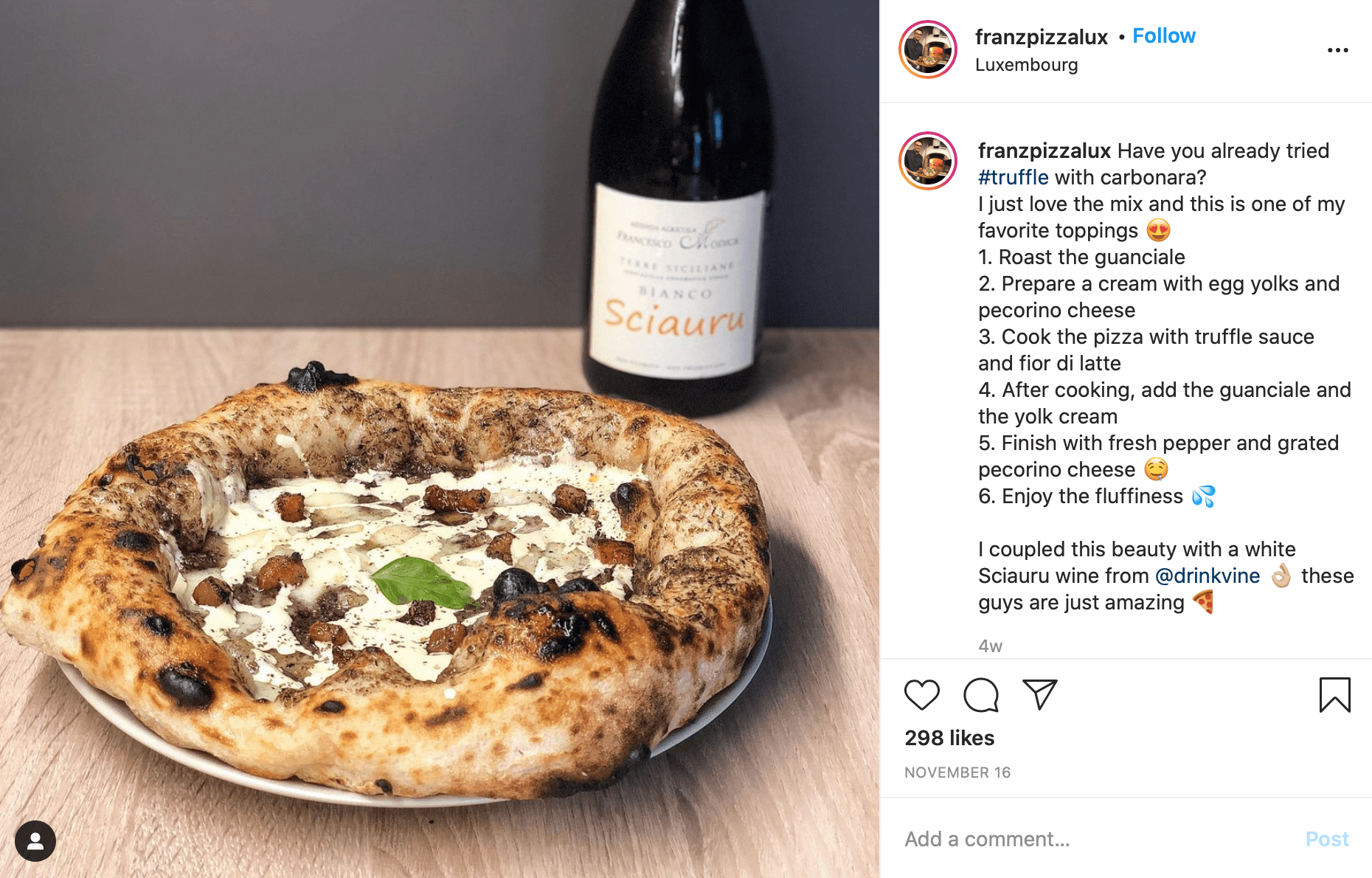 8. Create Pizza-Related Posts
Not a restaurant owner? No problem! You can still create offers and posts for National Pizza Day! If you have products related to pizza – maybe you sell some of the ingredients, tools, or even pizza-related goods – you can promote them with a discount (or not) during National Pizza Day or even during the whole week of February 9th. 
Maybe you want to launch a pizza-related product like Pizza Hut did with their "Eau de Pizza Hut" perfume! All jokes aside, pizza is something that's beloved by almost everyone, so if there's a way to tie in your business somehow, it might be a good idea to create a fun social media post to celebrate the day!
---
We can't wait to see what you do. Please tag us using the hashtag #GrowingMyBiz so we can see and share your work!