If you still haven't thought about what you're going to do in regards to your Black Friday and Cyber Monday marketing this year, you're running low on time.
I know it might seem like you have weeks and weeks until then, but if you want to make sure you plan a successful marketing campaign for your small business, you need to plan it well in advance. After all, creating special deals, products, and services for this occasion involves a lot of work. If you want it to be successful, you have to prepare your clients and share some posts in advance to warm up your audience and create a sense of curiosity and eagerness.
We all know that Black Friday and Cyber Monday are so well known because of their irresistible and often "once in a lifetime" deals. If you want to participate, you have to go BIG. Give it some serious thought as you decide what you're going to do. It is okay to go with a traditional discount code. But, if you want to get a little creative, there are so many other things you can do to increase your online bookings and sales this time of year.
If you want to start early and give people lots of time to buy, you can start your deals on Thanksgiving, but you should definitely plan and save the best ones for Black Friday. Apart from creating a great Black Friday and Cyber Monday marketing campaign, you should definitely plan your content calendar and create a social media plan for your business so you can start talking about Black Friday publicly at least two weeks before the big day.
Read more: 2020 Holidays and Days of Observance for Small Businesses
Here are a few tips and some fun ideas as you prepare your Black Friday and Cyber Monday marketing plan. It doesn't matter whether you are a digital or brick and mortar business, these ideas should prove to be useful to you! 
Pssst! We've also created some FREE Black Friday and Cyber Monday customizable templates for you to use on social media. So if you want to download them, just click here and get yours!
Before Black Friday and Cyber Monday Marketing Ideas
1. Prepare Your Customers for New Products
Maybe you've decided to launch a new product or service or you're partnering up with another small business owner to create a product bundle. Either way, you should definitely start preparing your customers for the launch by talking about it… indirectly.
Let's say you're launching a new coaching service for people who are just starting their hairdressing career or business.
Think about your customer's pain points and problems and then address them in your social media posts.
Think about their unique needs: they don't know where to start, what to charge, or how to find clients. Create posts about these topics on social media. Share the kinds of tools they need, some financial tips they might not have thought of, or some software recommendations they could use at this point in their journey.
Why do all this? A few reasons, actually. First off, you're establishing yourself as the expert, as the "go-to" person in this niche. Second, you're giving them quality information for free. You're building trust and loyalty that you can tap into down the road when you go to launch your paid product or service! 
So, as you can probably imagine, all of this takes time. That's why you need to start early… like today. I can't tell you exactly how much time it will take, but give yourself at least two weeks before your launch, but ideally three to four. Keep in mind, you're going to really ramp things up and post a lot more on the week before Black Friday and Cyber Monday.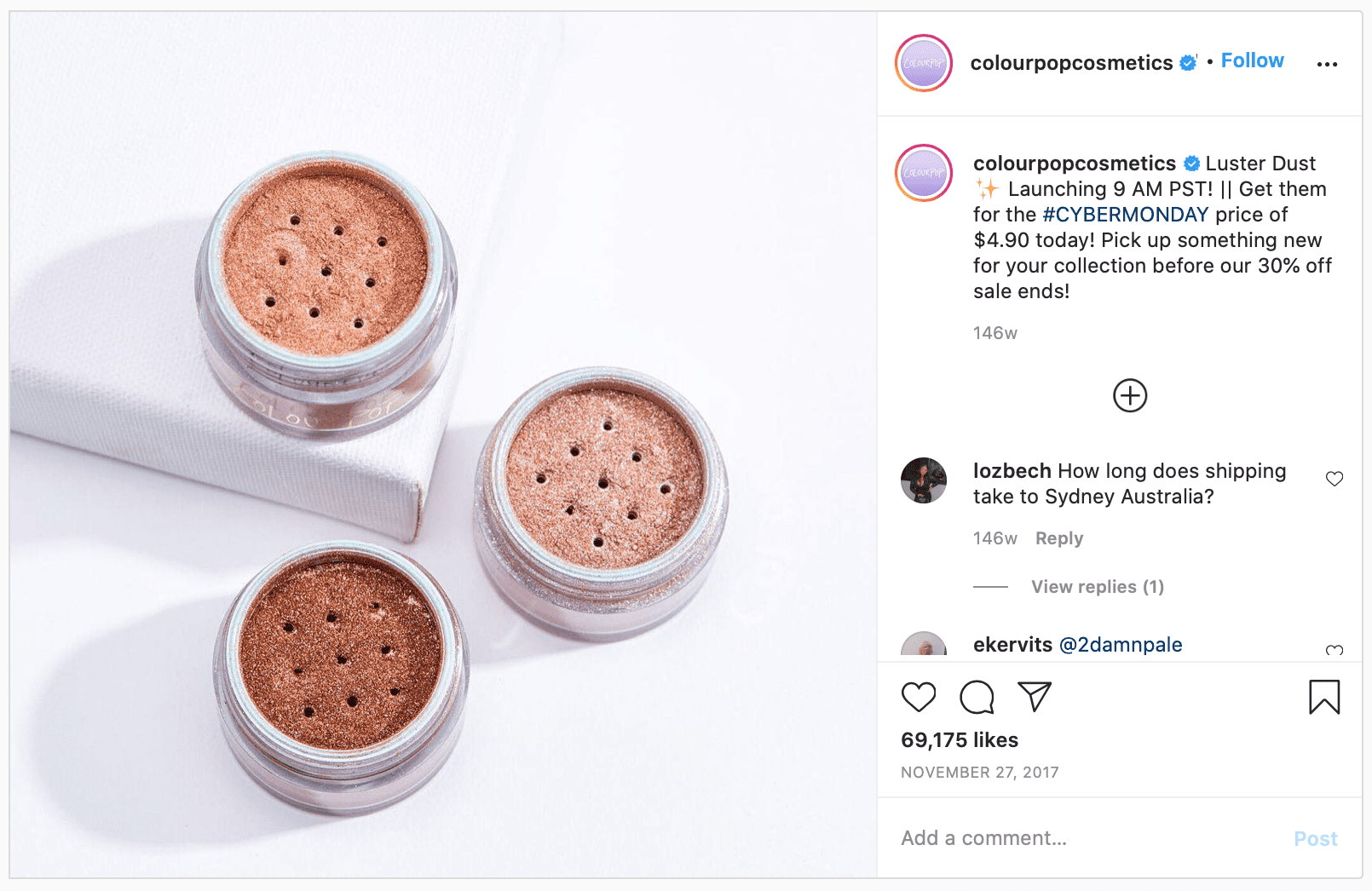 2. Create a Gift Guide
In tip number one, I already recommended that you do some content marketing to prepare your audience for a new product or service launch and to provide real value to your followers for free. Another good way to do this aside from your social media posts is to create a gift guide for the holidays! You can create specific gift guides for women, men, children, etc. and include your own products on the list.
This is a really easy way to help your customers find some good gift ideas for the holiday shopping season and share your products with them before Black Friday and Cyber Monday hits! It's also a great way to highlight other local businesses or small businesses that you love and respect.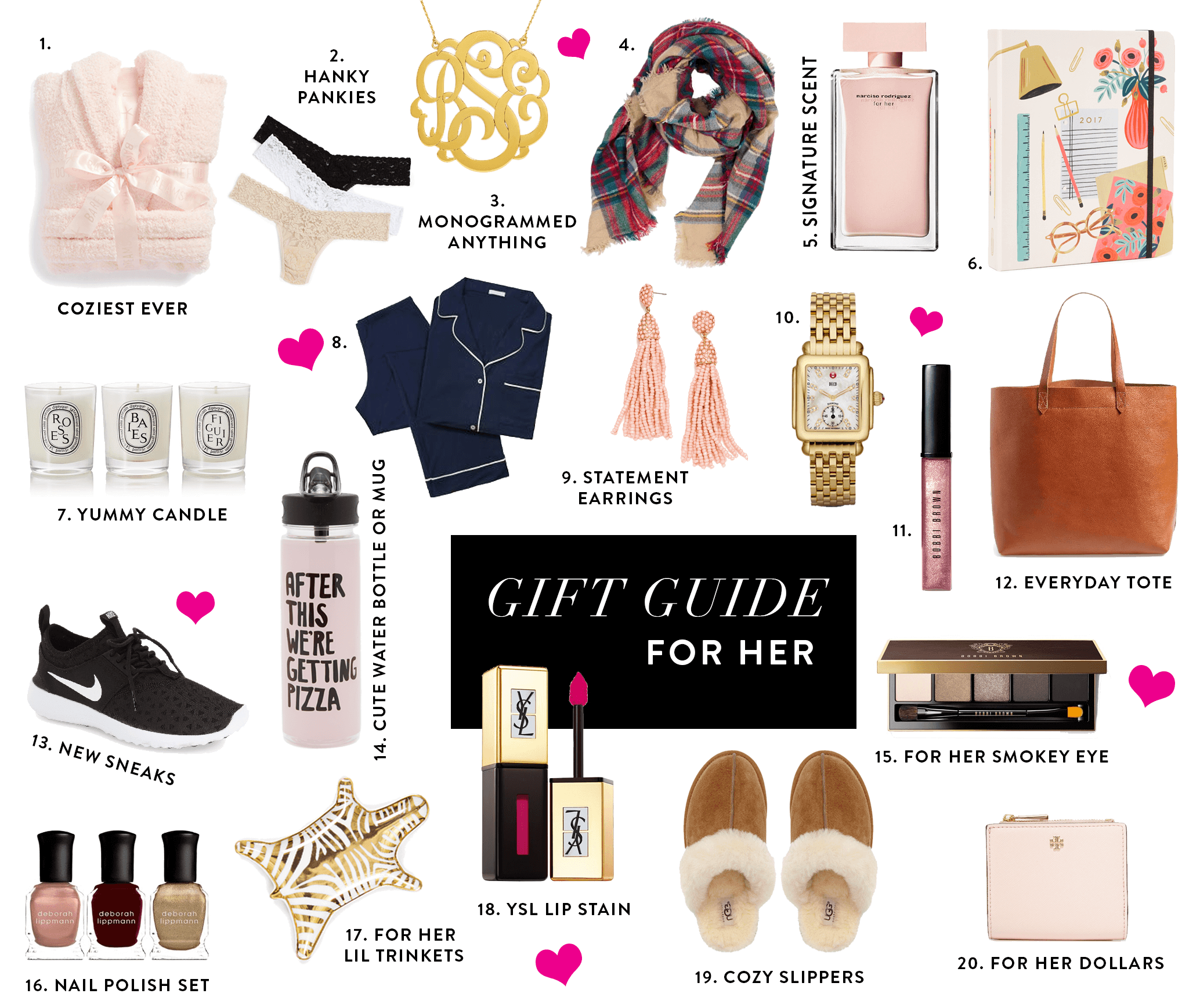 3. Black Friday Deals Sneak Peak
A good way to make people feel more curious about your Black Friday and Cyber Monday deals is to post some sneak peaks of them! Tell your followers and customers that you're working on some super special deals for them, and then give them a preview of the products that are going to be on sale.
This helps them plan their shopping strategy if they know that a product they already planned on buying is going to be included in the sale. They can make sure to set that money aside and come back when the sale officially starts!
Do anything you can to create more buzz around your business and your deals without revealing too much. You can easily make people curious to see what else you have up your sleeve for Black Friday and/or Cyber Monday.
4. Create a Landing Page
Landing pages are a great way to compile information about your products and services in one place. On a website and especially on social media, the information we want to share with people gets a little bit scattered and sometimes, disorganized. You don't want it to be difficult for potential buyers to get the details on the products or services you're selling. So, if you're going to have a special offer, make sure you create a landing page where you'll explain everything about your product or service on that one page.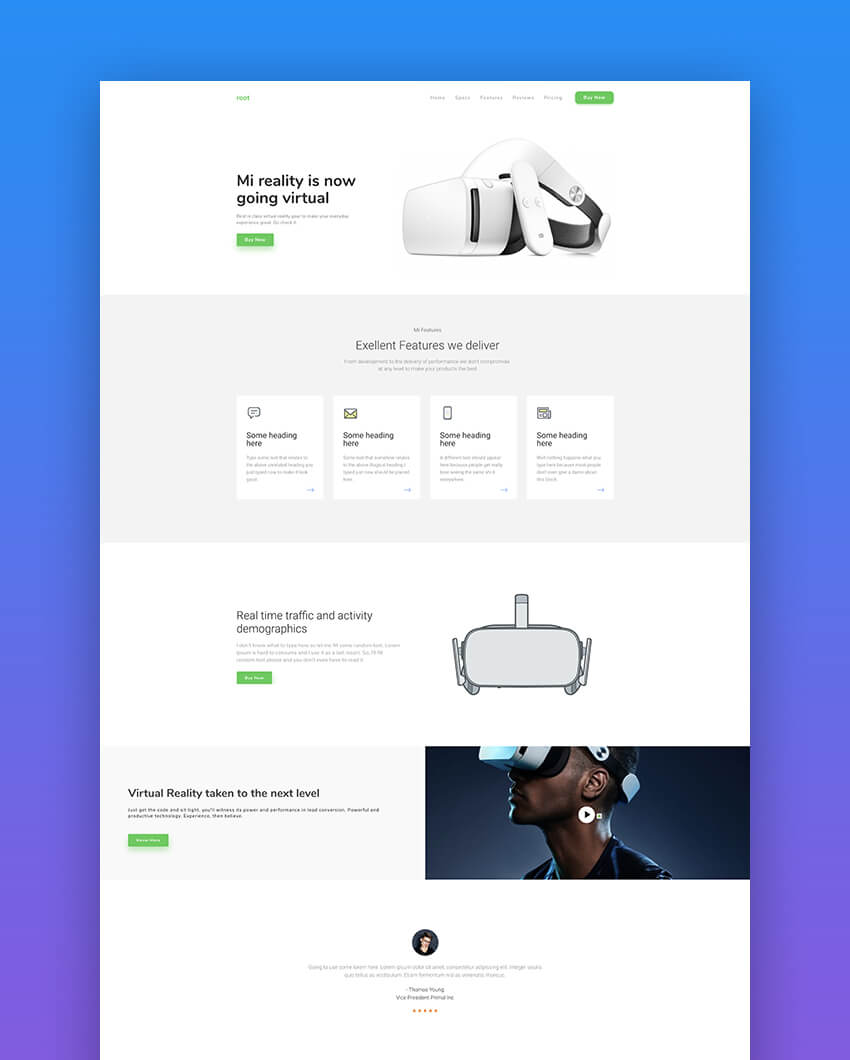 Then, add the link to your bio and add it to your Instagram Stories and your other posts on social media. Make it easy for people to click the link and read through the information. 
You might be wondering what this landing page should include. Here's a list of what should be there:
The name of your product/service

Some benefits of the product/service

What's included in the price

Who is it for (ideally)

A detailed description of the product/service

A brief description of you and/or your business

A short video presenting yourself and the product

Testimonials from past clients or buyers

Results from people who have already used your product/service

The full price (before the special offer is applied)

Purchase buttons

FAQ
Create a landing page in advance to make sure it will be ready by Black Friday. Shoot to have it done at least one week in advance so you can spend some time tweaking and editing it as needed. Then, get ready to share it when the deals go live!
You can find some ideas and examples of landing pages by clicking here. If you can't do it yourself, ask a geek friend or hire someone to create a page for you. It's not that hard!
5. Create an FAQ
A good way to help your customers discover why they absolutely need your product or service is to create an FAQ section on your website or your social media page. This is something that can and should be ready before you launch your Black Friday offer.
Try to gather all the questions people often ask you or think of reasons why people haven't purchased your product or service in the past. This can be really helpful in the decision-making process, especially during Black Friday, when typical sales volume tends to increase.
6. Create a Giveaway
Whatever you can do to increase your visibility before Black Friday, do it – well, except for buying followers and other shady tactics. A giveaway is a great way to promote your social media profile and increase your followers authentically. You'll attract only the people who are genuinely interested in what you do!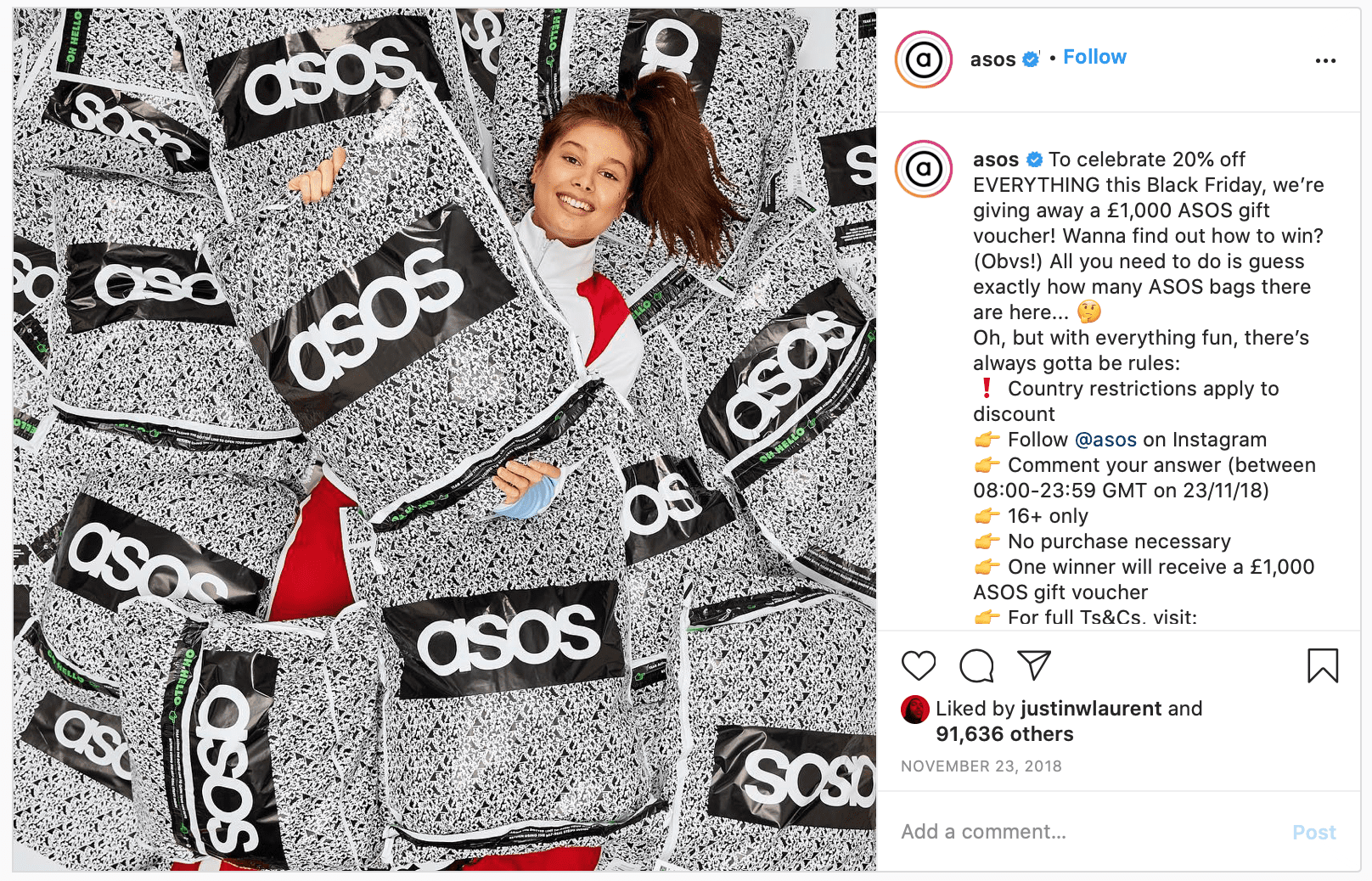 If you decide to do an Instagram Giveaway, you increase your reach significantly before Black Friday so that when you announce your sale, you will have an even bigger pool of potential buyers seeing your posts.
Make sure you time it out so that you announce the winner of your giveaway well before Black Friday. Then, when it is actually Black Friday, you can announce a big deal on the same product for those who didn't win the giveaway.
On Black Friday and Cyber Monday 
1. Give a Huge Discount
This is the most traditional and by far the easiest Black Friday and Cyber Monday marketing strategy. There's not too much to say about it except that you really want to make sure the discount is irresistible. 10% off isn't going to cut it, especially when everyone else is going to be running such incredible deals at the same time. Create an offer with a huge discount and share the deals with your audience on social media! If you need some help creating awesome images for your amazing offers, click here and get your free and customizable Black Friday and Cyber Monday templates!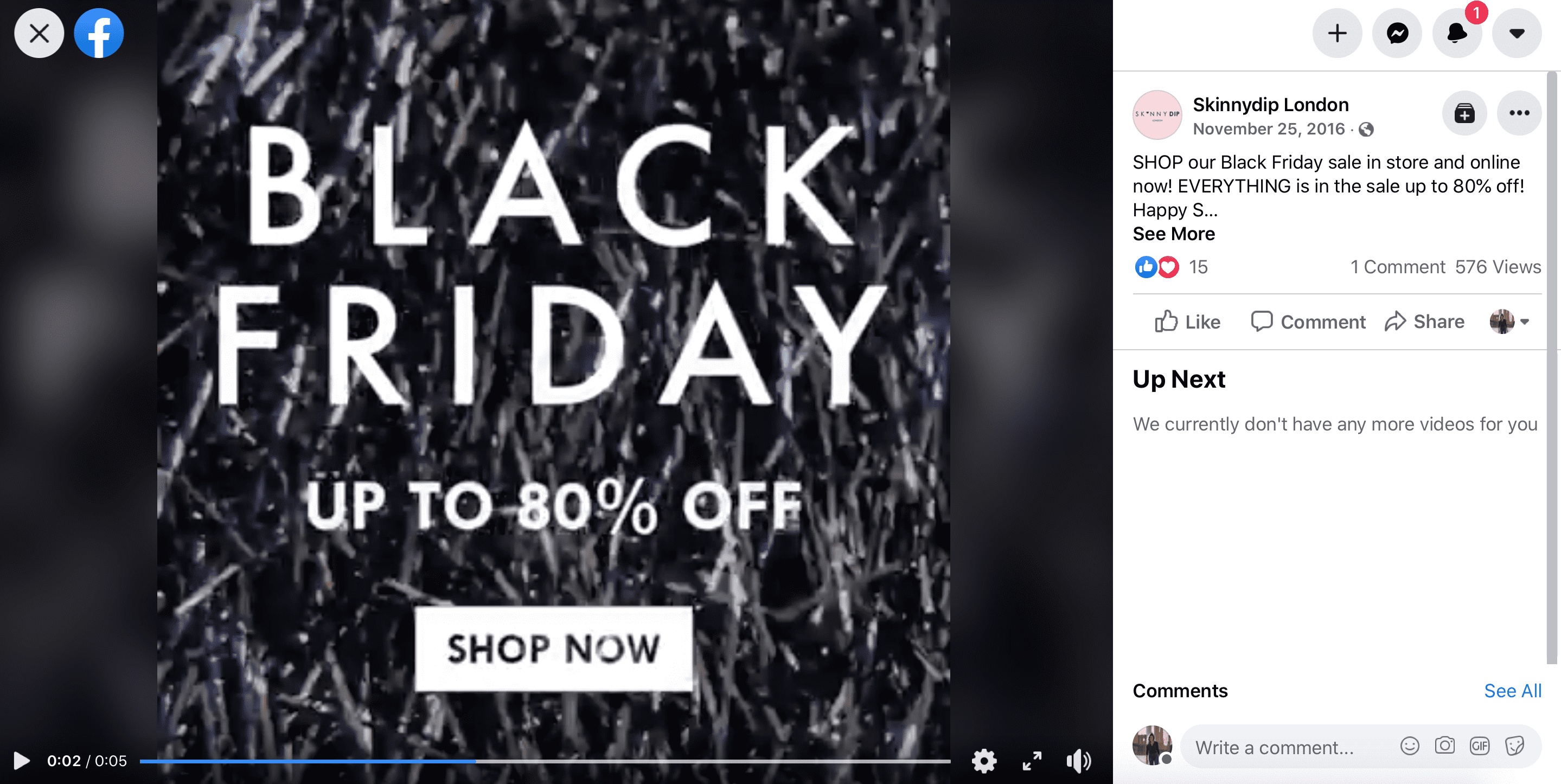 2. 12 offers in 12 hours
A great way to promote and sell several of your products during Black Friday is to create something like a "one deal per hour" sale. You can't realistically be online for a full 24 hours, but you might be able to do 12. You'll just announce one new deal every hour on the hour… then watch your customers go nuts!
You can send the offers out via email, create a special WhatsApp or Telegram group, or even share it on social media. Just make sure that you spend some time creating cute graphics beforehand so your sales have the best chance of getting noticed!
3. Offer Gift Cards
Since the holiday season is approaching, you might want to use this opportunity to sell some gift cards. You don't need to be a big business to offer those, and you don't need to sell products! I once got a gift card for a massage for my birthday and I absolutely loved it. So why not go this route and create special gift cards or give people a deal if they buy multiple gift cards during Black Friday or Cyber Monday.
4. Give People Something for Free
Don't get me wrong, we're not saying you need to donate your products or services to people. No way! But, what you can do is give something for free when people make a purchase of a certain amount or buy a specific product. This is a great way to incentivize people to buy something that you want to sell more of and you don't even necessarily need to offer a discount. All you have to do is just give them some kind of add-on or upgrade or free item when they make a purchase.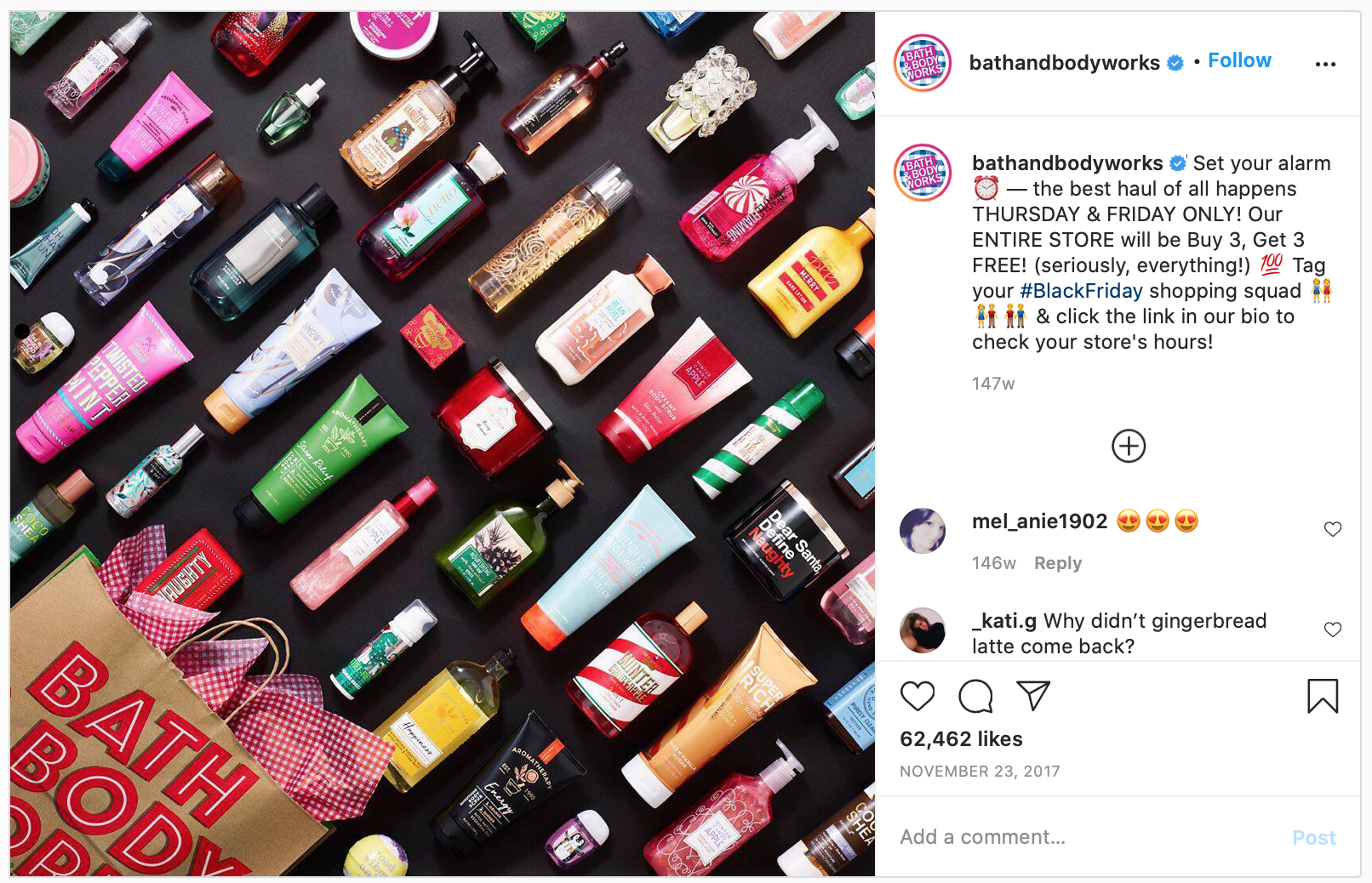 5. 4-Day Sale
Don't feel like you have to be limited by Black Friday or Cyber Monday. If you want, you can start your deals on Black Friday and end them on Cyber Monday. You can have an extended sale or even announce different products and discounts each day. Make sure you include an authentic sense of urgency on your posts and create a lot of content during these days. People won't remember if you don't post.
6. Create a VIP Discount
Do you have an email list or a Telegram list, perhaps? If not, why don't you start one before Black Friday and then give a special VIP deal to those who are on your list? This is a great way to get more subscribers and to reach more potential customers. It also makes that group of people feel special. You can promote this VIP discount a few weeks before Black Friday to give people plenty of time to get on your list before the deal goes out. Also, you can definitely do deals for people who are not on the list, but the best deals of all should be reserved for those VIP subscribers.
7. Donate Part of Your Profits to Charity
This is a nice way to make your customers feel a little less guilty about all the money they're spending on Black Friday and encourage them to spend some of it with you. You can offer them a good deal and let them know that you're going to be donating a percentage of the Black Friday and Cyber Monday sales to a charity. They will feel good that their money is going to help a worthwhile cause, and it will most likely make a positive impact on your sales, too.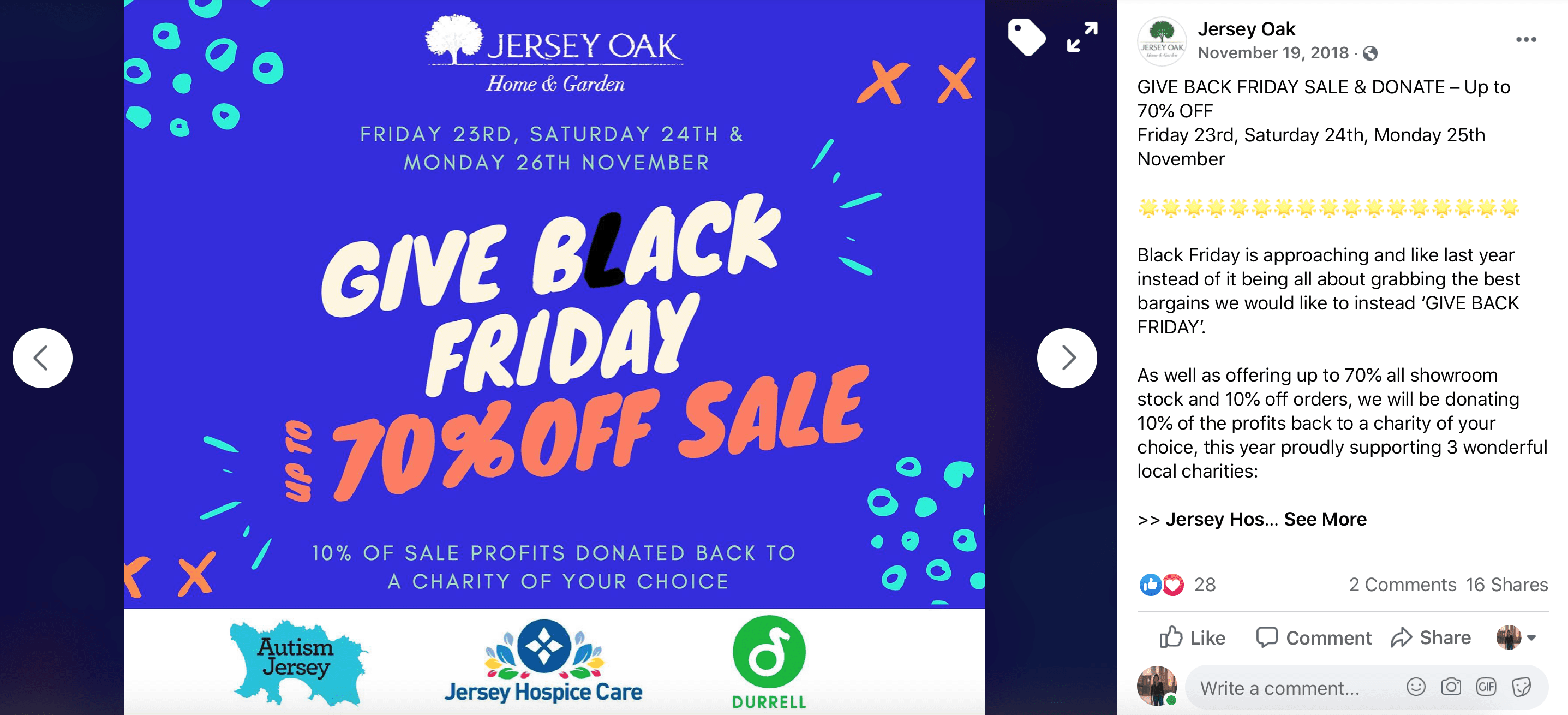 PS: Click here to get some of our free Black Friday and Cyber Monday customizable templates!
8. Offer a Coupon
A good way to incentivize people to shop with you is to give them a percentage back in a coupon. So, let's say someone comes and buys $500 in services. You would give them a 10% off coupon to use at a future date for other services or products you offer. This is a great way to build an ongoing relationship with new customers and give them a good incentive to come back again!
9. Create Bundles
A great marketing strategy is to partner up with other brands with the same (or similar) audience to create a bundle at a discounted price. I've done this before and the results were amazing! The great thing is that when you partner up with another business, you expand your reach and your audience. You're creating stronger brand awareness among your target customers, people you might not have been able to reach without the collaboration.
Whether you sell clothes, own a restaurant, or work as a copywriter, you can definitely partner with someone else — or a bunch of people — and give all of your followers a great discount on your bundle.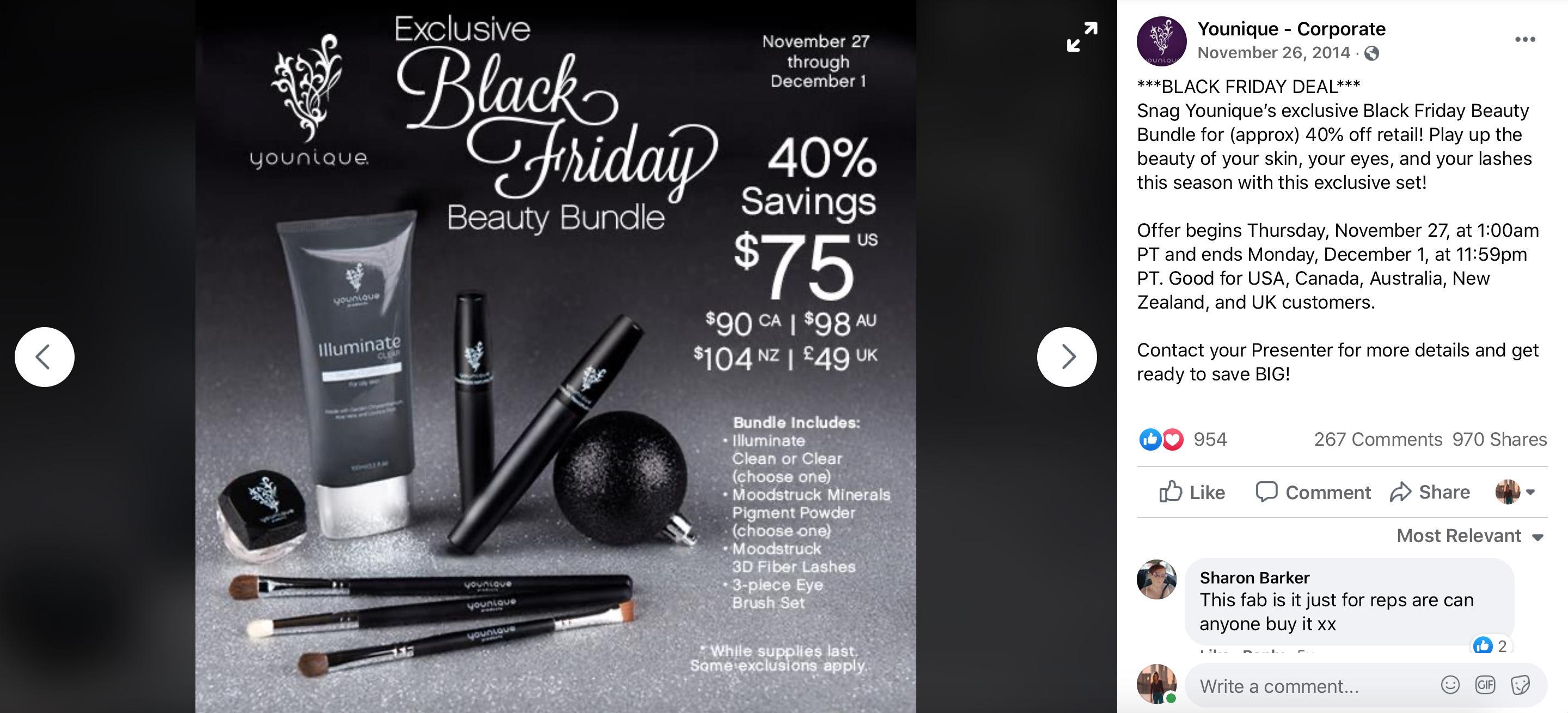 10. Offer Free Shipping
If you can't offer discounts, a good way to incentivize people to buy from you is to offer free shipping. Even though I don't believe this is the best offer, it's certainly better than not doing anything at all!
11. Host an Event
Hosting an event might be an interesting option for those who would like to make a special in-person announcement about a new product or offer. But, you don't have to do it in person if you're an online business or serve a more global audience. In that case, you can host an online event on Zoom, Instagram, or Facebook! Doing an event like this increases the sense of urgency and makes people feel like they don't want to miss out… and that's a great thing if you are looking for ways to turn your Black Friday and Cyber Monday marketing ideas into actual sales!
Read more: November Social Media Calendar + Free Templates
---
We can't wait to see what you do. Please tag us using the hashtag #GrowingMyBiz so we can see and share your work!