Are you a coffee shop owner who is not quite sure what to publish on social media? We know that a lot of restaurant owners tend to fall back on just sharing photos of their menu items, and that's great to do, especially if you know how to take high-quality photos. But, there are so many more opportunities on social media than just photos of food and drinks!
In this post, we've curated some of the best coffee shop accounts on Instagram. We hope that they'll give you some inspiration as you start to build your own reputation and following on Instagram!
Read more: 11 Instagram Giveaway Ideas for Businesses (and How to Run One) 
The Best 11 Coffee Shop Instagram Accounts and Posts
Willa Jean's Instagram feed is full of amazing pictures of their food… so amazing that you want to eat every single dish. Their trick? They have a very good understanding of lighting and they take great close-up shots of the food. You want your content to focus on what matters, and what really matters is the food and drinks you've built your reputation on. Position your subject in front of a window and you won't need to invest in studio lighting or professional camera equipment.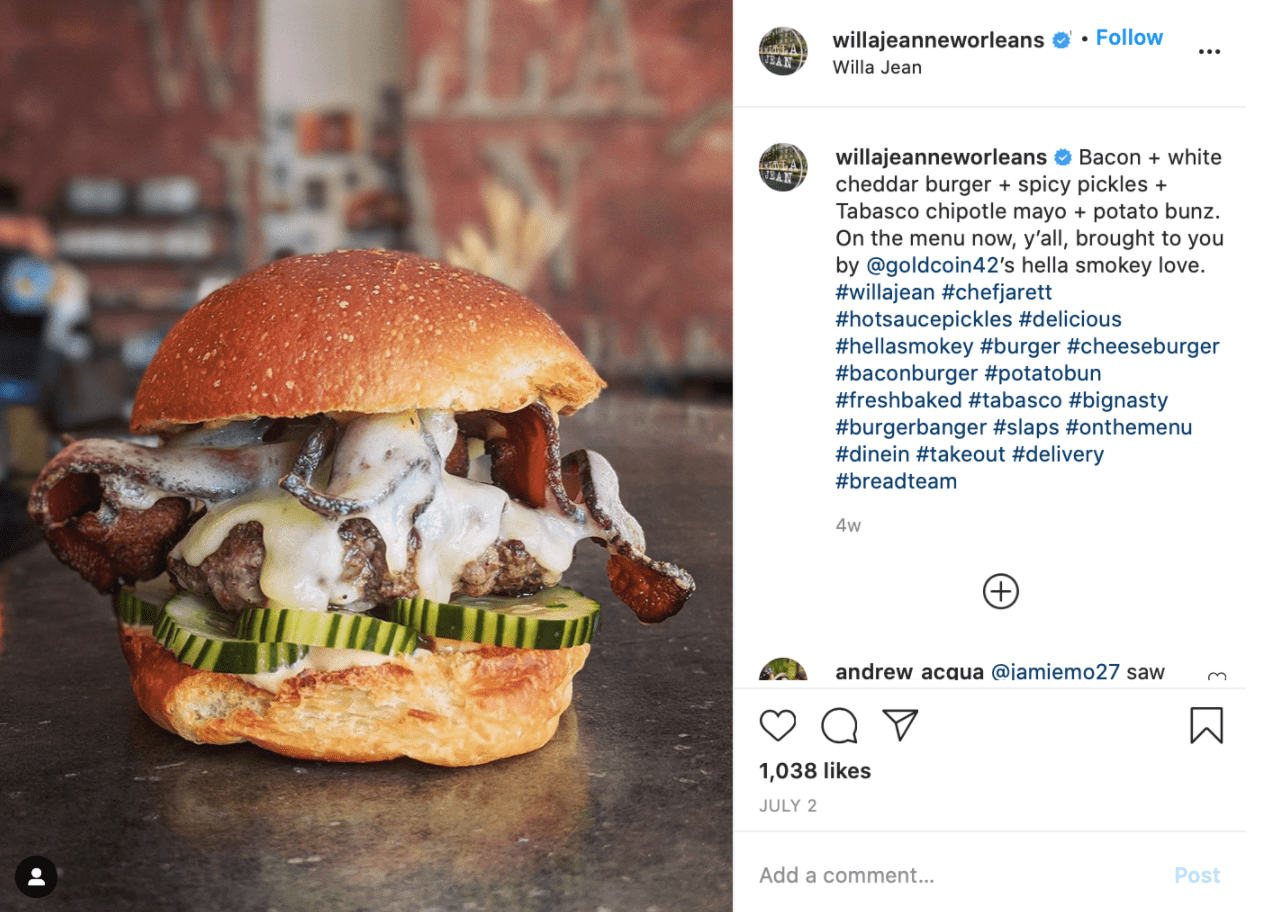 I love how Alfred interacts with its customers and followers. Their profile is not only about sharing their menu items, but they also invite customers to participate in the conversation, like asking them whether they like Thai Tea or Matcha more. They are cool and fun, so posts like the ones below really suit their personality. We love these posts!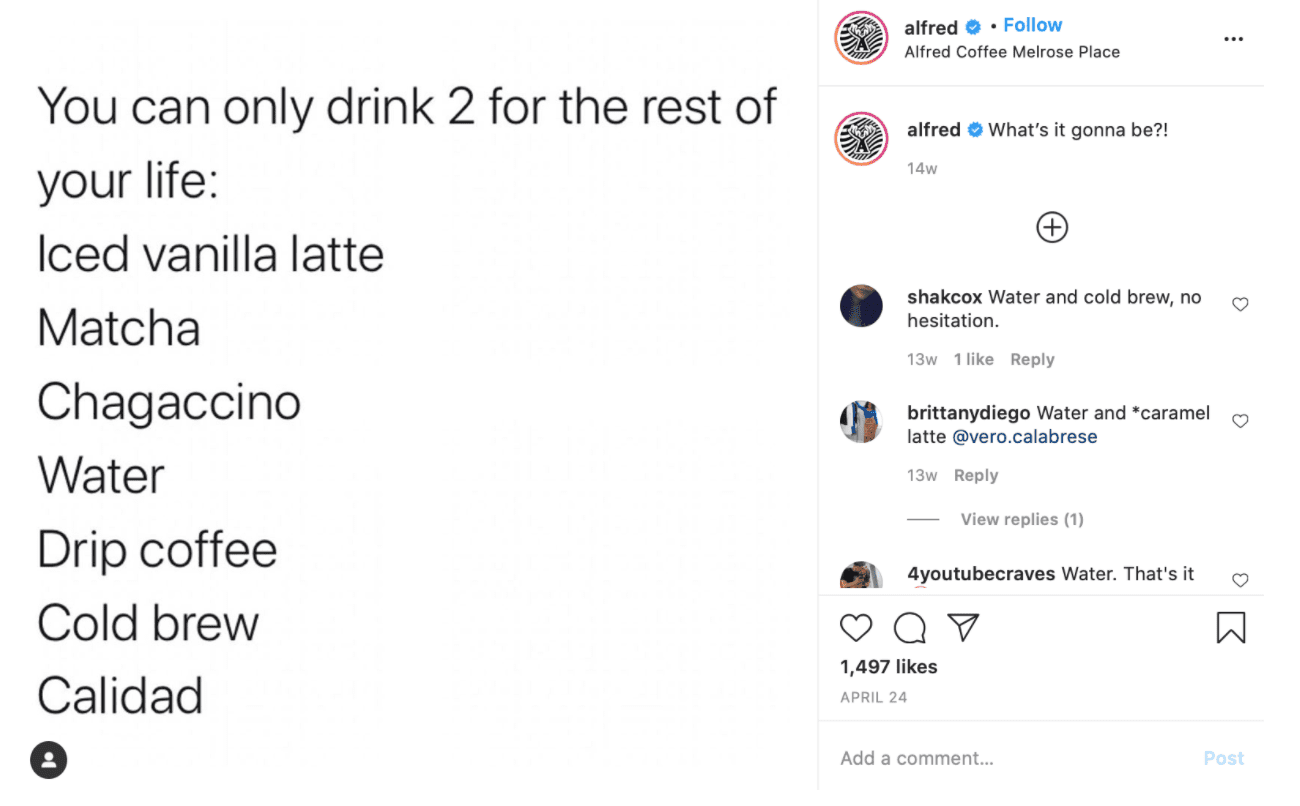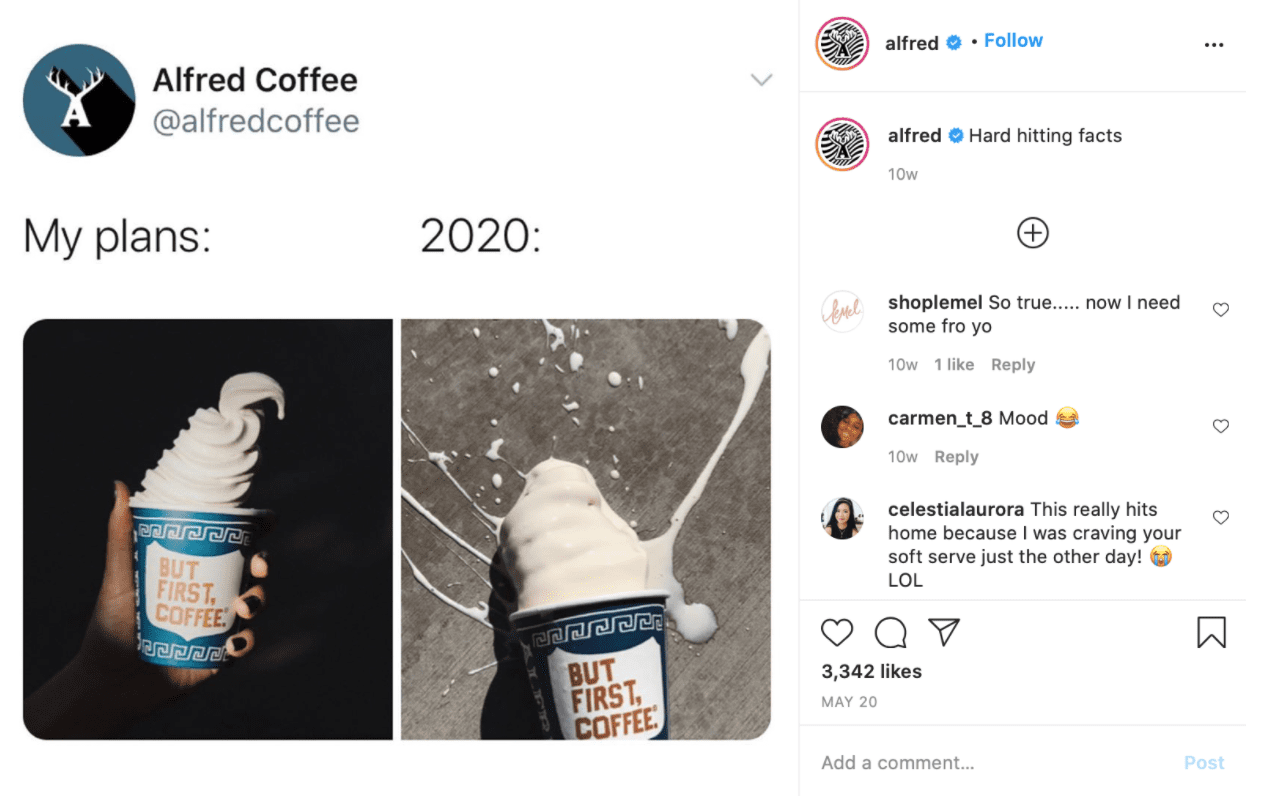 The thing we like the most about Brash Coffee is that they don't focus their content only on their offerings. Their photos show what it is like when the people – and animals – hang out. The fact that they share photos of the dogs that visit them shows people they are a pet-friendly space. Other photos show people working or chatting in their gorgeous space, which helps us imagine how cozy and lovely it would be to go there and spend an afternoon.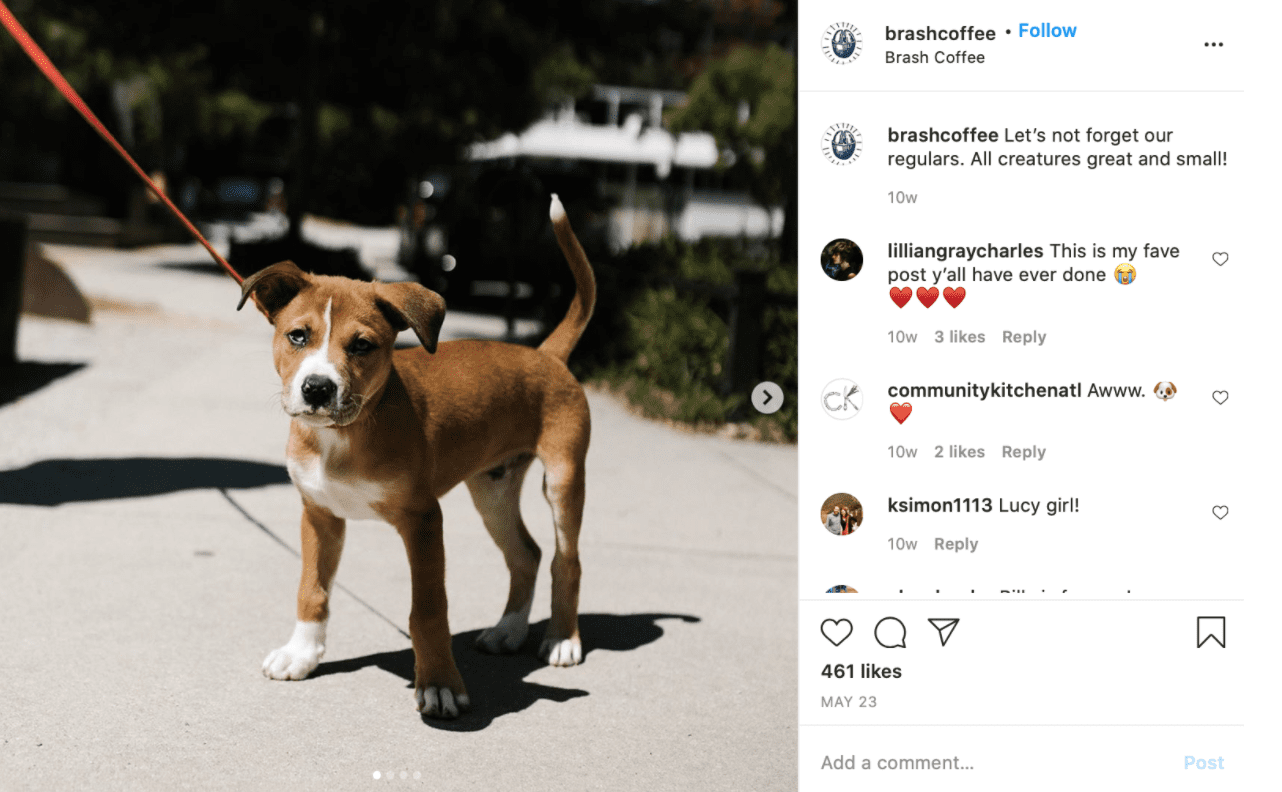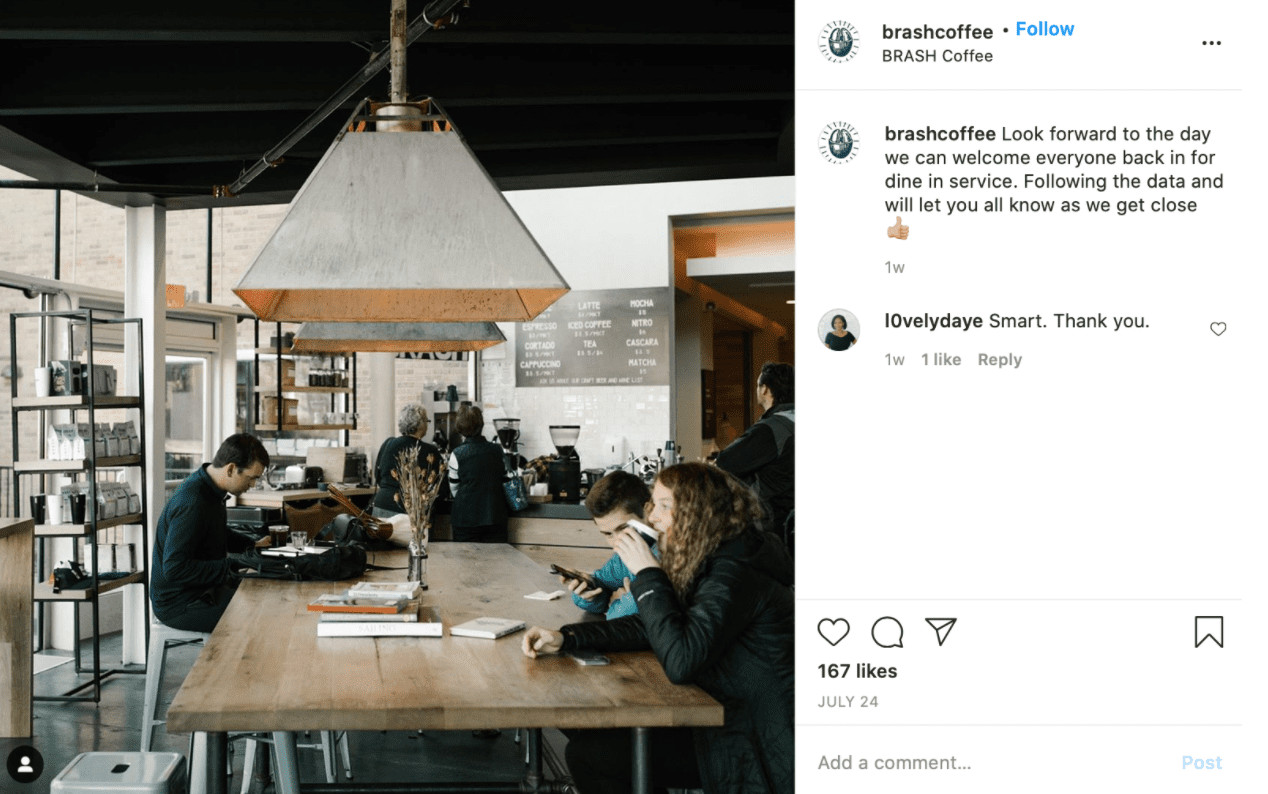 Cha Cha Matcha often appears in our blog posts, but that's only because they do amazing work. Cha Cha Matcha has one of the best coffee shop Instagram accounts out there. They use their social media platform to post about their products, sure, but they also teach people how to make the drinks at home. This is an amazing way to bond with your audience and customers and provide actual value to them. They clearly aren't worried about people not going back to their restaurant because they know people support restaurants because they love food AND the experience.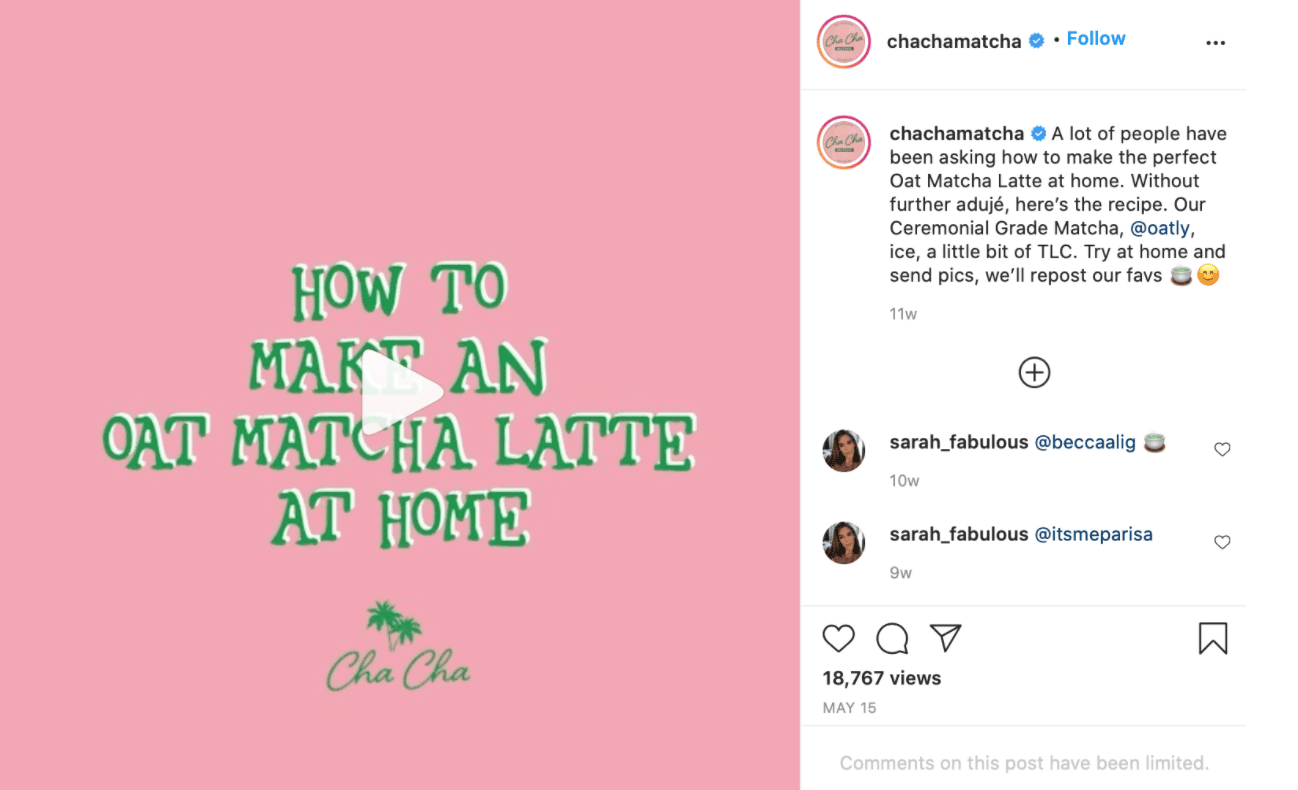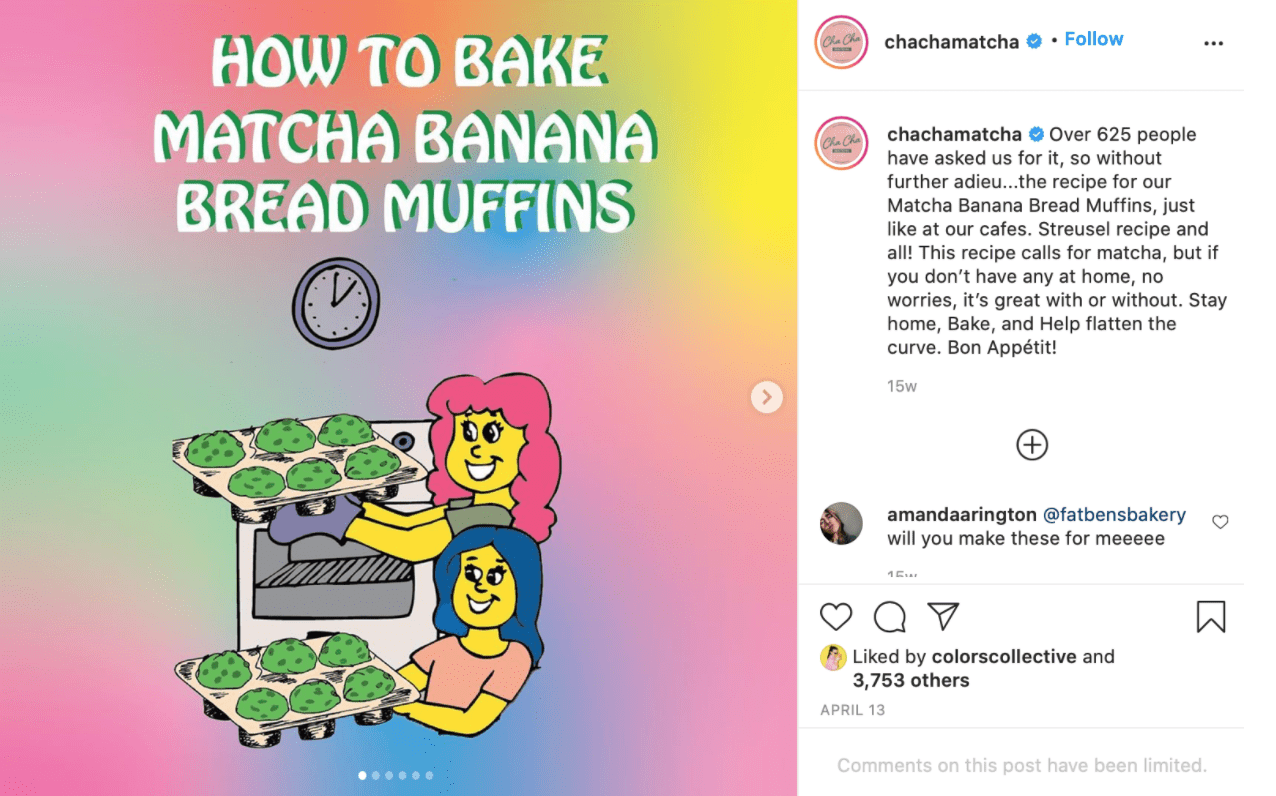 The reason why we like Happy Bones so much is because they are so more than a coffee shop. They have created a whole concept around their coffee shop, with cool framed prints and t-shirts. We also like that they have loyalty cards and often share pictures of their customers' punched up cards. This is good social proof and inspires a bit of competition among their frequent customers.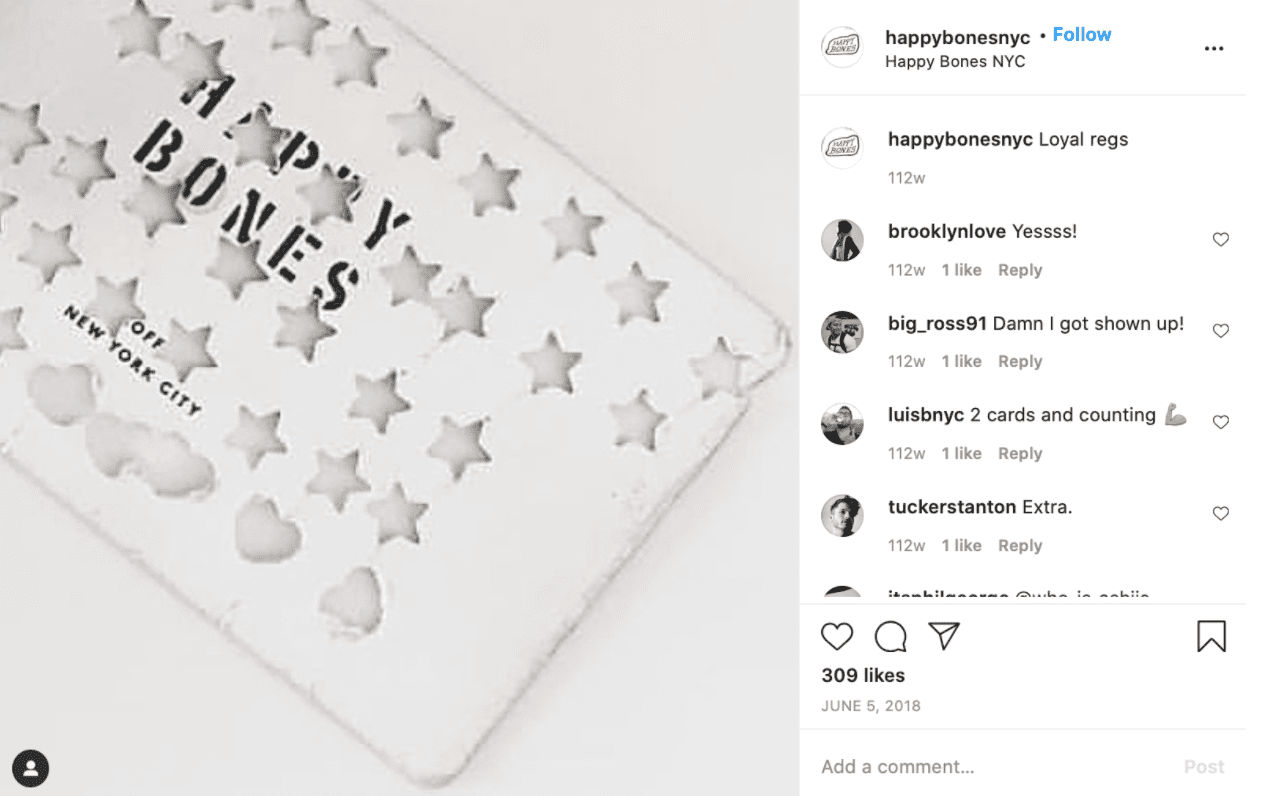 Two Hands coffee shop regularly shares amazing photos of their food and drinks, which of course, makes our mouths water. Their eye for color and composition is really spot on which makes their entire feed cohesive and fun to look at. But, they also support important causes with regular fundraisers. This is amazing not only because they're really helping people but also because it shows that they have a strong heart and use their platform for all the right reasons.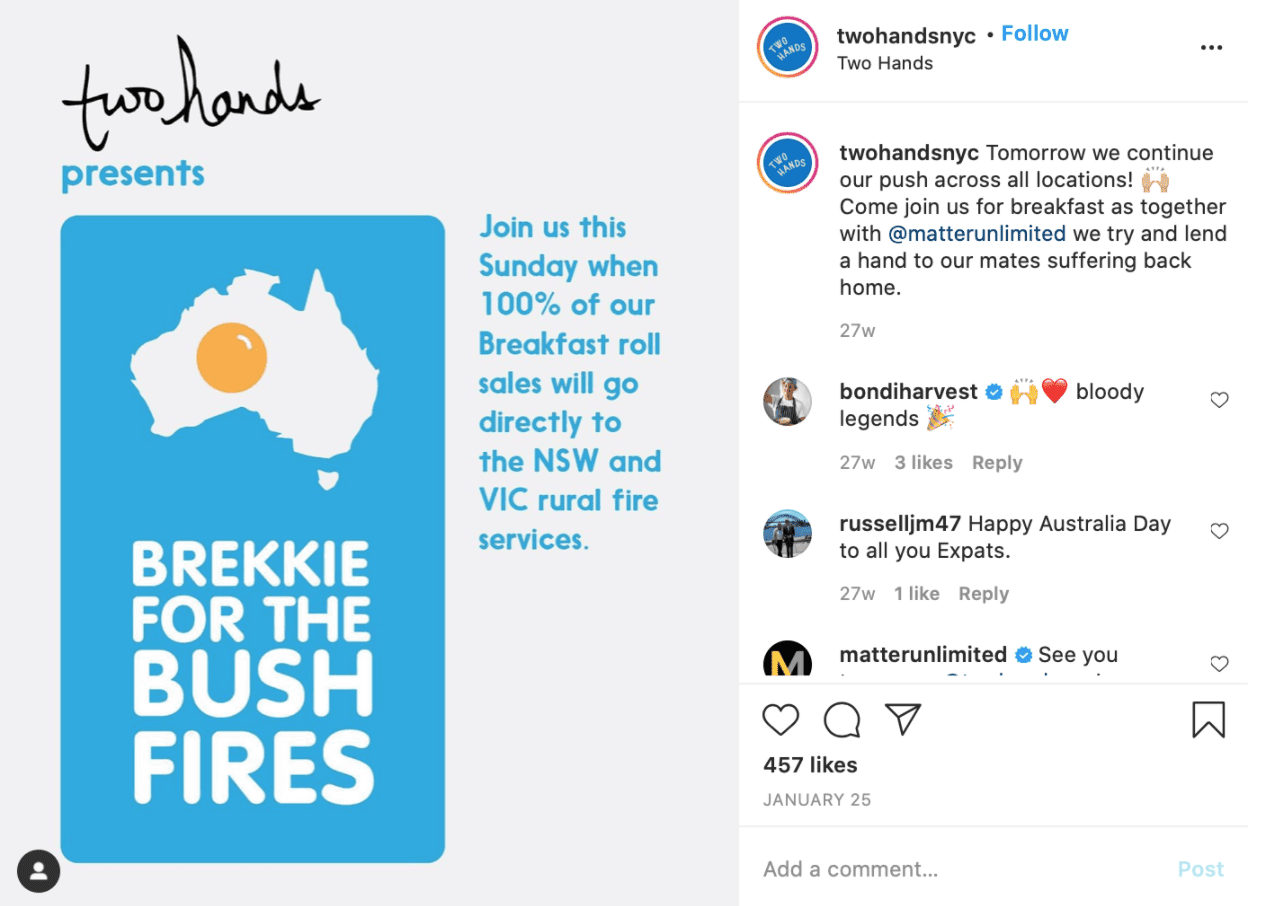 Crooked Letters is not what we would consider an Instagram famous coffee shop, but they are doing a good job nonetheless. We love how they have created a "dog parking" selfie zone for dogs and how personal their captions can be sometimes, like in the screenshot below. Their posts make their followers feel like they're part of their journey. Take a look at the comments on this picture, and you'll know what we are talking about.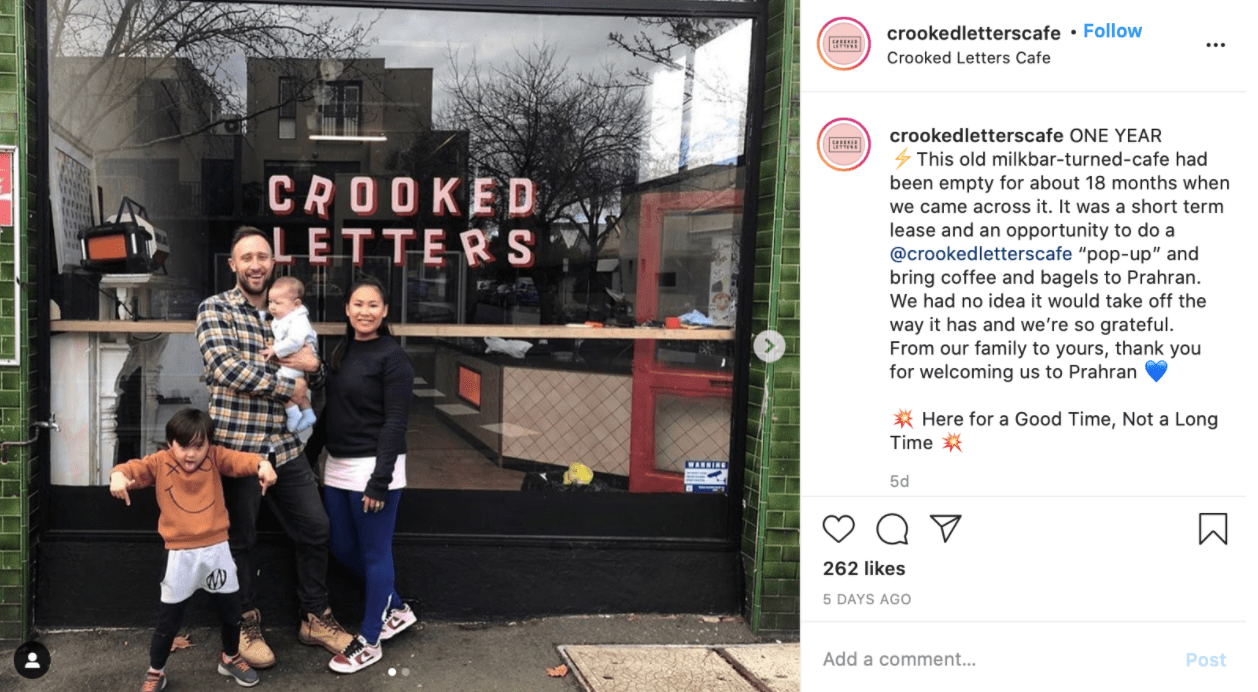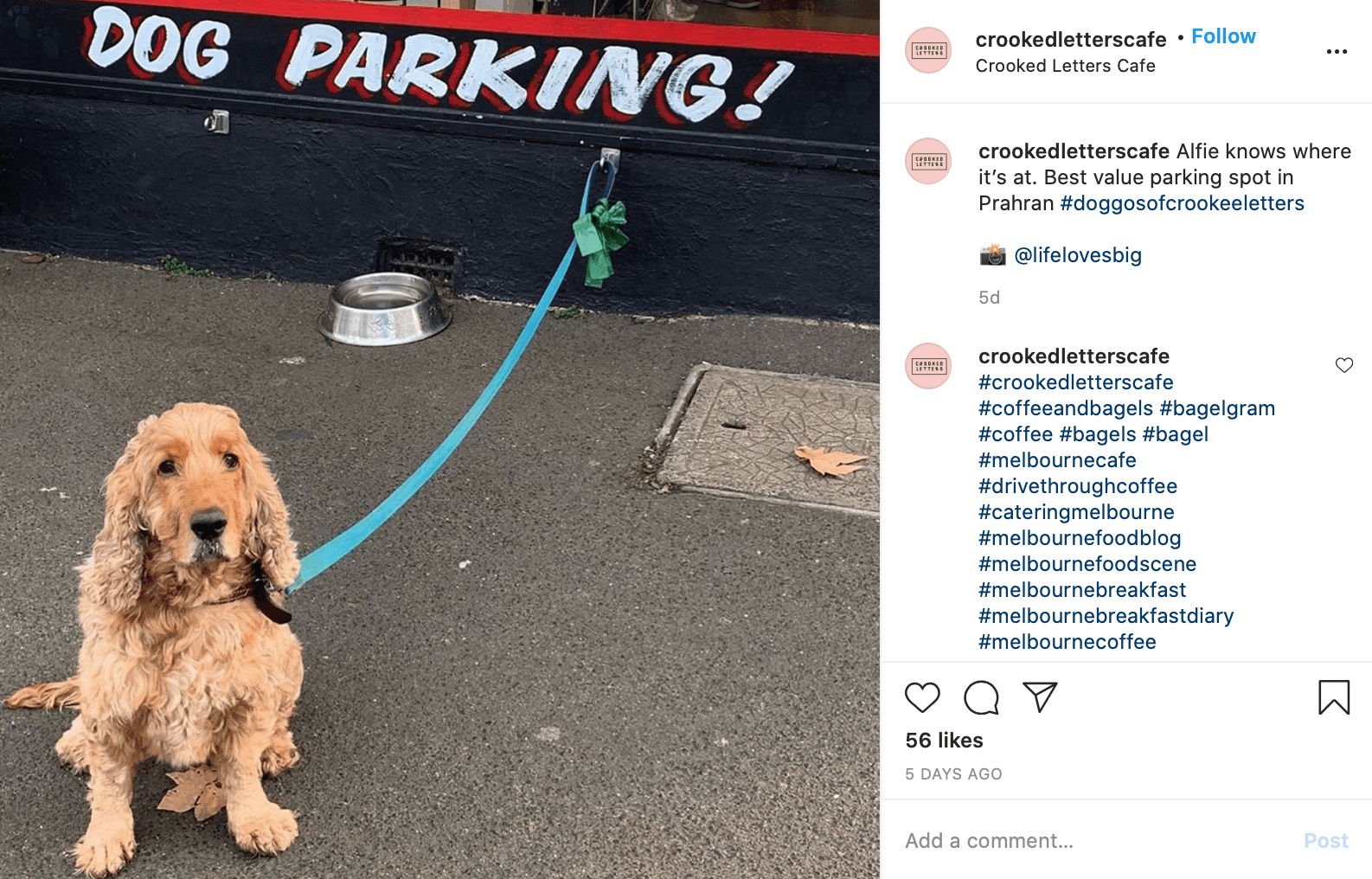 We love Celsius Coffee's literal waterfront location and we never get sick of seeing the gorgeous photos, most of which are taken by customers. Sharing your customer's photos – also called user-generated content – makes more people want to take more photos when they're visiting and tag you in them because they want to get their content reposted as well. Sharing all of those photos also shows people how popular your coffee shop is, which is called social proof. It's just smart business!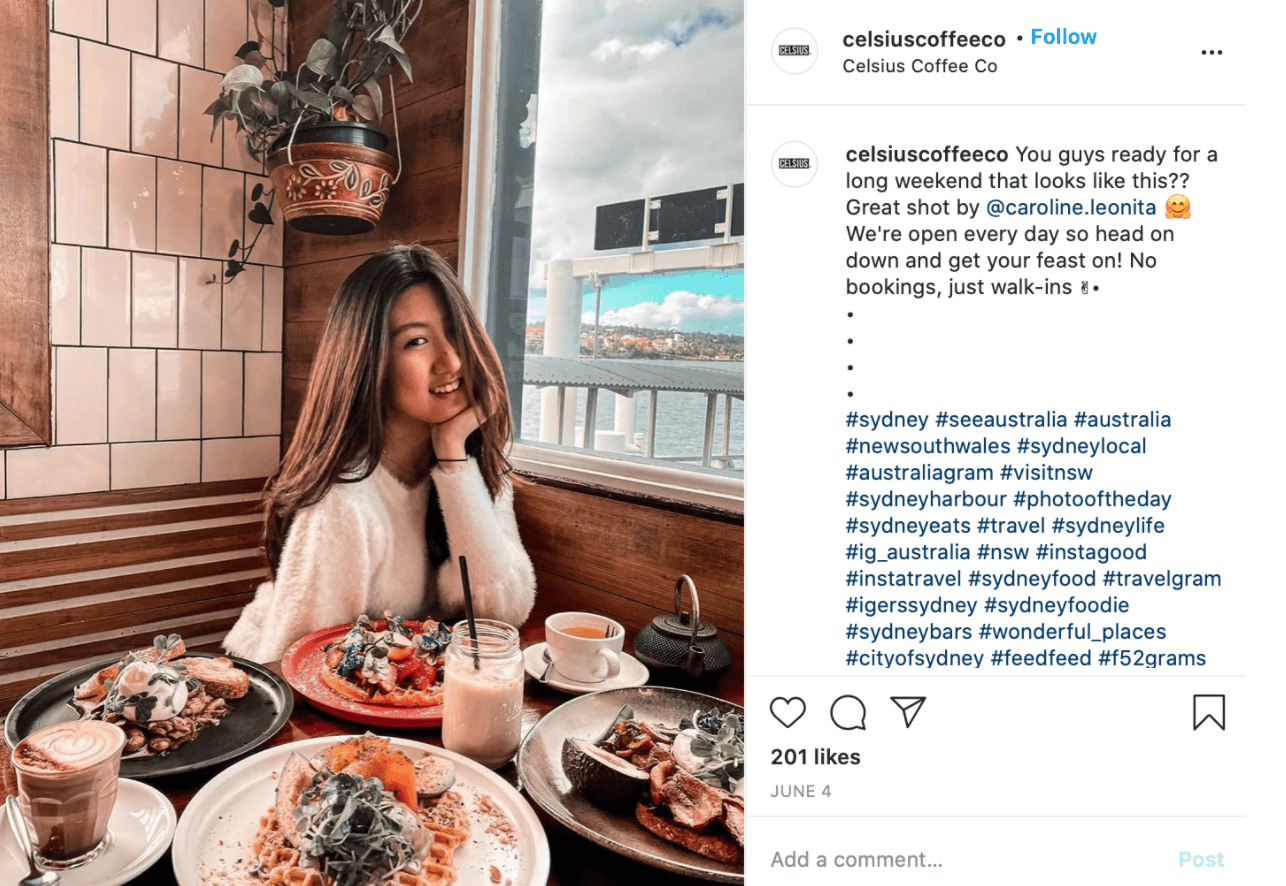 This video of Fringe Coffee is just mesmerizing! You can easily create a video like this for any dish or drink at your restaurant. You can make it interesting by shooting it from different angles and different distances, too. It will look like it's been done by a professional but you can do this without taking any video production classes or messing with any fancy editing tools.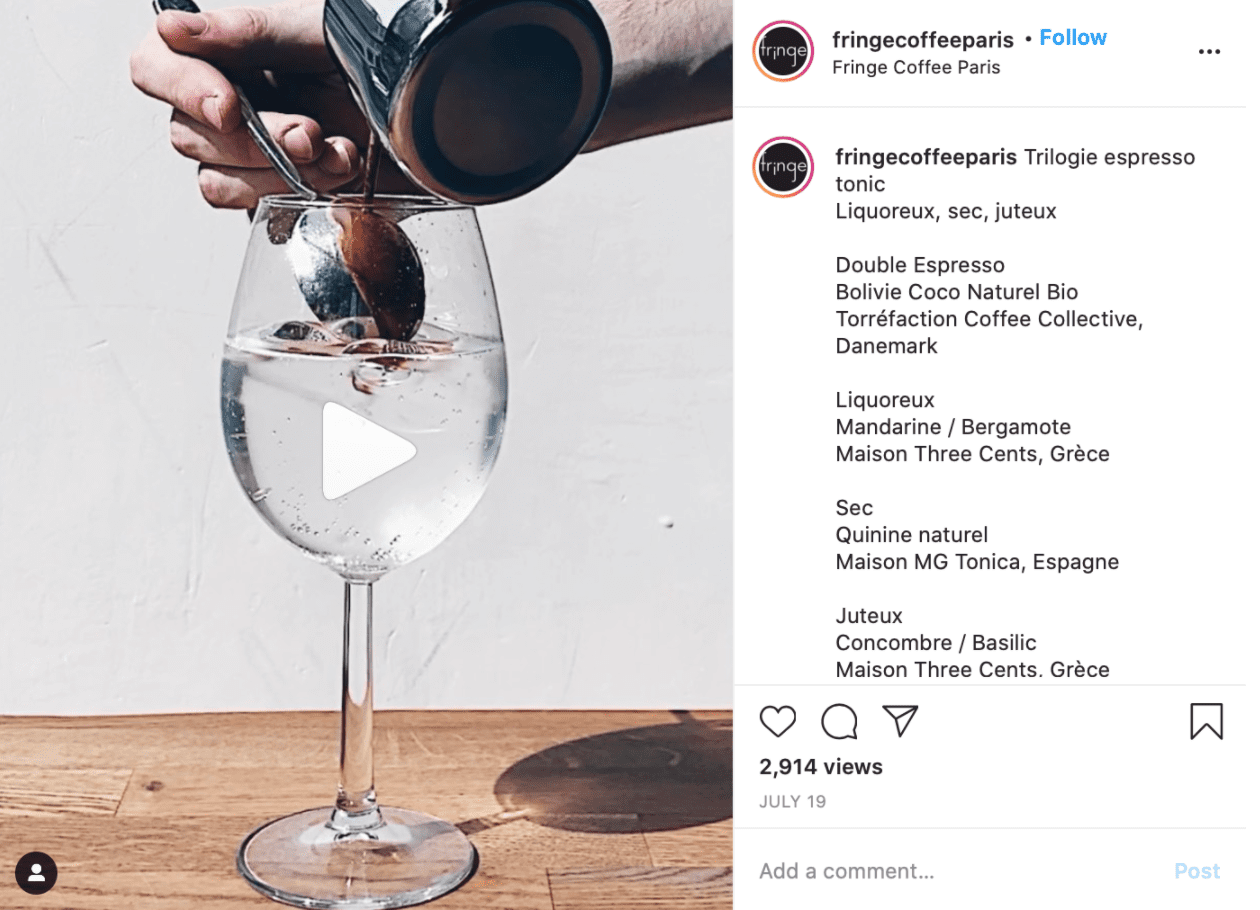 Birch Coffee shares lots of great images, but this post, in particular, is a great example of how they regularly share their core values in unique and interesting ways. Who expects to read something inspiring on a napkin? It's a refreshing way to share what you're all about and use it to create social media content that invites people in. We're going to bet a lot of people fill in the blanks and take photos, which is a sneaky way to some free marketing, too!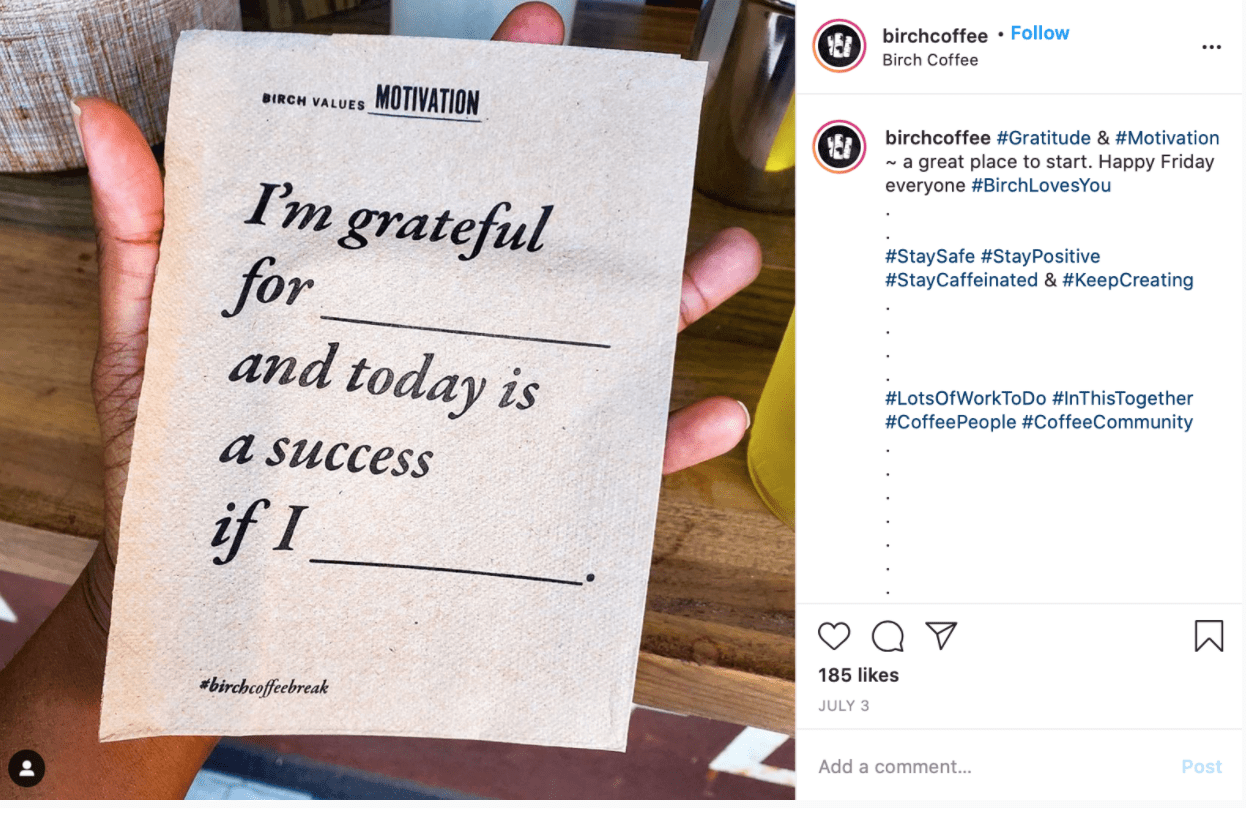 Nossa Familia ticks a lot of boxes when it comes to having a great Instagram profile. They share lots of great pictures of their place, the staff, and their products. The thing we like the most about them is the way they handle fundraising on their page. Not only do they do a lot of fundraising, but they also share the results on their feed. The graphics they create are really eye-catching because they create specific designs that include their logo, their brand colors, and the amount of money raised in a really large font.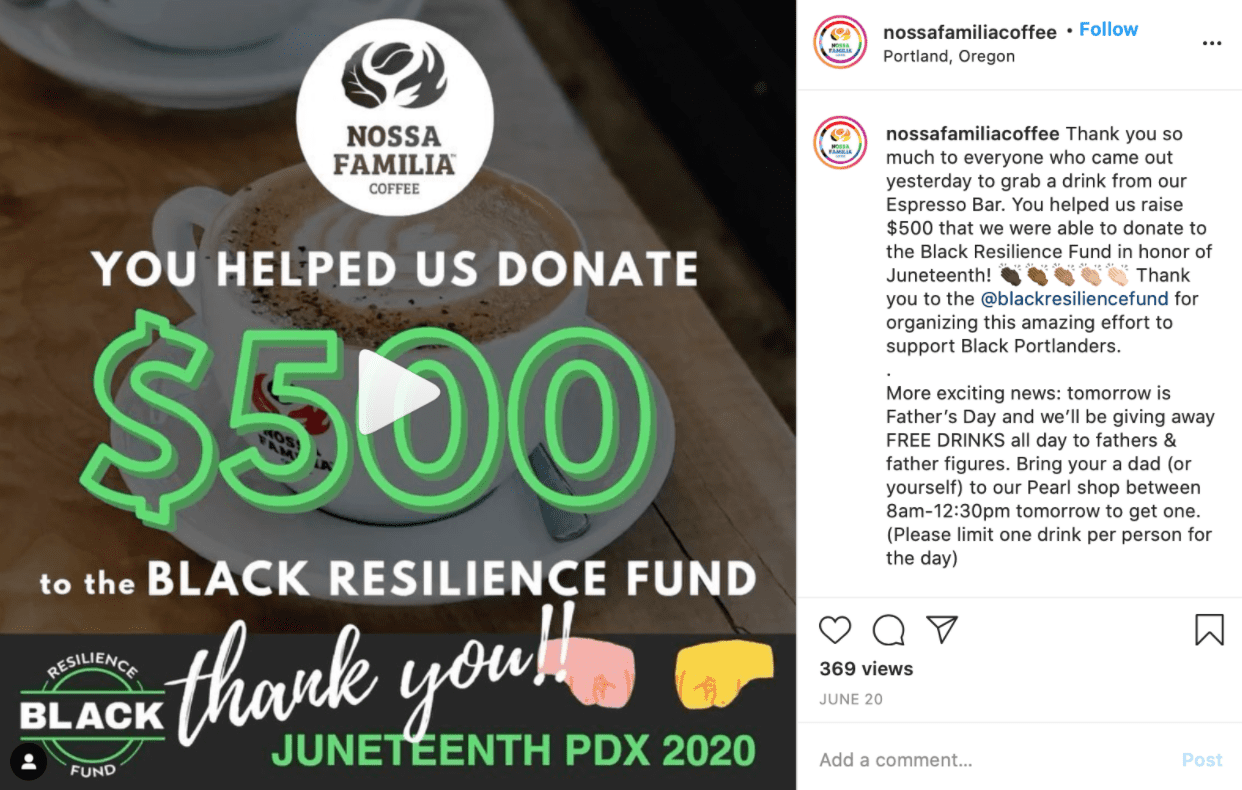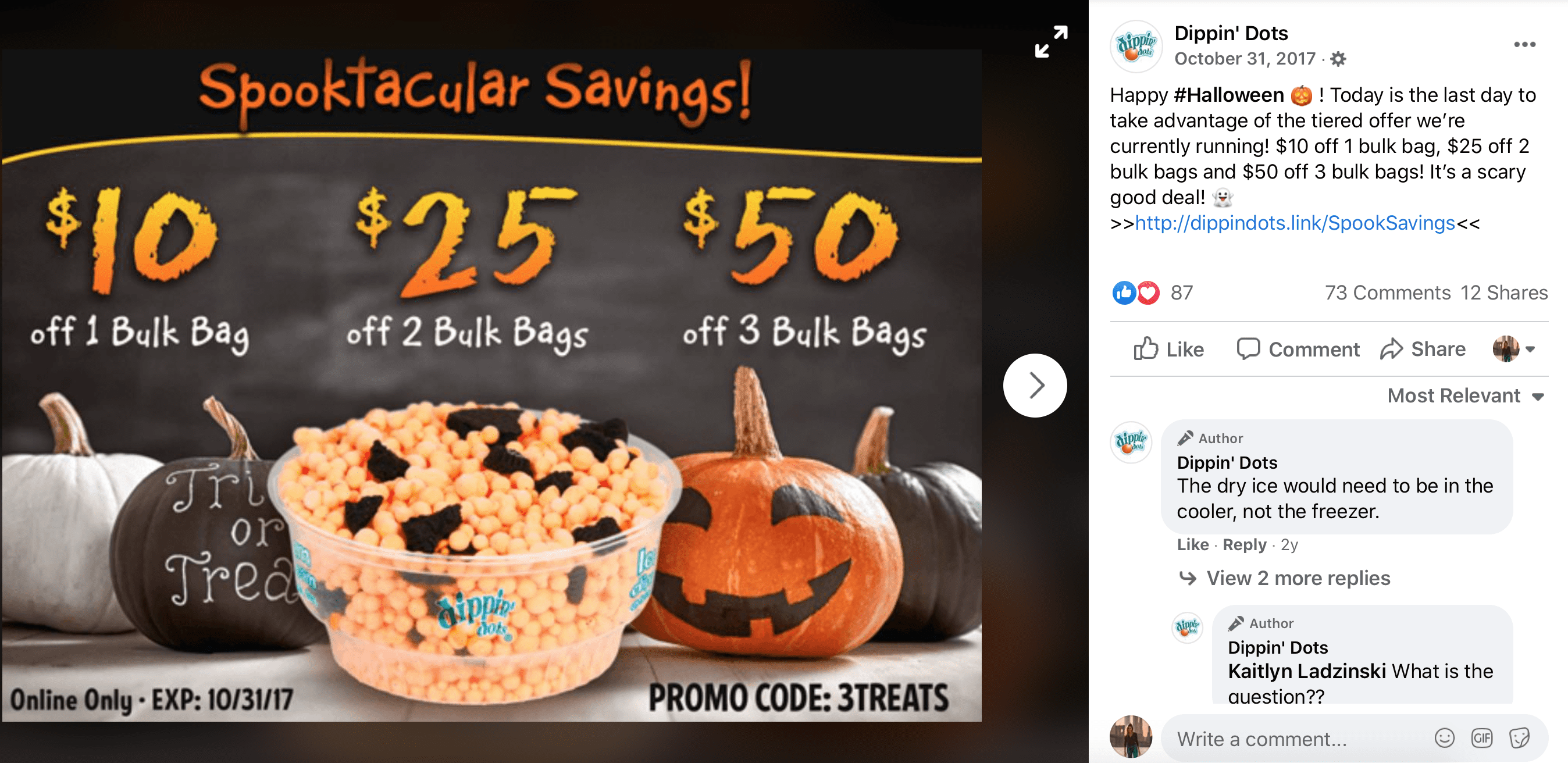 ---
Did you like these tips?! Then don't forget to save the image below in your "Instagram Marketing Tips" board on Pinterest! Also, check out our Pinterest page and follow us to get daily updates + digital marketing and social media tips for small businesses!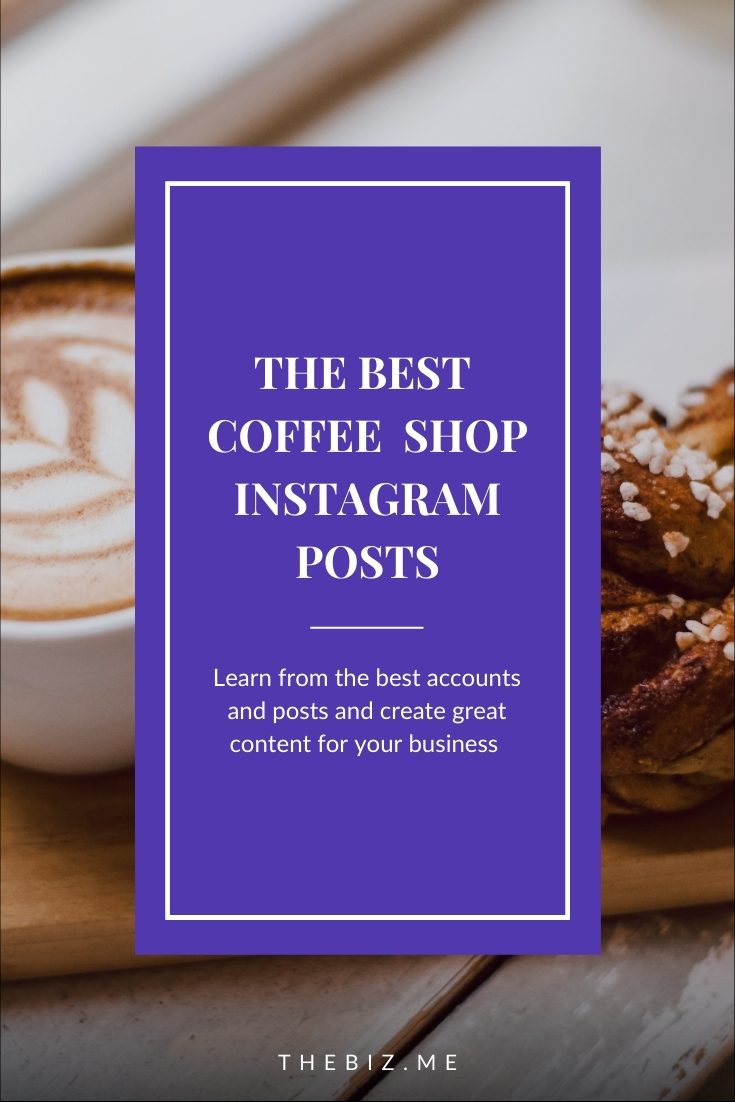 We can't wait to see what you do. Please tag us using the hashtag #GrowingMyBiz so we can see and share your work!