It's time to welcome back Major League Baseball and start planning some fun baseball marketing ideas and MLB-themed content for your small business. 
You might be thinking, "Wait, opening day is still two months away!" You are correct, but when you run a business, time flies, and things can get pushed to the backburner (and eventually forgotten). That's why we like to encourage small business owners to prepare for big events like this in advance. 
Read more: April Social Media Calendar and Post Ideas for Small Businesses
MLB opening day is definitely something you can create some content and marketing campaigns around. It doesn't matter whether you own a sports-themed store or a restaurant; there are so many things you can do to capitalize on this fun event. 
From broadcasting the games to watch-at-home packages with drinks and snacks that people can enjoy while watching the game, there are so many fun ways to promote this event. We've compiled a list of some of the best baseball marketing ideas so you can plan your MLB marketing strategy! Are you ready to play ball? 
14 Baseball Marketing Ideas for Small Businesses
1. Broadcast the Games or Host an Event
Want to host an event? Use social media to announce what you're doing and get people excited to come in and watch the game with you! If you don't feel comfortable holding in-person events yet, you can still host an online event with your customers. Create a Zoom room to talk about the game, drink some beers together, and even host a little trivia match before the game starts. This is such a fun way to celebrate MLB's return!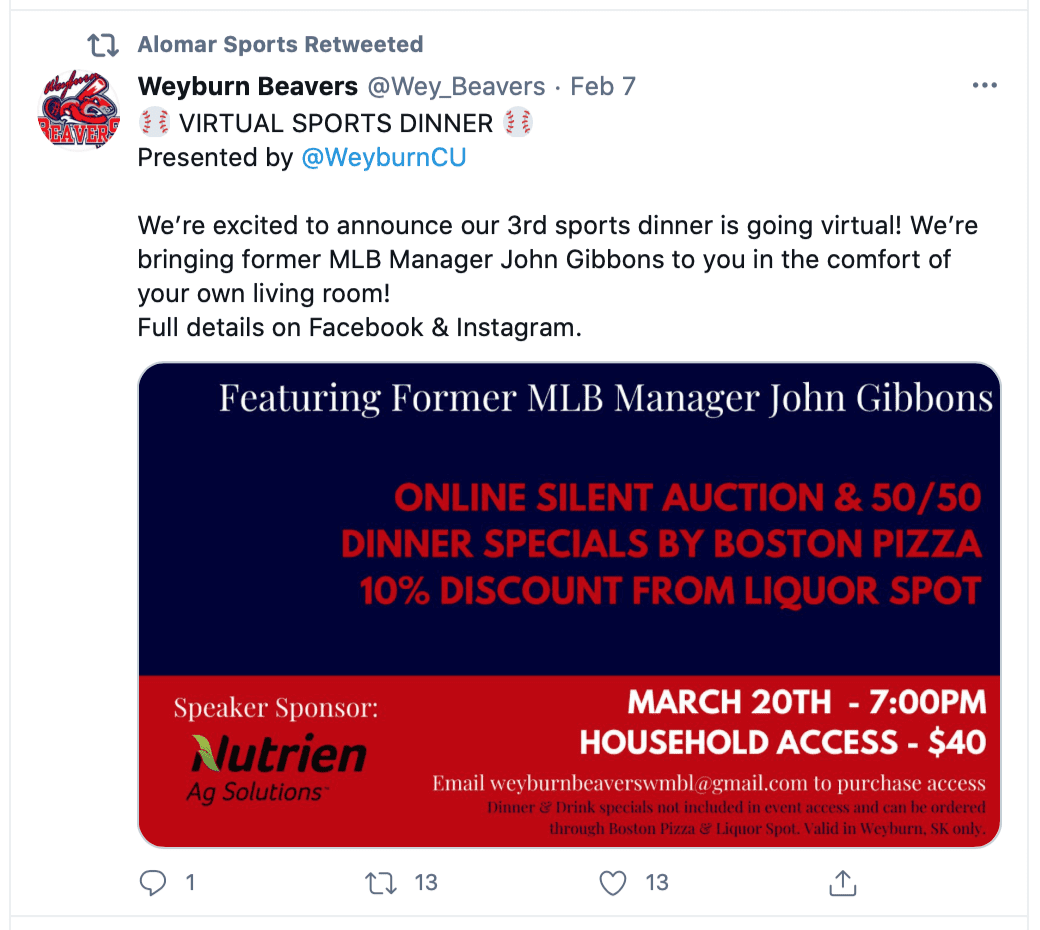 Read more: March Madness Social Media Post Ideas for Businesses
2. Share Some Behind the Scenes Posts
Are you preparing something for MLB opening day? Share a behind the scenes glimpse of your plans with your customers. Prepare them for what is coming and make them curious! If you're planning new products, a new menu, or a special event, make sure you share this with them and if you feel up to it, ask for their opinion as you finalize the details. People love to feel like they're involved, even if it's just a little bit. Share some videos or photos and use the question box that is built into Instagram Stories to get their feedback. 
Read more: Instagram Stories for Businesses: The Complete Guide
3. Create a Special Menu
Is MLB a big deal for you and your customers? Plan ahead and create a special menu for people to enjoy while they watch the games! You can create a few special dishes or revamp some favorite menu items and give them baseball-themed names. It's fun and it will make baseball fans feel like they are part of a small club.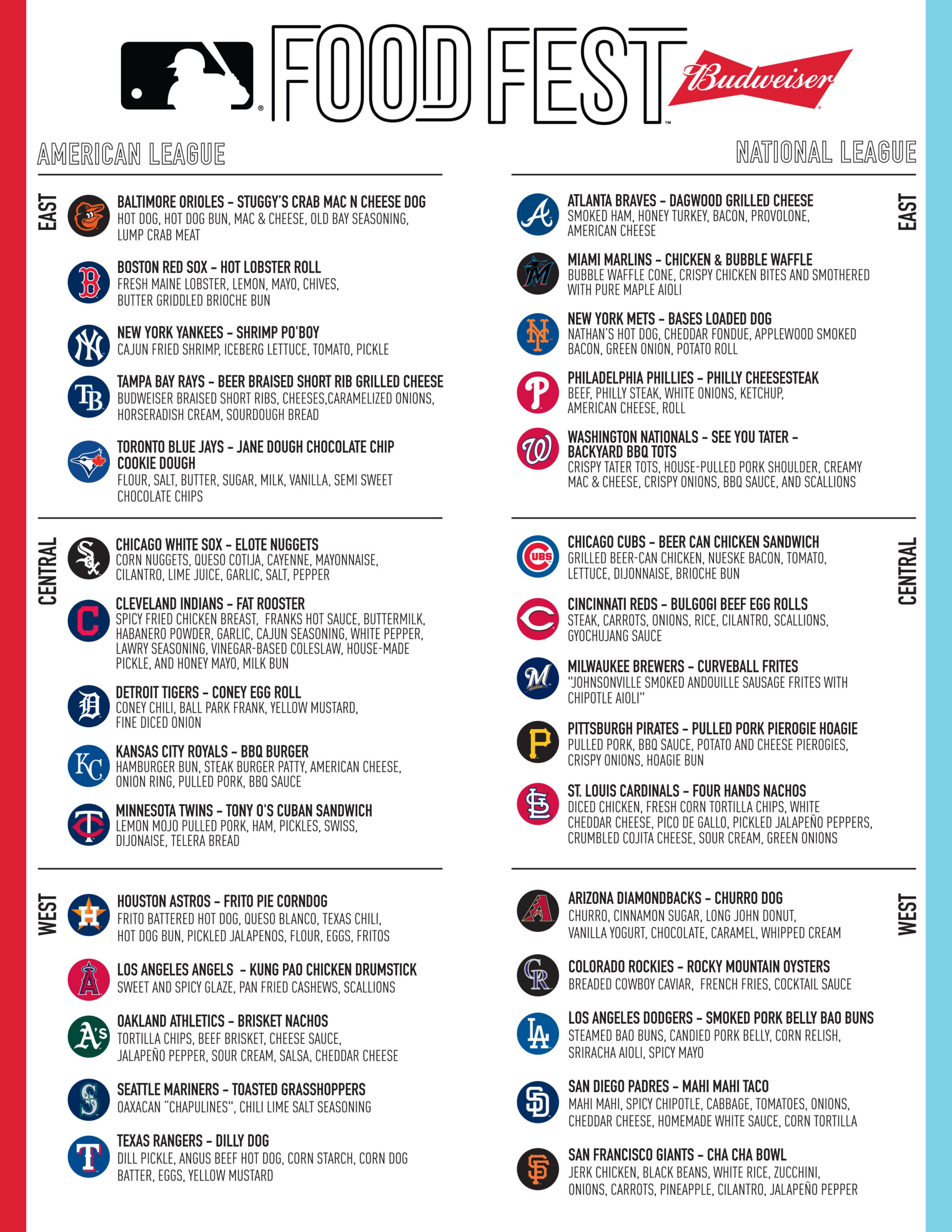 4 Create a Watch-at-Home Kit
Are your customers going to watch the games at home? Why not prepare a watch-at-home kit? If you own a restaurant, you can create menus for 1, 2, or even 5 people. Even if you don't own a restaurant, you can do this. If you own a gift shop, you could put something together that's baseball-themed. If you own a toy store, you could put together a kid's kit for watching the game with dad. Be creative and create kits that are somehow related to baseball.
5. Offer Discounts
Another great way to stand out during sports season is to offer discounts! You can have special discounts on selected items or create a discount that applies to everything you sell. If you don't want to discount your goods or services, you might consider offering free delivery during a specific time frame, like starting an hour before the game. 
Read more: Super Bowl Sunday Post Ideas for Businesses
6. Give Customers Something for Free
If a discount isn't really your cup of tea, perhaps you can offer your customers a little something for free. You could create a special MLB deal and give them a free sticker or baseball-related item with any purchase over a certain dollar amount. Or, maybe whenever someone buys a specific item, you can give them something for free. Whatever you decide to do, don't forget to tell people about it on social media and create posts every once in a while to remind them.
7. Host a Competition (e.g., Guess the Winner)
A fun way to advertise your business and get your audience to engage during MLB season is to host a competition. You can even host it online if you want to! For example, you could ask people to guess who the winner of a game is going to be and offer some kind of prize for those who get it right. Or, you could keep track of how many runs the home team scores, then pick that many winners from your social media follower list to win a prize. It doesn't have to be a big prize; it could be a small free item or a coupon code to save a certain percentage off their next purchase with you.
8. Host a Contest
Another great way to get your customers and audience engaged is to host a contest. Again, it doesn't need to be live; you can create it online. Create a post on your feed where you share an image and the contest's rules. What the contest entails is up to you. You could ask people to share a photo of their pets dressed as baseball players, their idea of a perfect night watching a game, or even the best cocktail or food recipe they can come up with. You can either choose the winners yourself, or you can ask your audience to do it through a poll.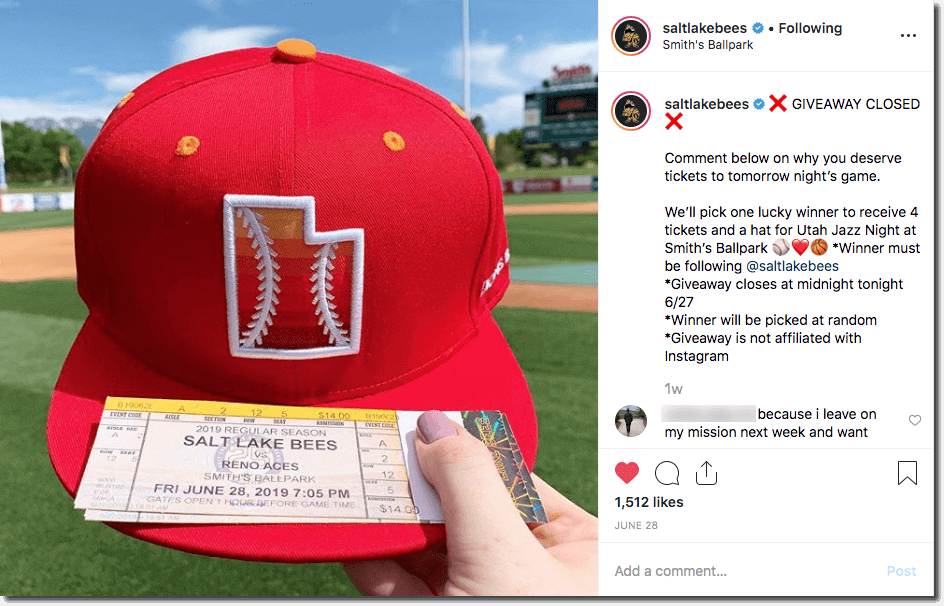 9. Run a Giveaway
Giveaways are fun and easy to do. You just need to decide on the prize, the date, and the rules. They are a good way to reach more people online, especially if you choose to run a "follow and tag" kind of giveaway. 
In any case, whatever kind you choose to do, make sure the prize is related to your business. If you're going to spend time and money hosting a giveaway, you want to make sure the new followers you get aren't just random prize-seekers. You want to make sure they're people that might make a purchase from you down the road. 
Read more: 11 Instagram Giveaway Ideas and How to Run One
PS: Don't forget to download our free and customizable giveaway templates here.
10. Team Up with Other Small Businesses
Have you ever considered teaming up with other small businesses in the same niche or local area? You can create a marketing campaign together where you cross-promote your products or services. Or, if you're feeling ambitious, you could create a product together… like a watch-at-home kit that features a few of each of your products!
When you partner with a business within your niche or local area, it helps you both to get in front of more people who are your ideal audience, and that's an awesome opportunity for everyone involved.
11. Create Polls
Another great way to increase your engagement and get closer to your audience is to create polls. These can be simple and fun, something like: who do you think will win the game tonight? Use your creativity, add memes, or tie in whatever current events are happening to baseball and your business! Then, add a poll sticker on top. 
Pro hack: People love to answer "this or that" kind of polls, and this increases the engagement rate on your Stories. The algorithm thinks that what you're posting is super interesting, which means your future Stories are going to show up to more people than they usually do. If you have an important offer or launch, be sure to share it AFTER you have a really popular poll to boost its reach even further.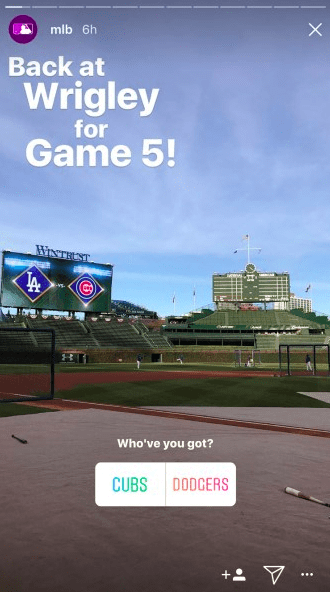 12. Share User-Generated Content
Did a customer order one of your baseball-themed products and tag you? Are they watching the games and eating your food? Re-share their post. Sharing user-generated content is a great way to use social proof to step up your marketing game. By doing this, you are able to show potential customers that other people are enjoying your products, which may very well convince them to try your business out for themselves!
13. Share Stories
Stories are great! They can be effortless and still immensely valuable. You don't need all these fancy editing tricks; you just need to record some videos or share some pictures on a consistent basis. For example, if you're hosting an event or creating a product, use your Stories to share them with your followers. It's great for quick updates and last-minute stuff since you don't have to put a lot of thought into it. They disappear after a day, so they don't have to be perfect or polished. Just let people know what you're up to and start a conversation with them, especially if they engage with you first!
Read more: 27 Social Media Post Ideas for When You Run Out of Ideas
14. Create a Tutorial
Tutorials are both fun and helpful – the perfect type of content marketing! You can create useful tutorials – like recipes, how-to videos (like how to prepare your house for the big game) or explain a better way to do something, like pour a beer into a glass or throw a better pitch. You could get humorous with your tutorials, too, like "how not to get disturbed by your partner while watching the game." Just make sure whatever you create is aligned with your brand persona. For example, if you're a legal firm that is usually very serious and formal, a funny tutorial might not be the best thing to share.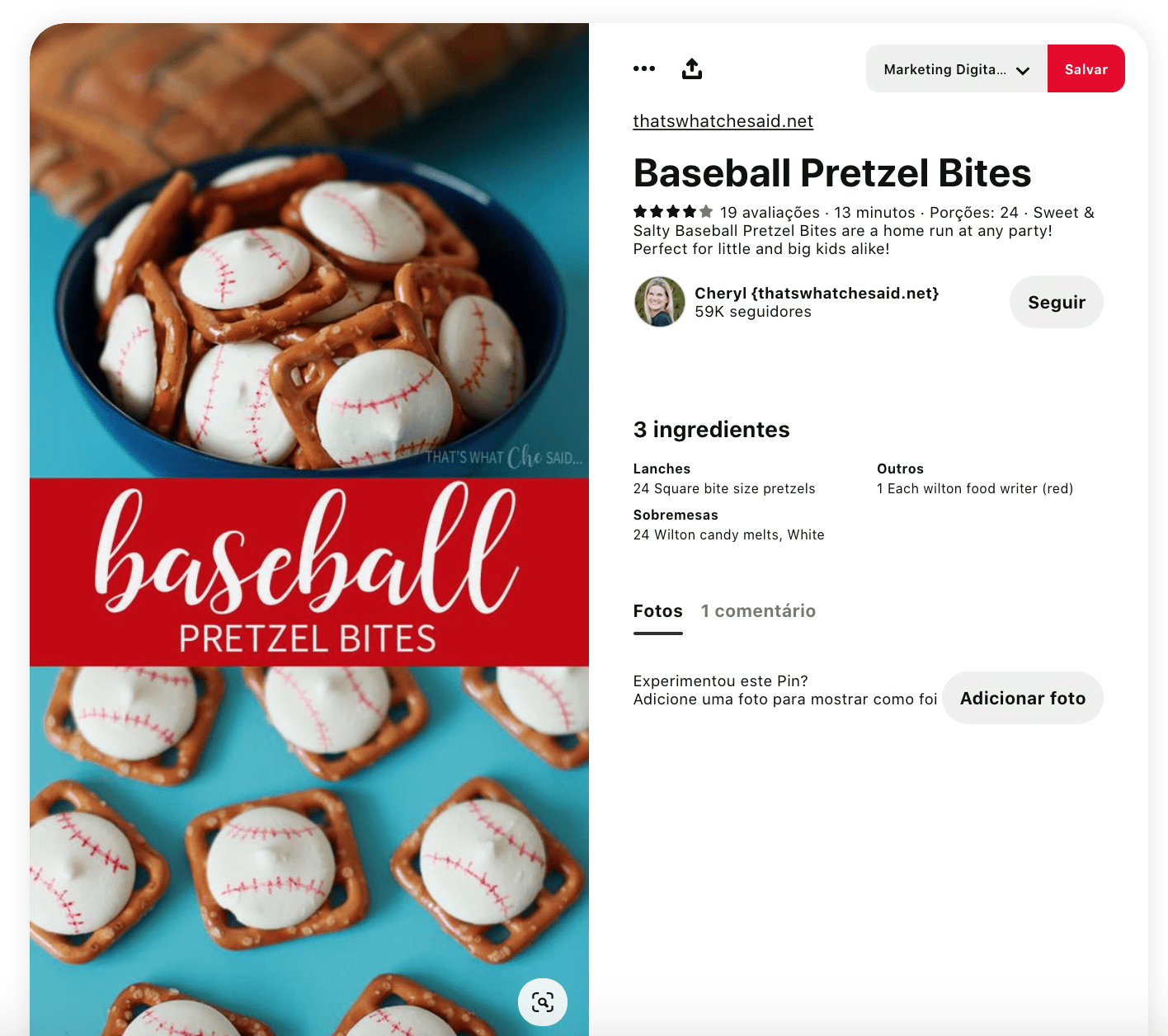 ---
We can't wait to see what you come up with! Don't forget to tag us using the hashtag #GrowingTheBiz so we can see and share your work, and don't forget to follow us on Pinterest for some more inspiration and ideas!