I once heard a friend say that video editing apps are all the same, and that they are very hard to use. I partially agree with her on that. There certainly are some video editing apps that are really tricky and complicated to use, and in fact, they seem to be created for professionals with a lot of detailed functions small business owners definitely don't need. This can be overwhelming and it can make people give up on the idea of recording or editing videos altogether.
But, love it or hate it, video marketing is here to stay, and it's no secret that social media apps like Facebook and Instagram prioritize video content over static content. So, if you're a small business owner, you need to be thinking about how you can include videos in your marketing strategy. Yes, you need to shoot them, but you also need to edit them so they look polished and professional. But here's the good news: there are some video editing apps that are easy to use, even if you don't have any experience.
If you're a business owner who wants to stand out on social media, grow your audience, and attract more customers, there's no way around it. You need to start creating videos on social media, whether it's through the live stream option, something like Instagram Reels, or by posting a video in your feed that you've created and edited outside of the platform. 
Read more: Top 16 Apps for Creating Beautiful Instagram Stories
With the rise of smartphones, creating photos and videos has become so much easier; it doesn't matter anymore whether you're an amateur or professional photographer or videographer. This is where my friend and I have differing opinions. Sure, there are a lot of confusing apps out there, but there are also a lot of really intuitive and easy-to-use ones. In this article, I'm going to share 12 of my favorites! 
There's just one important thing I want to touch on before we dive into the list, though. No video editing app will be able to save bad footage. I've learned this lesson the hard way. You need to have good lighting, a tripod, and a quiet room. Without these three things, the quality of the video will probably be lackluster and there's really not much a video editing app can do for you. 
Okay, now let's move onto the list. I have rounded up some of the best video editing apps that are perfect for small business owners with limited experience. These apps are easy to use and have some different and interesting features that I'll outline for you below!
The 12 Best Video Editing Apps for Small Businesses
1. InShot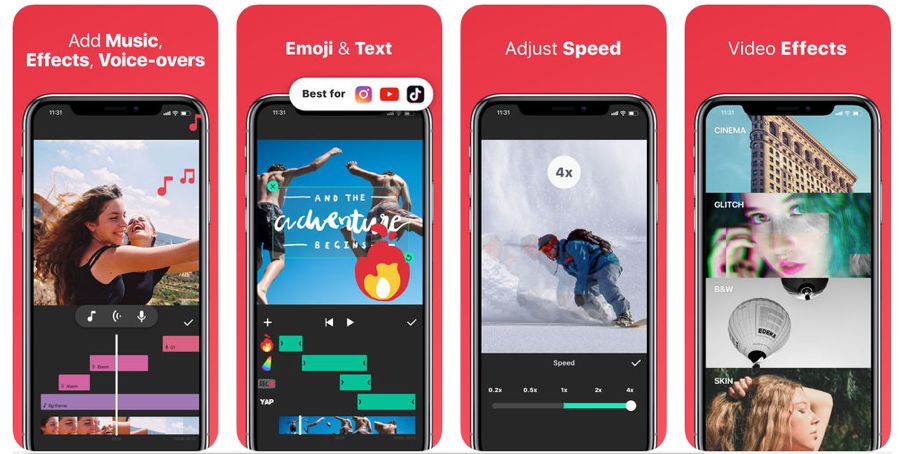 InShot is a complete and easy to use video editing app. You can create videos, merge, trim, cut, change the video speed, the format, add blurring effects and filters, music, and even voiceovers. 
Because it's so complete, it might be a little intimidating at first, but once you get into it and start poking around, you will probably find that it's the perfect app for what you want to do, especially since you basically don't need any other apps!
However, keep in mind that if you don't pay for the app, you will have to have their watermark on your videos as well as deal with some annoying ads.
Highlights:
It's free

Several editing options from basic to more advanced

They make it easy to resize your video
Download now: Google Play  |  Apple Store
2. Filmr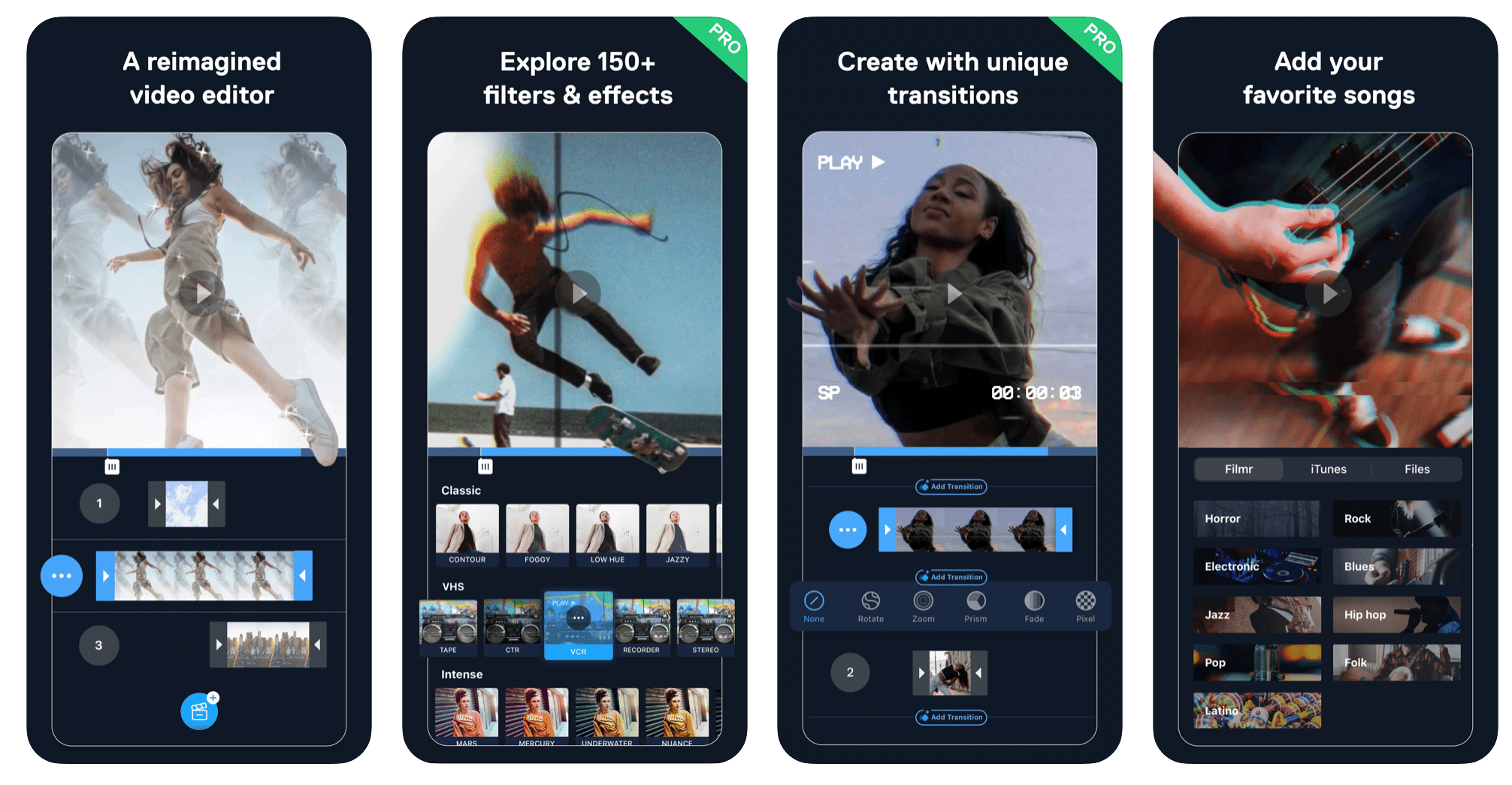 Filmr is almost never listed in any of the top video editing apps lists, and I honestly don't know why. I love Filmr, and it was always really useful for me – I actually prefer it over InShot. It's easy to use, the app design is very simple and intuitive, and the app responds well to the touch, making it very easy to cut videos.
I created a whole module in one of my online courses using just my phone and Filmr. It's easy to import, cut, and move the pieces around to get it just how you want it.
Aside from that, Filmr also allows you to use your iTunes songs or music within the app. You can choose filters and effects to use on your videos (they have more than 150 options). You can also add voice-overs and slow down or speed up your videos, and add text with your choice of fonts!
Highlights:
Simple layout

Easy-to-use

Complete app with lots of features
Download now: Google Play  |  Apple Store

3. Kinemaster

Kinemaster is one of the boldest video editing apps out there. In fact, it's one of the most popular ones among Android users. The app offers several layers that adjust according to the processor of the smartphone. 
They have amazing features such as the ability to let you playback multiple video layers, cool blending modes to allow videos and images to be overlaid perfectly, reverse function (which allows users to make focal shifts), in-camera transitions, chroma-key function (where you can composite videos with a mask preview and fine-tuning of the mask edges), and more.
Overall, the app is very complete, professional, and easy to use.
Highlights:
Professional features

Chroma-key function

Easy to use
Download now: Google Play  |  Apple Store

4. iMovie

If you're an Apple user, you're already familiar with iMovie. This is the Apple video editor available for mobile and desktop. iMovie is easy and simple, and like most Apple products, it's intuitive and basic. If you want to make some quick adjustments without getting into all the technical nitty-gritty, this option might be perfect for you.
Just know that it doesn't offer the more elaborate and modern editing features, but that means practically anyone can use it and get a pretty good result.
Highlights:
Simple and basic

Good for beginners

It's free
Download now: Apple Store

5. Magisto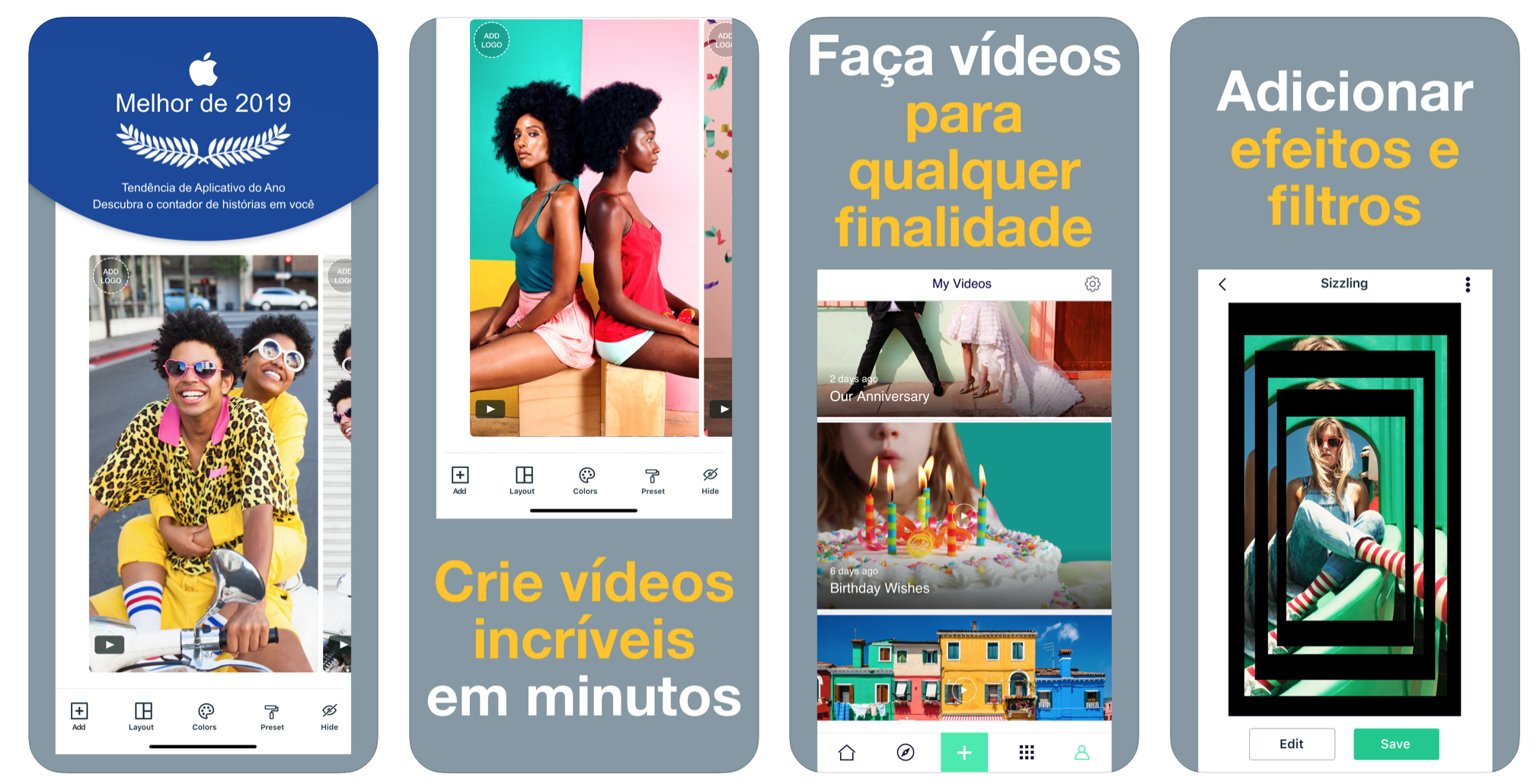 This AI-driven app will help you create perfect videos; all you need to do is choose the editing style, add the footage, and choose the music. Then, Magisto will automatically create your video to your specifications. To make it even easier, the app will suggest music that matches the video! This is such an easy way to create professional-looking videos without too much effort. 
Magisto is loaded with all kinds of advanced features, too. It has facial recognition, filters, effects, and iStock integration, which means you get access to high-quality stock images and video footage to use on your videos, too.
Highlights:
Facial recognition features

Videos look very professional

Automatically edits videos

Music suggestions
Download now: Google Play  |  Apple Store

6. Splice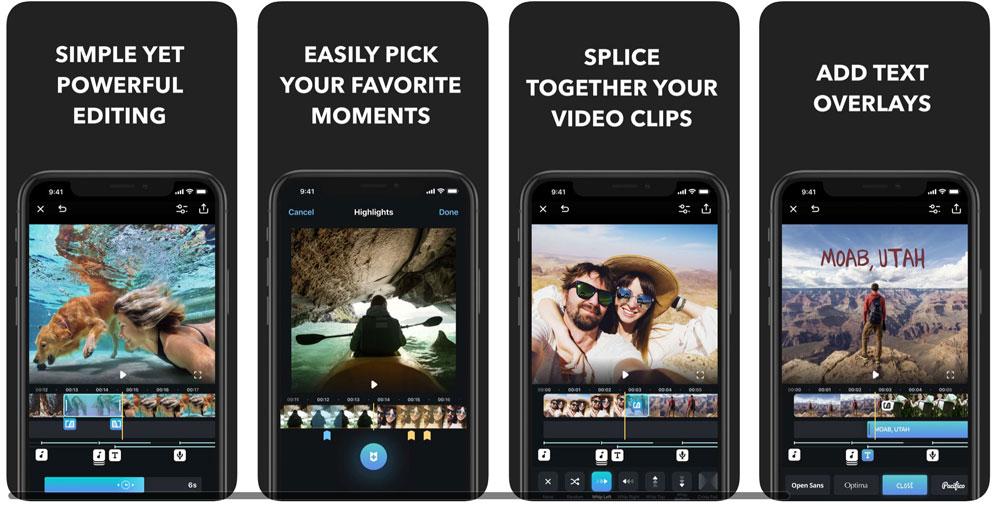 Splice is a very intuitive video editing app created by the makers of GoPro. In just a few simple taps, you can splice different videos together, trim, edit, control the speed, add animations, and customize transitions. 
Highlights:
Intuitive

Very complete app

It's free
Download now: Google Play  |  Apple Store

7. Clipomatic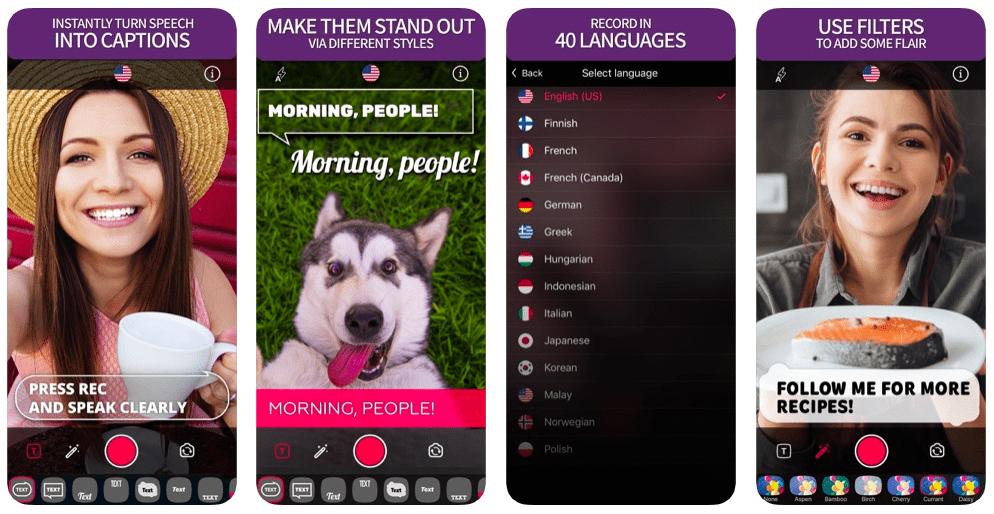 Technically, this is not a video editing app, but I still think it's worth mentioning. Clipomatic is one of the best apps out there for adding closed captions to videos. It uses an automatic voice-to-text translation to add text so there's no transposing required! You just record your video with Clipomatic and the app will create the subtitles. If there's a mistake, you can simply edit the sentence and save your changes.
Why is it important to caption your videos? Aside from making your video content more accessible, so many people watch videos on their phone and even Instagram Stories without sound. Captioning your videos ensures that they can still get the message behind your video, even without sound.
Clipomatic is only available for iOS but if you don't have an iPhone, you can download Instagram Threads, which is another app that does basically the same thing. 
Highlights:
Lots of caption styles

Translates voice to text to more than 40 different languages

Easily edit the text if there's a mistake

Record in full-screen or square format
Download now: Apple Store

8. Patternator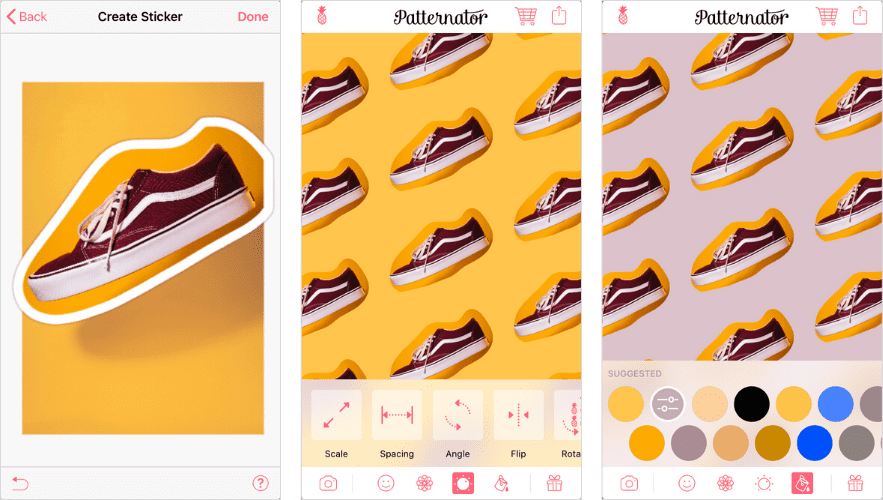 Patternator is a really fun app. It's great for your business, especially if you have a young and fun customer base. This video editing app allows you to create animated backdrops using images, stickers, and gifs. It's the perfect way to jazz up a post about an upcoming sale, product launch, or some other big news!
In the app, you can adjust the speed, the effect you'd like to add, and a bunch of other things.
Highlights:
Adds a cool "young" look to your content

It's free

Save your content as a video, gif, live wallpaper, or image
Download now: Google Play  |  Apple Store

9. Mojo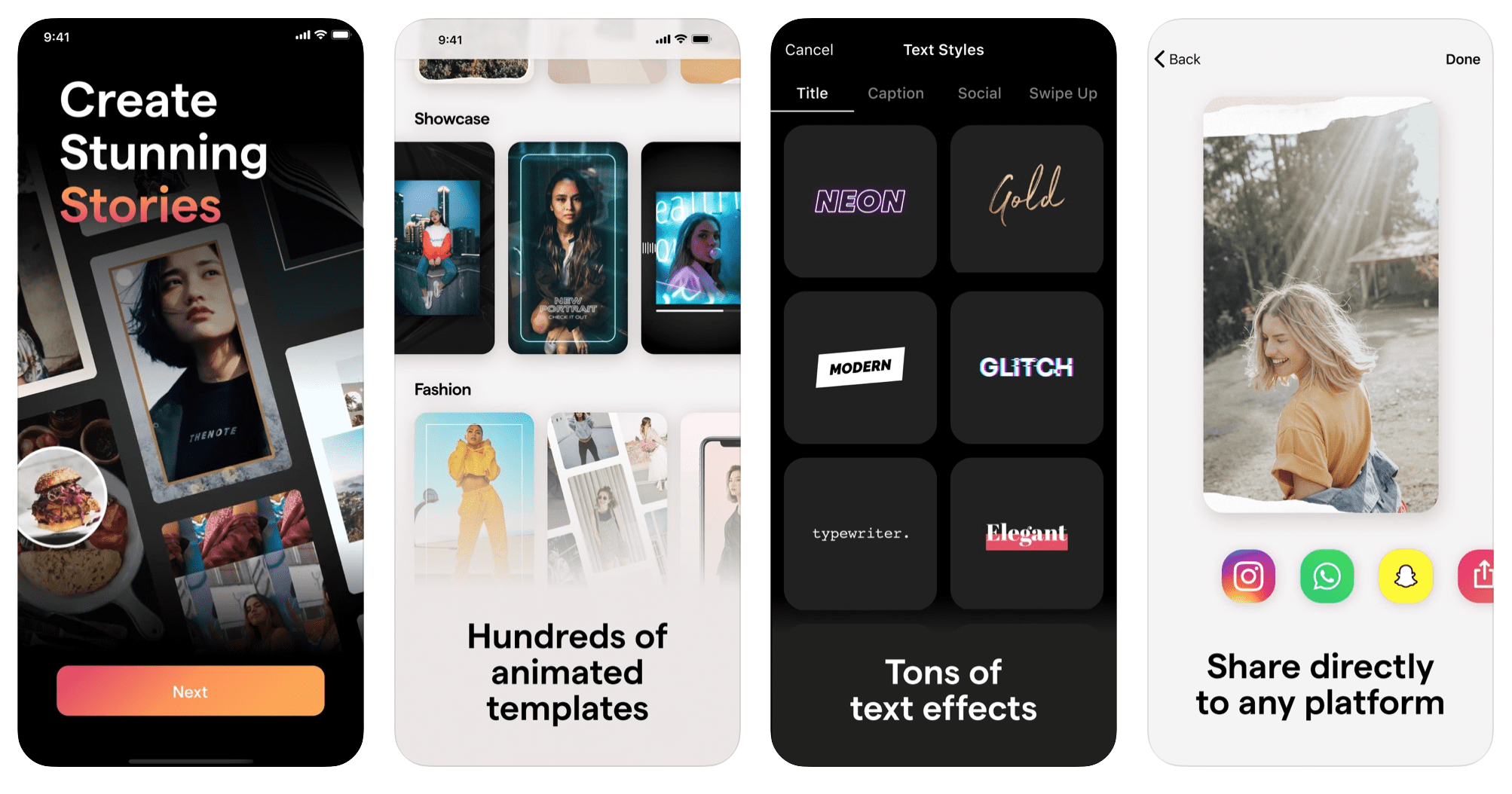 I simply love Mojo! This app creates animated videos, even if you have no video! Their animated templates help you to create a video from scratch.
Of course, if you have a video you'd like to edit, you can do that in the app as well and add text, change the background color, and add "pages" to your design (in case you want to post the video on your Instagram Stories).
Mojo can turn any basic image or video into a masterpiece using built-in animated effects. It's the perfect tool to create more eye-catching content for your small business.
Highlights:
It's free

Several customizable animated templates

Add effects, titles, edit the animation, speed, colors, etc.

Add your own brand's fonts to the app.
Download now: Google Play  |  Apple Store

10. Adobe Spark Video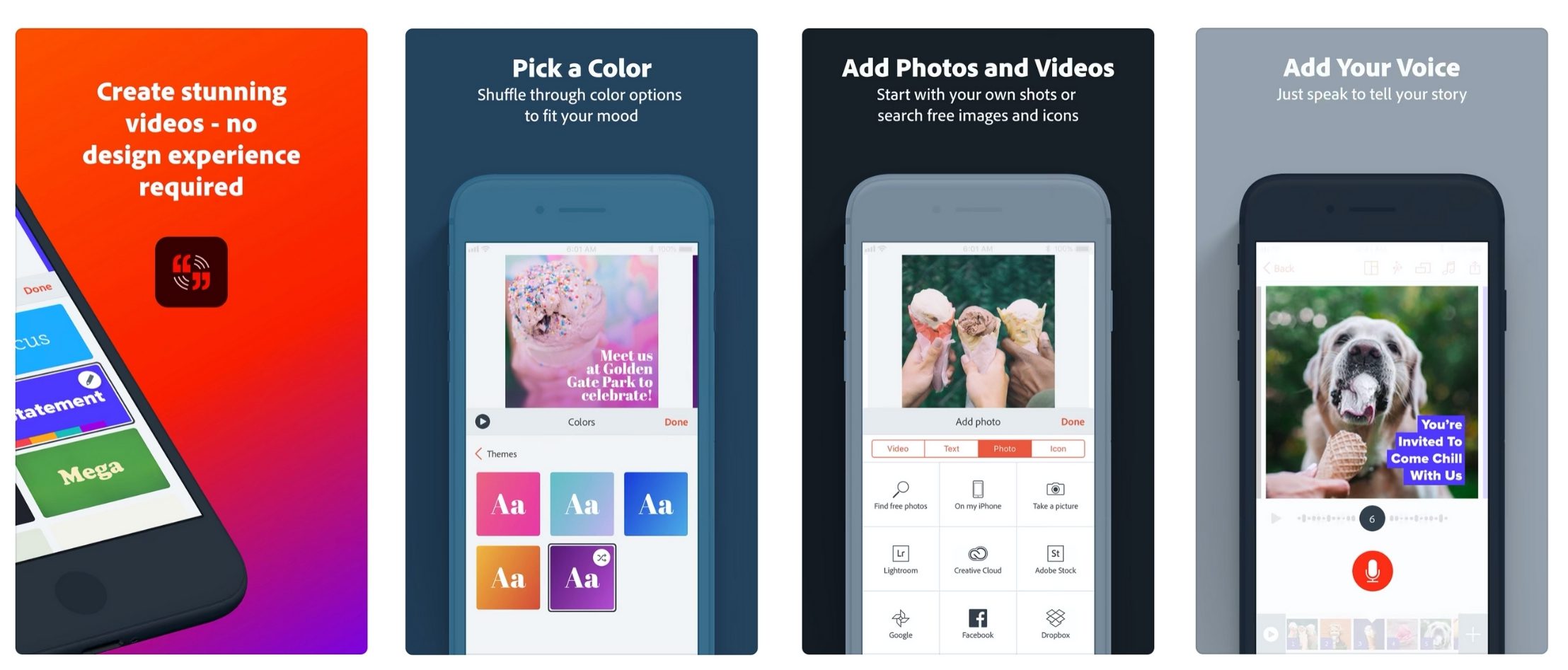 Adobe has some really great apps for both mobile and desktop, and Adobe Spark Video is a great one for mobile. With Spark Video, you can add photos, raw video, and text to create a professional-looking finished product. It's simple and easy to use, and its built-in themes help you create better videos with animations, cool layouts, and fonts. The only downside is that the app is not available for Android.
Highlights:
Offers cool layouts and fonts

Simple and easy to use

It's free
Download now: Apple Store

11. LifeLapse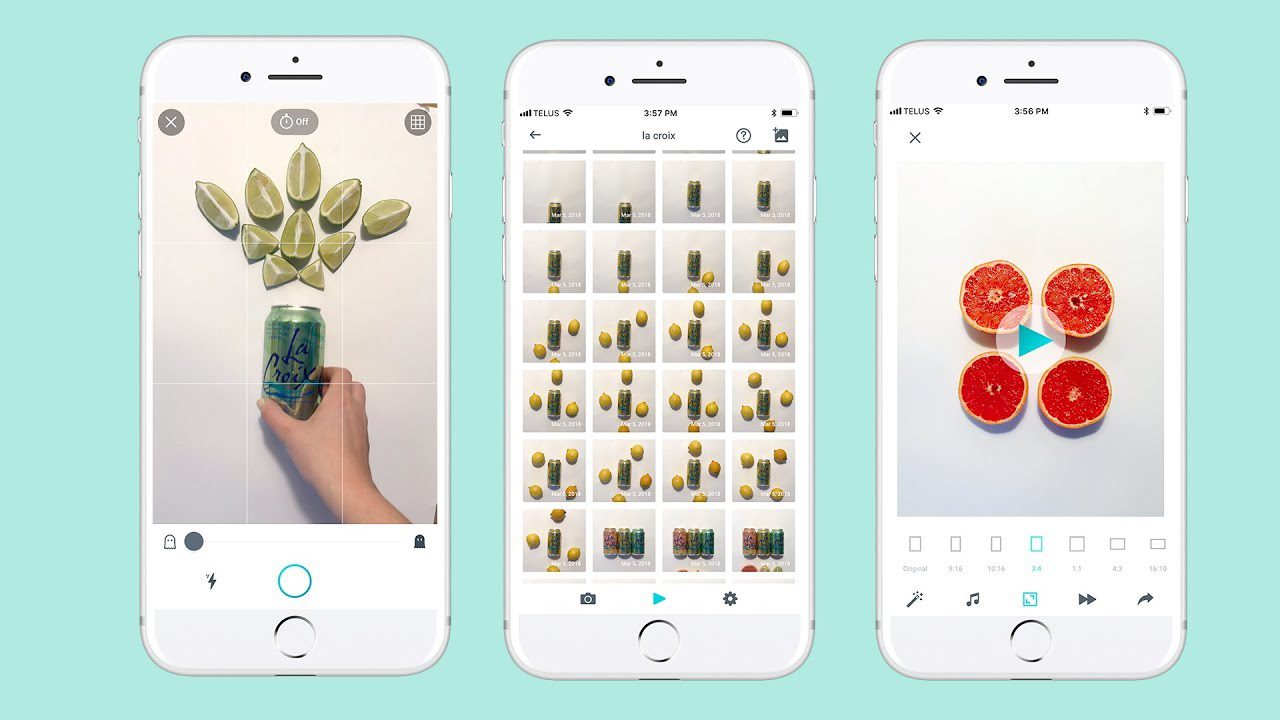 This is another video editing app that is not actually a video editing app. Lifelapse is an awesome tool that helps you create simple stop-motion videos that really stand out. They have this awesome ghosted image feature so you can see exactly how the next photo in the series should line up. It takes all the guesswork out of the process!
Highlights:
It's free

The best app to create stop-motion videos

Different shooting options

Ghosted image feature
Download now: Google Play  |  Apple Store

12. Adobe Rush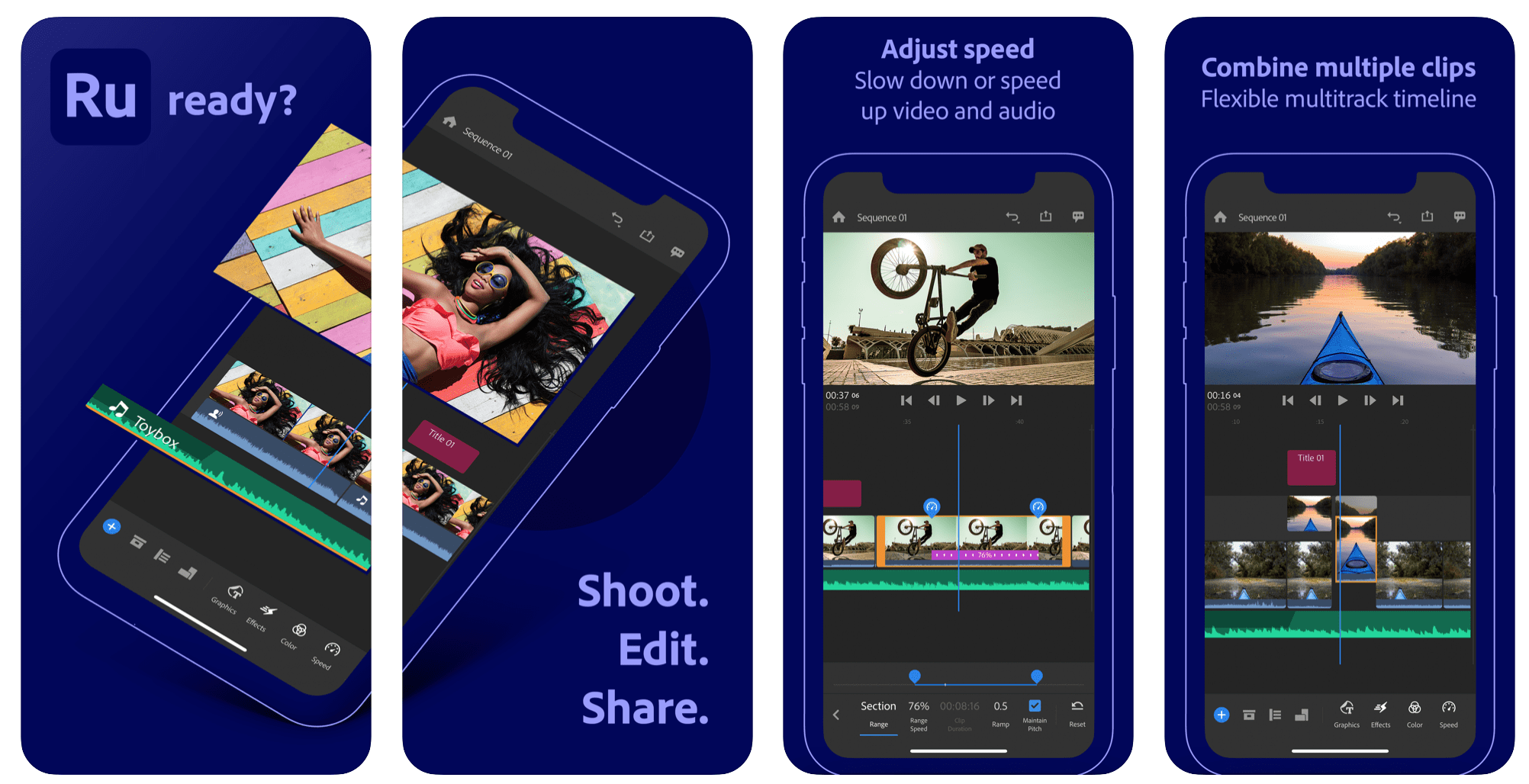 If you're looking for something a little more advanced, Adobe Rush might be the perfect option for you. It's available for free on both Android and iOS but it is important to note that the free version only allows you three exports. After that, you'll need to subscribe for $9.99 per month.
Another potential downside is that you need to have a really powerful smartphone and it won't work on some older Android phones. 
However, the app is pretty amazing. It offers some awesome transition effects, customizable animated text, as well as the automatic audio ducking function. This feature adjusts the music level under any interviews and voice-overs automatically.
Highlights:
It's very complete with everything you expect from a professional app

More advanced, for people who need more features and options

Audio ducking function
Download now: Google Play  |  Apple Store
---
Did you like these tips?! Then don't forget to save the image below in your "Online Marketing Tips" board on Pinterest! Also, check out our Pinterest page and follow us to get daily updates + digital marketing and social media tips for small businesses!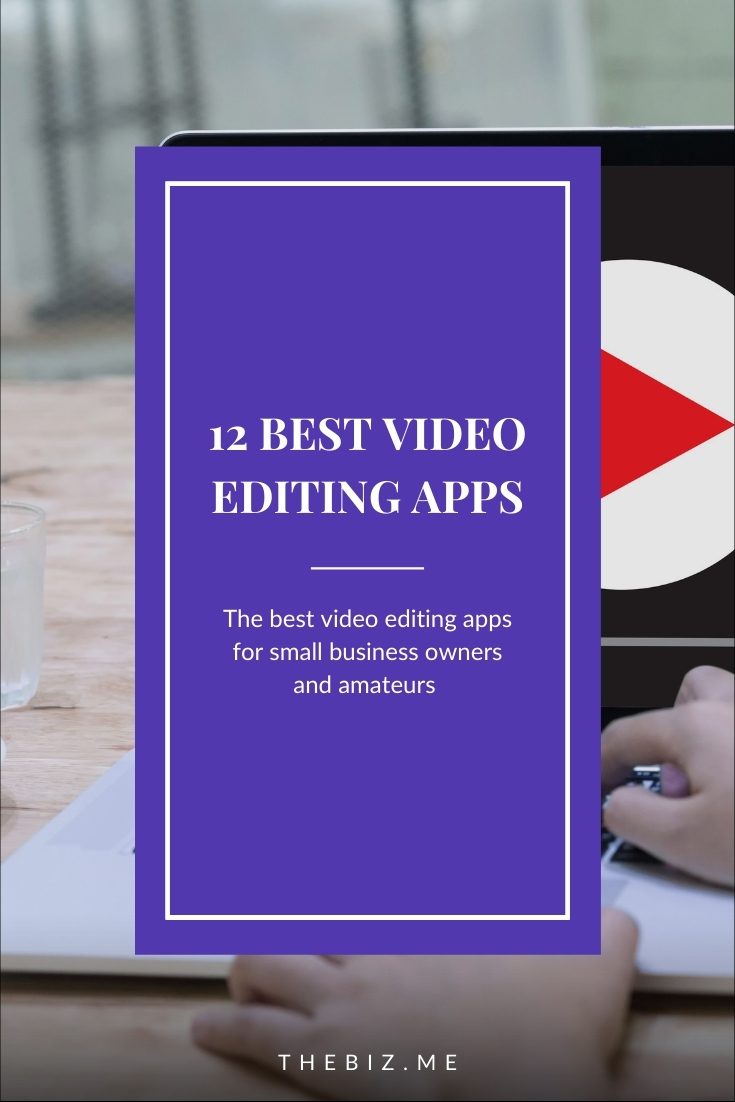 We can't wait to see what you do! Don't forget to tag us using the hashtag #GrowingMyBiz so we can see and share your work.