New Year's Eve is less than 2 months away (I know, it's hard to believe!) which means it's the perfect time to get ready for the holiday season. We want to help, so we created this list of some of the best and most effective New Year's marketing ideas and posts to inspire you. 
The holidays can be so overwhelming for people, especially small business owners like you and me. It's hard to get caught up on anything, and in fact, if you haven't started planning your social media marketing strategy for Thanksgiving, Black Friday, Cyber Monday, Christmas, and New Year's, you're cutting it pretty close. It's time to get down to business! 
If you've been doing this awhile, you know that you have a couple of crazy months ahead of you. You're going to need to make an extra effort to stand out from your competitors and give your customers and potential customers something of value. 
So, here are a few New Year's marketing ideas and some examples that will hopefully get you feeling eager and excited to start planning your holiday social media strategy!
Psssst! Want to get our FREE December social media templates? Click here to download them!
13 New Year's Marketing Ideas and Social Media Posts to Inspire You
1. Create a Handwritten Note
I know this is technically not digital marketing, but hear me out. Handwritten notes are very personal, and people aren't really doing it anymore. Adding a handwritten note to a package is bound to really "wow" your customers and chances are, they'll turn to social media to rave about this business who is going about things the right way. When someone talks about your company on social media (in a positive way of course), it is one of the best forms of social proof that you can get. It's just as powerful as a review, except it comes across as even more authentic… and it doesn't cost you anything!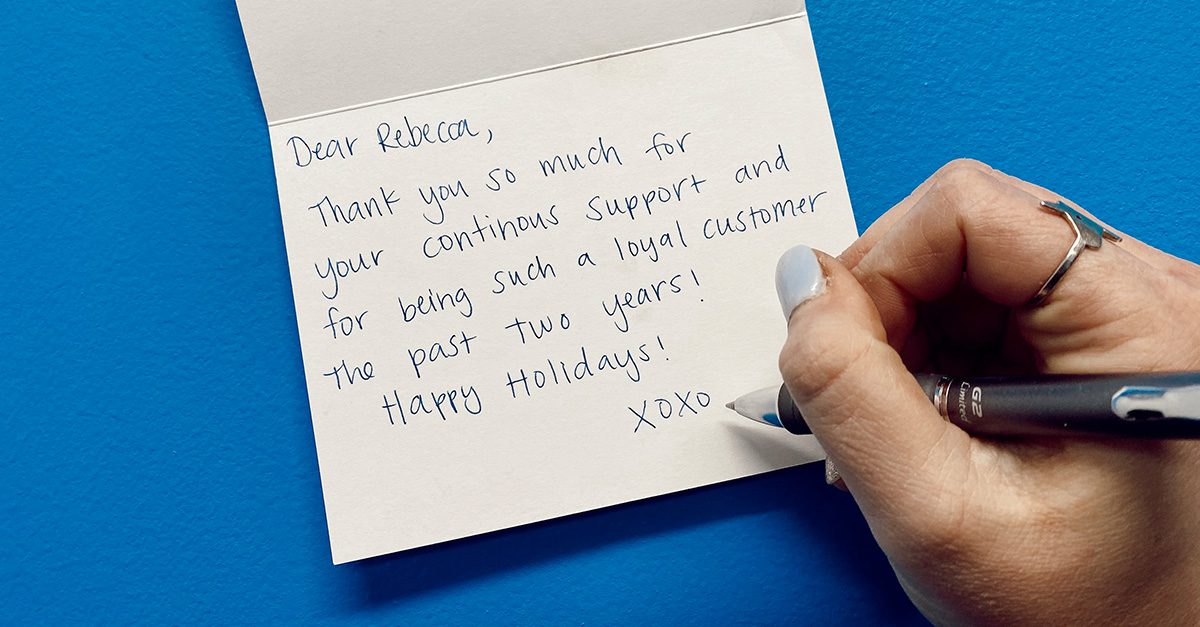 2. Share a Peek Behind the Scenes
Let's take things a step further and show a behind the scenes video that shows you writing all of those handwritten notes? Or, if you own a restaurant you might want to show them how you create one of your signature dishes or how you're planning to decorate your space for New Year's Eve. Even if you're planning some kind of surprise, show your followers a little sneak peek and they'll instantly feel like they're one of your "insiders." Again, it doesn't have to cost any money to get your brand out there and create some buzz for yourself. 
3. Run a Contest
Contests are a super fun way to celebrate the end of the year. You can get really creative with this, like you could ask people to share their most inspiring quotes, define your business in one sentence, share a creative picture in your place or show themselves using your products. You could ask them to create a testimonial about your business, put together a scavenger hunt… the sky's the limit. Think of something people would have fun doing and make sure the prize is really worthwhile so more people will participate. The more people who engage with your post, the better chance you have at reaching new people outside of your already established network.
4. Put Together a Giveaway
Another fun way to celebrate New Year's is to create a giveaway. Giveaways are fun, and they also increase your brand's exposure online. If you're not sure how to put together a giveaway, take a look at this post we wrote that explains how Instagram giveaways work and gives some ideas for you to get started.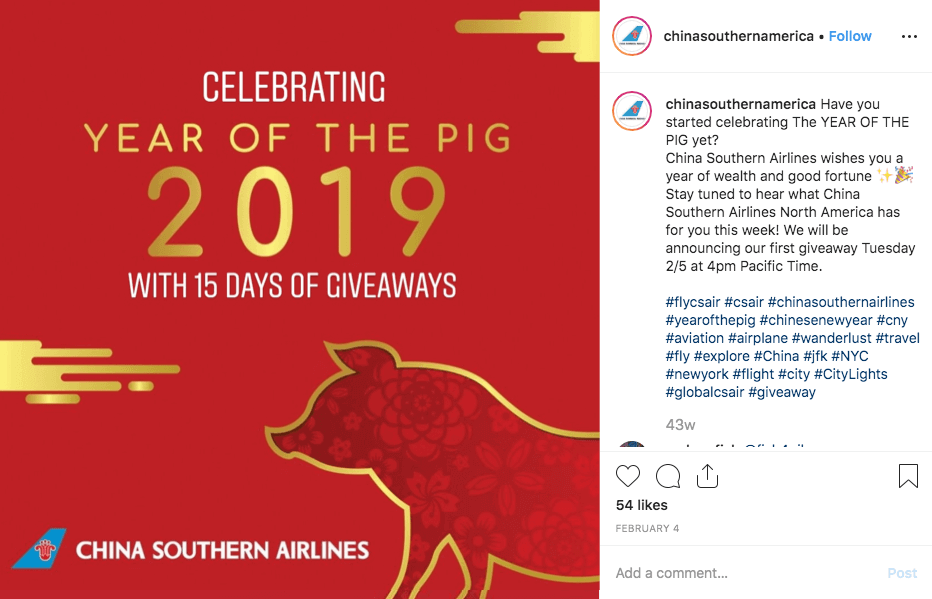 5. Launch New Products
Some people might think New Year's is a bad time to launch new products. However, I think it's a great time for something new. It could be something to get people excited about their new goals for the new year, or it might be a seasonal item that you want to create demand around. Use your social media presence to poll your audience and see what kinds of things they might be interested in seeing you add to your lineup. 
6. Get Personal
The end of the year is the perfect time to get more personal. So, if you feel like you want to get closer to your audience, consider creating a post (with a long caption) or a video that shares your experience over the past year, the challenges, and everything that you've overcome to be where you are now. Don't forget to tell people how important they were to you and thank them for their support!
7. Create a New Offer
The most obvious way to celebrate a special time of year is by creating a special offer. But just because it's obvious doesn't mean it has to be boring. You can create a silly video, a GIF, or you could create a puzzle for them to solve to unveil the details of the offer!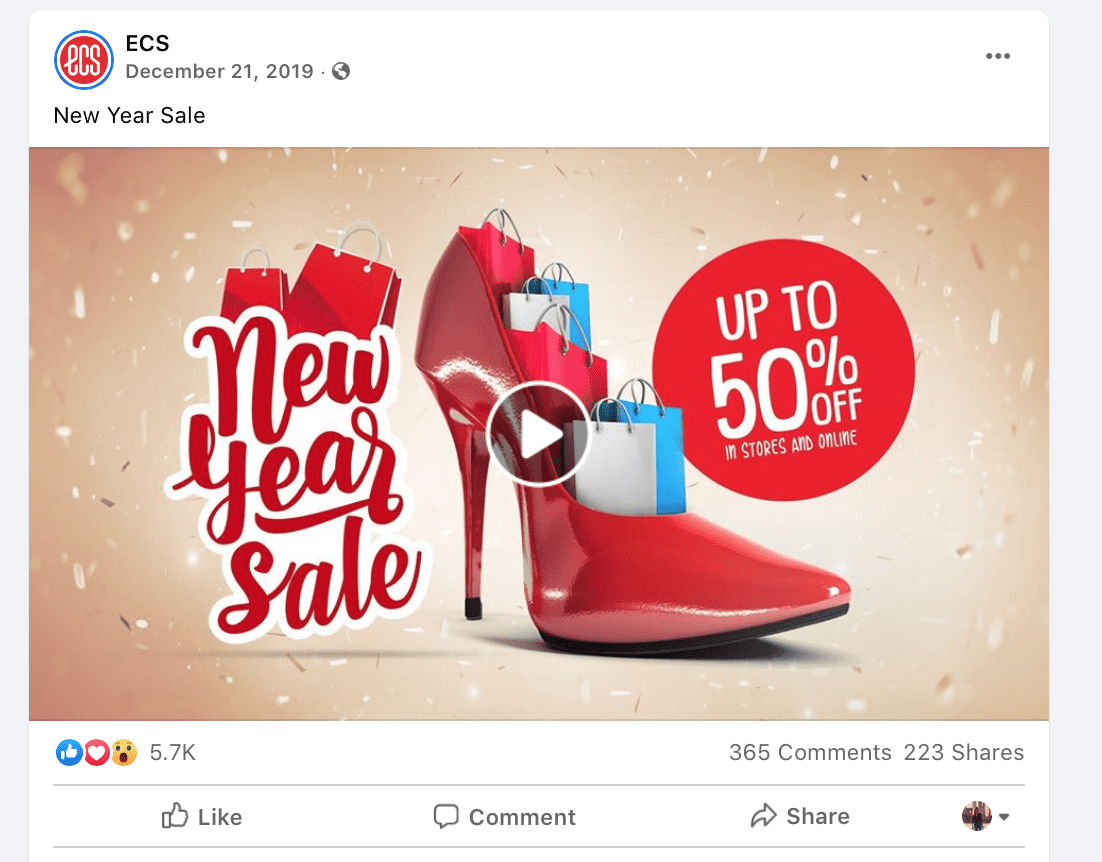 8. Host an Event
New Year's Eve is the perfect time to host an event and celebrate with your followers and customers! It doesn't necessarily need to be something in-person; you can host an online event sometime near the end of the year so you can toast them and entertain them a little, too! 
9. Decorate Your Website and Social Media Pages
Your website and social media pages are like your digital home, so why not decorate them for the holidays? Create a cute holiday-themed cover photo for your Facebook page, add a fun New Year's effect to your logo (like a 2021 hat), or create some special popups on your website. Make the most of the holiday season, down to the very last little detail.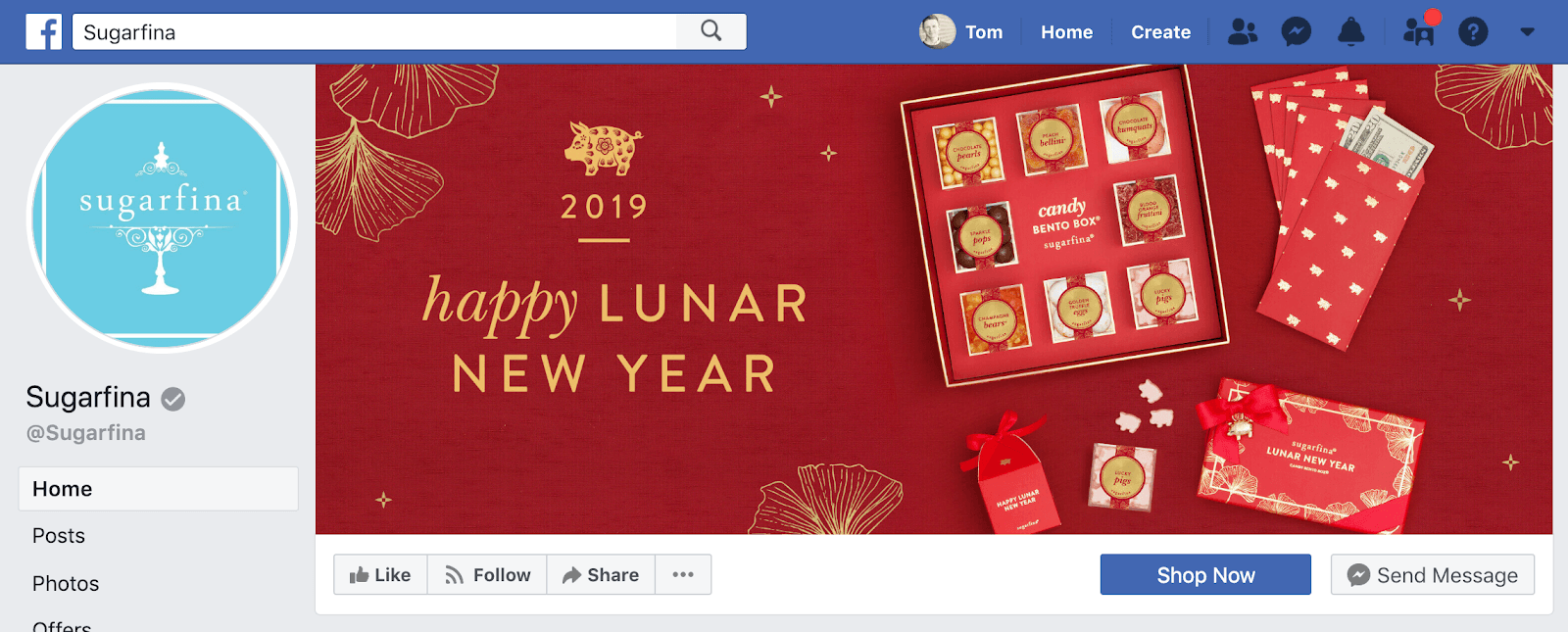 10. Create a Countdown
Countdowns are a great way to catch your audience's attention. We're not talking about a countdown for the new year. Instead, we're talking about a countdown for a special launch, offer, or something that you're planning in honor of the New Year's Eve holiday. Creating a countdown will really make people feel curious about what is about to come, so make sure whatever you're planning is exciting for them!
11. Give Gifts
Advertising that you're giving people gifts with every order is a great way to encourage people to shop with you. You can make it like an after-Christmas bonus! Use this strategy to attract customers, especially when they're not feeling like they want to shop after the holidays. If you make the free gift a good one, they'll definitely get back into the shopping spirit once again.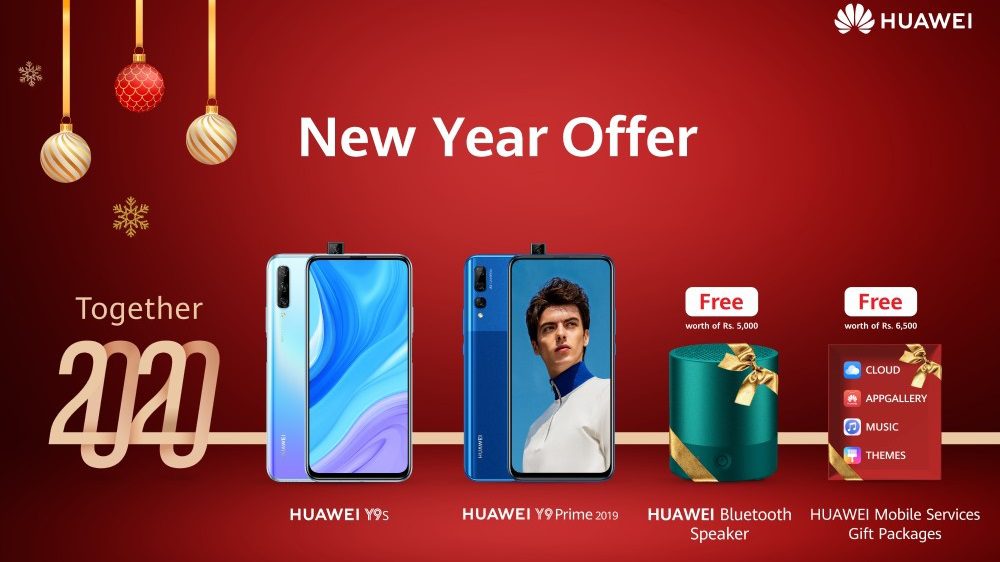 12. Spark Curiosity
New Year's Eve is a great time to share new things with your audience. If you're planning something special for the coming year, tease it a little bit. Be mysterious, but share some details with them. I'm sure they will absolutely love it.
13. Ask Questions
Another great way to end the year is to ask your followers some questions. They follow you because they are interested in your content, your services, or your products. But, they also probably have some great ideas about how you can improve. So, ask them if they have suggestions for you, things they would like to see in your business, or ideas for new services in the new year. This can be a great opportunity to start conversations and find out what direction people see your business going in. Of course, you'll want to collect the responses and then use them to serve your people even better in the new year!
Read more: December Social Media Calendar + FREE Templates
---
Did you like these tips?! Then don't forget to save the image below in your "Social Media Post Ideas" board on Pinterest! Also, check out our Pinterest page and follow us to get daily updates + digital marketing and social media tips for small businesses!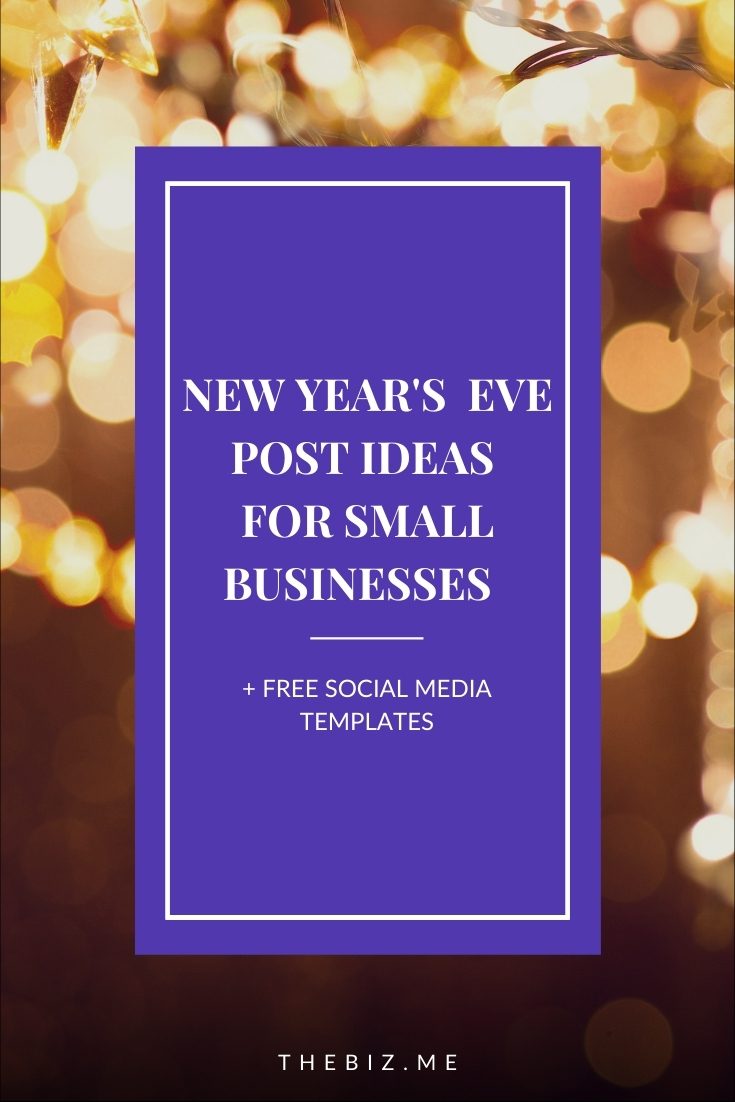 We can't wait to see what you do. Please tag us using the hashtag #GrowingMyBizso we can see and share your work!